Killing Bed Bugs
Once it comes time to take the leap and begin the work of getting rid of bed bugs, the endless options available can feel overwhelming.
Bed bugs themselves are a huge ordeal that can last for months in many cases.
In an effort to make the process easier, I've written the most comprehensive guide on the internet covering everything you'd like to know about treating yourself and getting treatment from a professional.
You'll find answers to your questions about how to choose a great pest control operator, learn about the most popular methods of treatment around, and also about how to keep yourself bed bug free forever after-the-fact.
With so many options claiming to be the best or only real solution to bed bug eradication, my goal is to help you make the choice that is right for your home and your budget.
This is what Debedbug is all about – getting rid of bed bugs for good.
The Professional Approach
Bed bugs put a real fire and sense of urgency into people.
Media coverage and general paranoia over them has resulted in this hypersensitivity that leads people to act on their gut without a plan or research  before bed bugs are even properly confirmed.
This is one of the greatest mistakes you can make and has the potential to make a manageable problem nightmarishly expensive and complicated.
The section dedicated to everything you shouldn't do goes into more detail about exactly why this is so.
We will be approaching self-treatment from the standpoint of professional pest control operators (PCO). Any operator worth their salt will tell you about the IPM, or Integrated Pest Management system, that they will be working with.
An IPM is an approach to bed bug control and elimination that is well-planned, calculated, and multi-faceted. It involves using several methods of control simultaneously to cover the most ground and eliminate survival chances.
It will be the difference between victory and failure.
There's no point in sprinkling pesticides if you aren't protecting your bed or properly laundering your clothes.
Bed bugs are willing to adapt or retreat as needed. We'll have to be flexible and adapt right back at them.
Taking the time to plan out your own IPM before beginning self-treatment is the most important step in getting rid of bed bugs. Doing anything less than attacking from all angles ultimately does nothing but drag the problem along.
Preparing for Treatment
Prior to beginning any kind of treatment, you should first verify the issue; other bugs and environmental circumstances can produce symptoms comparable to bed bugs'.
You can read about such cases, and find picture examples, at Bed Bug Symptoms, Bed Bug Info, and Bed Bug Pictures.
Once you're positive that you've identified bed bugs, take the time to create a read through this guide and select the options that you are comfortable with.
Your absolute best bet is to seek out a reputable pest control operator who specializes in bed bugs from the get-go.
Doing so eliminates the danger of spreading your infestation deeper into your home, lessens your exposure to potentially harmful chemicals you are unfamiliar with, and provides peace-of-mind knowing that a licensed pro is handling the problem.
You can let your operator know what kind of treatment you're hoping for, and will have the advantage of knowing exactly what you're ordering.
We'll discuss where to get started with self-treatment in the next section.
Whether you decide to pursue self-treatment or choose to go with a professional company, I'll explain your options, as well as their benefits and detriments.
Our goal from the very beginning is to completely eliminate and get rid of bed bugs for good. This requires a multi-pronged approach by you and your PCO.
If you've hired a PCO, ask before doing anything on top of their treatment!
Their IPM methods will be proven to work, tampering with their efforts by taking measures into your own hands could ruin their well-calculated plan.
Self-Treatment Options
Having personally experienced the huge costs involved with hiring a professional, I will be making this section especially in-depth.
This post will address options in an unbiased way with effectiveness, safety, and affordability being the primary factors taken into consideration.
There are plenty of ideas and products that people online claim to be the magical cure-all for bed bugs.
Let's cut through all of that – you're going to need to try a few of these options at the same time as explained in the introduction.
None of these methods will work alone.
At the very least, you will want to:
If you've read other parts of this site, you may recognize that I am referring to utilizing the IPM approach. It's truly the only way to get guaranteed results. This is even more true for those of us who choose to treat our own infestation.
Bed bugs are not stationary.
Most infestations will not be caught in their early stages and will require that you not only treat your bed, but your entire bedroom at the least. This is what makes self-treatment such a monumental task.
All furniture should be systematically treated, clothing, electronics, boxes, books, toys; absolutely everything in the room should be considered potential harborage.
Take steps to isolate clean furniture and goods once you've treated them, do not return items to the infested room until the entire area has been treated and confirmed bed bug free.
Any spaces and gaps that may provide shelter should also be targeted in a single session. Failure to do so will result in bed bugs coming back to recently cleaned spaces.
Crevices between floorboards, behind clocks and other wall-mounted items, headboards, under carpet edges, in outlets, inside screw wells, and any other tiny squeezable space offers a potential home for entire families of bed bugs.
Treat everything.
Know that eggs are the hardest stage of bed bug to kill. They are both hard to find and resilient against many methods of control.
They will be your greatest enemy. Learn to identify them at the page following this link.
Secure your bed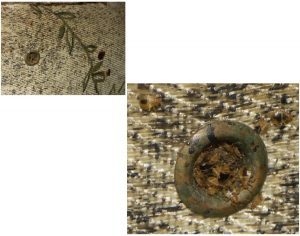 Preventing bed bugs from getting on your bed is discussed at length in this linked section. The same method will be transcribed in a shorter form here so you don't have to navigate away.
I do recommend reading the prevention page in its entirety as it will be a big help in avoiding future infestations.
Do complete the list in one session. This will prevent bed bugs from re-infesting the spaces you've cleaned before you finish the job.
Remove all bedding including bed skirt, comforters, and pillows
Follow treatment procedure detailed in Cleaning Clothes and Small Items
Move the bed away from walls, overhanging lamps, and anything bed bugs could use to access your bed
Ensure that no bedding ever touches the ground; use a short or no bed skirt at all
Install a quality encasement over your mattress, box spring, and, optionally, pillows. Use duct tape on edges and staples to avoid poking holes through your encasement
Use bedpost interceptors, they're great, especially when posts are the only point of access. These help show you the status of infestation without any additional work
Shower and wear clean clothes kept in bug-proof containers every day before getting into bed
Bed Bug Proof Bed Printable
Here's a supplemental Bed Bug Proof Bed printable that you can download and print to help you get started immediately!
To print this file:
Right click the image
Select "save image as"
Open the file wherever you saved it
Print as usual!
There are more printables just like this one that you can nab for free in the exclusive Debedbug Ebook.
It's crammed full of condensed information and comes with full-resolution and black and white versions of all the printables we offer.
I wrote it with one goal in mind: to make it the only resource you need to take control of a bed bug situation.
I've written an extensive post on the three most popular mattress encasements on Amazon for your reference. A surprising amount of science and testing goes into manufacturing a quality product that keeps bed bugs out!
There are also comparison tables here to help you make an informed choice quickly.
Here's the mattress chart – you can see more on box springs and pillow encasements in the Encasement post!
Installing encasements should be the first step in any bed bug fighting campaign.
Making your bed a sanctuary is good for your sleep and bad for bed bugs. It will help slow down bites at the very least and might even stop an infestation if it was caught early.
After your bed's been encased, I recommend installing a set of passive bed bug traps.
These traps help you detect bed bugs early, and will eventually help prove that they're actually gone by capturing live samples and all the other telltale signs of bed bugs.
I recommend installing them at the same time that you put your encasements on so that your bed completes its transformation into an isolated island.
Cleaning Clothes and Small Items
How to Treat Clothes
To clean clothes effectively, you'll want to put dry items into the dryer and heat them on high for 20 to 30 minutes. All clothing should reach 120˚F at the core to be considered reliably free of bed bugs.
Bed bugs will flock to any cold spot and avoid heat death if possible. 120˚F kills bed bugs instantly, more time helps guarantee the destruction of eggs and the complete saturation of cold spots.
Should you not want to heat certain pieces of clothing at such high temperatures for so long, studies and experiments have shown that drying clothes at 120˚F for 5 minutes typically does do the trick.
Going for less time does not guarantee success but could help save some delicate clothing. Alternatively, invest in a bed bug heater for such items.
Look for tags marking clothing and objects as "dry-clean only." This guarantees that your dryer's high setting should not harm them.
If you're uncomfortable with the idea of drying without a wash cycle, it is fine to wash them after the drying cycle.
The goal here is to reach 120˚F throughout and is much more easily achieved in dry clothes compared to sopping wet.
The temperature will get there if you give them enough time.
Treating Other Items
Bed linens and washable loose items can also be treated in the dryer.
Objects that might be infected such as empty backpacks, plush toys, or hardy shoes are a few things that easily fit in the dryer.
Extra attention should be paid to thicker and larger items such as comforters and pillows. These items are inherently harder to cleanse due to insulating properties and sheer size.
For these, and larger items, a home bed bug heaters offers affordable, non-damaging, and extremely effective treatment that you can use at your leisure. I highly recommend investing in one.
Using the Dry Cleaner
Dry cleaners are another option to consider. You should be honest and consider calling prior to bringing clothes to a cleaner to make sure they will take your business. Some will, while others will decide that it is not worth the risk.
Be sure to bring goods in airtight bags to avoid contaminating the facility.
Keep in mind that dry cleaners do not provide guarantees of bed bug extermination.
When treating bed bugs, it is important to avoid transferring them throughout your house and into other environments. Showering after spending time in bed or on soft furniture is a good idea, if not slightly excessive.
Keeping clean clothes sealed away in airtight bug-proof containers is essential. You can use large Ziploc bags for this purpose.
Two-gallon bags are good for separating clothing by category, while XL and XXL variants can help store more in one place.
Placing an XXXL Ziploc or similar sealable bag in a hamper to be kept shut is a good way to consistently isolate clothes that needs to be cleaned.
You are the primary vector of bed bugs in your home, keeping clean clothing distinct and uncontaminated is a big part of treating bed bugs.
Bed Bug Heat Treatment
Heat is one of the most common, effective, and popular methods of treating bed bugs. The temperature required to kill bed bugs is low enough to avoid damaging most items, but high enough to cause problems if attempted by inexperienced individuals.
Entire homes and apartment structures have been lost due to failed DIY heat treatment attempts.
That being said, there are many personal bed bug heaters on the market that are affordable and do a great job of treating commodities on your own time.
A heater could save you many times its value if you use it diligently!
This post provides an in-depth analysis of heaters and their various merits and features, as well as an overview of three well-proven and reliable consumer brands on the market today.
I've also created a few comparative charts to make choosing a heater easy! Read more by clicking on the image, name, or link at the bottom of each column.
Safety should always come first.
In the bigger picture, it is obviously not worth losing your home because of a pest that doesn't pose a direct health hazard.
I highly recommend having a professional administer any large-scale heat treatment and would like to dissuade you from trying DIY projects.
With professionally developed products starting at as little as $200, you'd likely end up spending nearly as much for a product that isn't safety regulated or as packable.
Bed Bug Cold Treatment
Some advocate treatment by cold simply throwing infected items into the freezer or into snow during the winter.
My short response to the snow idea is: Don't bother.
Bed bugs are perfectly capable of surviving in household freezers for long amounts of time.
Even temperatures below 0˚F can take several days to kill bed bugs in all their stages, and that's assuming that the door isn't opened once.
With this in mind, it is clear that the snow will only serve to make your clothes and other items wet and dirty.
Freezers, however, have recently proven to be viable by studies from several universities.
What you'll need for success is pretty straightforward – your freezer needs to reach -15˚C to -20˚C, or -4˚F to 5˚F.
If your freezer is capable of reaching such temperatures, all you need to do is seal the infested items in a plastic bag before leaving them in the freezer for at least 80 hours.
It is imperative that you don't open the freezer to check on your items during treatment. You will lose a lot of cold and should tack on another day to be safe if you must open the freezer.
Your freezer can be a lifesaver when it comes to items that can't be treated with heat. If you do opt to treat some items with this method, consider doing a decent amount of stuff since you'll be investing the time anyways,
Keep in mind that such low temperatures can damage sensitive items like artwork and many electronics.
Bed Bug Steamers
Reaching temperatures of over 200˚F, steam cleaners are affordable and highly effective weapons in the bed bug fighter's arsenal.

| | | | | |
| --- | --- | --- | --- | --- |
| | Amico | Steamfast | Primo | Vapor Clean II |
| Tip Temperature | 200˚F | 210˚F | 220˚F | 240˚F |
| Pressure | 43.5 PSI | 44 PSI | 58 PSI | 65 PSI |
| Adjustable PSI? | No | No | Yes | Yes |
| Water Capacity | 0.8 Cups | 1.4 Liters | 1.6 Liters | 1.7 Liters |
| Steam Time | <10 min. | 40 min. | 60 min. | >60 min. |
| Attachments | 17 | 17 | 17 | 13 |
| Rating | 4.2 / 5 | 3.6 / 5 | 4.6 / 5 | 4.8 / 5 |
| Price | $ | $$ | $$$ | $$$$ |
| More | Review | Review | Review | Review |
Choosing a steam cleaner for our purposes is different from picking one for other at-home tasks. Because the unit will be used to treat everything from furniture to baseboards and walls, it is important to select a steamer that cuts down on moisture.
Purchasing a steamer with labels stating "dry vapor" will significantly cut down on potential mold problems.
Dry vapor, or dry steam, refers to the steam produced by a unit which utilizes a mechanism that raises nozzle temperatures while also using less moisture with the help of pressure.
For a more detailed look at bed bug steamers, you can read the post dedicated to helping you choose one!
Nozzle temperature is crucial. Look for specifications of at least 200˚F at the tip. Anything less and you may just scare bed bugs away.
You can't go wrong with even higher temperatures. The goal is to kill on contact. A wide nozzle head in conjunction with appropriately high heat helps guarantee that bed bugs won't have a chance to escape into deeper recesses.
Water reservoir capacity should also be considered. An insufficient capacity may be the difference between steaming an entire room and half a room before leaving to let bed bugs from the un-steamed side back migrate over.
Two galloons should suffice. Some models offer continuous filling as a feature, which allows for water to be added on the go and smaller reservoir sizes as a result.
In short, considerations to be made when purchasing a steam cleaner are:
Dry vapor capabilities
A tip temperature of at least 200˚F
A wide nozzle head
Water capacity of at least 2 gal or continuous fill
While treating with steam seems like a straightforward procedure on the surface, there is definitely an amount of skill required to do an effective and safe job.
The post on steam cleaners has all of the nitty gritty details you'll need to steam like a pro without damaging your home, I highly recommend giving it a read.
If you're interested in my top recommendation, give my review of the Vapamore RM100 Primo a read.
Always be aware when using a steamer, the hot steam can hurt you too.
Keep in mind that as a contact killer, bed bugs already dug deep into furniture and walls will be safe from your steaming efforts.
This is why you should be using a residual killer like diatomaceous earth or CimeXa in conjunction with steam to make a real dent in bed bug populations.
Contact and Residual Bed Bug Sprays
Contact killers, often found in the form of bed bug sprays, are especially useful in cases of advanced infestations.
They are one of the best ways to deal with a large population. Applying contact sprays helps cut down a chunk of easily accessed bed bugs, meaning that their reproduction and feeding slows down significantly.
They require direct contact with bed bugs to be effective, meaning that there must be a heavy enough infestation that they can be readily found in clusters. You're going to have to hunt them down.
Residual sprays are effective at any point in an infestation.
By strategically applying a field of residual sprays, you have the potential to protect yourself for months with any added effort. There are even natural solutions that work very, very, well.
Here are the best residual sprays around today:
For a chart on contact sprays and more in-depth information, visit the bed bug sprays page!
The section on finding bed bugs at home on the symptoms page will give you an idea of where to look.
DIY Bed Bug Sprays
Alcohol and soap sprays are only somewhat effective and do not eliminate eggs.
Extra care should be taken when spraying with alcohol as at such high concentrations the spray is highly flammable and makes anything it contacts similarly combustible.
There is no safe and common home product or spray that will reliably kill bed bugs at all their stages. Alcohol and windex are no substitute for purpose-made chemicals.
Popular and Natural Sprays
Popular contact killers include 90% or higher concentrations of rubbing alcohol, enzyme cleaners, low toxicity sprays that contain pyrethrins like JT Eaton and Steri-Fab, and even soap sprays.
EcoRaider and Bed Bug Patrol are two more recently developed oil-based contact killers that have shown a lot of promise. I will be looking into them more in the near future.
None of these sprays have any lasting effects once dry.
Residual sprays offer a solution to the time between treatments.
Utilizing potent chemicals cocktails that target a variety of bed bug vitals, modern residual sprays last for months at a time and are designed to bypass resistance through a perfect mix of pesticides.
These chemicals can even be passed from bug-to-bug and are completely lethal with nothing more than a thin layer on the surface of targeted bed bug hotspots.
When applied correctly, residual sprays are an invaluable and affordable resource in the bed bug fighter's toolkit that will ward off other bugs as a happy side-effect.
The most popular residual bed bug sprays include Temprid SC, Bedlam, and PT Phantom II.
For all the details on bed bug sprays, give the page dedicated to the topic a visit!
A combination of periodically applied sprays and a potent residual killer such as bed bug powders should be used to really impact bed bug populations.
Bed Bug Powders
The most popular bed bug powders on the market are natural desiccants.
You've probably encountered desiccants in one form or another in the wild. The little packets of silica beads found in some snacks are just one example of them in action.
When it comes to pest control, desiccants are used in their powder form and function by removing the waxy protective layer surrounding insect exoskeletons before dehydrating them lethally.
They are not chemical pesticides.
If you'd like to learn about chemical bed bug powders, which are even faster killer, check out the section on them at this link.
The two most popular desiccant powders are food-grade freshwater diatomaceous earth and amorphous silica gel.
Diatomaceous Earth
You should avoid DE that is not food grade or freshwater, such powders have been linked to silicosis and lung cancer in cases of heavy and frequent exposure.
Recent studies involving DE have shown it to be somewhat ineffective against bed bugs especially compared to Amorphous Silica Gel.
Amorphous Silica Gel
The most popular manufacturer of amorphous silica at the moment is CimeXa.
Research indicates that amorphous silica is safer, kills three times faster than DE, and is longer lasting compared to DE.
Studies further claim that a single application on the stuff can last up to 10 years, providing a great passive barrier which will protect you for a decade if applied correctly and left undisturbed.
Doing a good job of applying CimeXa once could pay dividends for years to come!
Looking for the very best natural or chemical bed bug powders around? Look no further than this chart.
Diatomaceous Earth
CimeXa
EcoPCO
Evergreen
Active Ingredient(s)
Silicon Dioxide, Elemental Oxides
Amorphous Silica Gel
Phenethyl Propionate,
Pyrethrins
Pyrethrin, Amorphous Silica Gel
Lifetime
2 Weeks
10 Years
8 Months
4 Months
Killing Speed
Slow
Medium
Fast
Medium
Price
$
$$$
$$
$$
Rating
3.0 / 5
5.0 / 5
4.6 / 5
4.0 / 5
More

Review

Review

Review

Review
For the chart comparing chemical powders, check out the bed bug powder page!
Applying Desiccants
To apply DE or amorphous silica, in descending order of ease, a handheld duster, dedicated fine brush, or a regular paintbrush will do.
A thin layer that bed bugs have no problem walking through is ideal, if they'd have to wade through the stuff they will opt to walk around the heaps and mounds instead.
Target all possible places of bed bug transit, with special focus on high-traffic areas like cracks and crevices.
The great advantage of using residual methods is the ability to trap and corner pests completely passively.
If you concentrate on hard-to-treat places like behind switch and outlet plates, around windows, along baseboards, inside vents, around cabinets and drawers, and between carpet and walls, you will be putting yourself at a great advantage in the long run.
Make exposure to desiccants inevitable for bed bugs on their way to bite you and they will inevitably get rid of themselves.
You should absolutely be wearing a respirator when applying any powder.
Staying protected while treating bed bugs is as important as protecting yourself from bed bugs!
All powders can pose serious health hazards when inhaled, even all natural variants.
Be sure to follow instructions, apply bed bug dusts conservatively, ventilate the area after application, and apply it only in areas that are unlikely to be disturbed.
Do a good job once, and your dusting will pay dividends!
To read an in-depth review of 7 truly effective bed bug powders, visit the page dedicated to them!
Other Methods
There are a few smaller tasks that you can undertake to further hedge your bets against bed bugs.
Clean, Organize, and Dispose
Maintaining a clutter-free home helps eliminate potential hiding places and cuts down on the time it takes to completely check a room.
You can take neatness to another level by placing treated items into airtight bags and plastic crates. Doing so will help you take control of your home piece-by-piece.
In some cases, discarding heavily infested items that are especially hard to clean is simply practical. Doing so may save you the grief of having a reinfestation appear solely from that plush loveseat you couldn't give up.
Before you toss it out, be sure to properly mark it as infested and dispose of it in a furniture storage or disposal bag! Tossing a couch out on the street only to have it picked up and brought back in by a neighboring apartment would be tragic.
Vacuuming
Vacuuming is another easy project that can be done up to twice a week. You can vacuum floorboards, baseboards, closets, carpets, furniture, mattresses, and spring boxes because they are all reasonably easy-to-reach hotspots impacted by vacuuming.
Be sure to empty your canister immediately into a sealable plastic bag to be discarded immediately. Reapply residual powders after vacuuming!
Can you Starve Bed Bugs
I normally do not recommend starving bed bugs out because they are capable of living for incredible amounts of time without feeding. There are certain cases in which starving them out does simply make sense.
In particular, an individual was interested in saving several thousands of dollars' worth of art magazines. These magazines were massive and would have likely been damaged if treated using heat or freezing.
We agreed that placing the massive amount of magazines in an airtight plastic bag, sealing it, and keeping it in storage for over 400 days would have to do.
If you find yourself in a situation where you'd rather not treat a sensitive object and don't mind leaving it sealed for over a year, you should consider this method.
Sensitive electronics, books, and embroidery could all potentially be saved in this way!
The Usefulness of Tape
You can also try applying very smooth tape along baseboards and the legs of furniture to dissuade bed bugs from trying to climb up. This isn't a substitute for proper bedpost interceptors, but is a step that can be taken while waiting for yours to arrive.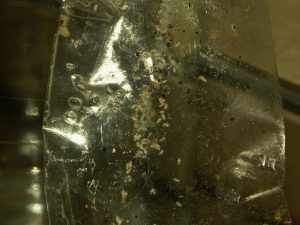 If you have additional suggestions that I missed, please leave them in the comments!
Self-treatment requires consistent work and constant mindfulness. One slip-up and you could be set back weeks.
I wish you the best should you be embarking on the self-prescribed route of treatment, but do encourage consulting a few PCOs to get an idea of what you could pay for a guaranteed treatment of bed bugs in installments.
Protect Yourself From Pesticides
When applying any spray, powder, and pesticides in general, it is best to be wearing a respirator and goggles!
Steam is great at dislodging chemicals and putting them into the air to be inhaled.
Powders and dusts will float in the air during and after application.
Pesticides are very literally designed to be harmful.
You will be applying chemicals and pesticides indoors, in an enclosed environment.
Protection is very affordable! There's no excuse not to have a resiprator.
Internal organs are fragile and sensitive.
Long-term health effects are very possible and largely unstudied.
At the very least, invest in your health and pick up respirator with high-quality and replaceable filter cartridges.
You'll even be able to use it for other household chores and activities in the future.
What Not to Do
Besides not wearing a respirator, there are plenty of health-risks that people tend to fall into once bed bugs have been found.
Before proceeding to treatment, I once again stress the value of hiring a certified PCO if possible. You will be paying for the knowledge and experience available only to licensed operators.
Keep in mind the following DIY don'ts:
Do not go to your local hardware store for bug bombs and foggers. These products are sometimes marketed towards bed bug victims but only serve to scatter bed bugs deep into your home or into your neighbors' units. They'll be back once the gas dissipates.
Do not sleep anywhere but your own bed once bitten. Bed bugs will follow your scent if they are not already in your clothes. Sleeping on the couch is the best way to get bed bugs in your living room. I know it's hard.
Do not spray generic insecticides and chemicals without understanding their contents. These sprays are typically ineffective and are a great way to put your family, pets, and self in danger. Sprays like the ones listed in bed bug sprays post will work effectively and safely when directions are followed.
Do not use kerosene as a contact killer. Kerosene is extremely flammable and isn't even 100% effective. It's a terribly dangerous idea.
Do not throw away your bed and furniture immediately. Assess the problem and consider using steam and encasements. Furniture should be properly marked and disposed of if it does come to that.
Do not trust most "all natural" bed bug sprays. Sprays containing lavender, peppermint, and tea tree oil may be natural, but are not legally required to provide results. They have been shown to be ineffective in lab studies with the exception of two well-studied products.
Do not attempt large-scale heat treatment yourself. This is just a bad idea overall and puts you and your home in serious danger. Small-scale treatment using proven technology like the ZappBug is the safest way heat treat your stuff.
Do not try to starve out your infestation. As related in the Comprehensive Bed Bug Guide, bed bugs can survive for a year and several months without a meal as adults. Unless you are moving out for good, they will win the war of attrition.
Finding a great PCO
If you've decided to get on board with a professional PCO, you've taken a huge step towards getting rid of your bed bugs for good. When I finally decided to throw in the towel and start looking for a licensed operator, I found myself drowning in options all over again.
Quotes varied from $500 to $1,500 with all sorts of different methods and chemicals that would supposedly do the trick.
Just like in any business, the world of pest control organizations is filled with good companies, bad companies, and good companies with a few bad apples.
Knowing what to look for and what to avoid protects you from spending more than you have to, whether that is due to being overcharged or undercharged and getting no results at all.
This is an important decision and a big financial commitment. I've laid it all out and strongly encourage you to stick with the following plan as best as you can.
Exterminator Checklist
To help you through the process of vetting PCOs, I've created an easy-to-follow 9-step action list of considerations to square away before committing:
Compare pricing from at least three PCOs
Find the middle ground of prices

Underpriced options are likely too good to be true with poor service and inexperience
Overpriced options likely aren't interested or equipped to deal with bed bugs

Ask for a breakdown of planned methods and compare

PCOs should want confirmation of bed bugs, if they propose treating without inspecting or seeing proof, this should raise a big red flag
Pesticides are considered standard, but other methods should also be used as part of Integrated Pest Management
Many options detailed in self-treatment, like steam cleaning, vacuuming, bed isolation, and dusting are even more effective when used by a professional; they should be a part of the plan
Some sort of crack and crevice treatment like caulking should be included
Non-pesticide options are especially key when infestations end up being pesticide tolerant/resistant
Make it clear that you expect the entire structure to be treated. You can treat beds and furniture yourself; you're paying to have an exhaustive treatment done

Establish an hourly rate for treatment per operator

Each session should take at least two hours
Some companies send more than one PCO at a time

Ask how many sessions will be required to get rid of all bed bugs

One is too few
Two to three is normal, if done correctly
More than three is unusual but may be required in heavy or particularly deep infestations
Treatment should be spaced at least two weeks apart
Follow up inspections and retreatments should be discussed

Ask if operators are dedicated bed bug technicians

Non-bed bug dedicated operators have far less experience and knowledge regarding your problem
Request a copy of a current license and relevant training certification

Ask about guarantees/warranties, and stipulations

Guarantees for apartments and other multiple occupancy housing is rare, the possibility of a recurring infestation is too uncontrollable
If in an apartment, ask about standalone home guarantees; this is a good metric indicating their confidence
If getting a guarantee, be sure to get it in writing
A higher guarantee means greater confidence

Ask about their liability insurance and estimated coverage

A number should absolutely be available

Ask for references from previous clients

This can help you choose when narrowing down two good operators
Exterminator Picker Printable
Here's an excerpt from the Debedbug Ebook that will help you keep track of all this information in one place.
To print this file:
Right click the image
Select "save image as"
Open the file wherever you saved it
Print as usual!
Full resolution and black and white versions alongside the Ebook!
You'll also get the other four high quality printables that will help make the process far more painless as well as condensed bed bug intel for easy reference and sharing.
Click here for more information!
Professional Treatment Options
When hiring through a professional company, guarantees can be offered in addition to the knowledge and experience that inherently comes with a licensed operator.
While some individuals do succeed in their fight against infestations alone, non-professional attempts can make situations worse and potentially more expensive. Complete success is rare and certainly not guaranteed.
In the case of professional treatment, an entire arsenal of industrial-level options becomes available.
Things like whole-home heat treatment, gas treatment or fumigation, and industrial pesticide application become feasible. Such methods and substances would be highly dangerous in the hands of a non-PCO.
While I am not a professional operator by any means, I have done research on the most popular means of professional treatment.
These are likely to be the options offered to you.
Large-Scale Heat Treatment
Heat treatment is a popular option of bed bug control at all sizes.
It does not have residual impact on a structure, doesn't require the use of potentially harmful chemicals, and is completely safe when handled by a licensed and trained professional.
With the proper tools, a PCO is able to monitor the heat generated not only in general spaces, but in the nooks and crannies where it is most important to hit bed bugs.
For heat treatment to be successful, the targeted temperature must be achieved in a quick-enough manner so that bed bugs are unable to escape in time.
This task is impossible to achieve safely using any commercially available means and requires expensive specialized equipment that pest control companies would only invest in.
Traditional Bed Bug Pesticides
The use of traditional pesticides remains widespread in the bed bug fighting industry.
In spite of this, many commonly used chemicals are speculated to no longer be effective.
Resistance to compounds like the DDT and pyrethroids, which are a close cousin of pyrethrins, has been shown to be well-established amongst bed bugs.
Asking your PCO what chemicals will be used so that you may research them yourself is a good idea. Ask about what they know regarding bed bug resistance and contemporary studies of the topic.
This is the only way to ensure that you won't be wasting money on ineffective health-compromising treatments.
Should traditional pesticides be used, keep in mind that residue will be around for some time.
Contamination of sensitive areas like the bed, furniture, and general living space is never ideal; health concerns regarding pesticides and both people and pets are valid.
Your PCO should try their best to combat such consequences, but with other methods available, traditional pesticides are no longer the only solution.
At the end of the day, pesticides require the utilization of other methods in tandem in order to combat segments of bed bug populations resistant to them anyways.
Bed Bug Gas Treatment
Treatment by gas, or fumigation, is an extremely effective method of bed bug control; recent developments have even made it even more affordable.
I would personally heavily consider fumigation if I were dealing with an infestation now after seeing peers that went through with the procedure.
Vikane Gas Treatment
Vikane gas, or inorganic sulfuryl fluoride, is the industry standard at the moment. The gas is not a poison and functions by suffocating both bed bugs and their eggs.
Vikane is frequently used to treat entire homes, apartment building, or even vehicles.
Bed bugs are not resistant to Vikane and are have been demonstrably eradicated at all life stages.
Treatment by Vikane involves an airtight tent or container, requires a complete evacuation of people and their pets, takes anywhere from half a day to two full days, and penetrates a home completely.
Thanks to the fact that it quickly degrades into its harmless components after release, Vikane can allegedly be applied to the entire home including clothing, electronics, and even dishware without leaving trace residue or odor.
Small-Scale Gas Treatment
An increasingly popular option involves filling a truck with furniture and other items you'd like cleaned to be sent to a centralized gas treatment plant.
In the case of apartments, some may opt to have furniture and other large items treated with Vikane by the truckload while other methods of elimination are used at home.
Some will ship items off to be treated while evacuating an infested home or apartment to completely avoid the possibility of bringing bed bugs along to the next home.
I almost feel like a salesman pitching the stuff at this point, but the gas really does seem to work; that's all that I care.
No study has attached negative side effects to Vikane treatment so long as the home or building is given sufficient time to air out so that the gas may completely dissipate.
The stuff seems to work very well, safely, and is increasingly cost-effective thanks to new lower dosage requirements.
As always, discuss it along with your other options with your operator before deciding.
Other Bed Bug Control Methods
A good PCO will use the entire gamut of tools available in the fight against bed bugs.
This includes the methods available to us normal consumers.
In the case of steam cleaning, vacuuming, and residual powder application, the actual contents of products used will not vary much from what is commercially available.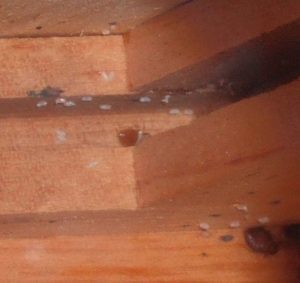 Steam cleaners used by PCOs will pack a bigger punch (higher temperature) and be able to permeate deeper into furniture and baseboards. Desiccants (likely DE or amorphous silica as well) are more likely to be applied in appropriate density and in all the right places.
A PCO serves to give you the peace of mind that they have applied their experience and knowledge to make these methods as effective as possible.
It's more than likely that they will also encourage the same level of bed isolation as detailed in secure your bed. Encasements, at the very least, should be in the plan. You can always supplement with one if this isn't the case.
Throughout the process, a homeowner's cooperation between treatments helps.
In many cases, you'll probably have to continue living in your home during treatment.
Without a food source, bed bugs will remain in hiding and consequently avoid the traps you and your PCO have set for them.
Preparing for Bed Bug Treatment
If you choose to take the professional path, there are a few steps that you can take to be best prepared when your operator arrives.
Many PCOs maintain their own preparation guidelines and requirements.
These requirements vary depending on the company as well as the intended methods of treatment. It is critically important to complete the steps that they provide.
Diligence will make both of your lives easier; the operator will be more able to do the job effectively and will be more able to completely eliminate the infestation for you.
Always ask before taking action.
Some PCOs prefer you leave your home as-is to prevent the scattering of bed bugs into deeper areas of you home. Others will require that you clear clutter and take some light initial steps such as vacuuming and moving furniture.
It's best to ask to avoid problems! Being able to point out hotbeds of bed bug activity will always be helpful.
In the case of infestations caught earlier on, moderate levels of preparation are valuable.
Clutter and various objects found beneath beds or on the floor should be cleared and treated.
Bed linens and clothing should be dried at the minimum temperature of 120˚F.
For larger items, you should discuss treatment options with your PCO if you don't have a bed bug heater.
In the case of advanced infestations, preparations are symbolic if anything. Bugs dispersed deeply and throughout a larger area are very difficult to deal with, even by professional standards. You PCO will have to take the reigns in such a case.
Get Rid of Bed Bugs For Good
One concern that you will undoubtedly have once presumptively bed bug free is how to keep it that way.
Getting rid of bed bugs for good is the ultimate goal, after all.
The best defense against reinfestation is education regarding the common transfer vectors bed bugs use to get in your home.
You can learn about these exposure risks such as travel and used furniture in the Preventing Bed Bugs page. Being wary of or avoiding common causes of exposure is the best way to protect yourself from recurring infestations.
Reading the page on prevention is a great way to enable yourself to do exactly that.
Thanks for Reading!
Bed bug treatment is a beast of a battle.
Bed bugs are known to be one of the most difficult pests to treat for out there, and have the pesticide resistance to prove it. There's an entire industry's worth of solutions to navigate; I have only touched on the most common.
I hope that you will take the time to protect yourself by researching whatever methods your PCO may propose before committing to them if they haven't been covered here.
No one cares about your well-being as much as you do.
If you've read this entire monster-of-a-page, I would like to extend a sincere Internet handshake to you!
I hope that it has cleared up some of the confusion and maybe even shown you the next step to take during a very stressful time.
If you think that I've missed anything, please leave a comment below and I will do my best to update the guide and respond.
Stick to it and you'll be debedbugged for good in no time.
More Resources
References
https://debedbug.com/references/