Our 4-step plan is based on the EPA and National Pest Management Association's concept of integrated pest management.
We call it the FACT approach. It'll take you through the same steps professionals take to reliably get rid of bed bugs.
Follow it and you'll have all the information you need to deal with an infestation yourself.
Our goal is to help you get rid of bed bugs while saving money using safe products. The FACT approach will help you get rid of bed bugs with as few pesticides as possible.
Before we dig into treatment, you need to be sure that you actually have bed bugs.
Bites, bumps, and rashes are caused by many bugs and environmental conditions. There's so much media attention on bed bugs now that it's easy to assume the worst.
We cover the 5 symptoms of bed bugs in-depth to help take the guesswork out of it.

Most people notice bites first when faced with an infestation.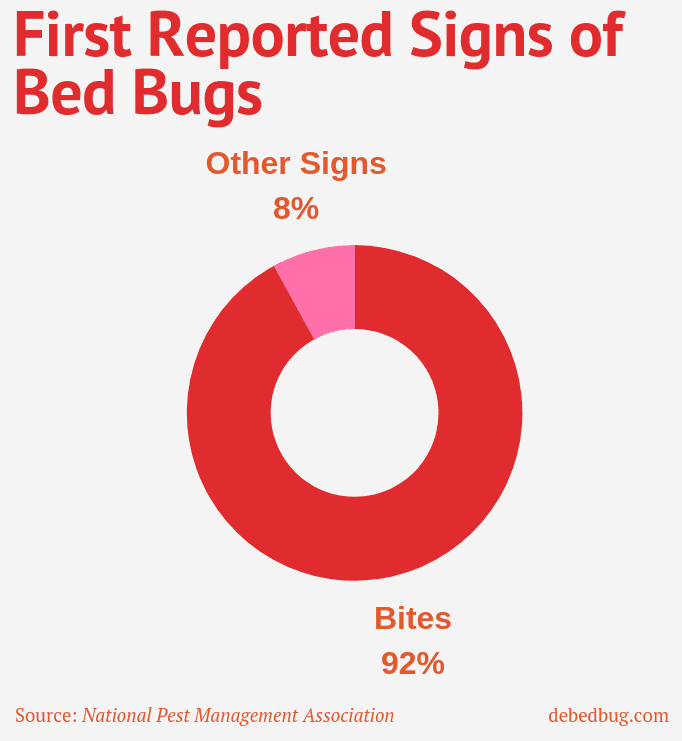 To help you compare your bites, we have a page of pictures of bed bug bites on people. We've also created a page that dives into bite symptoms and patterns.

To give you an idea of what bed bugs look like, we've put together a gallery showing them in their natural habitats.
You're most likely to get bed bugs in urban environments. Think big cities like New York and Los Angeles.

Within cities, there are hotspots. Areas that experience high levels of traffic have the greatest likelihood of being infested.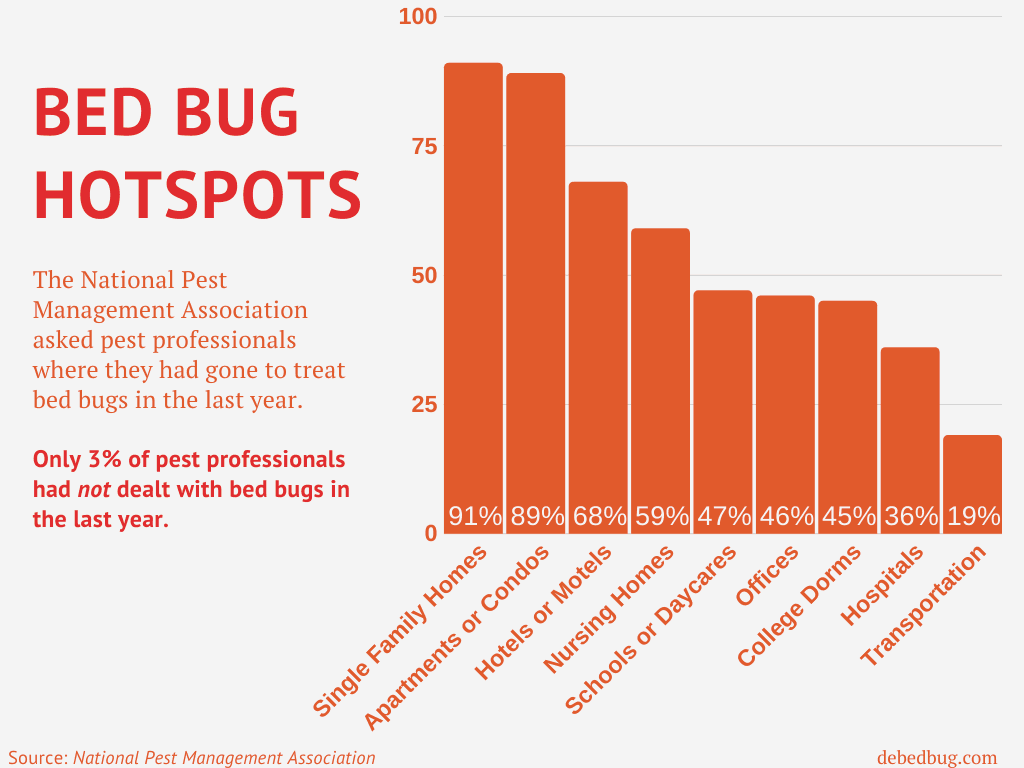 Pest management professionals are often called to treat apartments, hotels, motels, nursing homes, schools, daycares, and offices.
Single family homes top the list as the most common sites of infestation.
For more on how and where you're most likely to get bed bugs, give the causes page a look. We cover prevention as well so that you can make the first move.
The time between ordering and receiving bed bug killing supplies is the worst. Tape can help you do something in the meantime to ease your mind.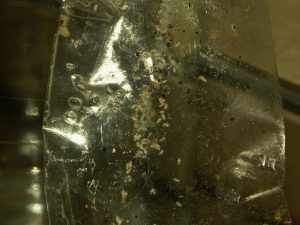 Applying smooth-sided tape around bed and furniture legs will make it a little harder for bed bugs to get to you.
Tape can also be used to collect and take pictures of samples.
It won't replace interceptors, but everyone has tape. Using a little won't make things worse.
Once you're positive that you do have bed bugs, you need a plan.

Trying to exterminate bed bugs without a plan can turn a manageable infestation into a huge, messy, and expensive one.
Planning your treatment is as simple as picking 5 tools that fit your budget and home. Include at least one tool from each category. Each one has a very specific job.
We've put together example plans for every budget. Use them as examples or follow them outright.
Also take advantage of our tailored printable that will help you plan and keep track of everything.
Want to learn more? Each tool has its own dedicated page. Each page includes product recommendations, reviews, comparison tables, and usage tips.

Bed bugs are tricky in part because of all the sprays and powders you need to keep track of. To make it easier, we've developed this treatment planner.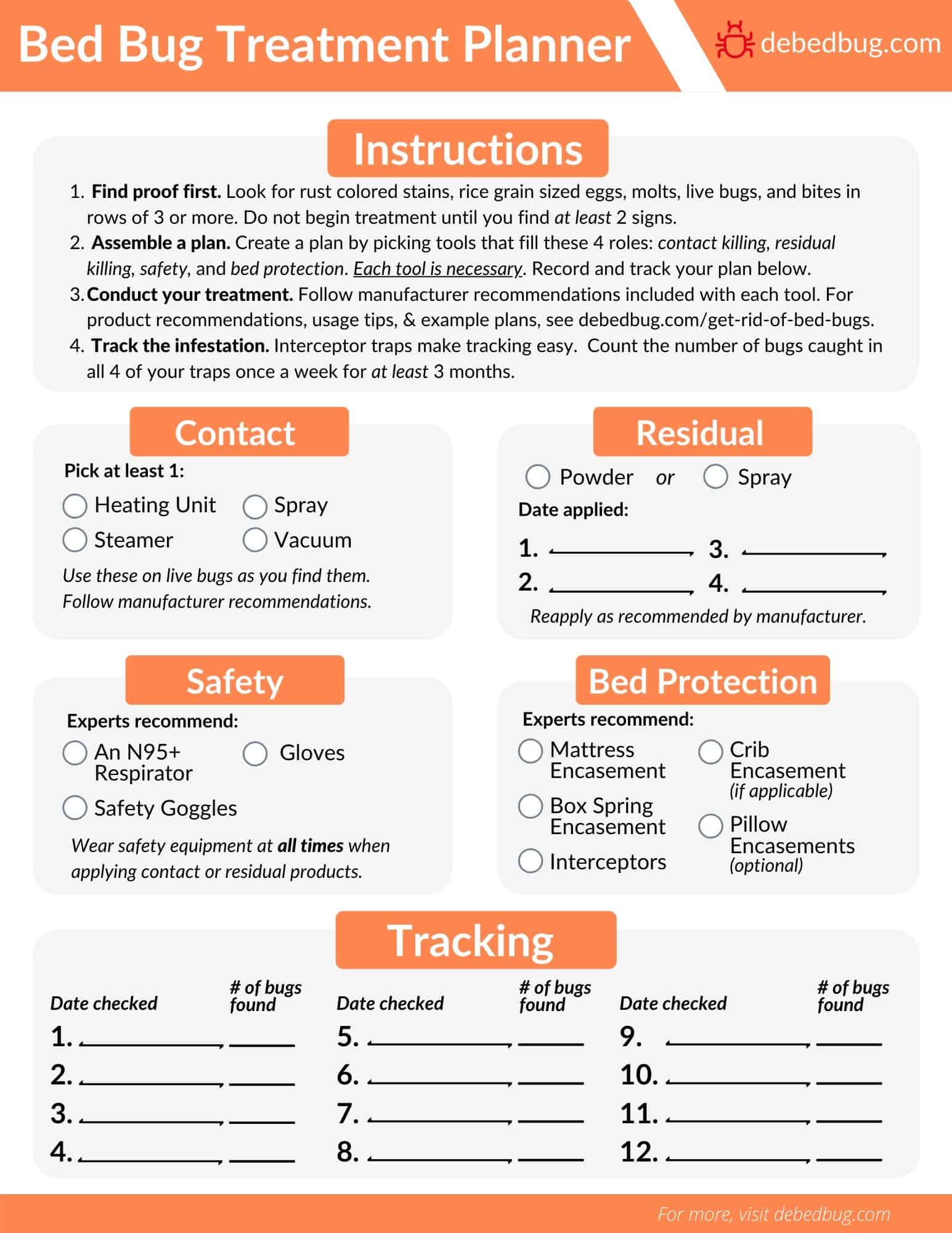 Fill the planner in as you choose your bed bug management tools.
The planner makes it easy to follow manufacturer recommendations on reapplication. Simply note recommended reapplication times in the residual section and keep track of the days you applied them.
Be sure to use the tracking section. It is critical that you monitor your infestations so stragglers aren't left behind.
The planner will keep track of the little things. You already have enough on your plate.
If you'd like the rest of our worksheets and planners in full resolution, check out the free ebook.
Contact killers are the best tools to do fast, heavy damage to more advanced infestations.
Contact killers further slow down bed bugs by wiping out mature egg-laying females.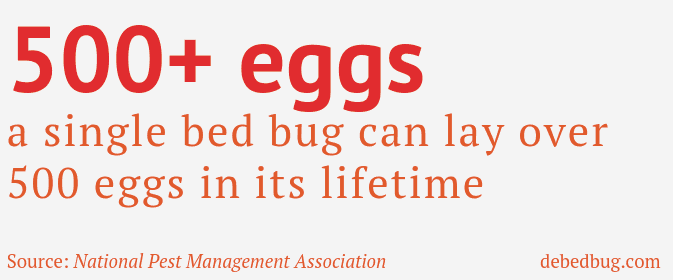 We recommend steamers for most homes. Why? They are pesticide-free and can be used almost anywhere.
On a tight budget? Sprays will be your best bet.
When it comes to sprays, natural products that work are hard to come by. We've found two natural sprays that are certified to do the job.
There's nothing wrong with synthetic sprays when applied the right way though while wearing pesticide protection.

Here are a few of the best natural and synthetic sprays on the market today.
Click any product name or picture to see the corresponding review:
As the name suggests, contact sprays need direct contact to work.
This makes them most useful for advanced infestation. You have to get face-to-face for these sprays to do anything.
Alcohol and soap sprays are popular DIY bed bug sprays. They are about 50% effective although they cannot destroy eggs.
Too many people try a combination of DIY sprays and heaters only to light their homes on fire.
Alcohol and Windex are no substitute for purpose-made sprays designed for the job.
Even general-purpose "bug sprays" don't work against modern chemical-resistant bed bugs.
Use something designed for bed bugs if you want actual results.
Natural contact killers are effective and affordable.
They typically use essential oils and natural pesticides called pyrethrins to deal with bed bugs.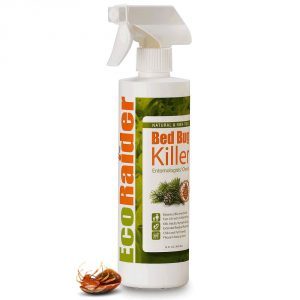 EcoRaider and Bed Bug Patrol are two newly developed contact killers that are 100% natural.
These sprays have received seals of approval from experts and the Entomological Society of America (ESA).
These sprays are your best bet if you'd like a natural contact killer but don't want to spring for a steamer.
We've reviewed both of these natural sprays on the page dedicated to sprays.
Heat is one of the most well-documented, fool-proof, and popular methods of getting rid of bed bugs.
Expose bed bugs to temperatures at or above 120˚F for 5 minutes and they will die.
Modern bed bug heaters are a safe way to treat anything you can fit conveniently and quickly.

Click any product name or picture to see the corresponding review:
The ZappBug Heater is perfect for most homes. It's affordable and big enough to fit a full-sized suitcase.
For more on how to prevent bed bugs after travel, check out the prevention page.
Many people dealing with bed bugs end up looking into DIY bed bug heaters.
These days, it's tough to save money by building your own heater. Manufacturers sell certified and professionally designed heaters for reasonable prices. Competition has brought prices down even further.
A DIY heater needs to be painstakingly set up and watched in case things start smoking. Compared to tossing things in and pressing a button, it's a lot of stress.
Safety should always come first.
Our perspective is that it is not worth gambling your entire home on DIY heaters. There's no guarantee that they will work anyways.
If buying a heater is out of the question, try another contact killing method. There's a spray or steamer for any budget. They will work and don't pose a serious fire hazard.
Heat treatment becomes very dangerous when people try to DIY whole-house treatment. Fires happen every year due to botched attempts.
Folks crank heaters as high as they'll go while opening ovens and blasting them. Others use heat lamps and freestanding oil heaters in an attempt to heat their homes up to 120˚F.

Leave large format heat treatment to the professionals. They pay a lot for commercial heating units designed for the job.
Hack-job attempts are dangerous and don't have enough power to heat up fast enough anyways.
Without a powerful enough heater, bed bugs will feel the heat creeping and have time to escape. They will dive deeper into your home's foundation making things much more complicated.
Only commercial grade heaters are capable of heating entire homes fast enough.
The idea of treating bed bugs with cold is attractive. Everyone has a freezer, after all.
Freezing is especially useful when it comes to items that can't be treated with heat.
Recent research has added some food for thought when it comes to killing bed bugs with cold.
We've seen recommendations to simply toss whatever you'd like into the freezer or even into a big pile of snow overnight.
Unfortunately, only the most extreme weather will do the job.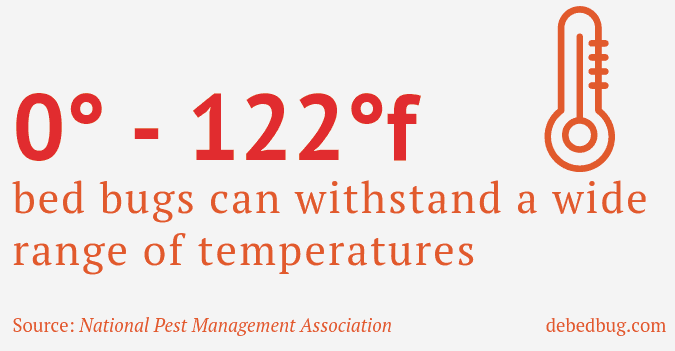 Your freezer needs to reach temperatures between -4˚F to -5˚F, or -15˚C to -20˚C to kill bed bugs.
If you have a powerful freezer, treating bed bugs this way is straightforward.
Even if your freezer can reach those temperatures, it will take several days to kill all stages of bed bugs. While mature bed bugs will die quickly, eggs are more resilient and can hold on for several days.
Do not open the freezer to check on your items during treatment.
You will lose a lot of progress and should tack on another day to be safe if you must open it.
If you decide to treat items with cold, freeze a decent amount at once since you'll be investing the time.
Keep in mind that such low temperatures can damage sensitive items. Don't freeze artwork or electronics. Look up manufacturer recommendations online before freezing things.
Steam is often the best choice for the job.
Whether treating upholstery, mattresses, or carpet, pressurized steam is the way to go. Regular sprays can't pierce furniture like steam does.

You can also use any pest steamer to treat your mattress or couch. You'd need a top-of-the-line heater to treat anything so large.
Not all steamers are designed for the job though.
Click any product name or picture to see the corresponding review:
Nozzle temperature is very important. Look for steamers that put out at least 200˚F at the tip. Anything less and you may just blow bed bugs around.
Steam is a contact killer. It will need to touch bed bugs to work. Bugs hiding deep in your furniture and bed frame might escape if you don't treat every corner.
This is why you should be using encasements, interceptors, and a residual killer too. When used together, they will get rid of all bed bugs.
While treating with steam seems straightforward, there is a learning curve.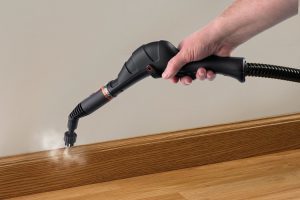 The steamers page has all the details you'll need to steam like a pro. Good technique will ensure you don't damage your home. Give it a read before starting your steaming effort.
A hose attachment without bristles works the best. Narrow attachments are perfect for squeezing nozzles into their favorite hiding spots.

Unlike regular vacuums, pest vacuums use HEPA filters and plugs designed to keep bugs in.
HEPA filters also hold onto any bacteria that may be sucked in after running your vacuum over dried blood spots. Regular vacuums will blow bacteria right back into the air.
How do you make an infestation take care of itself? Simply make it impossible for bed bugs to get to you without walking through residuals.
You can do this by applying residuals in these areas.

The picture gallery will give you an idea of the most often infested areas so you can apply yours where it matters most.
Sprays are a reliable and convenient option when dealing with bed bugs. Quick killing contact sprays come to mind first, but sprays also come in residual form.

Residual sprays are easy to apply. Use them wherever bed bugs are likely to travel on their way to your bed.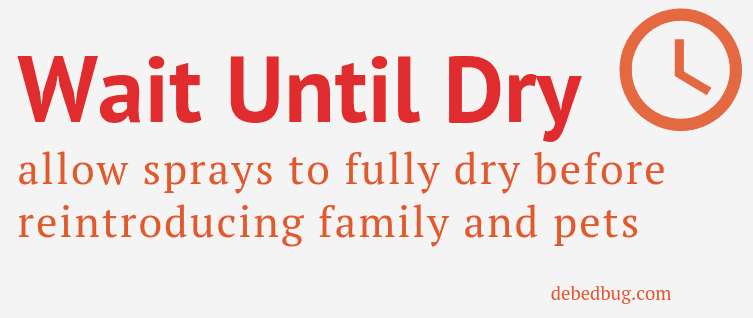 We'll discuss exactly where you should spray them here.
There are even natural residual sprays that work very well.
Click any product name or picture to see the corresponding review:
The most popular bed bug powders on the market happen to be organic desiccants. Desiccants are natural sponges that absorb water from whatever they touch.
You've bumped into them in one form or another. The little packet of silica beads found inside snack packets is one example.

When it comes to pest control, they use the same stuff only in powdered form. Desiccants work by destroying the waxy protective shell surrounding insects. Once weakened, bugs quickly lose internal fluids and dry out.
Food-grade diatomaceous earth and amorphous silica gel are the most popular residual powders. They are organic and pesticide-free.
Interested in faster-acting chemical bed bug powders? Check out our reviews of the best.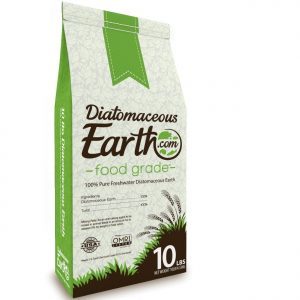 Non-food grade/freshwater powders are linked to silicosis and lung cancer in cases of heavy and frequent exposure.
Recent studies of DE have shown it to be sometimes ineffective. A natural resistance has started to develop in bed bugs. On the other hand, amorphous silica still works without a hitch.
The most popular manufacturer of amorphous silica at the moment is CimeXa.

A single application is deadly to bed bugs for up to a decade when left undisturbed. Doing a good job of applying CimeXa once will protect your home in the short and long term.
Click any product name or picture to see the corresponding review:
During an active infestation, these two things will will stop most or all bites.
Using encasements and interceptors before you have a problem is one of the most effective forms of prevention. Many hotels invest in hundreds of encasements for this reason.

Putting encasements on is much easier than fighting an infestation deep inside your mattress.
It is fine to install encasements without spraying or otherwise treating your bed. A good encasement will stop bed bugs from getting in or out.
Click any product name or picture to see the corresponding review:
The encasement page makes it easy to choose the perfect lab-tested set for your home. Check it out for handy charts and reviews of the best available today.


Making your bed a sanctuary is good for sleep and bad for bed bugs.
Encasements and interceptors are affordable, make inspections easy, and stop bites. Interceptors also help monitor infestations.
When used together, they will slow down bites at the very least. They can even stop some infestations that are caught early.
Try not to toss furniture, especially in the middle of an infestation. If you bring replacements home before an infestation is over, bed bugs will end up infesting them anyways.
It's up to you to decide if something is completely ruined and worth tossing.
Use furniture storage or disposal bags when throwing away anything infested.
Marking things and sealing them off ensures that neighbors won't accidentally spread an infestation throughout your building.
We'll get into how to treat furniture in the next two sections.
Minimize Clutter at Home

It's a common misconception that filth attracts bed bugs. While untrue, cleaning does make a difference.
Maintaining a clutter-free home helps get rid of hiding places. It also makes it easier to apply powders and check rooms for signs.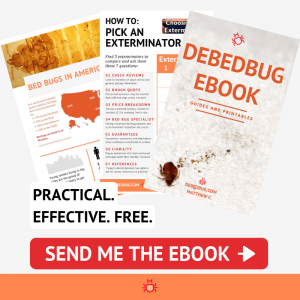 How to Treat Furniture
When it comes to treating furniture, using a heater or steamer will give the best results. Contact killing sprays will also do the job. Be sure to choose a spray that doesn't leave a residue.
Heaters allow you to treat entire couches and beds if you can afford the larger models.
Steamers offer the best balance of value. They are much more affordable than large heaters and don't carry the danger of pesticides touching your skin unlike pesticide sprays.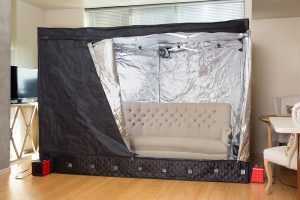 What furniture should you focus on? The bed is always a good place to start. Dressers and nightstands are common hiding places as they're near the bed. Don't forget to remove drawers and check inside railings.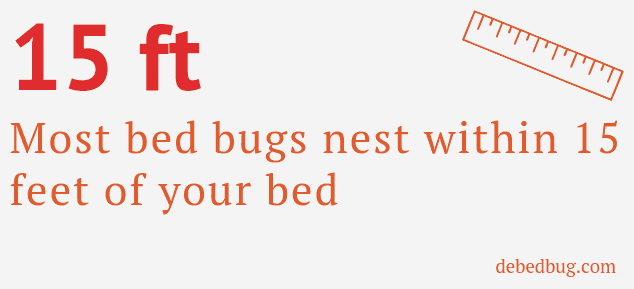 Where should you apply steam and sprays? Focus on areas that are hard to reach for the best results. Bed bugs love to hide in joint slots, creases, and small spaces.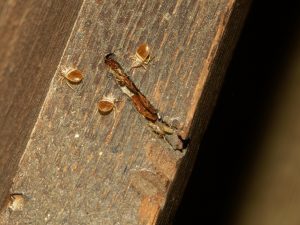 Interceptors also come in a range of sizes that will fit most furniture legs. They make checking for bed bugs easy while also making it impossible for them to climb into your furniture.
Once you've installed interceptors, keep furniture away from walls. Bed bugs can and will crawl from the wall onto furniture.
How to Clean Clothes and Linens
To treat clothes, put already dry items into a dryer and tumble on high for at least 30 minutes.
You can keep bed bugs out of clothes and linens using airtight containers like Ziploc bags after they've been dried. Two-gallon bags can protect shirts and pants while XL and XXL bags will fit everything else.
By keeping them out of your office and the homes of your friends and family, you're stopping the cycle.
If you choose to wash clothes before drying them, run an extra-long drying cycle.
Items need to reach temperatures above 120˚F for several minutes to kill bed bugs at all stages. This requires that they are bone dry.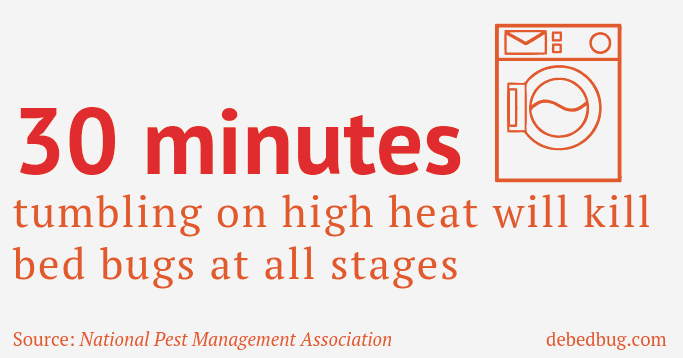 120˚F will kill adult bed bugs almost instantly. Eggs are hardier than hatched bugs. Maintaining temperatures above 120˚ for a few minutes guarantees their destruction.
Cleaning Delicate Clothing
Some delicate articles of clothing won't survive long aggressive drying cycles.
To work around this, you can dry a few items on high for 5 minutes at a time. This allows them to reach 120˚F fast. Make sure everything is bone dry beforehand.
You can also consider a bed bug heater for delicates.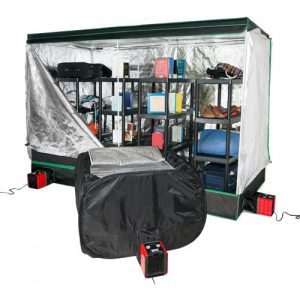 Heaters don't violently tumble and can be used for all sorts of things besides clothing. They're the best tool for preventing bed bugs because they make it easy to treat an entire suitcase after traveling.

Dry Cleaning
Treating clothes at a dry cleaner is another option.
Call before going in to make sure they can handle potentially infested clothes.
Some cleaners have procedures to treat your clothing and will readily take your business.
Dry cleaners aren't in the business of extermination though. It's within their rights to decline your business.
Cleaning Miscellaneous Items
Items like backpacks, plush toys, and shoes can also be treated in a dryer. Many things can be treated this way – do a little research to make sure you don't ruin your stuff.
A bed bug heater is the answer for most sensitive and delicate items. Heaters can safely treat electronics, books, magazines, and other documents.
Have a question about something specific? Ask about it in the comments.
Seal Entry and Exit Points
Use caulk or a similar sealing putty to get rid of those points of entry. Do this and you'll stop a huge cause of frustration in multi-unit infestations.
It's very common for infestations to expand into neighboring units. Even if you've taken every step to get rid of an infestation yourself, it's possible for them to come back through a neighbor's unit.
Taking the time to seal points of entry will help prevent that.
Sprays: There is not much of a secret when it comes to applying sprays. Use them wherever you find bed bugs. Be sure to follow manufacturer instructions. Do not apply them on surfaces that will contact skin. Avoid spraying your mattress, sofas, and couches.
Steam: Steam is our favorite contact killing tool because it is so flexible and entirely natural. Unlike pesticide sprays, you can use steam anywhere. If using it on your bed, be sure to allow plenty of time for everything to dry before putting on encasements.
Heat: Heat is another low-impact tool that can be used on almost anything. Larger units can even treat big pieces of furniture or a closet's worth of clothes in one go. Heat is the only way to treat delicate things like books, artwork, and so some electronics.
Vacuuming: Vacuum as often as you'd like. Doing so gives bed bugs fewer places to hide. Always throw away used filter bags and cartridges immediately after vacuuming. Seal them in a plastic bag and immediately toss the bag outside. Bed bugs can escape from bags or your vacuum with ease.
Remember to reapply bed bug powders after vacuuming.
You will get the best results possible from your contact killers when you apply them to bed bug hot spots.
They need to be directly contact bed bugs to work.
Keep an eye on the following areas where bed bugs naturally cluster.
Sprays: Applying residual sprays is as simple as pointing and shooting. Some residual sprays are sold as concentrates and need diluting. In those cases, a pesticide sprayer will handle the job.
Apply them in concentrations as recommended on the manufacturer's label. Follow recommendations on reapplication. Skipping reapplication can lead to an infestation coming back with a vengeance.
Powders: An affordable handheld duster is the best tool to apply residual powders. In a pinch, you can use a fine brush or a regular paintbrush. Good application will be hard to achieve, but they will work.
The goal is to create a thin layer that bugs have no problem walking through. If they have to wade through the stuff, they will choose to walk around the heaps and mounds instead.
Be sure to reapply powders after vacuuming.
Target areas that bed bugs travel through. Focus on their favorite hiding spots.
By focusing on these areas, you will be putting yourself in the best position to get rid of bed bugs.
Make it impossible for bed bugs to get to your bed without walking through residuals. They will get rid of themselves.
Wear a respirator when applying powders and sprays.

The dangers of inhaling powders and pesticides are well-documented. Powders and sprays are serious health threats when inhaled in excess amounts. Even natural ones.
Professionals are required to wear protective gear when applying any pesticide.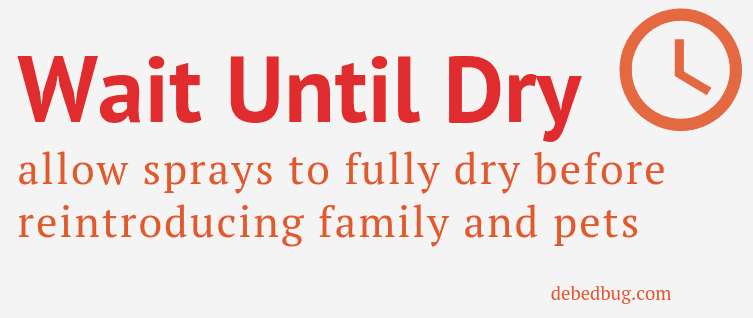 Monitoring Infestations
Bed bug interceptors and encasements work together to make your bed a fortress. Interceptor traps actually work double-duty. They protect your bed while also capturing bugs that try to climb up.

If installed before an infestation, interceptors can capture live bed bugs which may prevent infestations entirely. At the least, capturing a bug early gives you a heads-up to start treatment before an infestation gets out of hand.
During an infestation, interceptors help monitor and keep track of populations. How they do this is simple.
Click any product name or picture to see the corresponding review:
Traps also slow infestations by making it hard for them to get a meal. Bed bugs need to feed to grow and produce eggs. Interceptors do many jobs at once without needing maintenance.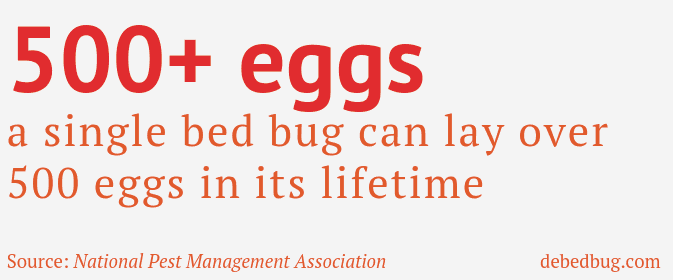 Continue treatment as usual for at least 2 weeks after signs of bed bugs stop appearing. Eggs take 6 to 10 days to hatch and bugs can slip through the cracks.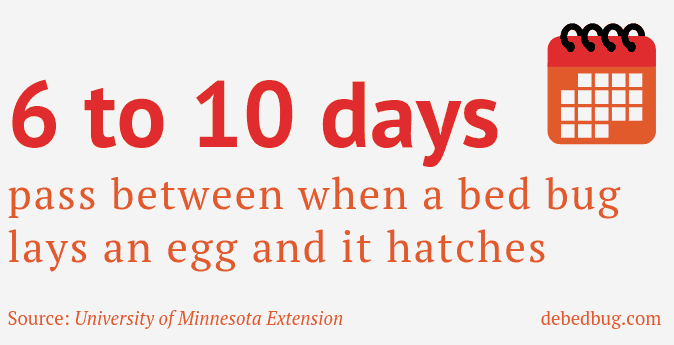 Staying on top of your plan and being consistent is the only way to get rid of bed bugs.
You can be confident that you've gotten rid of them completely when your traps stay empty for a couple months.
Interceptors and encasements will stop most bites and are necessities.
These plans will work without alterations for many people. We encourage you to make substitutions based on your preferences.
Have at least one tool for each category. The only optional tool is a pest vacuum. A regular home vacuum can do the job if you make sure all vacuumed bugs have been killed by your contact killer first.
If you have found your infestation before it has advanced to a moderate infestation, contact killers may not be necessary.
Contact killers are only useful when you can find live bed bugs to spray directly. It is good to have one on-hand in case the infestation grows or you happen to find a cluster.
Example plans:
Natural and preventative plans:

Many of our example plans recommend steamers because they allow you to skip chemical sprays. Large heaters are an even lower-impact option if you can afford them.

That said, sprays are effective, affordable, and harmless when used the right way. It comes down to personal preference.
The tools page will help you get the full scope of all the best products available today.

A respirator and goggles are cheap investments in your health.
Being stuck indoors with pesticides hanging in the air is not good for you, period.
Wearing a respirator is important when applying sprays and powders. Less obvious is the fact that when you use steam, you will be blowing the pesticides you've applied into the air.
An affordable respirator protects your lungs from cancerous and abrasive particles.
When applying pesticides in general, it is best to wear both a respirator and goggles. If you will be touching chemicals, gloves are also recommended.

We typically don't recommend trying to starve bed bugs. They have evolved to survive without a meal for over a year.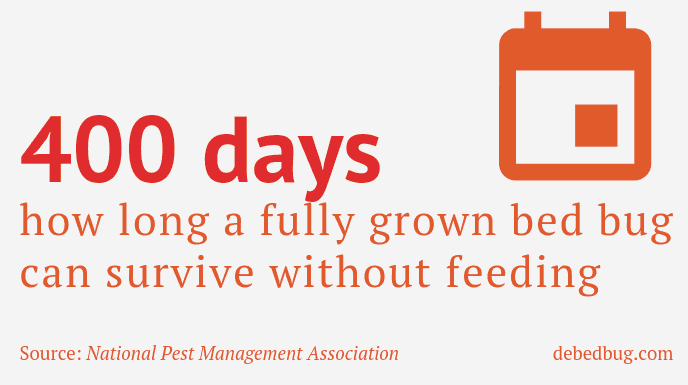 In what cases would starving them make sense? A real-life example of an individual with an infestation and a priceless collection of art magazines comes to mind.
The magazines would have been damaged if treated using heat or freezing. Sealing them in an airtight container was the perfect way to save them.
Sensitive electronics, books, and embroidery can all be saved this way with patience.
Self-treatment requires consistent work and constant mindfulness. One slip-up and you could be set back weeks…or a year in this case.
Besides not wearing pesticide protection, there are various health-risks you should be aware of.
Keep these don'ts in mind:
Do not go to your local hardware store for bug bombs or foggers. Bombs are foggers do the opposite of what they advertise. They scare bugs deep into your foundation and into neighboring units. They will come back after the gas is gone.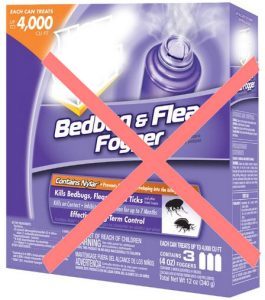 Do not sleep anywhere but your own bed once you find bed bugs. They have evolved to detect human breath and will follow you. Sleeping on the couch is the quickest way to get bed bugs in your living room.
Do not use generic insecticides and chemicals without understanding their contents. These sprays are ineffective against hardy bed bugs. Use products designed to kill bed bugs.
Do not use kerosene. Kerosene is extremely flammable and isn't 100% effective. It's a terrible, dangerous idea.
Do not throw away your bed and furniture immediately. Consider using steam or contact sprays and encasements to save them. Clearly mark anything you decide to toss as infested.
Do not waste money on most "all-natural" bed bug sprays. Sprays containing lavender and peppermint may be natural, but they are not proven. Most natural sprays don't work, except for these two well-studied products.
Do not attempt large-scale heat treatment yourself. Large-scale treatment is dangerous and impossible without professional equipment. Small-scale treatment using heaters like the ZappBug are safe.
Do not try to starve out your infestation without being ready to commit to at least 400 days of isolating them.
Many professionals consider bed bugs to be one of the most difficult pests to deal with.
When doing it yourself, it is necessary to stay on top of your plan.
Often, it is more affordable to take the DIY approach over professional treatment. This is true even if you invest in your own heater and steamer.
After making a plan, the next most important step towards success is knowing how to use each product.

We recommend going through posts from the tools page to get an understanding of how to use each part of your plan.
Now that you've gone through this page, you should feel confident enough to get started.
If you think that we've missed anything, please leave a comment below!
References
https://debedbug.com/references/
---