This page will teach you everything you need to know to get rid of bed bugs yourself.
We'll cover:
By going into where and why you'd use each tool, our goal is to show you which products are right for your home and your budget.

We'll walk you through the whole process. You'll come away with a step-by-step plan, several free printable resources, and you'll know the next step that needs to be taken.
If you've hired a professional, ask them before doing anything on top of their treatment!
Make Sure They're Bed Bugs
Before we dig into treatment, I need to urge you to be sure that you actually have bed bugs.
Bites, bumps, and rashes can be caused by all sorts of different bugs and even environmental conditions. These days, there's so much media attention on bed bugs that it's natural for the brain to assume the worst.
We cover symptoms of bed bugs in-depth to help take the guesswork out of it.
We also have an entire page on pictures of bed bug bites on real people, as well as a page explaining how to identify bed bug bites.
To help give you an idea of what bed bugs look like, we have a gallery showing them in their natural habitats.
Take the time and make sure you know what pest you're dealing with to save yourself time, money, unnecessary exposure to chemicals, and serious headache.
Prepare To Treat Bed Bugs
Once you're positive that you do, in fact, have bed bugs, your next goal should be putting together a plan.
According to professionals, bed bugs are one of the hardest pests to deal with.
Taking the time to make a plan is the most important step towards getting rid of bed bugs.
Trying to kill bed bugs without a plan can turn a manageable problem into a huge, messy, and expensive one.
The idea is to take advantage of several bed bug killing tool at once to attack bed bugs from all directions so they have no chance of escaping.
This is exactly what professional pest control operators do. We'll get into exactly what it takes in the next two sections.
An added benefit of making your own plan is that you have complete control over what pesticides and products you are exposed to.
When treating your home for bed bugs, it is important to avoid moving them around your house. That means that you should continue sleeping on your bed instead of moving to a couch or guest room.
Bed bugs will go wherever you rest. Sleeping elsewhere just spreads an infestation to multiple rooms.
Bed Bug Killing Products
These 5 products will get rid of your bed bugs:
Your plan should include at least one of each of the above product types.
We've created several example plans for different budgets and goals.
Each product has a very specific job.
Contact killers get rid of all easy-to-find bed bugs
Residual killers kill remaining stragglers while you sleep
Bed protection prevents bed bugs from biting you while you sleep which means they can't grow or lay eggs
Monitors and interceptors help you keep an eye on populations until they are eradicated
Pesticide protection is crucial as it protects you while applying pesticides
Skipping even one ultimately makes things more expensive and messy.
The only exception is an infestation caught very early on.
If you've only been bitten a few times and have found signs of bed bugs, but haven't been able to find live bugs, you can skip the contact killer.
The next section features a printable that will help you plan and easily keep track of everything.
Each tool also has its own dedicated page that includes product recommendations, reviews, comparison tables, and application and usage tips. The bed bug tools page serves as a hub for all of them.
The dangers of inhaling abrasive dusts and pesticides are well documented, which is why professionals are required to wear protective gear when applying anything.
Please don't consider yourself the exception, wear pesticide protection.
5 Steps to Getting Rid of Bed Bugs
Once you're ready to begin treatment, professionals recommend doing things in this order:
Clean What You Can
Apply Residual Killers
Apply Contact Killers
Install Bed Encasements
Install Monitors/Traps
All 5 steps should be completed in one sitting.
Cleaning first gives you a chance to remove random clutter that bed bugs like hiding in before applying residual sprays or powders. A bed bug vacuum is perfect for the job of getting rid of dust and debris in the cracks and crevices your pesticides need to penetrate.
After applying residuals, you can then use contact killers on clusters. Runaway bugs will get coated in the residual killers that you have already applied.
Finally, after treating your mattress and box spring with steam, heat, or sprays, you should install encasements and monitors at the same time.
Reapplication of residual and contact products should be done periodically as recommended by the manufacturer.
It is also completely fine to install bed encasements without first treating your bed. Encasements are designed to completely stop bed bugs from getting in or out.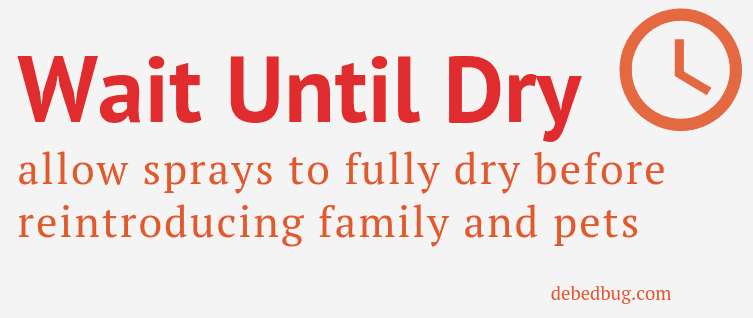 Most people just don't like the idea of sleeping on an encased mattress full of bed bugs and feel better killing the bugs that they can before sealing it up.
Vacuum shells, dead bugs, and eggs as often as you'd like as well – just be careful not to disturb the areas where residual powders have already been applied unless you are ready to reapply them.
We'll get into the specifics of how to complete each of the 5 steps after these example treatment plans.
Example Treatment Plans
The following plans were carefully put together and will work perfectly for many people.
You will get more reliable and faster results by choosing higher quality products. We recommend prioritizing bed encasements, interceptors, and residual powders.
Many of the plans recommend steamers because they allow you to skip chemical sprays. We're serious believers in lowering your exposure to chemicals.
Sprays can be very effective, affordable, and mostly harmless when applied properly – it's a personal choice in the end.
You will still need to use residual powders either way. There are no replacements for them.
The tools page will help you choose between products if you're uncertain or want to get the full scope of what's available.
Relative Cost: $
Relative Cost: $$
Relative Cost: $$$
Relative Cost: $$$$
All Natural Plan (Relative Cost: $$$)
Preventative Plan (Relative Cost: $$$)
Printable Bed Bug Treatment Planner
This worksheet will help you keep track of all the arms of your plan – you already have enough going on after all.
If you'd like the rest of the worksheets and planners we've developed in full resolution, check out the ebook.
In addition to five printables, the ebook includes a lot of information in a neat and easily skimmable package.
Clean & Save What You Can
Try not to toss furniture, especially in the middle of an infestation. If you bring replacements home before an infestation is over, bed bugs will probably end up in it anyways.
It's up to you to judge if something is completely ruined and worth tossing though.
In many cases, purchasing a steamer or heater to treat your furniture is much cheaper than the cost of replacing couches and beds.
Keeping clothes clean and sealed away in airtight bug-proof containers makes a big difference.
By making sure your clothes stay bed bug free, you can stop worrying about taking your infestation elsewhere – like to your office, friend's and family's homes, and even from room to room.
You can use large Ziploc bags for this purpose. Two-gallon bags are good for separating clothing by category, while XL and XXL bags can help protect things like puffy jackets.
Placing an XXXL Ziploc or similar sealable bag in a hamper to be zipped shut every time it's used is a good way to easily protect clothes after wearing them.
Minimize Clutter at Home

Bed bugs aren't attracted to filth and messy homes unlike cockroaches and flies, but cleaning does make a difference.
Maintaining a clutter-free home helps get rid of hiding places and makes it easier to quickly check rooms for symptoms.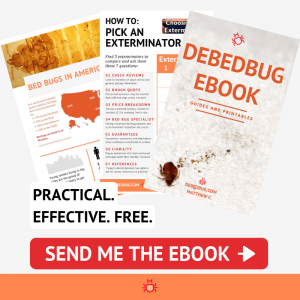 You can bump cleanliness up to another level by putting treated items in airtight bags and airtight plastic crates. Doing this will help you take control of your home piece-by-piece.
Before you toss anything out, mark it as infested and dispose of it in a furniture storage or disposal bag!
Tossing a couch out on the street only to have it picked up and brought back in by a neighboring apartment would spread the problem and be tragic for everyone involved.
We'll get into how to treat furniture in an upcoming section if you think it's savable.
Vacuuming
Using a hose attachment without bristles will get you the best results when it comes to the nooks and crannies on furniture and the spaces between walls and baseboards where you'll be targeting.
Narrow attachments are perfect for our bed bug capturing plans.
Areas that benefit from vacuum include:
floorboards and baseboard
closets
carpets
furniture
mattresses
box springs
Be sure to dispose of your filter bag or cartridge immediately in a sealable plastic bag outside.
Reapply residual powders after vacuuming if you had applied them beforehand.
How to Treat Furniture
When it comes to treating furniture, using a heater or steam will give the best results. Contact killing sprays will also do the job, just be sure to choose a spray that doesn't leave a residue.
Heaters allow you to treat entire couches and beds at once if you can afford the larger models.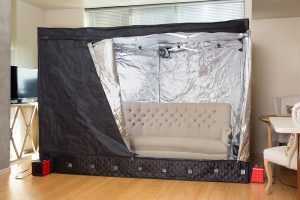 As for where to look, the bed is always a good place to start.
Dressers and desks are also common hiding place for bed bugs. They'll live anywhere near your bed and love any spot that's tucked away out of sight and close to you.
Remove drawers and check inside railings as tight spaces are where bed bugs are most likely to be hiding.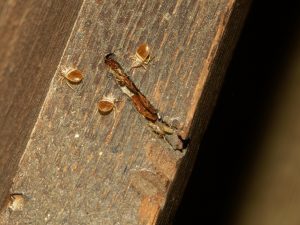 We cover where to look for bed bugs at home on the symptoms page.
Using interceptors on the legs of any furniture in an infested room will make checking for bed bugs quick and easy.
Anything that has interceptors on its legs should not touch the walls as bed bugs have no problems climbing from wall to furniture.
How to Clean Clothes and Linens
To treat clothes, put already dry items into a dryer and tumble on high for at least 30 minutes.
If you're uncomfortable with the idea of drying bed bug infested stuff without a washing them, it is fine to run a wash cycle first, but run them through an extra long drying cycle afterwards.
Items need to reach temperatures above 120˚F for several minutes to kill bed bugs at all stages.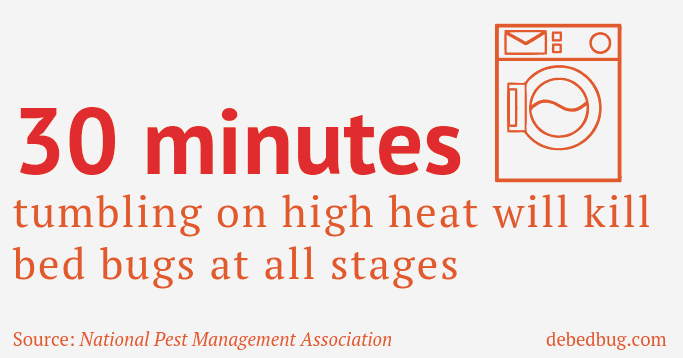 120˚F will kill adult bed bugs almost instantly. Keeping things above 120˚ for a few minutes helps guarantee the destruction of eggs, which are hardier compared to mature bed bugs.
Extra time should be allowed when treating dense and large items like comforters and pillows.
Cleaning Delicate Clothing
Should you have delicate clothing that could be damaged in a full 30 minutes cycle, experiments have shown that drying just a few items at 120˚F for 5 minutes should do the trick.
Look for tags marking clothing as "dry-clean only." Having that on a tag tells you that your dryer's high setting won't harm your clothes.
Make sure everything is bone dry.
Alternatively, consider a bed bug heater for delicates.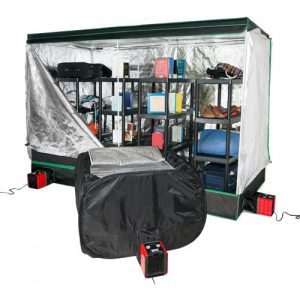 Heaters don't violently tumble and can be used for all sorts of items besides clothing. They're a fantastic tool for preventing bed bugs.
Dry Cleaning
Taking clothes to a dry cleaner is an option to consider.
You should be honest and call before bringing potentially infested clothes to a cleaner to make sure they will take your business.
Some will, while others will decide that it is not worth the risk.
Be sure to bring goods in airtight bags to avoid contaminating your car and the dry cleaning business.
Keep in mind that dry cleaners aren't in the business of bed bug extermination.
Cleaning Miscellaneous Items
Things like backpacks, plush toys, and shoes are a few things that also be cleaned in a dryer.
For sensitive items that you might not want to tumble aggressively, a bed bug heater offers a low-impact option that is 100% effective when used correctly.
Sealing Entry and Exit Points
Using caulk or a similar sealing putty allows you to control points of entry that would otherwise poke holes in your defense.
Take your time and look for cracks and crevices in the floor and walls.
Spots where wires and pipes come through are prime targets. Sealing those spaces cuts of the most common bed bug highway where they enter from in multi-unit infestations.
Contact Bed Bug Killers
Contact Sprays
Contact killers, often found in the form of bed bug sprays, are especially useful in cases of more advanced infestations.
Contact sprays are the best ways to do fast, heavy damage to bigger infestations.
Applying contact sprays helps kill lots of bed bugs at once. This slows down infestations by getting rid mature egg laying females as well.
Contact sprays require direct contact to work. This means that there must be a heavy enough infestation that you are able to find live bugs. You have to get face-to-face.
DIY Sprays
Alcohol and soap sprays are popular DIY spray solutions, but they are only somewhat effective and do not destroy eggs.
Eggs are the most annoying stage of bed bugs. They are hard to find and are resilient against several methods of control including alcohol and soap sprays.
Extra care should be taken if you do decide to spray alcohol as it is flammable. It also makes anything it touches easier to light as well.
There are too many cases of people using DIY sprays and heaters lighting their homes on fire.
There is no safe and common household product that reliably kills bed bugs at all of their life stages.
Alcohol and windex are no substitute for purpose-made chemicals that are designed to shut down bed bug motor functions.
Even general purpose "bug sprays" don't work against modern chemical resistant bed bugs.
Natural Sprays
Natural contact killers are effective and affordable these days.
They use enzymes and low toxicity compounds like pyrethrins (in the cases of JT Eaton and Steri-Fab) to get the job done.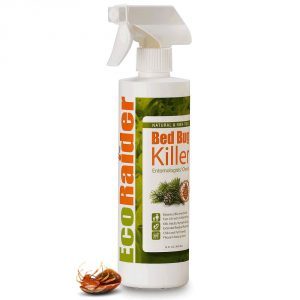 EcoRaider and Bed Bug Patrol are two recently developed oil-based contact killers that have gotten the seal of approval from experts. We've reviewed both of them on the page dedicated to sprays.
Heat Treatment
Heat is one of the most well-documented, fool-proof, and popular methods of getting rid of bed bugs.
Expose bed bugs to temperatures at or above 120˚F for 5 minutes and you will kill them.
Achieving that in a dryer is safe. Things get seriously dangerous when people start trying to heat treat their entire apartments or homes in creative ways.
Every year, you'll see a few stories of people causing fires by cranking up heaters as high they'll go, opening ovens and blasting them on high, and even using an array of heat lamps to try and bring their homes up to lethal temperatures.

Large format heat treatment is best left to professionals who have commercial heating units designed for the job.
Hack job attempts are dangerous and don't have the power to heat up fast enough anyways.
Without a powerful enough heater, bed bugs will feel the heat creeping and have time to escape deeper into your home's foundation making things much, much worse.
Bed bug heaters are a safe way to treat anything you can fit in them conveniently and quickly with heat.
A heater is worth many times its value when used diligently.
The ZappBug Heater offers the best value in terms of how much you can treat at once versus price.
Putting your luggage through a heating cycle is the first thing you should do after getting home from travel. Doing so significantly cuts you chances of ever bringing them home.
For more on how to prevent bringing bed bugs home, check out the page on prevention.
DIY Bed Bug Heaters
Most people who deal with bed bugs end up looking into some sort of DIY bed bug heater.
With officially certified and professionally designed products being so affordable these days, the truth is that you'll end up saving very little by building your own – assuming that you try to build a halfway decent DIY heater setup.
Convenience, reliability, and ease of use are important features that you don't get with a DIY heater.
The peace of mind you get from tossing things in a heater, pressing a button, and coming back an hour later is easily worth the cost when you know it will work. Especially after you've experienced an infestation.
Safety should always come first.
In the big picture, it is simply not worth gambling your entire home on DIY solutions. Especially when there's no guarantee of success anyways.
If buying a heater is out of the question for you, there are all sorts of other contact killing methods that will do the job just as well like sprays and steamers.
Bed Bug Cold Treatment
Recently, more research has been done about the potential of killing bed bugs with cold.
It's easy to like the sound of it – everyone has a freezer after all. We've seen recommendations to simply toss whatever you'd like into the freezer or even into an especially big pile of snow overnight.
Unfortunately, snow will not do the job.
Bed bugs are perfectly capable of surviving in temperatures below 0˚F for several days.
Freezers, however, have been proven to be a usable option by studies from several universities. Killing bed bugs this way is pretty straightforward.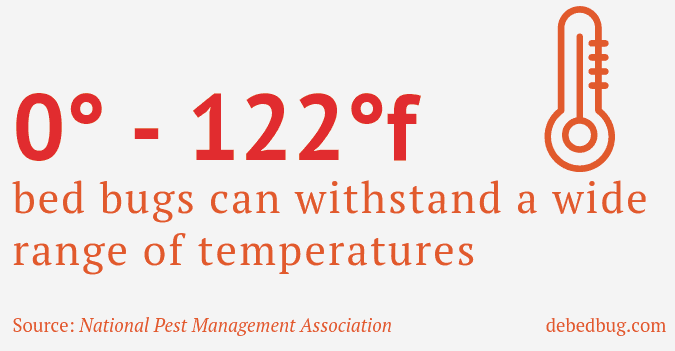 Your freezer needs to reach between -4˚F to -5˚F, or -15˚C to -20˚C. Seal infested items in a plastic bag before leaving them in the freezer for at least 80 hours.
Even if your freezer is able to reach those temperatures, it will take several days to kill bed bugs in all their stages. While mature bed bugs will die quickly in the cold, eggs are more resilient and can hold on for several days.
Do not open the freezer to check on your items during treatment.
You will lose a lot of progress and should tack on another day to be safe if you must open it.
Your freezer is especially useful when it comes to items that can't be treated with heat.
If you decide to treat items with cold, consider freezing a decent amount in one go since you'll be investing the time.
Keep in mind that such low temperatures can damage sensitive items like artwork and many electronics just like heat. Look up manufacturer recommendations online before freezing things.
Bed Bug Steamers
Steamers are another tool that kills using heat. Reaching temperatures over 200˚F, steamers are an affordable and highly effective way to kill bed bugs.
It's important to note that steamers meant to kill bed bugs are very different steamers meant for regular tasks.
| | | | | |
| --- | --- | --- | --- | --- |
| | Amico | Steamfast | Primo | Vapor Clean II |
| Tip Temperature | 200˚F | 210˚F | 220˚F | 240˚F |
| Pressure | 43.5 PSI | 44 PSI | 58 PSI | 65 PSI |
| Adjustable PSI? | No | No | Yes | Yes |
| Water Capacity | 0.8 Cups | 1.4 Liters | 1.6 Liters | 1.7 Liters |
| Steam Time | 5 to 10 min. | 40 min. | 60 min. | Over 60 min. |
| Attachments | 17 | 17 | 17 | 13 |
| Rating | 4.2 / 5 | 4.0 / 5 | 4.6 / 5 | 4.8 / 5 |
| Price | $ | $$ | $$$ | $$$$ |
| More | Review | Review | Review | Review |
For a more detailed look at bed bug steamers, you can read the post dedicated to helping you choose one!
Nozzle temperature is very important. Look for steamers that put out at least 200˚F at the tip. Anything less and you may just blow them around.
The most important steamer features are:
Dry vapor capabilities
A tip temperature of at least 200˚F
Several nozzle heads for different jobs (wide and narrows)
Water capacity of at least 1.5 liters
While treating with steam seems like a straightforward thing, there is definitely a learning curve to doing an effective job.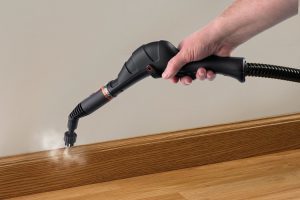 The post on steam cleaners has all of the nitty gritty details you'll need to steam like a pro without damaging your home, I highly recommend giving it a read before starting any deep cleaning.
Always be aware when using a steamer, the hot steam can hurt you too.
Keep in mind that since steam needs to physically hit bed bugs to work, bugs hiding deep inside furniture and walls will be safe from your steaming efforts.
This is why you should be using encasements, interceptors, and a residual killer like diatomaceous earth or CimeXa on top of a contact killer to have a real chance of getting rid of all bed bugs.
Residual Bed Bug Killers
Residual killers are a necessity in any plan to get rid of bed bugs for many reasons.
Residual bed bug killers last for months to years after a single application
Residuals are effective against all stages of infestation
Residual killers work 24/7 and will kill bed bugs while you're asleep or away
Residuals get passed from bug-to-bug
Only a thin layer is needed to kill bed bugs
Residuals are very affordable
Residuals are totally safe when applied properly
Residuals take care of bugs besides bed bugs as well
There are natural and cutting-edge lab designed synthetic powders, both work great
Your goal when applying residuals is to make it impossible for them get a meal without walking through a film of liquid or powdered death.
This is done by strategically applying products where bed bugs like to hide. The bed bug pictures page will give you examples of what to look for so you can apply your residuals as efficiently as possible.
Residual Bed Bug Sprays
Sprays are a reliable and convenient option when dealing with bed bugs. While most people think of contact killers when sprays get mentioned, they also come in deadly residual killing formulas.
Residual sprays are easy to apply. They simply need to be applied wherever bed bugs are likely to walk through on their way to your bed.
There are natural residual sprays that also work very well.
Here are some of the best:
Residual Bed Bug Powders
The most popular bed bug powders on the market happen to be 100% natural desiccants.
You've probably bumped into desiccants in one form or another. The little packet of silica beads found in some snacks is one example of them working their dehydrating magic.
When it comes to pest control, desiccants are used in their powdered form. They work by destroying the waxy protective layer surrounding insect exoskeletons before dehydrating them to death.
The natural desiccants below do this without synthetic chemicals.
If you'd like to learn about chemical bed bug powders, which have the benefit of killing bed bugs faster, check out our reviews of the best of them.
The two most popular desiccant powders today are food-grade diatomaceous earth and amorphous silica gel.
Diatomaceous Earth (DE)
Avoid DE that is not food grade or freshwater farmed.
Non-food grade/freshwater powders have been linked to silicosis and lung cancer in cases of heavy and frequent exposure.
Recent studies involving DE have shown it to be sometimes ineffective against bed bugs due to a growing natural resistance compared to amorphous silica.
Amorphous Silica Gel
The most popular manufacturer of amorphous silica at the moment is CimeXa.

CimeXa was specifically designed to kill bed bugs. Lab results show that compared to DE, amorphous silica is safer, kills three times faster, and lasts years longer.
A single application is deadly to bed bugs for up to 10 years if left undisturbed. Doing a good job of applying CimeXa once will protect your home in the short and long term.
Here's a chart highlighting the best bed bug killing powders out there:
Diatomaceous Earth
CimeXa
EcoPCO
Evergreen
Active Ingredient(s)
Silicon Dioxide, Elemental Oxides
Amorphous Silica Gel
Phenethyl Propionate,
Pyrethrins
Pyrethrin, Amorphous Silica Gel
Lifetime
2 Weeks
10 Years
8 Months
4 Months
Killing Speed
Slow
Medium
Fast
Medium
Price
$
$$$
$$
$$
Rating
3.0 / 5
5.0 / 5
4.6 / 5
4.0 / 5
More

Review

Review

Review

Review
How to Apply Residual Killers
To apply bed bug powders, an affordable handheld duster is the perfect tool. In a pinch, you can even use a fine brush or a regular paintbrush, although proper application will be harder to achieve.
A thin layer that bed bugs have no problem walking through is the goal. If they have to wade through the stuff, they will choose to walk around the heaps and mounds instead.
When it comes to sprays, simply apply as recommended by the manufacturer.
Be sure to follow manufacturer instructions
Apply conservatively – less is more
Let sprays dry completely before allowing people and pets back in
Air out the area after application
Apply only in areas that are unlikely to be disturbed by human traffic
Do not apply in places where people are likely to touch with bare skin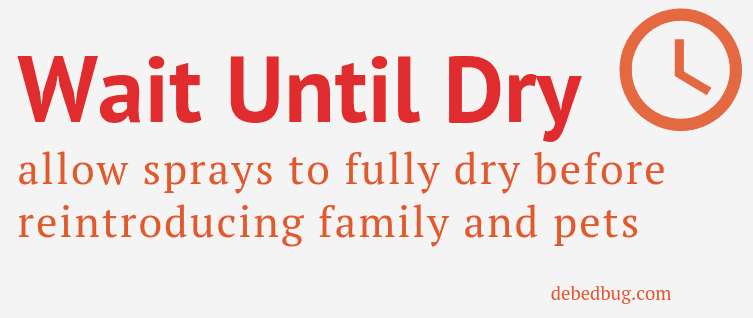 Target areas that bed bugs travel through. Focus on their favorite hiding spots.
Concentrate on hard-to-treat areas like:
the area around your bed
cracks and crevices along walls
spaces between where carpet meets wall
behind switches and outlet plates
along baseboards
around windows
around vents
around cabinets and drawers
By concentrating on these areas, you will be putting yourself in the best position to get rid of bed bugs.
Make it impossible for bed bugs to get to your bed without walking through residuals and they will get rid of themselves with time.
If you combine your residual killers with interceptors and encasements, you won't even have to deal with bites while residuals do their work.
Wear a respirator when applying powders and sprays.
All powders and powders pose serious health threats when inhaled in excess amounts, even natural ones.
The Bed Bug Preventing Bed
Bed encasements and interceptors are necessary and should be the first things you get when dealing with an infestation.
They are affordable, make inspections easy, and stop bites by keeping bugs off of your bed.
Encasements and interceptors are a great idea even before an infestation shows up.
Taking preventative steps to protect your bed is quick and painless compared to fighting an active infestation deep inside your mattress.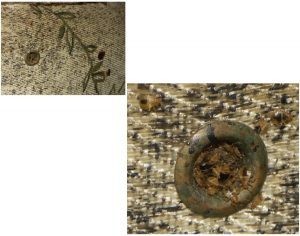 Follow these steps to clean your bed and stop bugs from getting back on.
Move your bed away from walls, overhanging lamps, and nearby furniture
Remove all bedding and clean it using a dryer set on high for at least 30 minutes

Clean bedding twice a week

Treat your mattress and box spring with a contact killer
If using steam or a spray, allow your bed to dry completely before the next step to prevent mold
Install encasements on mattresses and box springs
Install interceptors to stop bed bugs from climbing up your bed posts
Be sure that your sheets and bedding do not touch the ground once you put them back on
Shower and wear clean clothes before getting in bed every night to prevent bed bugs from hitchhiking onto your bed with you
---
Once you have encasements installed, the only way bed bugs will get to you is by climbing up your bed posts. Interceptors are the easiest way to stop them.
By trapping bugs, interceptors also help keep tabs on an infestation.
---
The following chart is a highlight reel of the best mattress encasements available today.
| | | | | |
| --- | --- | --- | --- | --- |
| | AllerZip Smooth | SafeRest Premium | SureGuard | Sleep Defense |
| Lab Tested | Yes | Yes | Yes | Yes |
| FDA Registered | Yes | Yes | No | No |
| Zipper | BugLock 3-part | Velcro, Micro-Zipper | Velcro, "Zipper Technology" | Velcro, Zip-tie |
| Material | Cotton, polyester terry fabric | Polyester knit fabric | Polyester knit fabric | Polyester knit fabric |
| Sleeping Surface | Cotton | Cotton Terry | Cotton Terry | Polyester knit fabric |
| Rating | 5.0 / 5 | 4.6 / 5 | 4.0 / 5 | 3.4 / 5 |
| Price | $$$ | $$ | $$ | $ |
| More | Review | Review | Review | Review |
| Why Buy? | Best Overall | Great Value | Budget Comfort | Budget Friendly |
The encasement page makes it easy to choose the perfect lab-tested set for your home. Handy charts and reviews of the best available today make it easy.
Making your bed a sanctuary is good for sleep and bad for bed bugs. Encasements will help slow down bites at the very least and can even stop an infestation if it was caught early.
Monitoring Infestations
Bed bug traps can be installed at any time. Interceptor traps particularly are always useful and work by trapping any bug trying to climb up the feet of your bed or furniture.
If installed before an infestation, traps can help you find the first signs of bed bugs. During an infestation, they help keep track of infestations.
Seeing fewer bugs in your traps tells you that the infestation is dying off, while finding more bugs tells you that the problem is still growing.
Traps also slow infestations by making it hard for them to get a meal. Since they need to feed to grow and lay eggs, interceptors do many jobs at once without you needed to maintain them at all.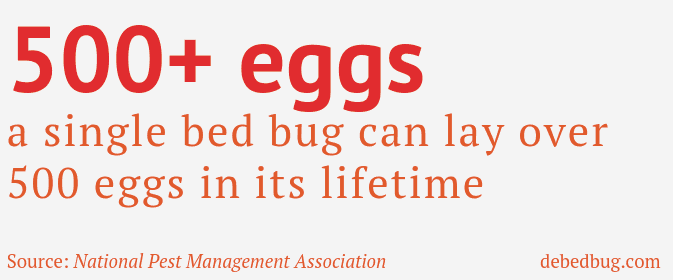 You can be confident that you've officially gotten rid of bed bugs when nothing shows up in your traps for a few weeks.
Interceptors and encasements are necessities.
Tape Tricks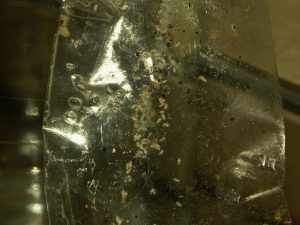 For many people, the time between ordering and receiving bed bug killing supplies is the worst.
Tape can help you do something in the meantime to ease your mind.
Applying smooth-sided tape around bed and furniture legs will make it a little harder for bed bugs to get to you.
Tape can also be used to collect and take pictures of samples.
Tape won't replace interceptors made to get bed bugs, but everyone has tape. Using a little won't make things worse.
Wear Pesticide Protection
A respirator and goggles are worth their weight in gold.
Being stuck indoors with pesticides hanging in the air is not good for you, period.
Whether you are applying sprays and powders, or steaming your couch that had powder on it, a simple respirator will help protect your lungs from cancerous and abrasive airborne particles.
Please don't consider yourself the exception, wear pesticide protection.
When applying pesticides in general, it is best to wear both a respirator and goggles. If you will be touching the chemicals, gloves are also recommended.
Powders and dusts will stay in the air during and after application
Protection is very affordable. Especially compared to medical treatment
Drying abrasive powders like DE and Amorphous Silica are bad for your lungs
Long-term health effects are not completely understood but definitely exist
Protective gear can be used for other household chores like painting, power washing, and cleaning
Can you Starve Bed Bugs?
I don't recommend trying to starve bed bugs because they can survive without a meal for over a year.
There are a few cases where starving them out does make sense, though.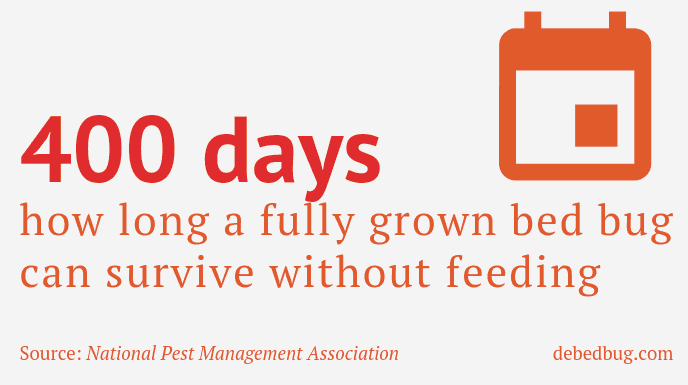 For example, I read a story about someone who was dealing with bugs that had invested several thousands of dollars' worth of art magazines.
The magazines were dense and would have likely been damaged if treated using heat or freezing.
If you decide to try and starve bed bugs, put what you're trying to save in an airtight plastic bag, seal it, and leave it shut for at least 400 days.
Sensitive electronics, books, and embroidery can all be saved this way with patience.
Self-treatment requires consistent work and constant mindfulness. One slip-up and you could be set back weeks or a year in this case.
What Not to Do
Besides not wearing pesticide protection, there are other health-risks involved with getting rid of bed bugs.
Keep in mind the following DIY don'ts:
Do not go to your local hardware store for bug bombs or foggers. Bombs are foggers do the opposite of what they advertise and scare bugs deep into your foundation or into neighboring units. They will come back after the gas is gone.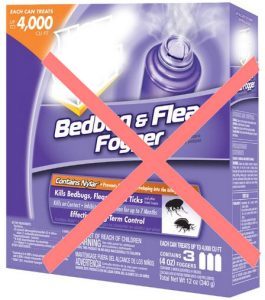 Do not sleep anywhere but your own bed once you find bed bugs. They have evolved to detect human breath and will follow you. Sleeping on the couch is the quickest way to get bed bugs in your living room.
Do not use generic insecticides and chemicals without understanding their contents. These sprays are normally ineffective towards hardy bed bugs. Only use products designed to kill bed bugs.
Do not use kerosene. Kerosene is extremely flammable and isn't 100% effective. It's a terrible, dangerous idea.
Do not throw away your bed and furniture immediately. Consider using steam or contact sprays and encasements. Furniture should be properly marked if tossing it is the only solution.
Do not waste money on most "all natural" bed bug sprays. Sprays containing lavender, peppermint, and tea tree oil may be natural, but they are not legally required to provide results. Most have been shown to be ineffective in lab studies with the exception of these two well-studied products.
Do not attempt large-scale heat treatment yourself. Small-scale treatment using proven technology like the ZappBug is the safest way heat treat your stuff. Large-scale treatment is dangerous and literally impossible without professional equipment.
Do not try to starve out your infestation without being ready to commit to at least 400 days of isolating them.
Thanks for Reading!
Many professionals consider bed bugs to be one of the most difficult pests to deal with.
When doing it yourself, it is necessary to stay on top of your plan and to continue for at least 2 weeks after signs of bed bugs stop since eggs can easily slip through the cracks.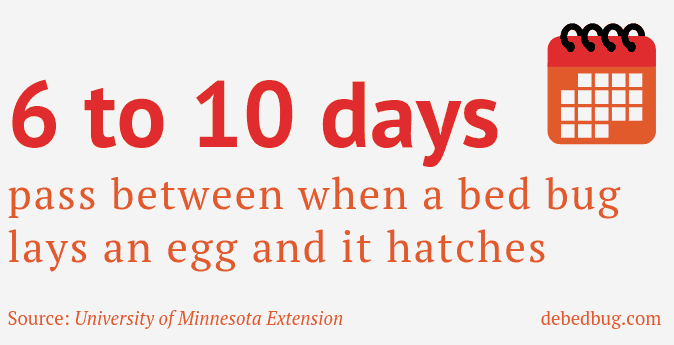 Staying on top of your plan and being consistent is the only way to get rid of bed bugs.
In many cases, it is more affordable to take the DIY approach over professional treatment, even if you invest in your own heater and steamer.
After making a plan, the next most important step to success is knowing how to properly apply each product.
I recommend going through posts from the tools page next to get an understanding of how to use each part of your plan.
Now that you've gone through this page, you should feel confident enough to get started today.
If you think that we've missed anything, please leave a comment below!
More Resources
References
https://debedbug.com/references/