Steamers are very affordable these days, but not all steamers are created equal.
Steamers that most folks have at home are meant for clothes. Bed bugs are hardy. Use a weak steamer and you'll blow them across the room or deeper into furniture instead of killing them.
Check that your steamer meets these important steamer specifications to actually kill bed bugs.
A steamer designed to kill bed bugs is a great tool for many reasons:
Steam can kill both bed bugs and their eggs upon contact
While some sprays are natural, steamers kill using water

There is zero exposure to chemicals, unlike with sprays and powders
Steam can be used on surfaces that touch exposed skin without worry, unlike sprays and powders
Steam is safe to use around pets, aquariums, bird cages, etc., unlike sprays and powders

Infinitely refillable, steamers don't run out as long as you have water
Works on all kinds of furniture and even carpet
A steamer makes it easy to sterilize your mattress and box spring before installing encasements. Encasements are a must when dealing with or preventing bed bugs.
Steam is the best tool to save your bed unless you have access to a bed bug heater that fits your entire bed.
Give water time to evaporate before encasing your bed to prevent mold. 
Having encasements and bed bug interceptors should stop most of the bites.
You can read more about exactly how to use your bed bug steamer after the reviews.
Bed Bug Steamer Comparison Chart
| | | | | |
| --- | --- | --- | --- | --- |
| | Amico | Steamfast | Primo | Vapor Clean II |
| Tip Temperature | 200˚F | 210˚F | 220˚F | 240˚F |
| Pressure | 43.5 PSI | 44 PSI | 58 PSI | 65 PSI |
| Adjustable PSI? | No | No | Yes | Yes |
| Water Capacity | 0.8 Cups | 1.4 Liters | 1.6 Liters | 1.7 Liters |
| Steam Time | 5 to 10 min. | 40 min. | 60 min. | Over 60 min. |
| Attachments | 17 | 17 | 17 | 13 |
| Rating | 4.2 / 5 | 4.0 / 5 | 5.0 / 5 | 4.8 / 5 |
| Price | $ | $$ | $$$ | $$$$ |
| Purchase | Shop | Shop | shop | shop |
Steam cleaners provide an all-natural and residue-free way to kill bed bugs on contact. After the upfront cost, all you'll need is water.
A steamer is meant to be one part of a bigger plan of attack on bed bugs that gives them no chance of survival.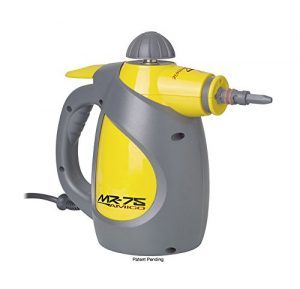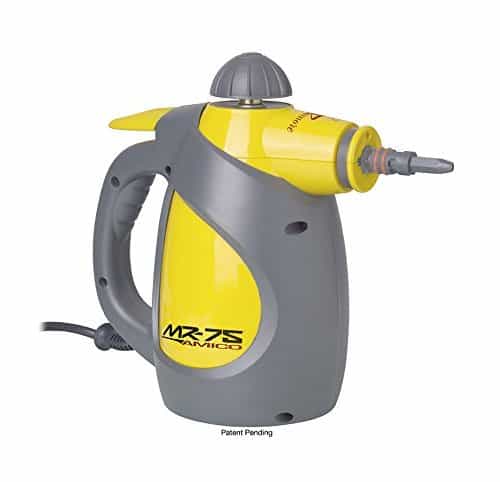 Vapamore MR-75 Amico Review
Click to Shop
Relative Price: $
Rating: 4.2 / 5.0
Maximum tip temperature: 200˚F
43.5 PSI (Non-adjustable)
0.8-Cup aluminum tank
5-10 minutes of continuous steam
12 foot (12′) electrical cord, 6.5 foot (6.5′) hose
Includes 17 attachments
My Review:
The Vapamore MR-75 is the easy choice for those looking to pick up a portable steamer that fits any budget.
While other steamers are capable of steaming several rooms at a time, the Amico does a great job when dealing with single pieces of furniture and other small to medium jobs.
Compared to the other steamers, the Amico heats up in a quick 5 minutes and features straightforward 1-button operation.
It also comes with several attachments that will help with hard to reach spots, wide areas, and everything in between.
The PSI the Amico puts out is great when considering its price – the MR-75 packs a lot of punch in a hand-held machine.
If you're interested in taking a chemical-free approach to your bed bugs on a budget, the Amico could be a key tool in your bag.
Applying a residual spray or powder like CimeXa is still important. Residuals kill bed bugs 24/7 without you having to be there.
Be sure to wipe down your treated surface after steaming to avoid water damage.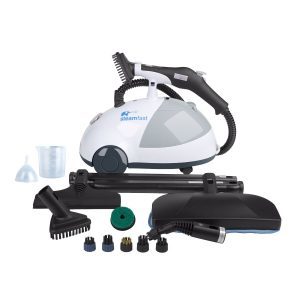 Steamfast SF-275 Review
Click To Shop
Relative Price: $$
Rating: 4.0 / 5.0
Maximum tip temperature: 210˚F
44 PSI (Non-adjustable)
1.4-Liter aluminum tank
40 minutes of continuous steam
12 foot (12′) electrical cord, 6.5 foot (6.5′) hose
Includes 17 attachments
My Review:
The Steamfast SF-275 overdelivers for its price.
While not as hot or high-pressured as the Primo below, the SF-275 gets well-above the required temperature of 160˚F.
44 PSI is enough to reach most bed bugs, but it will have difficulty penetrating deep into upholstery.
Compared to the Amico, its tank is enormous and gets you 40 minutes of treatment in one go. That will easily let you treat all the nooks and crannies you could possibly find in a room or two.
17 included attachments ensure that you'll have the perfect angle for any scenario!
The Steamfast is for those who want to use steam on several rooms on a budget.
I would encourage you to consider the significantly more powerful Vapamore  MR100 if steaming will be a core part of your plan.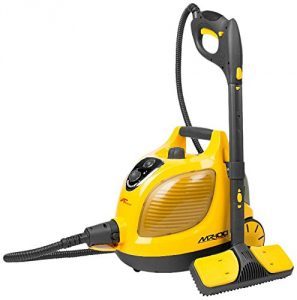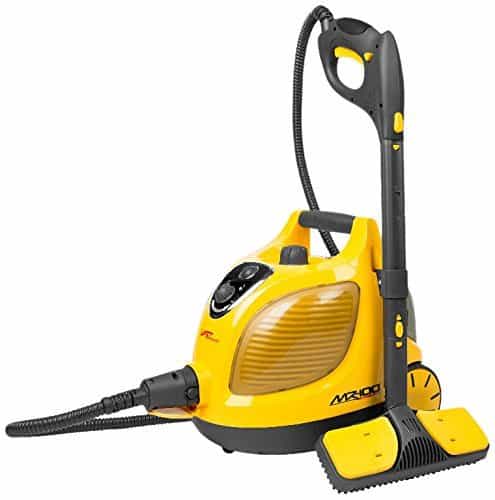 Vapamore MR100 Primo Review
Click To Shop
Relative Price: $$$
Rating: 5.0 / 5.0
Maximum tip temperature: 220˚F
58 PSI – (Adjustable output)
1.6-Liter aluminum tank
60 minutes of continuous steam
18-foot (18′) Electrical Cord, 6-foot (6′) hose
Includes 17 attachments
Integrated accessory storage
Consumer Digest Best Buy
ETL certified – premier American safety standard
Lifetime warranty
My Review:
We have not found another consumer priced steamer that delivers what the Primo does.
Of all the steamers reviewed here, the Primo offers the best value in terms of cost versus results.
It produces the driest steam, includes a lifetime warranty, and has even received ETC safety certification.
The Primo is a seriously great deal because it includes adjustable pressure output. Adjustable pressure is normally only available on steamers several times more expensive.
With adjustable pressure, you can kill bed bugs on hardwood and in curtains without blowing them away and then turn the pressure up to penetrate through cushions and deep into crevices where bed bugs love to hide.
If you're serious about treating bed bugs the natural way, a quality steamer like this one is going to be extremely useful. Your money goes the farthest with the MR100.
The Vapamore Primo's high temperature, great price, and its unexpectedly high-end features make it an easy recommendation for anyone serious about using steam.
There is no better value in the world of bed bug steamers.

Vapor Clean II Review
Click To Shop
Relative Price: $$$$
Rating: 4.8 / 5.0
Maximum tip temperature: 240˚F
65 PSI (Adjustable output)
1.7-Liter stainless steel tank
60 minutes of continuous steam
13 foot (13′) electrical cord, 8 foot (8′) hose
Includes 13 attachments
Underwriters Laboratories (UL) certified
ETL certified – premier American safety standard
Lifetime warranty
My Review:
This is the highest quality steamer we recommend for personal use.
With its immense 65 PSI of pressure and 240˚F of bed bug demolishing heat, this is almost a professional grade tool.
Nothing else on this list comes close in terms of power and temperature. The cost reflects that.
Should you be interested in treating your bed bugs naturally without chemical sprays, this steamer will absolutely replace them in your plan.
Even with Vapor Clean, a natural residual powder will still be important to help kill bed bugs that don't happen to get touched by steam.
The Vapor Clean II is a quality steamer made entirely in Italy with ETL safety certifications and a lifetime warranty to boot.
Its steam will penetrate through furniture and cushions – you'll be astonished by the results you get from a single pass through any hot spot.
Bugs, eggs, nymphs deep inside mattresses; nothing is safe from the Vapor Clean II.
Bed Bug Steamer Specifications
Many professional operators use steam as a part of their pest management plan because of its effectiveness and low cost of use.
When chosen and used correctly, a steamer will replace contact killing sprays you'd otherwise have to use.
Pressure
When talking about "wet" vs "dry" steam, manufacturers are really talking about relative dryness.
Fabric steamers are great at steaming fabric but produce relatively wet steam. Dry steamers are great at steaming anything you don't want sopping wet.
Dry steam also transfers heat more efficiently, meaning that dryer steam means more effective bed bug killing.
Dryness is mostly determined by pressure. Steamers with a higher PSI typically produce higher temperatures and dryer vapor.
When choosing a steamer for bed bugs, we recommend machines that produce no less than 40 PSI.
Temperature
Bed bugs are instantly killed when exposed to temperatures above 180˚F.
Heat is probably the most well known way to get rid of bed bugs. It works on them at all life stages and leaves no residue.
Heat is what steamers use to kill.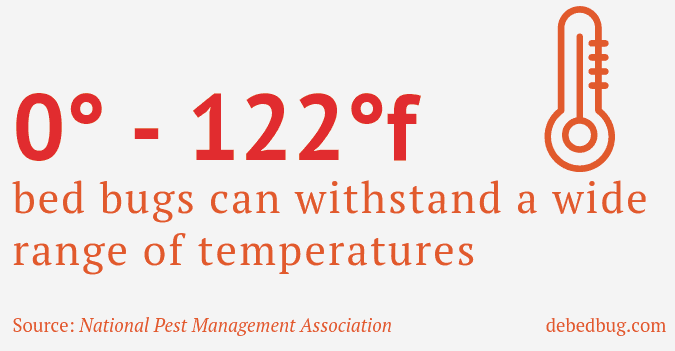 When it comes to choosing a steamer, it's best to overshoot 180˚F since the temperature advertised is measured at the very tip of the steamer where it is hottest.
The tip commonly refers to the nozzle or head of the steamer.
Steam has to travel through air and other materials before hitting bed bugs as well, all of which reduce the temperature.
We do not recommend steamers that advertise temperatures below 200˚F because they will probably stun but not kill bed bugs.
Nozzles
Steamer nozzles come in many different shapes and sizes. Straight tubes and vacuum looking wide heads are very common.
When it comes to killing bed bugs, you're going to want to grab the wider nozzle.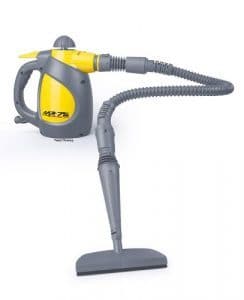 A wide nozzle produces high temperatures, lets you treat more in fewer passes, and also helps spread steam out so that bed bugs aren't blown away in the process.
Avoid bristled heads that could brush bugs aside rather than kill them.
Water Reservoir
The size of a steamer's water reservoir actually makes a big difference in its effectiveness.
When it comes to clearing a room of bed bugs, doing it quickly is important.
Bed bugs produce chemical signals when under stress that other bed bugs can sense. Having to refill and then heat up a tiny tank every 10 minutes is not optimal.
Bed bugs will have time to notice and pack up for deeper hiding places.
A capacity of 5 cups is a good amount.
5 cups should give you at least 30 minutes of steaming which is more plenty to treat your entire bed, headboard, nearby furniture, and carpet in a room.
How to Steam Kill Bed Bugs
Jeff from Bed Bug TV does a thorough job of demonstrating proper steamer usage in this video:
Steam Technique and Tips
Here what you need to know to get started.
Wear a respirator if you've applied sprays or powders! Violent steam will throw chemicals into the air
Vacuum first to avoid blasting bed bugs and dusts everywhere
Passing over areas at a steady rate of one inch per second is optimal

Some surfaces call for a quicker pass than others; fabrics should take longer than wood, for example

Keep the attachment half an inch above the surface
Read your steamer's included instructions
Use distilled water to prevent minerals building up and clogging your nozzle
Attach a dishrag or cloth over your steamer nozzle to dampen gusts and increase tip temperature
Steamers are contact killers. Steam must physically touch bed bugs to work
Wipe down steamed areas with a cloth after passing over them
Don't go too slowly, it will damage paint and upholstery
Air out wherever you've steamed using fans and free-flowing circulation afterwards
Treat all sides of upholstery

Turn couch cushions to steam all 6 sides and take your time

Let water completely evaporate before installing encasements to prevent mildew and mold
Do not steam electrical sockets and faceplates
Do not steam your home without consulting your pest control operator if you have hired one
Test Your Steamer
Most steamers that claim to be fit for killing bed bugs advertise a tip temperature of at least 200˚F. Checking the actual temperature it produces is important.
If you'll be picking up a steam cleaner not specifically designed for bed bugs and aren't really sure what temperature it produces, I recommend picking up an infrared thermometer if you don't already have one.
Use your spray on a test area similar to what you'll actually be using it on then use the infrared thermometer to check that the surface you sprayed reads at least 160˚F – 180˚F.
You can also use a cooking thermometer for a rough number. Holding the thermometer in front of the nozzle will not give you an accurate temperature.
Instead, place your thermometer on a test surface you can steam. Run your steamer over the area at the recommended rate of 1 inch per second.
Watch the thermometer and note where the temperature peaks and you will have a close idea of how hot it will be to bed bugs.
Where to Steam
Steam is great because it can be used almost anywhere and because it actually excels in hard to reach places.
You should target anywhere that bed bugs like to hide.
Box springs, bed frames, mattresses
Upholstering
Where carpet meets wall
Drapes and curtains
Sofas, couches, chairs
Cushions
Night stands
Cracks and crevices in the room
For more on bed bug hot spots, check out the bed bug symptoms page.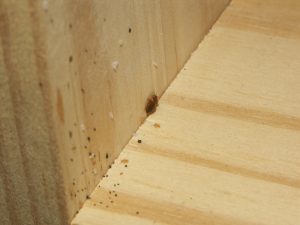 Steam is perfect for treating places that might touch bare skin like beds, couches, and sofas.
You're probably not interested in sleeping on a pesticide-covered mattress or sitting on a sofa coated in chemical powders.
No matter how natural and harmless pesticide sprays and dusts get to be, they can't compare to plain water turned into steam.
Thanks for Reading!
Steam is a fantastic tool when used as part of a complete bed bug killing plan. Steamers are perfect for people dealing with moderate to advanced infestations, or anyone interested in keeping their treatment chemical free.
A steamer is an investment in natural, effective, refillable, on-contact bed bug killing that you won't regret.
If you take the time to learn proper technique and follow the rest of the plan, you will get results.
I will be updating this post with product recommendations and reviews as new steamers come out.
More Resources