When people say pest control, the first thing that probably comes to mind is sprays.
Unfortunately, that can of generic "bug spray" from the hardware store won't do anything against today's chemical-resistant bed bugs.
There are plenty of great solutions out there. On this page, we'll be guiding you through the sprays that industry experts and professionals trust and actually use out on the field.
There are two categories of pesticide sprays – contact and residual.
Contact sprays work on contact and dispatch bed bugs quickly.
Residual sprays work by leaving a residue that sticks on bed bugs when they walk through it.

Residual sprays kill a little more slowly but work for months at a time before needing to be reapplied – similar to powders and dusts.
If you're dealing with an infestation in its early stages, it is most important to secure your bed by using encasements and bed bed interceptors. Residual powders and residual sprays are the solution for those who have been bitten just a couple times.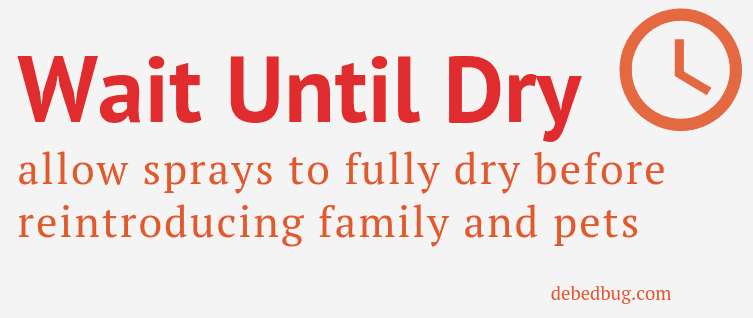 Most importantly, apply sprays according to manufacturer instructions and wear protection from pesticides for your own health.
Contact Killing Bed Bug Sprays
When contact sprays are directly applied, eggs and bugs at all stages of life should die immediately. Bed bugs that pass through the treated area once the solution has dried will not be affected.
This gives contact killing sprays a window of a few hours up to an entire day to work depending on weather and the contents of the spray.
For the safety of your pets, do not use sprays near uncovered fish tanks, birds cages, or any other cages.
Who Should Use Contact Sprays?
Contact sprays are most useful for people dealing with infestations that are somewhat advanced. They wipe out bed bugs that you can find and hit directly, but can't help if you're having trouble finding bugs to spray in the first place.
Residual sprays and powders are more versatile in the sense that they can kill on direct contact and also indirectly.
Contact Spray Comparison Chart
Click any product name or picture to go to the corresponding review on this page:
A couple products feature both contact and residual properties – those are listed on both charts.
Relative costs were compared by price per fluid ounce. Products with a higher upfront cost tend to last longer and need less frequent reapplication.
Contact sprays must come into direct contact with bed bugs to work unless they also have residual properties. This makes them more useful if you're deeper into an infestation.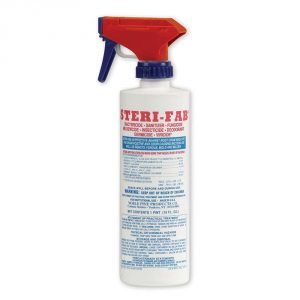 Steri-Fab Review
Relative Price: $$
Rating: 4.2 / 5.0
Reapply: N/A
Active Ingredients:
Synthetic Pyrethroid (0.22%)
Isopropyl Alcohol (60.39%)
Steri-Fab comes ready-to-use, doesn't require dilution, and dries without leaving any residue in as little as 15 to 20 minutes. Most sprays leave noticeable residue.
Because it is residue-free, Steri-Fab is great for treating mattresses before protecting them with encasements.
A single 16-ounce bottle of Steri-Fab will treat an entire mattress, box spring set, and then some.
Pyrethroids are naturally occurring in plants. Bed bugs naturally grow resistance to those compounds so Steri-Fab has created its own version in a bid to stay a step ahead of them.
They use the same isopropyl alcohol you'd find at home, but the difference of added pyrethroid is what makes it work. The alcohol is meant to dry the bed bug so that the pyrethroid can penetrate the shell and take effect.
Always be cautious of flames when using solutions containing isopropyl alcohol. Definitely avoid smoking until dry.
Fires caused this way are more common than they should be.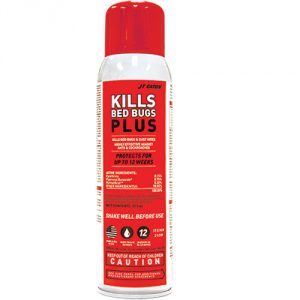 JT Eaton Kills Bed Bugs Pro Review
Relative Price: $
Rating: 3.8 / 5.0
Reapply: As Needed
Active Ingredients:
Pyrethrin (0.13%)
Piperonyl Butoxide (1.27%)
The JT Eaton brand advertises that they use natural pyrethrins from chrysanthemum flowers. Those harvested flowers are always adapting and changing in little ways to stay effective against insect attackers.
This oil-based solution, in combination with the synergistic effects of pyrethrins and piperonyl butoxide, make for a spray that works even on bed bugs that have otherwise grown resistant to pyrethrins or artificial pyrethroids.
Some residue will remain unlike with Steri-Fab; using this product on mattresses is not recommended.
You can purchase JT Eaton in quarts or by the gallon.

JT Eaton Kills Bed Bugs II Review
Relative Price: $
Rating: 3.0 / 5.0
Reapply: As Needed
Active Ingredients:
Also known as JT Eaton Blue, this water-based alternative to JT Eaton Pro uses Deltamethrin, a widely popular synthetic pyrethroid.
JT Blue is a slightly less chemical option for those concerned with toxicity.
In practice however, studies and reviews have found that JT II is less consistent than the its Pro counterpart. Although it is cheap, you'll be using more and applying it more frequently – it may end up being more expensive because of that.
I wouldn't recommend it as a first choice.
For those on a budget, it is a usable choice – far better than nothing. It should do a decent job and is the cheapest option on this entire page as of today.
If trying to treat naturally, you can consider opting for Blue and spending a little more on other solutions for the rest of your IPM.
Things like a steamer, natural bed bug powder, and encasements will more than make up for a lacking spray.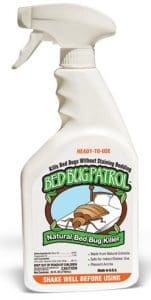 Bed Bug Patrol Review
Relative Price: $$
Rating: 3.6 / 5.0
Reapply: As Needed
Active Ingredients:
Natural Plant Extracts of
Euginia Carophylla
Mentha Piperita
Sodium Lauryl Sulphate from Coconut Extract
Bed Bug Patrol relies on essential oils to kill on contact. The company that produces it has claimed it has a kill rate as high as 97.4%. Given that the ESA has approved it, we can rest assured knowing that it is 90% at the very least. Nothing to sneeze at, especially achieving it all naturally.
Field reports have been mostly positive, although there is skepticism within the professional community.
Should your heart be set on an all-natural approach to eliminating bed bugs, Bed Bug Patrol, a heater, and a high-powered steam cleaner will be your best friends.
The notes of peppermint and clove left behind might be a nice bonus.
---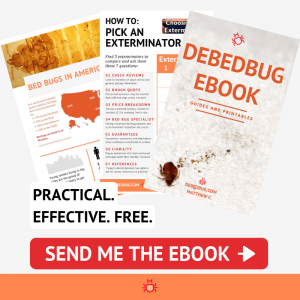 Residual Killing Bed Bug Sprays
With residual sprays, your goal isn't to kill immediately, but to strategically lay a thin film of dried spray wherever bed bugs are known to travel through.
Once applied, residual sprays stay in place and work for up to several months after a single application.
Keep in mind that residual sprays won't affect eggs at all. This is why it is important to reapply chemicals and continue efforts for at least 6 weeks before considering yourself bed bug free.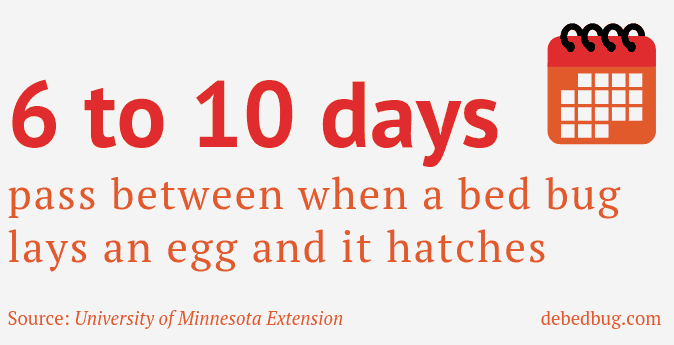 You'll read more about important treatment windows later in this article.
Residual Spray Comparison Chart
Click any product name or picture to go to the corresponding review on this page: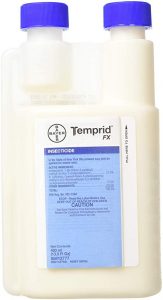 Temprid FX Review
Relative Price: $$$
Rating: 5.0 / 5.0
Reapply: 6 Months
Active Ingredients:
Imidacloprid (21.0%)
Beta-Cyfluthrin (10.5%)
Temprid is a possibly the most effective spray you can buy as a non-professional.
Its mixture is aggressive with a no-jokes 21% of its entire volume being made up of the potent residual imidacloprid and another generous 10.5% being the synthetic pyrethroid beta-cyfluthrin. Temprid FX offers immense bed bug killing power for now and later.
Even pyrethroid-resistant bed bugs stand no chance when imidacloprid is added to the mix. Because imidacloprid is a bit slower to kill, it has the added perk of being able to be rubbed off on from one bug to another. This is a huge benefit since bed bugs are somewhat social creatures.
Quick Tip
Temprid FX can withstand hours of
heat treatment
should you opt for it, and even lasts for up to 6 months when left undisturbed.
That incredible lasting power means that you only need two doses of the stuff to completely treat your bed bugs if the rest of your plan is nailed down. This is the one that you're most likely to see a pro reaching for.
It is also effective against all sorts of bugs besides bed bugs.
A single dose should allow you to treat about a room's worth of area.
I've linked to a page that gets you several doses that dilute into a gallon worth of spray each.
You can purchase Temprid by the dose if you want less.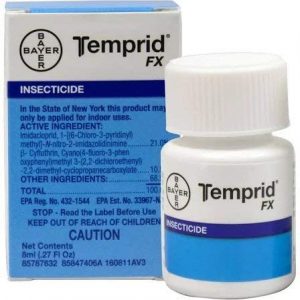 A couple doses and should get most people through their entire infestation.
Be careful not to apply Temprid FX in places that may contact human skin directly and be sure to let it dry completely before reintroducing pets and people. After you've applied it, it'll work for the next half-year.
Please note that Temprid Ultra SC is difference from Temprid FX – the active ingredients are have changed.
Note: Shipping to certain states is restricted, some sellers do ship to places that others won't. If you don't have luck with Amazon, try bed bug supply.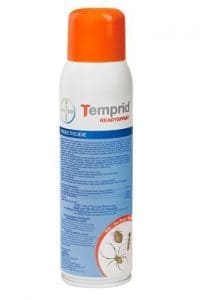 Temprid Ready Spray Review
Relative Price: $$$
Rating: 3.8 / 5.0
Reapply: 6 Months
Active Ingredients:
Imidacloprid (21.0%)
Beta-Cyfluthrin (10.5%)
Temprid Ready Spray is
Temprid FX
In a convenient aerosol can.
It's convenient seeing as you won't need to dilute anything, but the convenience comes at the cost of getting less for your money.
Reviews have been somewhat mixed on the Ready. People don't seem to have results as consistent or deadly as with the concentrated self-mixed FX version.
I would recommend mixing your own Temprid FX and purchasing what you need by the dose.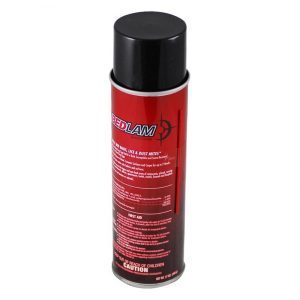 Bedlam Bed Bug Spray Review
Relative Price: $$
Rating: 3.0 / 5.0
Reapply: 2 Weeks
Active Ingredients:
Synthetic Pyrethroid (0.4%)
N-Octyl bicycloheptene dicarboximide (1.6%)
As one of the most popular brands on the market, Bedlam products have proven themselves in lab and field trials. This spray is water-based and effective for several weeks after application.
N-octyl bicycloheptene dicarboximide is Bedlam's secret weapon that makes it deadly even against resistant bed bugs.
Our problem with this Bedlam that it doesn't last very long in comparison to most residual products.
You'll have to reapply it at least 6 times before you could consider yourself bed bug free if we follow the manufacturer's instructions every 2 weeks.
It's also not the cheapest option, but it is one of the cheaper dual-action residual and contact killing sprays.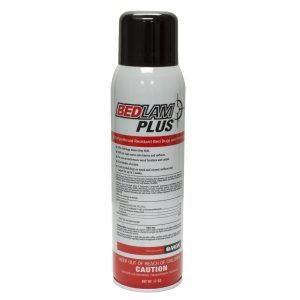 Bedlam Plus Bed Bug Spray Review
Relative Price: $$$
Rating: 4.0 / 5.0
Reapply: 2 Weeks
Active Ingredients:
Synthetic Pyrethroid (0.4%)
N-Octyl bicycloheptene dicarboximide (1.0%)
Imidacloprid (0.05%)
Bedlam took a note from Temprid's success when they added imidacloprid.
Imidacloprid gives the solution more staying power, increased potency to kill even the most resistant bed bugs (especially with N-Octyl in the mix), and the has the added bonus of being transferable from bug to bug.
Bedlam Plus should only be applied where direct contact with human skin is not an issue.
It offers two weeks of residual lifetime. In our opinion, two weeks is slightly underwhelming considering the price. You can get residual and contact benefits from the very slightly cheaper Bedlam original formula. Reviews are much more positive for Bedlam Plus compared to the original though.
That being said, if I was interested in purely residual effects, I would go with a powder like CimeXa which lasts 10 years.
If deciding between the original the the Plus formula, we recommend springing for Plus given that people have better and more consistent results.

JT Eaton 217 Kills Bed Bugs Plus Review
Relative Price: $
Rating: 3.6 / 5.0
Reapply: 12 Weeks
Active Ingredients:
Pyrethrin (0.15%)
Synthetic Pyrethroid (0.30%)
Pipronyl Butoxide (0.75%)
JT Eaton's 217 spray is special because it uses both synthetic pyrethroids and natural pyrethrin compounds.
This approach, along with the inclusion of a synergistic compound (pipronyl butoxide), makes for an convenient spray that comes with a one-year warranty and kills even resistant bed bugs.
217 is very affordable and the ingredients cover enough of the bases to do the job with any infestation, even when facing some level of immunity.
Its 12 weeks of residual effectiveness is not bad either.
On the other hand, some reviewers found it had little residual effect. Should you use 217 as a part of a pest management plan, you shouldn't have the same problem. Especially if your plan includes a powder.
217 is an overall solid choice – pick up something heavier like Temprid FX if your population seems immune or nonreactive.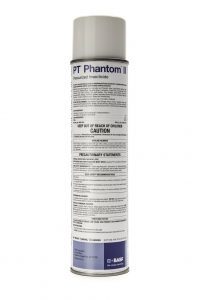 PT Phantom II Aerosol Review
Relative Price: $$
Rating: 3.6 / 5.0
Reapply: 4 Weeks
Active Ingredients:
PT Phantom II is one of the most popular bed bug sprays on the market.
Chlorfenapyr takes a completely different approach from the typical pyrethroid compound. It targets the energy-producing mitochondria in the target bugs' very cells and causes death on a cellular level and, ultimately, the death of the organism.
That's a potent dose of revenge.
It also leaves no visible residue and will last for over a month before requiring reapplication.
Overall, PT Phantom II is a solid choice in the bed bug spray arena.
It will get the job done with minimal reapplication required, lasts long enough, and isn't too expensive.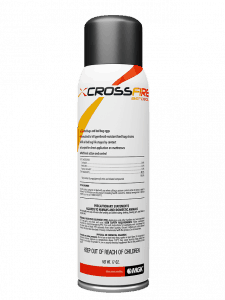 CrossFire Aerosol Review
Relative Price: $$
Rating: 4.4 / 5.0
Reapply: 4 Weeks
Active Ingredients:
Clothianidin 0.40%
Metofluthrin 0.01%
Piperonyl Butoxide 1.0%
CrossFire is a relatively new option in the market.
Interestingly enough, this is one of the only sprays that is designed exclusively for use against bed bugs.
Its unique cocktail of active ingredients take advantage of quick killing metofluthrin and the residual killing power of clothianidin. Piperonyl butoxide (PBO) synergizes with both to make them even more effective.
CrossFire provides up to 4 weeks of residual effect after being applied.
CrossFire is also sold in a concentrated form if you have more area to cover and don't mind diluting.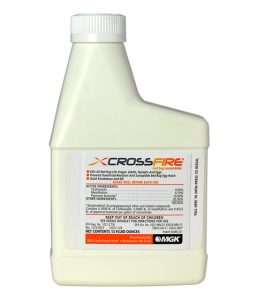 It is the only aerosol spray on this page that is considered to have minimal toxicity to humans according to the EPA.
According to the manufacturer, it can even be applied directly on mattresses.
We still recommend taking regular precautions and wearing chemical protection when applying – better safe than sorry!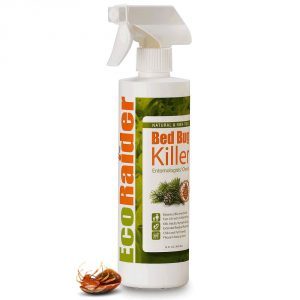 Ecoraider Bed Bug Spray Review
Relative Price: $$$
Rating: 4.8 / 5.0
Reapply: 2 Weeks
Active Ingredients:
Natural Geraniol (1.0%)
Cedar extract (1.0%)
Sodium Lauryl Sulfate (2.0%)
Ecoraider has a lot of clout in the natural bed bug killing world.
It is the only non-synthetic and green solution on the market that has residual effects.
It is effective for up to two weeks and is guaranteed to be at least 90% effective seeing as it is approved by the ESA.
In addition, it was used by the USDA Public Health Pesticide Program to treat infestations in public housing and was tested by the ESA yielding positive results.
It is a fantastic choice in any case but is especially great in sensitive environments where infants or otherwise vulnerable individuals would not mix well with synthetic chemicals.
Even if you're not interested in taking a completely natural approach to your bed bug killing plans, Ecoraider is worth your consideration because it works.
---
Natural Bed Bug Sprays
We have only found two natural oil-based bed bug sprays that have shown actual results. The Entomological Society of America (ESA) agrees that Ecoraider and Bed Bug Patrol produce the only two effectively lethal products on the market.
The approval of the ESA requires a demonstrated efficacy of at least 90%.
Natural sprays are definitely worth your consideration these days.
---
Homemade Bed Bug Sprays
Alcohol, soap, and even Windex have been said to work but are no substitute for solutions formulated specifically to kill bugs.
There is no safe common household product or spray that happens to kill bed bugs reliably at all life stages.
In some cases, people understandably have no choice. Others just feel a need to start doing something about their infestation immediately. Here are the two most used homemade sprays that work to some degree.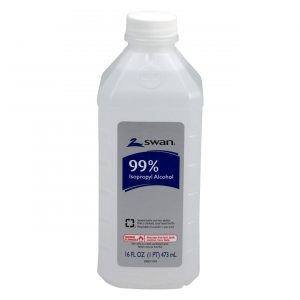 Bed Bugs and Rubbing Alcohol
Concentrations of rubbing alcohol higher than 90% are reportedly deadly to bed bugs. The ESA definitely has not approved rubbing alcohol because it works far less than 90% of the time.
There are videos of people dousing and even totally submerging bed bugs only to see them wander about just fine afterwards.
Extra caution should be taken when spraying alcohol at such high concentrations – the solution will be highly flammable and makes anything it contacts similarly combustible until dry. Spraying it through a spray bottle makes it many times more flammable.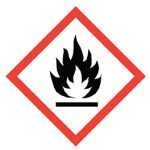 Eggs will be completely unaffected.
We do not recommend spraying alcohol.
If at all possible, use a budget spray instead.
Steri-Fab is an isopropyl-based manufactured solution that will actually do the job with complete success at an affordable price.
Soap Sprays
There are many formulas on the Internet that claim a simple mixture of soap and water give results when sprayed on bed bugs.
The idea is that the solution should dry out some bed bugs, but in reality, it is not at all reliable. Soap simply does not work on eggs at all.
You're much better off with a remedy like Ecoraider or Bed Bug Patrol if your interest is in keeping things natural.
---
Common Active Ingredients
To give you an idea of what each active ingredient does, here's a short list of the most common active ingredients in contact and residual sprays.
Pyrethrins: A class of organic compounds naturally extracted from chrysanthemum flowers. They function by overwhelming insect nervous systems and have been used for hundreds of years to repel bugs. They are highly toxic to insects at very low doses.
Pyrethroids: The synthetic/man-made version of pyrethrins. Pyrethroids are more effective and even less toxic to mammals than pyrethrins.
Piperonyl Butoxide: A synergistic organic compound that enhances the potency of some pesticides like pyrethrins and pyrethroids.
N-Octyl bicycloheptene dicarboximide: Another synergistic compound that enhances the effectiveness of pyrethrins and pyrethroids.
Imidacloprid: An insect neurotoxin that blocks nerve receptors resulting in paralysis and eventual death.
---
Safely Applying Sprays
To safely apply bed bug sprays and dusts, wear chemical protection.
The pesticide protection page has more on what kind of filters and materials are best for the job.
Since the ban of DDT in 1972, scientists have been in an arms race with increasingly resistant pests. Today, we know that DDT does have harmful side effects, as do many modern contact killers.
Since the ban on DDT, insecticide sprays have only become more popular.
Most effective products that are proven to kill bed bugs at all life stages are not safe for humans or our pets with heavy exposure.
Careful application is important for your own safety and for the safety of your loved ones.
Wait for sprays to completely dry before reintroducing pets and people to the treated area.
Do not apply sprays on surfaces that will be in direct contact with exposed skin.
This means you should only treat the underside of furniture such as:
Couches
Sofas
Chairs
Recliners
Divans
Nightstands
Mattresses
Etc.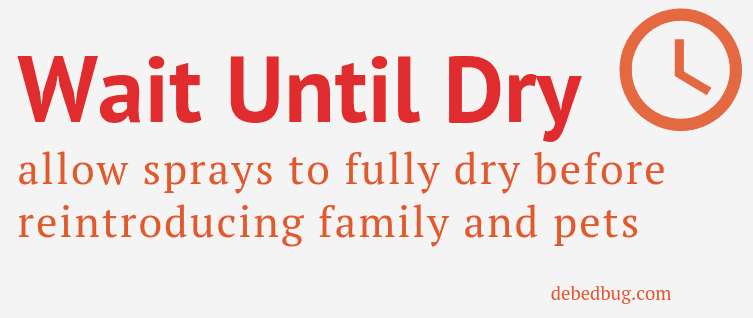 This may take anywhere from several hours to an entire day depending on weather.
Quick Tip
Read and follow the included application and dosage instructions of each product for best results!
These days, sprays take a lot of inspiration from nature and formulas change almost annually. They're increasingly organic and effective.
When applied correctly sprays can be completely harmless to people.
---
Bed Bug Solutions that Don't Work
Bug bombs and foggers are the opposite of helpful when dealing with bed bugs.
They are known to literally send bed bugs running deep into your home as they try to hide from the chemicals.
Some decide to stay in your foundation and commute to dinner, making your new problem a deep down one.
Contact killers designed without bed bugs specifically in mind are often useless against bed bugs. Bed bugs are infamous for their resistance against many otherwise popular and effective chemicals.
It is important that you choose a spray formulated specifically with bed bugs in mind.
There are also many sprays that just kind of work; killing only a small percentage of bed bugs while also leaving eggs and resistant bugs alive to have more resistant bug babies.
Homemade remedies and natural solutions fall into this trap. Choosing to use them is a personal choice at the end of the day.
Insect Growth Regulators, or IGRs, are the last commonly pushed and ineffective solution to bed bugs. Independent studies from labs, academic sources, and professionals have yielded zero evidence that IGRs work against bed bugs.
That means that sprays like Gentrol are unreliable at the very best.
---
Where to Apply Bed Bug Sprays
Professionals bring in sprays when starting treatment to cut down thriving populations and make an infestation more manageable.
Sprays help by both eliminating obvious hot spots and reducing the number of egg laying bugs at the same time.
When it comes to contact sprays, simply apply them whenever and wherever is necessary while following safety guidelines (not applying on surfaces that contact human skin).
As for residual sprays, apply them where you would apply powders and dusts for best results.
The symptoms page of this site includes a section on where to look for bed bugs, and will quickly get you searching like a pro. As a bonus, residual sprays are best applied where bed bugs like to hide so you'll be killing two birds at once.
While sprays can be an important part of your bed bug fighting arsenal, a plan is what will help you actually get rid of every single last bed bug. It's what the pros do because anything less is unreliable at best. Not having a plan often leads to failure.
---
Thanks for Reading!
Like all tools in the bed bug fighter's toolkit, sprays have their own important use.
Once you've got bed encasements installed, a steamer cleaning deep inside furniture, powders creating a barrier of safety, heaters keeping your luggage clean, and passive interceptors in place, you'll be able to feel really confident about the progress you've made towards a bed bug free future.
And by future, I mean your entire life.
Learning to take care of bed bugs the right way just once will keep you from ever having to go through the ordeal blind again.
Take some time and read through the page dedicated to treating bed bugs. You'll come away knowing about all the latest and greatest methods of control, monitoring, and extermination.
When used strategically, sprays can help any self-treater get a much needed leg-up on their infestation and a big step towards getting Debedbugged!
---
More Resources