When it comes to dealing with bed bugs, that can of "all-purpose bug spray" from the hardware store won't cut it.
Today's bed bugs are resistant to many pesticides. You're going to need a spray designed for them.
On this page, we'll be sharing the best sprays around. These are the bottles that experts recommend and professionals reach for when on the job.
There are two types of pesticide sprays – contact and residual.
Contact sprays work on contact and kill bed bugs quickly. They are useful in advanced stages of infestation.
Residual sprays work by leaving a residue that sticks on bed bugs when they walk through them. They are useful at all stages of infestation.

Residual sprays take longer to kill bed bugs. Why use them? They last for months after you've applied them once – much like powders.
If you're dealing with the early stages of an infestation, step number one is to secure your bed. Do this with encasements and interceptors to stop bites.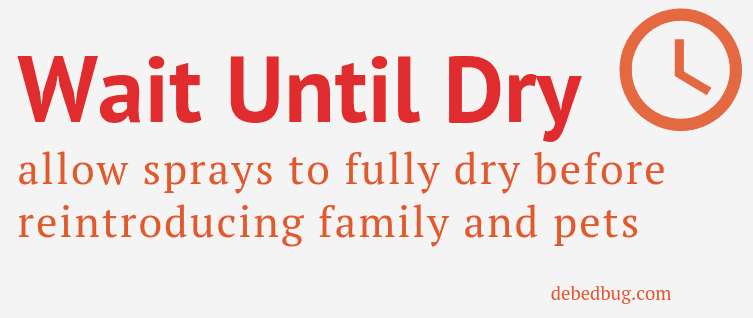 Follow manufacturer instructions when using sprays and wear protection from pesticides.
You'll be in a closed room spraying chemicals – a mask and goggles are cheap ways to protect yourself.
Contact Killing Bed Bug Sprays
Contact sprays only work when applied directly to bed bugs. They're fast-acting and will kill any stage of bed bug from egg to adult. Once dry, contact sprays have no effect on bugs – even if they walk right over a sprayed area.
This gives contact killing sprays a window of a few hours up to an entire day to work. The effective window changes depending on the weather and the ingredients in the spray.
For the safety of your pets, do not use sprays near uncovered fish tanks, birds cages, or any other pet enclosures.
Who Are Contact Sprays Right For?
Contact sprays are most useful for people dealing with advanced infestations.
They wipe out bed bugs that you can find but don't help if you're having trouble finding bed bugs in the first place.
Residual sprays and powders are good choices for most other infestations. They kill bugs on contact and indirectly.
Reapply contact sprays as needed. Whenever you find clusters of bugs, wiping them out takes a second with a good contact spray in hand.
Contact Spray Comparison Chart
Click any product name or picture to go to the corresponding review on this page:
Price ratings were calculated based on price per fluid ounce.
Some sprays can are useful as both contact and long-term residuals. You can find them listed on both charts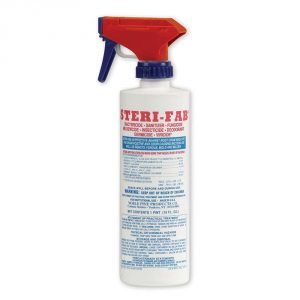 Active Ingredients:
Synthetic Pyrethroid (0.22%)
Isopropyl Alcohol (60.39%)
Steri-Fab comes ready-to-use and dries without leaving any residue in as little as 15 to 20 minutes. Many sprays leave noticeable residue.
Steri-Fab is perfect for treating your bed before encasing it since it is residue-free.
A single 16-ounce bottle of Steri-Fab will treat an entire mattress, box spring set, and then some.
Steri-Fab uses a synthetic version of pyrethroid based on the natural compound. They regularly "update" their version before bed bugs can become resistant to it.
While it is primarily made up of isopropyl alcohol, the pyrethroid is what makes it work. The alcohol dries the bug's waxy coat so that the pyrethroid can penetrate the shell and take effect.
Always be cautious of flames when using solutions containing isopropyl alcohol. Definitely avoid smoking until completely dry.
Fires caused this way are more common than they should be.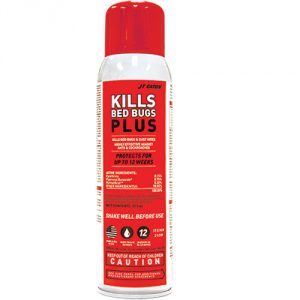 JT Eaton Kills Bed Bugs Pro Review
Active Ingredients:
Pyrethrin (0.13%)
Piperonyl Butoxide (1.27%)
The JT Eaton brand advertises that they use natural pyrethrins from chrysanthemum flowers.
This is the opposite approach that Stei-Fab takes. Instead of trying to make changes to pyrethroids in a lab, JT Eaton counts on nature to make changes. They harvest flowers and extract pyrethrins from them.
Pyrethroids found in chrysanthemums are always changing as they try to stay a step ahead of bugs.
This is an oil-based spray that packs a one-two punch of pyrethrins and piperonyl butoxide. This makes for a spray that works on the most resistant bed bugs.
Some residue will remain unlike with Steri-Fab. Do not use this product on mattresses.
You can buy JT Eaton in quarts or by the gallon.

JT Eaton Kills Bed Bugs II Review
Active Ingredients:
Also known as JT Eaton Blue, this water-based alternative to JT Eaton Pro is based on Deltamethrin. Deltamethrin is a popular synthetic pyrethroid.
JT Blue is a less chemical option for those concerned with toxicity.
In practice, studies and reviews have found that JT II is less consistent compared to JT Eaton Pro. While it is cheap, you'll need to use more. It may end up being more expensive because of that.
For those on a budget, it is usable and much better than nothing. It will do a passable job and is the cheapest option on this entire page as of today.
Things like a steamer, natural bed bug powder, and good encasements will more than make up for a weak spray.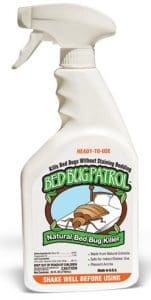 Active Ingredients:
Natural Plant Extracts of
Euginia Carophylla
Mentha Piperita
Sodium Lauryl Sulphate from Coconut Extract
Bed Bug Patrol relies on essential oils to kill on contact. The company that produces it claims that it kills at a rate as high as 97.4% under lab settings.
The Entomological Society of America (ESA) only certifies sprays with a rate of kill of 90% or higher. Seeing as the ESA has certified Bed Bug Patrol, their claims of 97.4% are believable.
97.4% is amazing, especially considering that they achieved it without pesticides.
While some in the professional community are skeptical, field reports have been positive.
Interested in dealing with an infestation the natural way? Bed Bug Patrol, a heater, steamer, and vacuum will be your best friends.
The notes of peppermint and clove left behind by Bed Bug Patrol are a nice bonus.
---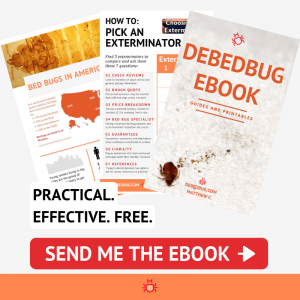 Residual Killing Bed Bug Sprays
Residual sprays call for a different mindset compared to contact sprays. Your goal is to lay a trap rather than to spray them directly.
It's a simple task that involves spraying places where bed bugs are known to travel and hide. To help show you where that is, we've covered exactly where to look for bed bugs.
Once applied, residual sprays can kill bed bugs for months.
Keep in mind that residual sprays won't affect eggs at all. This is why it is important to continue treatment for at least 6 weeks. This gives bugs plenty of time to hatch and walk through your sprays.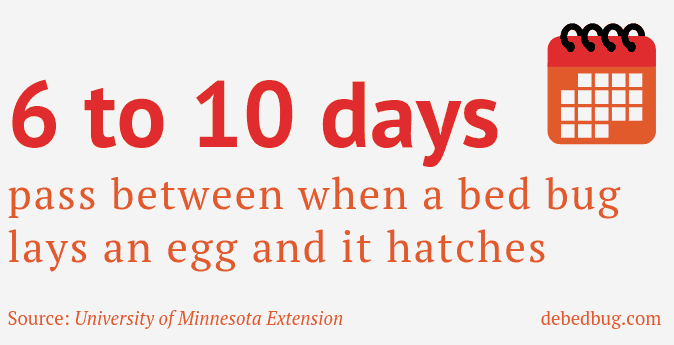 You'll read more about important treatment windows later in this article.
Residual Spray Comparison Chart
Click any product name or picture to go to the corresponding review on this page: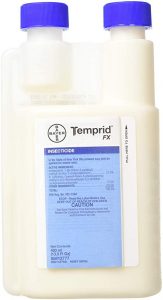 Reapply: Every 6 months
Active Ingredients:
Imidacloprid (21.0%)
Beta-Cyfluthrin (10.5%)
Temprid FX is the most effective sprays you can buy as a non-professional.
A whopping 21% of its total volume is imidacloprid – one of the most effective residuals on the market. Another 10.5% is the synthetic pyrethroid, beta-cyfluthrin. Temprid FX offers immense bed bug killing power for now and later.
Even pyrethroid-resistant bed bugs stand no chance when imidacloprid is in the mix. Imidacloprid is a bit slower to kill, but it has the added perk of being able to transfer from one bug to another. This is a huge benefit since bed bugs are relatively social creatures.
Quick Tip
Temprix FX tolerates a lot of heat which helps it last through the summer months. It works for up to 6 months when left undisturbed.
Since it lasts so long, you only need two doses of Temprid to treat any infestation. The rest of your plan needs to be nailed down, of course. It is also effective against all sorts of bugs besides bed bugs.
This is the spray that professionals reach for.
The link above is to a page where you can buy several doses that dilute into a gallon of spray each. Once mixed, a single dose should allow you to treat a single room. You will need a pesticide sprayer to apply FX.
You can also buy Temprid by the dose.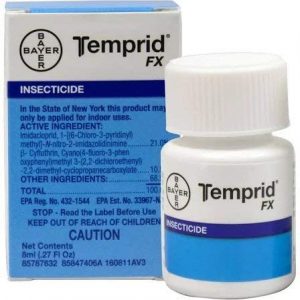 A couple of doses will get most people through their entire infestation.
Be careful not to apply Temprid FX on areas that human skin directly contacts. Let it dry completely before reintroducing pets and people. Once applied, it will keep working for six months.
Note: Temprid Ultra SC is different from Temprid FX. Shipping to certain states is restricted. Some sellers do ship to places that others won't. If you don't have luck with Amazon, try bed bug supply.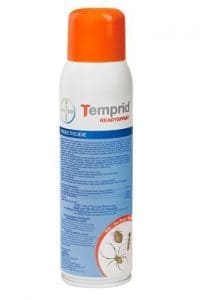 Temprid Ready Spray Review
Reapply: Every 6 Months
Active Ingredients:
Imidacloprid (21.0%)
Beta-Cyfluthrin (10.5%)
Temprid Ready Spray is
Temprid FX
In a convenient aerosol can.
You won't need to dilute anything, but you get less spray for your money. On the other hand, you save money by not needing to buy a sprayer.
Reviews are somewhat mixed. People have less consistent results compared to the concentrated Temprid FX.
I would recommend mixing your own Temprid FX and purchasing what you need by the dose.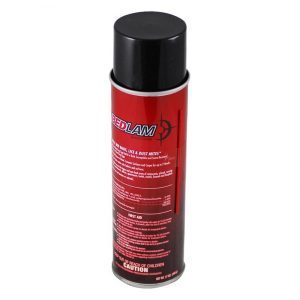 Bedlam Bed Bug Spray Review
Reapply: Every 2 weeks
Active Ingredients:
Synthetic Pyrethroid (0.4%)
N-Octyl bicycloheptene dicarboximide (1.6%)
As one of the most popular brands on the market, Bedlam products have proven themselves in the lab and on the field. This spray is water-based and effective for several weeks after application.
N-octyl bicycloheptene dicarboximide is Bedlam's secret weapon. It makes the spray deadly even against resistant bed bugs.
Our only problem with Bedlam is that it doesn't last as long as other sprays.
If you follow the manufacturer's instructions, you'll have to apply Bedlam at least 6 times. Doing so every 2 weeks isn't the worst thing in the world, but other sprays only call for one or two applications.
It's not the cheapest option. It is one of the cheaper dual-action residual/contact killing sprays though.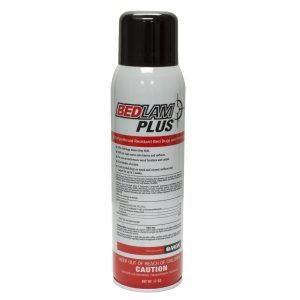 Bedlam Plus Bed Bug Spray Review
Reapply: Every 2 Weeks
Active Ingredients:
Synthetic Pyrethroid (0.4%)
N-Octyl bicycloheptene dicarboximide (1.0%)
Imidacloprid (0.05%)
Bedlam took a note from Temprid's success when they added imidacloprid.
Imidacloprid gives the spray staying power and the ability to be transferred from bug to bug. When bundled with N-Octyl bicycloheptene and a synthetic pyrethroid, no bug is safe.
Only apply Bedlam Plus should where direct contact with human skin will not happen.
Like regular Bedlam, Bedlam Plus offers two weeks of residual effectiveness. Plus costs a little more but reviews and reports are much more positive.
If a long-lasting solution is your priority, I would recommend a powder, like CimeXa. It lasts 10 years with a single application.
We recommend springing for this product over the original if you can.

JT Eaton 217 Kills Bed Bugs Plus Review
Reapply: Every 12 Weeks
Active Ingredients:
Pyrethrin (0.15%)
Synthetic Pyrethroid (0.30%)
Pipronyl Butoxide (0.75%)
JT Eaton's 217 spray is different. It uses both synthetic pyrethroids and natural pyrethrin compounds.
When paired with pipronyl butoxide, 217 is a deadly tool even against resistant bugs. It comes pre-mixed and includes a one-year warranty.
217 is very affordable. Its ingredients cover the bases and should do the job even when facing some level of immunity.
Its 12 weeks of residual effectiveness is very competitive.
All that said, some reviewers found it didn't last as long as advertised.
If you choose 217 as a part of your plan, consider using a powder as well.
Try something heavier like Temprid FX if your population seems immune or nonreactive.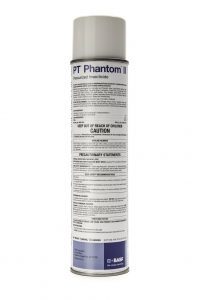 PT Phantom II Aerosol Review
Reapply: 4 Weeks
Active Ingredients:
PT Phantom II is one of the most popular bed bug sprays on the market.
Chlorfenapyr is a different beast compared to pyrethroids and pyrethrins. It kills on a cellular level by shutting down the energy making part of bed bug cells. This leads to the death of the entire organism.
That's a potent dose of revenge.
It leaves no visible residue and lasts for 4 weeks with each application.
Why try PT Phantom II?
It deals with an infestation with minimal reapplication required
Reviews are mostly positive
It is affordable
Bed bugs don't have a resistance to chlorfenapyr
Overall, PT Phantom II is a solid choice.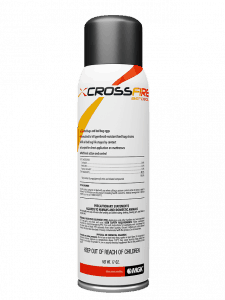 Reapply: 4 Weeks
Active Ingredients:
Clothianidin 0.40%
Metofluthrin 0.01%
Piperonyl Butoxide 1.0%
CrossFire is a new option in the market.
This is the only spray formulated exclusively for use against bed bugs
CrossFire provides up to 4 weeks of residual effect after applied.
CrossFire is the only aerosol spray on this page that is considered to have minimal toxicity to humans according to the EPA.
According to the manufacturer, it can even be applied directly to mattresses.
We still recommend taking regular precautions and wearing chemical protection when applying – better safe than sorry!
CrossFire is also sold in a concentrated form if you have more space to cover and don't mind diluting.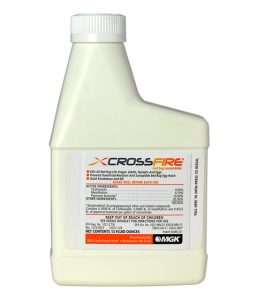 Its two active ingredients are brand new and not found in other sprays. Bed bugs haven't had time to grow immunity to either.
Metofluthrin is a fast-acting contact killer while clothianidin is a deadly residual killer. Piperonyl butoxide (PBO) synergizes with both to make them even more effective.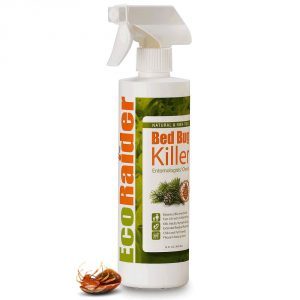 Ecoraider Bed Bug Spray Review
Reapply: 2 Weeks
Active Ingredients:
Natural Geraniol (1.0%)
Cedar extract (1.0%)
Sodium Lauryl Sulfate (2.0%)
Ecoraider is the brand to beat in the world of natural bed bug killing sprays.
Ecoraider is the only natural solution in the market with residual effects.
It is effective for up to two weeks and guaranteed to be at least 90% effective thanks to its approval from the ESA.
The USDA Public Health Pesticide Program trusts Ecoraider – they use it to treat infestations in public housing.
Ecoraider is the perfect choice for sensitive environments where you can't use pesticides.
Ecoraider deserves your consideration even if natural treatment isn't your first priority. It works and is low-impact on health.
We have only found two natural bed bug sprays that have shown proven results. The Entomological Society of America (ESA) agrees: Ecoraider and Bed Bug Patrol are the only ones that work.
The approval of the ESA requires a demonstrated effectiveness of at least 90%.
These days, natural sprays are definitely worth your consideration.
Browse the internet and you'll get recommendations to use alcohol, bleach, soap, or even Windex on bed bugs. While they might kill a couple of bugs, they are not nearly as effective as sprays designed for the job.
There is no common household product that kills bed bugs safely or reliably.
In some cases, people have no choice. Others feel a need to start doing something about their infestation immediately. While not recommended, here are the two most used homemade sprays that work to some degree.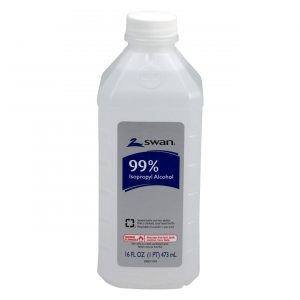 Bed Bugs and Rubbing Alcohol
Concentrations of rubbing alcohol higher than 90% are reportedly deadly to bed bugs. Practical studies have found that alcohol is about 50% effective.
Alcohol works in two parts. First, it dissolves the bug's outer shell. Second, it dries out the bug's insides once the outer layer has been penetrated.
Why should you not use alcohol? It requires direct contact, it is unreliable, and it is highly flammable.
Seeing as bed bugs reproduce quickly, killing half of the bed bugs you can find won't get rid of an infestation.
Take extra care when spraying alcohol. The solution is flammable and so is anything you spray it on.
Putting alcohol through a spray bottle makes it many times more flammable.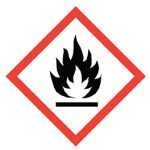 We do not recommend spraying alcohol. Use a budget spray instead.
Steri-Fab is an affordable spray that will actually do the job.
If you can afford to wait a day or two, order a spray.
Some folks claim that a mixture of soap and water is enough to kill bed bugs.
The idea is that the solution could suck the moisture out of bed bugs. In reality, it is even less effective than alcohol.
If you want to keep your treatment natural, you're much better off using Ecoraider or Bed Bug Patrol.
Common Spray Active Ingredients Explained
To give you an idea of what different active ingredients do, here's a shortlist of the most common ones.
Pyrethrins: A class of organic compounds naturally extracted from chrysanthemum flowers. They function by overwhelming insect nervous systems and have been used for hundreds of years to repel bugs. They are highly toxic to insects at very low doses.
Pyrethroids: The synthetic/man-made version of pyrethrins. Pyrethroids are more effective and even less toxic to mammals than pyrethrins.
Piperonyl Butoxide: A synergistic organic compound that enhances the potency of some pesticides like pyrethrins and pyrethroids.
N-Octyl bicycloheptene dicarboximide: Another synergistic compound that enhances the effectiveness of pyrethrins and pyrethroids.
Imidacloprid: An insect neurotoxin that blocks nerve receptors resulting in paralysis and eventual death.
How to Safely Apply Sprays
To safely apply bed bug sprays and dusts, wear chemical protection.
Unless explicitly stated, only apply sprays on areas that do not touch human skin.
The pesticide protection page has more on what kind of filters and materials are best for the job.
Since the ban of DDT in 1972, scientists have been in an arms race with increasingly resistant pests. Today, we know that DDT does have harmful side effects, as do many modern sprays.
Prevent heavy exposure.
Wear a respirator
Apply sprays conservatively
Follow manufacturer instructions
Ventilate rooms
Do not spray surfaces that contact human skin
Let sprays dry before reintroducing people and pets
Careful application is important for your own safety and for the health of your loved ones.
You should only treat the underside of furniture such as:
Couches
Sofas
Chairs
Recliners
Divans
Nightstands
Mattresses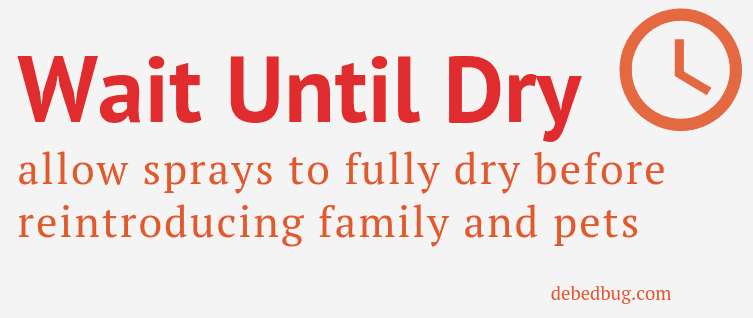 Drying and ventilating a room can take anywhere from hours to an entire day. This depends on the weather, ventilation, and environmental factors
Quick Tip
Read and follow dosage and application instructions for best results!
Modern sprays take inspiration from nature with formulas that change almost annually. They're increasingly organic and increasingly effective.
When applied correctly sprays are completely harmless to people.
Bug bombs and foggers are the opposite of helpful when dealing with bed bugs.
These products are known to send bed bugs running deep into your home as they try to hide from the chemicals.
Some bugs to stay in your foundation and commute to dinner, making your new problem a deep down one.
Contact killers designed without bed bugs specifically in mind are often useless. Bed bugs are infamous for their resistance against many popular pesticides.
Use a spray formulated specifically for bed bugs.
There are also many sprays that only kind of work. They kill a small percentage of bugs while leaving eggs and resistant bed bugs alive. This results in weak bugs dying while resistant bugs flourish.
This makes the problem worse.
Homemade remedies and natural solutions fall into this trap. Choosing to use them is a personal choice at the end of the day.
Insect Growth Regulators, or IGRs, are another popular but ineffective solution. Independent studies from labs, academic sources, and professionals have found zero evidence that IGRs work on bed bugs.
That means that sprays like Gentrol are unreliable at the very best.
Where to Apply Bed Bug Sprays
Pros bring the sprays out when bed bug populations are thriving. They make infestations manageable by cutting down the bugs you can find.
Sprays help by cutting down obvious hot spots and reducing the number of egg-laying bugs.
When it comes to contact sprays, apply them whenever and wherever you can find bed bugs.
As for residual sprays, apply them where you would apply powders for the best results.
We recommend spraying:
Under folds of mattresses
Beneath sofas
Under chairs
On drapes
Inside cracks and crevices along walls
Behind wall sockets and switches
Other fabrics that do not contact skin
The symptoms page includes a section on where to look for bed bugs, and will quickly get you spraying like a pro.
Sprays can be an important part of your fight against bed bugs. A plan is what will help you actually get rid of an infestation. Following a plan is what the pros do. Not having a plan often leads to failure.
Pesticide sprays and bugs are like peanut butter and jelly. Think of one and the other comes to mind.
Like all tools in the bed bug fighter's toolkit, sprays have their own important use.
Protecting your bed with encasements and interceptors will stop the bites. Applying powders will create a barrier of safety. Heaters will save you from ever bringing bed bugs home after travel.
Learning to deal with bed bugs the right way will protect you for life.
Take some time and read through the page dedicated to getting rid of bed bugs. You'll leave knowing the key points of control, monitoring, and extermination.
When used the right way, sprays can help you get a leg-up on your infestation.
You're one big step closer to getting Debedbugged.