While sprays are very popular, powders offer some of the most effective, practical, and long-lasting ways to control bed bugs.
I've waded through the sea of bed bug powders and dusts to bring you the very best. You'll only see products that are proven to be completely effective. Professionals use these very same tools.
Powders are a critical part of any effective Integrated Pest Management program. You're doing yourself a great disservice if you haven't created your own IPM.
Natural Powders Reviewed
 
Diatomaceous Earth
CimeXa
EcoPCO
Evergreen
Active Ingredient(s)
Silicon Dioxide, Elemental Oxides
Amorphous Silica Gel
Phenethyl Propionate,
Pyrethrins
Pyrethrin, Amorphous Silica Gel
Lifetime
2 Weeks
10 Years
8 Months
4 Months
Killing Speed
Slow
Medium
Fast
Medium
Price
$
$$$
$$
$$
Rating
3.0 / 5
5.0 / 5
4.6 / 5
4.0 / 5
Link to Purchase

Shop

Shop

Shop

Shop
Some products contain both natural and chemical pesticides. They are categorized as chemicals.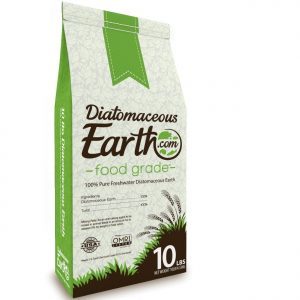 Food-Grade Diatomaceous Earth Review
Also available on Amazon
Active Ingredients:

Silicon Dioxide (85.0%)
Elemental Oxides (10.0%)

Reapply: Every 2 weeks if undisturbed
Relative Cost: $
Rating: 3.0 / 5.0
Diatomaceous earth (DE) is one of the world's favorite bed bug powders. It is popular thanks to its relative cheapness, organic and natural characteristics, and for its effectiveness against a tough pest.
It's safe for pets, your family, and even the environment.
As a desiccant, DE functions by removing the waxy coating that bed bugs rely on to keep their moisture inside, effectively killing them through dehydration.
Bed bugs cannot develop resistance against DE.
This process of dehydration takes time; studies have shown that bed bugs can survive up to 10 days after exposure.
Exposed bugs may lay eggs in that time, but the spawn that hatch from those eggs will be exposed to dust and shouldn't make it to egg laying maturity.
Diligence and patience are going to required. Because DE's efficacy does degrade over time, it is necessary to reapply it at least every 2 weeks until your problem has been eradicated.
I would go so far as to apply it an extra time in order to catch stragglers and late-hatchers.
If you opt to purchase your DE at a hardware store, avoid non-food grade and non-freshwater products. They've been linked to silicosis and lung cancer through frequent exposure.
Since you'll be living amongst the stuff, I'd recommend avoiding that completely and only spraying in areas where dogs and cats can't stick their noses – like in those deep voids that bed bugs tend to congregate and hide in.
Other dusts that you'll read about below sometimes include a large amount of DE accompanied by a small amount of pesticide chemicals. These chemicals help speed up the process and cut away many of the 10 days that it takes to kill bed bugs.
In spite of all the good things people generally have to say about DE, scientific literature and the professional industry has began moving away from it as a cure-all. While it does work well in lab settings, Amorphous Silica has proven to be far more effective in the real world.
Pest control professionals today are far more likely to recommend something like CimeXa – I explain why in the next section covering it.
If it's the best you can afford, don't hesitate to try DE…but if you can, definitely consider springing for something with Amorphous Silica like CimeXa, Evergreen, or even something synthetic but super powerful like Drione if you really want guaranteed quick results.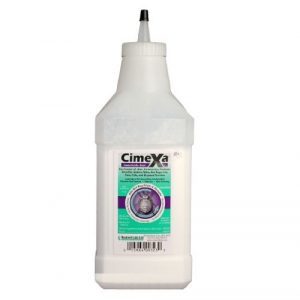 CimeXa Review
Also available on Amazon
Active Ingredient: Amorphous Silica Gel (100.0%)
Reapply: Every 10 years if undisturbed
Relative Cost: $$$
Rating: 5.0 / 5.0
CimeXa is the most popular manufacturer of amorphous silica as of this moment. They've caused quite the stir in the bed bug and pest control industry as an all-around upgrade to DE.
According to research, CimeXa is safer, more consistent and longer-lasting when compared to DE.
It comes in a light fluffy powder form that sticks to bed bugs with the help of static charge. Instead of acting as an abrasive, Amorphous Silica acts like a sponge and sucks away the waxes off of bugs.
Even more important is the fact that it Silica has proven to be vastly more effective in cases where bed bugs pass through the powder a single time.
This is important when considering that powders and dusts often act as repellants which discourage repeat travel.
It is safe for use around people and pets and kills over three times faster than DE. That said, you should still try to keep it out of the noses of your cats and dogs.
Studies show that efficacy remains up to 10 years after application when left undisturbed.
If you've done a good job of applying it in all the cracks and crevices that they might harbor in, you've just installed a decade-long barrier for yourself.
In spite of its expense, the longevity, current professional endorsement, and considerably lower time to kill make it an attractive option.
I personally used CimeXa for my own infestation and continue to maintain a barrier because it worked.
It's a great, affordable option for completely passive protection during your campaign and after you've gotten rid of bed bugs!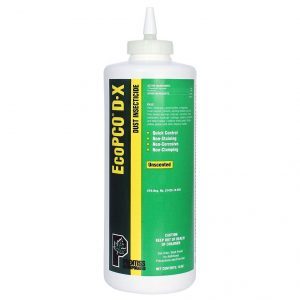 EcoPCO D-X Dust Review
Click To Shop
Active Ingredients:

Phenethyl Propionate (1.0%)
Pyrethrins (0.4%)

Reapply: Every 8 months if undisturbed
Relative Cost: $$
Rating: 4.6 / 5.0
EcoPCO D-X manages to keep its ingredients all-natural by utilizing known and effective insecticides found in nature.
Pyrethrins are a common ingredient in bed bug sprays and help give this product its big punch. They are extracted from the flower heads of the chrysanthemum flower and have been used for hundreds of years against bugs.
Phenethyl propionate is another natural insecticide that is considered organic and of minimal risk to people. The compound can be found in the oil of peanuts. It does not include the enzyme that triggers peanut allergies.
EcoPCO's powder is physically very fine and does the job with the help of its two-pronged approach. Bed bugs exposed to the dust have their nervous systems broken down. It even spreads to other bugs when a coated bed bug goes home to cluster.
Thanks to its use of natural pesticides, it is also faster acting than DE and CimeXa, you should see results in as little as a day or two.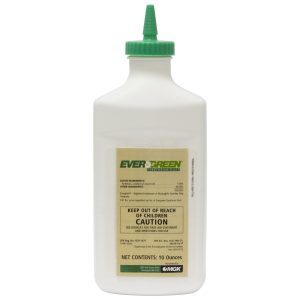 Evergreen Bed Bug Dust Review
Also available on Amazon
Active Ingredient:

Pyrethrin (1.0%)
Amorphous Silica Gel (15.0%)

Reapply: Every 4 months if undisturbed
Relative Cost: $$
Rating: 4.0 / 5.0
Part desiccant and part insecticide, Evergreen delivers by synergistically adding amorphous silica to the mix. Desiccants help make insecticides more effective in both spray and powder form
This cocktail allows for its quick killing characteristic and long lifetime. You can rest easy knowing that if the pesticides don't do the trick against a pesticide-resistant bed bug, the silica will.
Chemical Powders Reviewed
Powders laced with chemicals are faster on average compared to their natural counterparts.
They also last longer on average when you take CimeXa out of the equation. You gain superior lethality and a good price from these almost-natural products.
|   | | | |
| --- | --- | --- | --- |
| | Tempo | Delta Dust | Drione |
| Active Ingredient(s) | Cyfluthrin | Deltamethrin | Pyrethrin, Piperonyl Butoxide, Amorphous Silica Gel |
| Lifetime | 8 Months | 8 Months | 6 Months - 10 Years |
| Killing Speed | Fastest | Medium | Fast |
| Price | $$ | $$ | $$$ |
| Rating | 4.6 / 5 | 3.4 / 5 | 5.0 / 5 |
| Purchase | Shop | Shop | Shop |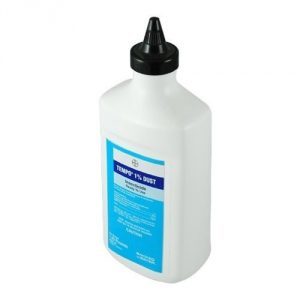 Tempo 1% Dust Review
Click To Shop
Active Ingredient: Cyfluthrin (1.0%)
Reapply: Every 8 months if undisturbed
Relative Cost: $$
Rating: 4.6 / 5.0
Tempo Dust makes use of a pyrethroid by the name of cyfluthrin and is one of the fastest acting dusts on the consumer market.
Tempo's potency helped it achieve the title of one of few products that kills bed bugs at all life stages within a short 24 hours.
That potency may also be why it's banned for consumer use in four states. You're out of luck if you live in California, New York, Southern Carolina, or Connecticut although there are plenty of other options.
Keep in mind that, as a pyrethroid, some bed bugs might be resistant to Tempo.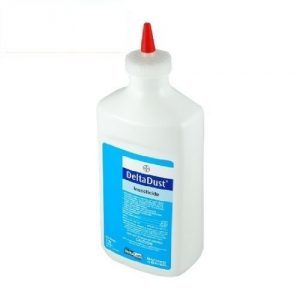 Delta Dust Insecticide Review
Click To Shop
Active Ingredient: Deltamethrin (0.05%)
Reapply: Every 8 months if undisturbed
Relative Cost: $$
Rating: 3.4 / 5.0
Delta Dust is notable for its complete waterproofness. It's one of the hardier powders and also has a great success rate and decent killing speed.
Delta Dust will kill bed bugs within a week of contact.
Deltamethrin is a synthetic pyrethrin, or pyrethroid, meaning that some bed bugs may be resistant to it.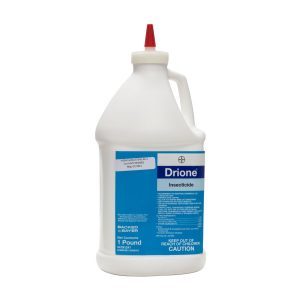 Drione Dust Review
Click To Shop
Active Ingredient:

Pyrethrin (1.0%)
Piperonyl Butoxide (10.0%)
Amorphous Silica Gel (40%)

Reapply: Every 6 months if undisturbed, years if used for Amorphous Silica
Relative Cost: $$$
Rating: 5.0 / 5.0
Drione Dust is the chemical bed bug powder to beat.
Manufactured by Bayer, the same company that produces Delta Dust, the difference between the two is vast.
While Delta Dust uses pyrethrins that some bed bugs are resistant to, Drione utilizes natural pyrethrins which are harvested from ever-evolving natural sources.
These natural sources, namely chrysanthemum flowers, adapt to the various immunities that wild bugs develop in order to stay ahead. This means that fewer bed bugs are resistant to the modified natural insecticide.
Drione's efficacy is further bolstered thanks to its inclusion on piperonyl butoxide, a synergetic organic compound commonly found in bed bug controlling formulas. Functioning much like a catalyst, it helps makes the pyrethrin even more potent.
The inclusion of amorphous silica gel serves as the final nail in your bed bugs' coffin. As a desiccant, it makes bed bugs more vulnerable to pyrethrins by weakening their waxy coatings.
It also allows Drione Dust to be applied once and left for years if undisturbed. Pyrethrin and Butoxide may lose potency, but the silica content will continue being effective for years to come, just like CimeXa.
Every ingredient in Drione Dust serves the same purpose: to bring a swift and inescapable death to any bed bug it contacts.
That's mission statement I can get behind.
Where to Apply Bed Bug Powders
When applying bed bug powder, you are effectively planting a minefield. Properly setting the stage in just the right spots once can give you bed bug killing results for weeks or even years to come.
Bed bug powders work for two simple reasons. Bed bugs must feed on your blood but cannot fly.
We take advantage of this simple truth most through powders and bed bug traps.
Ideally, an extremely fine layer of bed bug powders should be applied so that bugs have no problem walking through it.
Proper use entitles a near-invisible film of powder evenly coating desired areas in a precise but thorough manner.
Professionals target:
Beneath or along baseboards
Cracks and crevices
Along the edges of mattresses
Behind headboards
Behind anything hung on walls
Behind nightstands
Inside and around box springs
Between furniture joints
Inside surface ducts
Inside wall voids
Inside electrical and telephone fittings
Around water and sewer pipes
Powder Application Tools
Choosing the right powder is really only half the battle. Application is just as important.
If powders are applied in clumps and mounds, bed bugs will choose to walk around them instead of through them.
To combat this, there are devices and simple tools that will help us do the job properly. You might even have them already lying around the house.
Handheld Powder Dusters
One of the most common applicators used by professionals and self-treaters alike, small powder hand dusters are popular because they are affordable, do the job, and are easy to use.
A bellow is used to create air pressure that puts dust in the air and pushes it deep into cracks that are otherwise unreachable.
Some come with different tips, while others are as simple as a pump connected to a thin tube. Any duster should be compatible with any dusts or powders.
Try to only fill the duster halfway, it needs space to create the right mixture of air and dust.
Shaking the duster right before use helps create a cloud of dust for even and light application.
You can also try putting a marble similarly shaped disposable item inside your duster to help break up any clumps that may form.
Here are a few of the most popular options:
Powder Duster Comparison Chart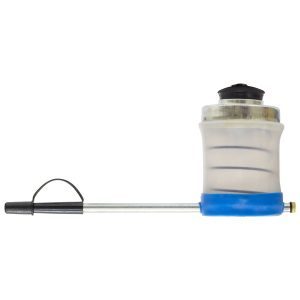 JT Eaton Bulb Duster Review
Click To Shop
Relative Price: $
Rating: 3.4 / 5.0
JT Eaton produces several bed bug sprays and is a known name in the bed bug industry. Their bulb duster is an entry-level device that will get the job done easier and faster than any paintbrush or homemade contraption will.
Users have reported that a rubber component of the Eaton does fall apart after extensive use, so beware of that if you intend to use it for years to come.
That said, it's a little bit stiff but dispenses well as long as you fill it about 1/3 full and shake it frequently between puffs.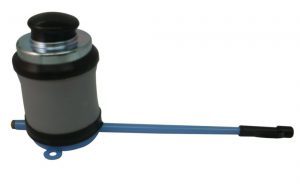 Southern Hardware Metal Duster Review
Click To Shop
Relative Price: $
Rating: 4.0 / 5.0
Priced almost identically to the regular JT Eaton, many people find this option more attractive because of its metal construction.
As with the JT model, there is a rubber element that degrades through regular exposure to desiccants like DE and CimeXa. Keep in mind that it will deteriorate and become unusable after a year or two of regular use.
I've never had to deal with that because I don't apply powders every day.
They both do the job – this model is slightly easier to compress, usable even upside down, and is more durable to boot.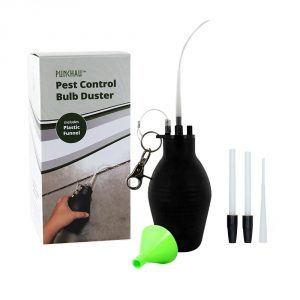 Punchau Bulb Duster Review
Click To Shop
Relative Price: $$
Rating: 4.8 / 5.0
In a classic case of "you get what you pay for," the Punchau is nearly twice the price of the JT Eaton and Homewares models, but delivers better results for much longer.
While rubber was the weak point of the other two models, this duster is made completely of a thicker quality rubber which gives you control and durability.
It also includes several different tips to help you apply your powder in any crack of crevice you need to tackle – those very spots are the most important thing to target when fighting bed bugs.
They also offer a lifetime warranty should you ever face any issues with the bulb unlike the other two.
Wet and Spray Applicators
Not all dusts can be applied with the wet and spray method.
Most notably, DE and amorphous silica can.
Either product should include instructions on the manufacturers packaging which instructs you on a way to easily mix your dust with water before applying it with a sprayer. This allows for easy and uniform application and is ideal for those treating larger areas like several hotel rooms or apartment units.
It is not a good idea to spray an entire room indiscriminately because bare exposure to even organic DE can irritate the skin and have unforeseen side-effects – be careful when spraying!
As always, read and follow directions closely. Prudence should always be exercised to protect yourself.
Powder Sprayer Comparison Chart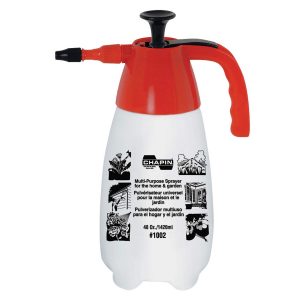 Chapin 48-Ounce Sprayer Review
Click To Shop
Relative Price: $
Rating: 4.0 / 5.0
Small and handheld, if you plan on treating single rooms, this sprayer will do the trick!
Chapin is one of the most popular producers of sprayers for garden and general use, they'll work just fine for our purposes.
It also features Chapin's anti-clog feature which is advantageous because since we will be spraying dusts and particulates through it.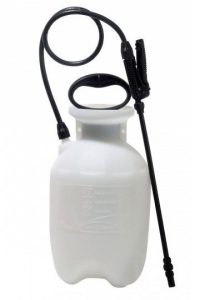 SureSpray 1-Gallon Sprayer Review
Click To Shop
Relative Price: $
Rating: 4.0 / 5.0
SureSpray offers this 1 gallon model – this sprayer holds about 3x the amount as the 48oz Chapin and has the capacity to easily treat an entire room without the need to refill.
The wand attachment with helps you get in nooks and crannies with ease while the anti-clog filter helps when dealing with wet and spray applications.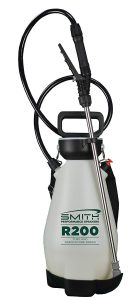 Smith Pro 2-Gallon Sprayer Review
Click To Shop
Relative Price: $$
Rating: 4.6 / 5.0
Sprayers are often sold very cheaply but come with the construction and materials to match. The Smith Pro model 2-gallon sprayer is not the cheapest in any sense of the word.
From its more efficient pressure building system which requires less pumps to higher quality seals and 5 included nozzle attachments, the Smith offers a lot that cheaper models lack or fail in.
You'll use this sprayer with any chemicals that you'd like without worrying over wayward leaks and breakage.
Fine or Regular Paintbrushes
Although less practical and effective than purpose-made powder dusters, paintbrushes will work in a pinch.
By saturating your brush in your chosen powder and brushing your target areas, you can do a decent job without the danger of applying too much.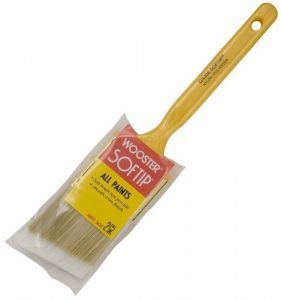 Click To Shop
A fine brush is better for the job and leaves clumps less often than regular bristle brushes. I recommend the Wooster softip for its size, quality, and because it's affordable.
Be sure to keep amounts almost invisible for best results.
Apply powders conservatively and be sure to thoroughly air out any room that you've treated for as long as you can afford. Pets should also be removed from the area during treatment and until ventilation is done.
Since they are residual insecticides, your goal is to target every possible place that bed bugs will travel through or live in.
Cracks and crevices where bed bugs rest and cluster are prime targets.
Because bed bugs tend to cluster and hide in cracks and narrow spaces, treating cracks and crevices is often the most effective thing you can possibly do.
Concentrating on difficult-to-treat spots should be a priority.
Treating the space behind switch and outlet plates, inside vents, in tight baseboard gaps, and where carpet and walls meet will give you the advantage of not having to worry about those spaces later.
By targeting those areas, you effectively trap and corner bed bugs completely.
They will have to feed eventually, which is when they'll walk right through your well-applied trap and take care of themselves entirely passively.
By making it impossible to get to your bed without being exposed to powders, bed bugs will inevitably get rid of themselves.
It does take time, though.
Be patient and diligent with your reapplications, sprays, and traps, and you will be well on your way to getting rid of bed bugs.
Wear Dust Protection!
Any powder that hangs in the air should be considered a health hazard.
Even natural and organic powders are dangerous when inhaled in above-trace amounts. If you'll be applying dusts indoors, it's also a good idea to wear eye protection.
Many of the above products feature an extremely fine powder, which requires a respirator or dust mask rated for protection against pesticides.
The cheap and simple dust masks might do the job for non-toxic dusts are only appropriate for those non-toxic dusts.
Please consider investing in a mask rated for protection against fine-particulates if you plan on using anything with chemicals in the mix.
Take a look at the chemical and pesticide protection page for a list of very affordable products that will keep you safe!
Wearing gloves is also a good idea, especially when dealing with chemical products. Even DE can irritate the skin through direct exposure.
Although I have raised a few warning, there is truly very little danger to you and your health as long as you follow the instructions as closely as you can.
Bed Bug Dusting Strategy
They are also one of the most affordable solutions and can take care of infestations when used in conjunction with other tools like sprays and encasements.
It's tempting to go with the cheapest option, but know that each product provides many treatment cycles worth of product when applied properly.
Paying a little more for longevity and a more potent product is worth it in almost all cases!
It's important to note that diatomaceous earth and CimeXa are not the silver bullets that many claim them to be.
Powders are definitely a great and valuable tool against bed bugs but they are just a single tool in an entire toolbox.
If you're taking on the daunting task of eliminating bed bugs on your own, do it like the pros would with an Integrated Pest Management (IPM) approach.
Failing to create and follow an IPM is the best way to lose to bed bugs!
Powders do part of the job while residual and contact bed bug sprays, steamers, bed encasements, and traps all perform their own important functions in eradicating bed bugs.
There's no reason to believe that you'll succeed in treating bed bugs with a single product; know that even professionals rely on an entire arsenal of specialized tools and consider bed bugs one of the hardest pests to eliminate.
An added bonus to including dusts in your regimen is that exposure to desiccants like DE and amorphous silica makes bed bugs more vulnerable to other treatment options like sprays, heat, and steam.
Exploit this fact and use everything you can to defeat bed bugs quickly and completely.
Ask Your PCO
Hold off on dusting if you plan to hire a Pest Control Operator (PCO) until you've confirmed that it won't interfere with his or her plan.
Your PCO will hopefully do a great job and apply their preferred powder where it most needs to be.
Adding amateurishly applied dust may not mix well with products and chemicals that are carefully calculated and balanced, especially since it is common for first-timers to over-apply dusts despite their best efforts and intentions.
Thank You for Reading!
I hope that this guide has helped clear up any confusion and illusions you had regarding bed bug powders and their application.
While there are plenty of tools that can do the job of eradicating bed bugs for you without chemicals, bed bug powders and sprays are a crucial tool – especially on a tight budget.
Take the time to apply them properly and you will undoubtedly see results. Try your best to do a good job the first time because the payoff will be long-term.
Stay safe, apply conservatively, and best of luck getting Debedbugged!
More Resources