Bed bugs are hitchhikers. Most infestations begin with a bug or two sneaking their way back home with you on your clothes or in your bags.
They only need you to sit down or put your stuff down for a moment. They're happy to grab onto suitcases, backpacks, purses, clothes, furniture, and even wheelchairs.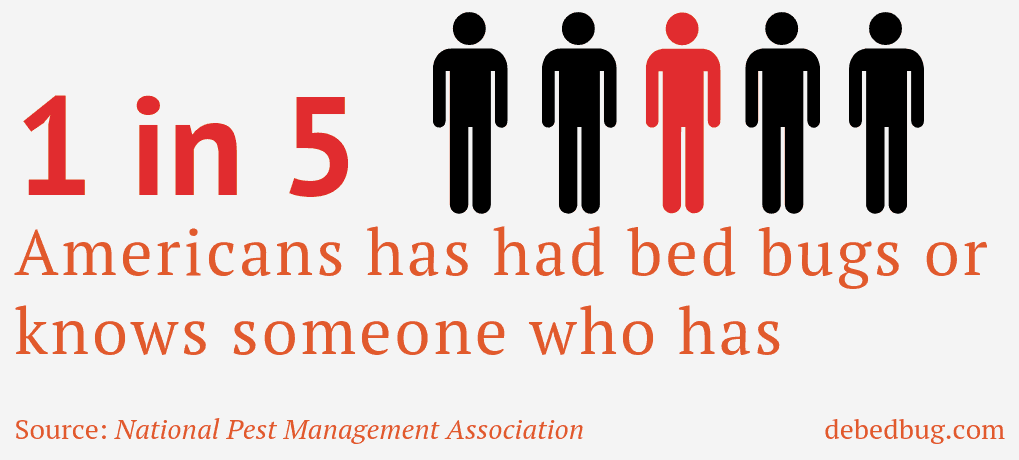 Common Ways People Get Bed Bugs
A bug or two climbs onto something of yours that has a human scent
It then lays sticky eggs or firmly grabs on to your things or clothes
The bug then hitches a ride with you until you put your things down at home
Once inside your home, it hides until nighttime
The bed bug takes its first meal while you sleep
If the bug was a fertilized female, it will lay eggs and begin an infestation
Bed bugs are also known to slip between the cracks and voids of shared walls. This makes infestations in apartments especially frustrating and hard to deal with.
On this page, we'll go over where you're most likely to encounter them. We'll also discuss what you can do to lower your chances of bringing them home.
Where Do Bed Bugs Come From
Your chances of coming across bed bugs are highest when you are in an area where lots of people come and go.
Areas Where Bed Bugs Are Common
Homes of family members, homes of friends, homes of a child's friends
Apartments and condos
Hostels, hotels, motels, apartments, bed and breakfasts
Office buildings, government facilities, workplaces, libraries
Long-term care facilities, nursing homes
Daycares, school dormitories, classrooms at all levels of education
Fire stations, police stations, hospitals
Buses, airplanes, trains, taxis, Ubers, cruise ships, etc.
Movie theaters, broadway theaters, concert halls
Hotels, apartments, and shared housing are prime bed bug hot spots. This is especially true in big metropolitan cities. When looking at the top 50 bed bug cities in America, most are big cities.
A revolving door of guests and many hiding places make for perfect bed bug conditions.
Single-family homes and apartments are the most common sites of infestation. Hotels and motels come in second. Nursing homes and offices are tied for third. College dorms are the fourth most frequently affected, followed by hospitals and transportation.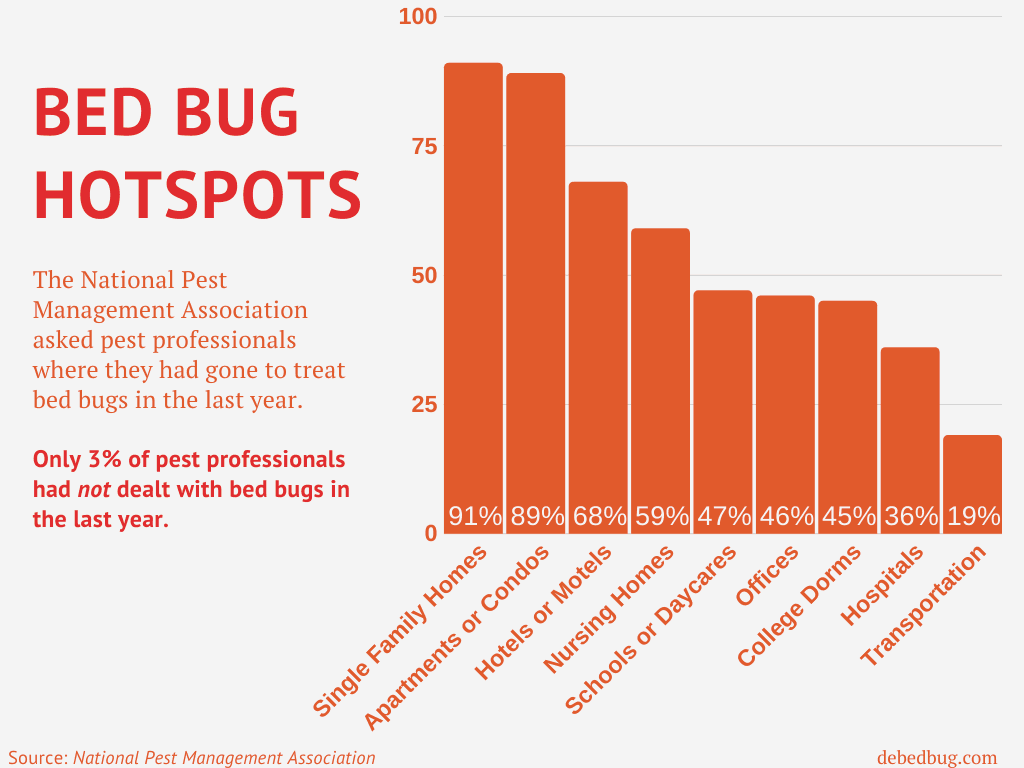 It's impossible to avoid all these locations while going through life.
The only space you can actually control is the space inside your home. This makes prevention very important.
Most infestations come from visiting an infested home.
Keep an eye out and inspect beds before spending a night on them. Do this even when staying with friends or family.
Follow these instructions on how to check a room for bed bugs.

Checking for bugs before settling in anywhere you go is the best way to protect yourself.
Plenty of regular people have no idea they have bed bugs. It's easy to assume that you might be dealing with fleas or a busy mosquito season.
Learning to identify the most common symptoms of bed bugs will be useful for the rest of your life.
Check out the bed bug pictures page for visual examples.
Bringing furniture left on the streets home is a high-risk decision if your goal is to prevent bed bugs. Avoiding mattresses left out on the street is a good idea in general.
Furniture abandoned on the street was left for a reason. Bed bugs are a common reason; especially in big cities.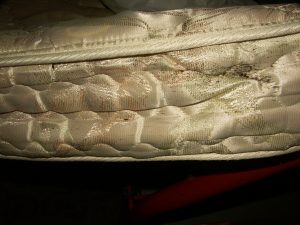 Leasing and purchasing used furniture can be risky. This depends on the seller or company.
Leasing companies without well-enforced bed bug policies are a big problem.
Check store policies for bed bug clauses before signing when renting furniture.
If you will be bringing home used furniture, take the time to inspect it. Doing this before bringing it into your car or home could save you from an infestation.
Where to Check For Bed Bugs in Furniture
If possible, check:
Beneath cushions
Undersides of furniture
Corners of joints
Under seams
All nooks-and-crannies
It may seem over the top but checking is the best way to make sure you aren't bringing home a huge expensive headache.
Steam treatment is an inexpensive way to get rid of eggs and hitchhikers that can hide in used furniture.

Steam is great because it kills bed bugs at all life stages. It does so instantly and leaves no residue, unlike sprays.
Other used furnishings like small carpets and curtains can be treated in a dryer set to high. Run it for at least 30 minutes.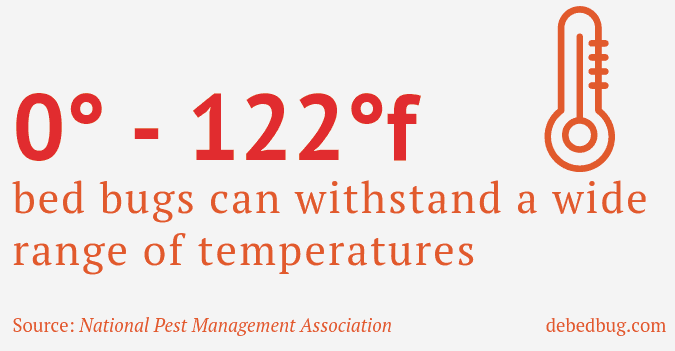 Anything you treat with heat must reach 120˚F throughout.
Bed bug heaters are versatile and effective. They come in all sizes – from large enough to fit a suitcase, to heaters that fit the entire bed. They treat anything you can fit in them and only need electricity to work.

Every few months, news breaks of someone burning down their home or apartment with one.
Heaters are very affordable these days, especially compared to the cost of a new home.
Quick Tip
The name bed bug is deceiving. Bed bugs are in no way bound to your bed. They can make their homes almost anywhere.
This includes inside electronics, suitcases, kids' toys, clothes, and even books.
When buying used clothes, it's a good idea to clean them as a precaution. It's a simple matter of running them in the dryer for at least 30 minutes on high heat.
A dryer can also be used on small items like plush toys, backpacks, and shoes.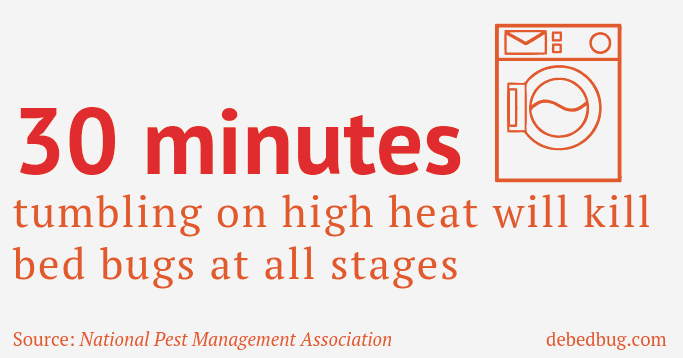 If dealing with delicate items, a bed bug heater is the best option. Dry cleaners are also an option, although most don't guarantee bed bug elimination.
Don't bring infested clothes to the dry cleaners without calling first.
If you'd like to treat delicate or larger items that can't be tumbled in a dryer, personal bed bug heaters like the ZappBug heater will easily do the job.
Once bed bugs spread to more than one unit in a building, everyone needs to be on the same page to deal with them.
How To Prevent Bed Bugs in Your Unit
Seal off voids running between units with caulk
Vacuum and clear clutter regularly
Secure your bed with encasements and interceptors
Apply bed bug powders
Cooperation is necessary. Treatment needs to happen in every single infested unit at the same time.
Units neighboring infested units should be treated or monitored at the very least.
Bed bugs will escape through plumbing and electricity routes when they feel heat treatment starting. Those routes end up in next-door units.
Treating units one-by-one will fail when more than one unit has bed bugs.
Waiting for professional treatment can be frustrating. In the meantime, you can do a lot to slow or stop the biting.

What rights do landlords and tenants have when dealing with bed bugs in California? Check out this post for the most recent laws.

Laws about the burden of payment for treatment vary from state-to-state. Check with your local office.
When traveling, you use shared furniture and bedding way more often than usual. This is true whether you're staying in a fancy hotel or in a budget-friendly hostel. Always check for symptoms of bed bugs before settling in.

Cheap travel is a big reason bed bugs have made a comeback. They're doing especially well in the United States and Europe.
Hotels and motels have an endless cycle of people entering and leaving. Bed bugs will make their way in with someone eventually.
Even with constant housekeeping and bed encasements, a bug or two can slip through the cracks.
Traveling safely with bed bugs in mind is the best way to prevent bringing an infestation home.

We have written on how to check your hotel room for bed bugs.
When checking for bed bugs, you're unlikely to find a live bug outside of an advanced infestation.
That's why it's so important to know the most common signs they leave behind. Pictures of bed bugs and their signs are will help you get a clear idea of what to look out for.
Big cities bed bug hot spots. Studies find that bed bugs most often affect younger people living in rented homes in big cities.
Bed bugs are three times more common in urban areas compared to rural areas.
Large populations, apartment living, and easy mobility help them spread fast and far.


Every year, Terminix looks into the number of bed bug services it gives across the country.
They then share the top 50 bed bug infested cities in the US.
Cities like New York, Los Angeles, Philadelphia, and Washington make the top 10 every year.
Being especially careful in big cities is worth your time.
It is good to be extra aware when staying in budget travel accommodations. Budget options usually see more customers. High turnover and overworked staff can lead to bugs slipping through the crack.
We recommend checking reviews online for mentions of bed bugs before signing up to stay. I've seen hostels with reviews mentioning bed bugs several times myself. That bed may be cheap for a good reason.
We have a guide on how to check for bed bugs in hotels as well.
Buses, planes, and trains in big cities put you shoulder-to-shoulder with lots of people. In these conditions, crawling onto your clothing or bag is easy for a bed bug.
Bed bugs have exploded as international travel has become more affordable. Scientists have linked human odor with the epidemic.
Researchers from the University of Sheffield set out to test a simple theory. They wanted to know if dirty laundry attracts bed bugs.
They conducted a study and concluded that the smell of worn clothing is a major draw to bed bugs.
Dr. William Hentley of the University of Sheffield commented and advised that:
"Bed bugs are a huge problem for hotel and homeowners, particularly in some of the world's biggest and busiest cities.
Once a room is infested with bed bugs, they can be very difficult to get rid of, which can result in people having to dispose of clothes and furniture that can be costly.
Our study suggests that keeping dirty laundry in a sealed bag, particularly when staying in a hotel, could reduce the chances of people taking bed bugs home with them, which may reduce the spread of infestations."
During the study, bed bugs wound up in bags with dirty clothes twice as often versus bags with clean clothes.
Your unwashed vacation laundry is as attractive to bed bugs as the hotel bed you sleep on.
These days, many hotels use bed bug proof encasements. Your open suitcase full of worn clothing lying on the ground is easier to get into than the bed.
Researchers specifically shared that:
"Potential 'vehicles' for passive dispersal, such as luggage, are likely to contain recently worn clothes (i.e., those soiled with sweat and volatiles) that release human odor, especially since travelers tend to take home their dirty laundry. Odors from soiled clothing (or luggage containing soiled clothing) may therefore influence host-searching behavior in bed bugs and consequently facilitate the passive dispersal of bed bugs via long-distance transport networks."
The study brings home the importance of keeping luggage off the ground and out of the reach of bed bugs.
Keeping bags sealed and away from the bed will go a long way.
For more on checking rooms for bed bugs, there's this post on the topic.
Frequent travelers should invest in a decent bed bug heater. The peace of mind you get from tossing your luggage in and setting a timer is priceless.
As soon as summer rolls in, bed bugs come out of hiding.
A majority of exterminators report that they get more calls for bed bugs during the summer.
Why Is Summer Peak Bed Bug Season?
Bed bugs are able to pull moisture out of the air but struggle to do so in typical dry summer weather. This leaves one source of water for them, blood. With the clock ticking faster, bed bugs become more likely to feed during the day.
Warmer temperatures make public transportation more comfortable for bed bugs.
For many people, summer means travel, and travel is a very efficient way to spread bed bugs.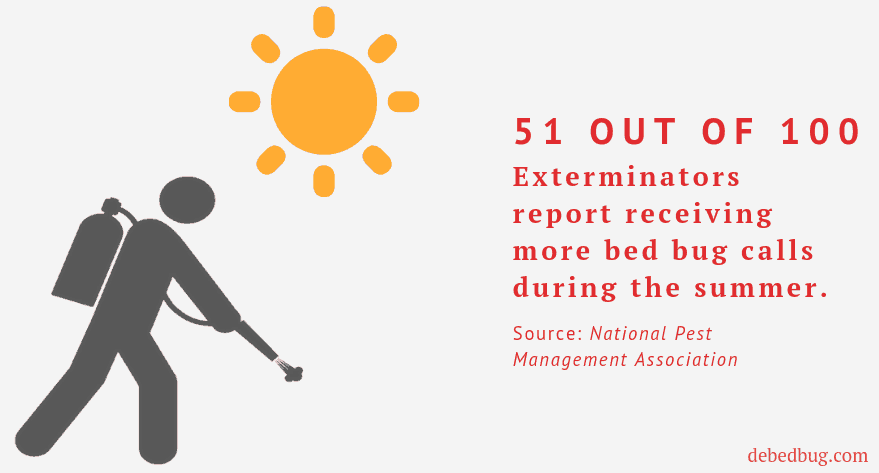 Exercising extra caution during your summer travels is always a good idea.
It is a common misconception that bed bugs only infest dirty or cluttered homes. The difference between a clean and a cluttered home is that a clean home has fewer places for bed bugs to hide.
Bed bugs aren't picky at all. That lack of pickiness has helped them thrive all over the world. Bed bugs are so common that 1 in every 5 Americans has had bed bugs or knows someone who has.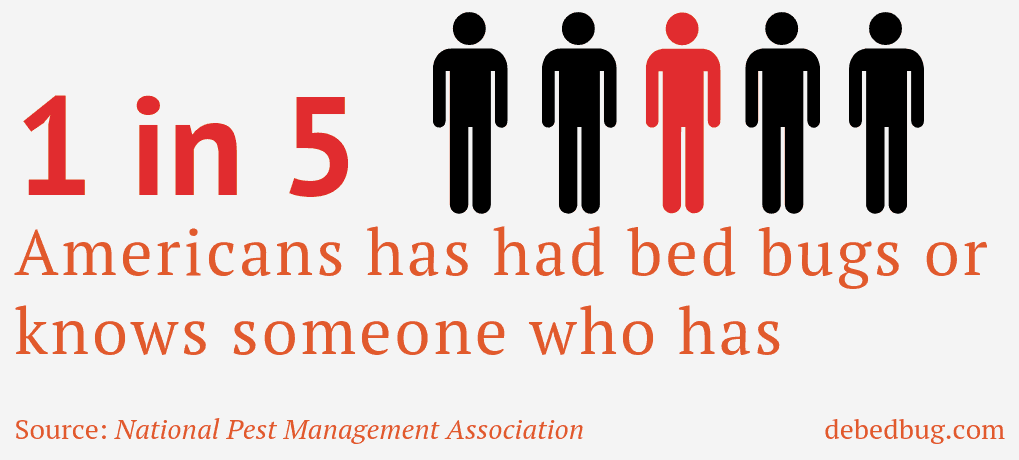 All 50 states deal with bed bugs.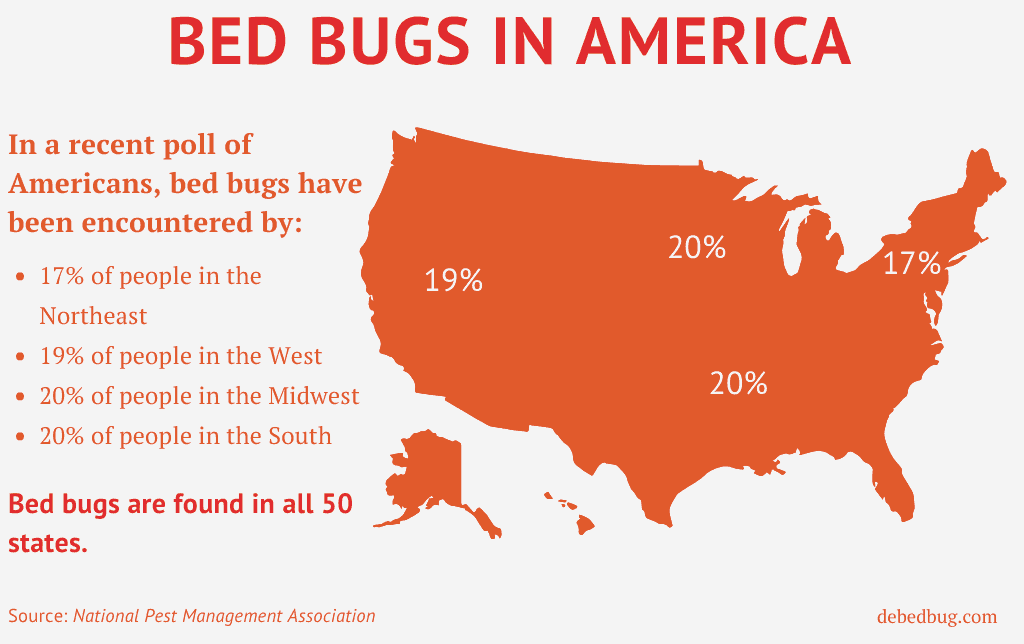 You could deny visitors, avoid public places, check every car and bus seat you ever sit on, and still get them from a neighbor.
Everything you've read on this page will help reduce your chances of bumping into bed bugs in the wild. Prevention is the only other meaningful way to take control.
Read this section on easy ways to prevent bed bugs for more.
It's a skill that you'll also need if you ever have to deal with a possible infestation at home. Knowing where and what to look for lets you check furniture, rooms, offices, and anywhere else. It will help you avoid bringing bed bugs home in the first place.

How To Detect Bed Bugs Early
It's impossible to predict bed bugs. This makes early detection your best friend. Infestations found in the first two months are far easier to deal with.
It doesn't take much work to set up early detection tools. These days, traps are cheap and convenient.
We recommend interceptor traps to anyone wanting to prevent or treat an infestation. They're easy to install, catch bed bugs early, and don't need replacing or maintenance.
Once installed, prevention becomes as easy as checking interceptors every few weeks.
When you pair interceptors with encasements, your bed becomes a fortress.


By denying bed bugs easy access to your bed, you save yourself from bites and have a way to detect them early.
Click any product name or picture to go to the corresponding review:
| | | | | |
| --- | --- | --- | --- | --- |
| | LightsOut | ClimbUp | BB Alert | SenSci |
| Bait | You | You | You | You, Optional Lure |
| Trap | ABS Pitfall | Powdered Pitfall | Comfy Harborage | Pitfall |
| Lifespan | Forever | Forever | 1 Infestation | Forever |
| Rating | 100 / 100 | 92 / 100 | 92 / 100 | 74 / 100 |
| Relative Cost | $$ | $ | $$ | $$ - $$$ |
| Full Review | View | View | View | View |
For more information on traps and in-depth reviews, check out the bed bug traps page.
How To Be Prepared For Bed Bugs
If you want to take the next step, it's a great idea to make a treatment plan before you even have a problem.
Our guide to getting rid of bed bugs will walk you through the entire process.


Having a plan lets you start treatment immediately once you confirm that you have bed bugs on your hands. Doing it in advance means you won't have to spend time researching.
You'll be miles ahead of most folks dealing with infestations.
Being able to start taking control right away is priceless.
Do not jump the gun and begin treating for bed bugs if you're worried about mystery bites. Find other symptoms first.
Do not begin treatment if your operator doesn't offer you proof of bed bugs. Knowing how to find a great exterminator will make a big difference.
Do not use generic bug solutions. Bug bombs and foggers make things worse by scaring bed bugs into every room of the house. The gas used in consumer foggers will not kill bed bugs.
Do not randomly apply pesticide powders. If you decide to use preventative powders, wear a respirator. Learn how to properly apply bed bug powders.

Do not trust any product labeled as a "bed bug repellent." Bed bug repellents do not exist. Like bug bombs and foggers, they can make things worse by scaring bed bugs deeper into your home. A good encasement and interceptors will do the job of keeping bed bugs off your bed.
It is up to you to protect your home from bed bugs.
The best way to avoid bed bugs is by knowing how to identify, prevent, and get rid of them. With that knowledge in hand, you'll be ready to nip infestations in the bud.
What To Do If You Think You Have Bed Bugs
Look for symptoms of bed bugs in the bedroom first. Don't start treatment until you have proof.
Avoid bug bombs and foggers.
Learn how to properly apply products before using them.
We've shared all there is to know about the most common high-risk bed bug scenarios. You now know where to be extra careful and all about the importance of checking for them and prevention.
Have a questions or feedback? We'll respond to them in the comments section below.
References
https://debedbug.com/references/
---