Bed bugs are natural hitchhikers that will take any chance to latch onto you in hopes of being brought back home. All they need is for you to take a seat or put your things down for a second.
They frequently latch onto suitcases, backpacks, purses, worn clothing, used furniture, and even wheelchairs.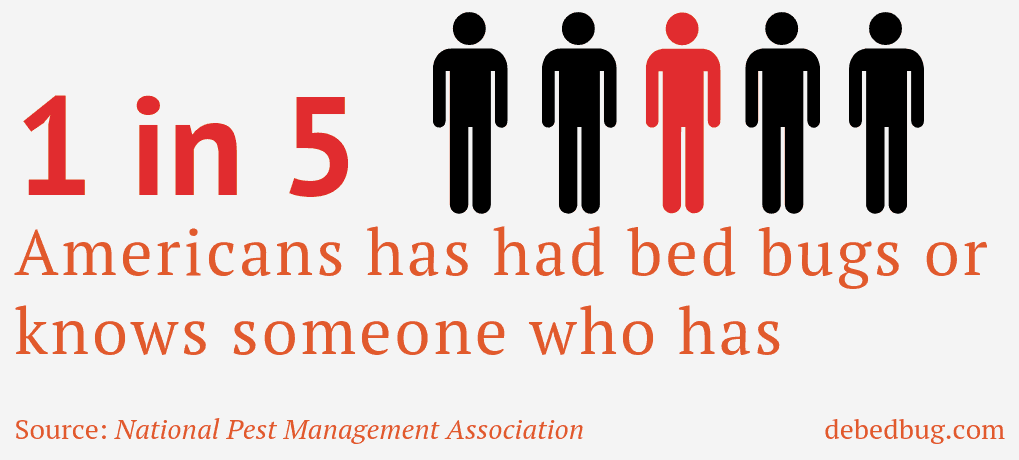 Getting bed bugs involves them:
Climbing onto anything within reach that has a human scent
Laying sticky eggs or hooking themselves firmly to your things/clothes
Hitching a ride with you until you put your things down at home
Finding a hiding place during the daytime
Feeding on you while you are asleep
Laying eggs and repeating the cycle in your home
They're also known to slip between the cracks of shared walls, making infestations in apartments especially frustrating and complicated.
On this page, we'll go over where and how you're most likely to encounter them. We'll also go over what you can do to lower your chances of bringing them home.
Where Do Bed Bugs Come From
Your chances of coming across bed bugs are highest anywhere lots of people come and go.
Hotels and shared housing in general are prime bed bug hot spots. The revolving door of guests staying for a night and the plentiful hiding places make for the perfect storm of conditions.
To give you an idea, people frequently bring bed bugs home from:
Homes of family members, homes of friends, homes of your child's friends
Apartments and condos
Hostels, hotels, motels, apartments, bed and breakfasts
Office buildings, government facilities, workplaces, libraries
Long-term care facilities, nursing homes
Day cares, school dormitories, classrooms at all levels of education
Fire stations, police stations, hospitals
Buses, airplanes, trains, taxis, Ubers, cruise ships, etc.
Movie theaters, Broadway theaters, concert halls
Single family homes and apartments are the most common sites of infestation. Hotels and motels come in second. Nursing homes and offices are tied for third. College dorms are the fourth most common followed hospitals and transportation.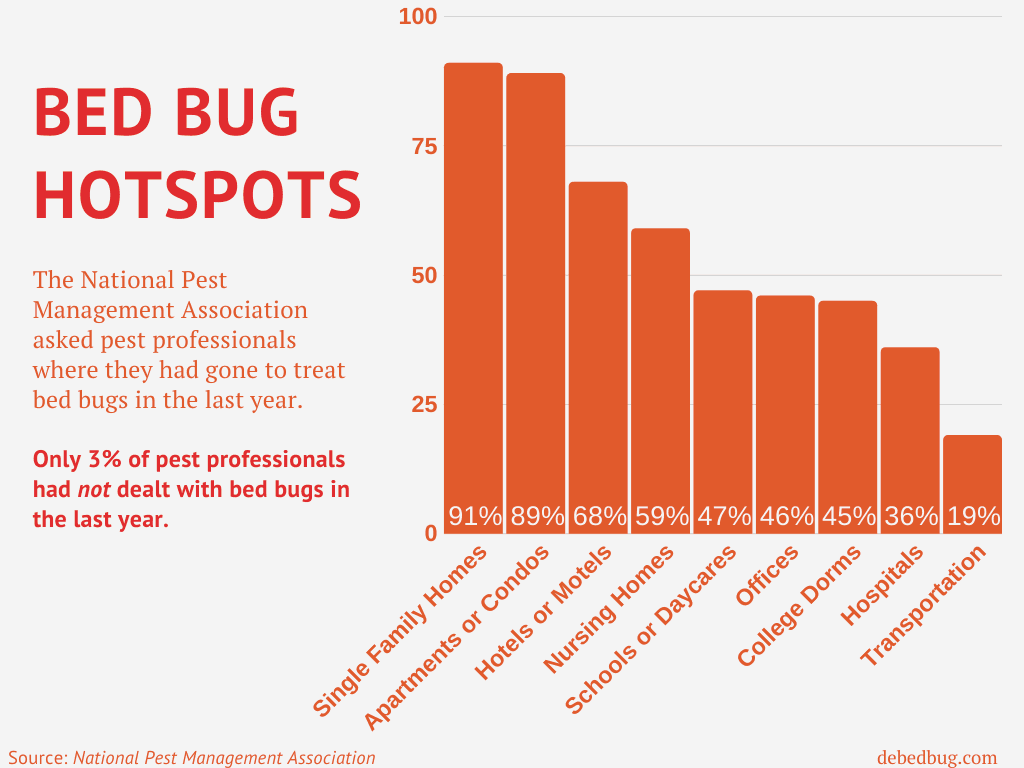 It's impossible to avoid all of these locations while going through life. This makes prevention very important. The only place you can truly control is the space inside your home.
Most cases of infestation come from exposure to an infested home.
If staying with friends or family, keeping an eye out and conducting the same inspection used while traveling will go a long way.
Educate family going off to live in dorms as they are prime targets that have the potential to pass bed bugs around like wildfire.
Being vigilant and properly inspecting beds before settling in is the best way to protect yourself. Some people have no idea they have bed bugs and think something like fleas or a busy mosquito season is the problem.
Learning to identify the most common symptoms of bed bugs will be useful for the rest of your life.
Used Furniture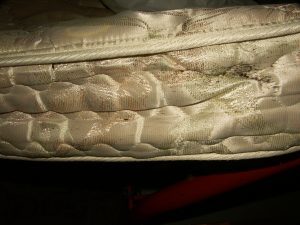 Picking up used furniture is a high-risk decision if your goal is to prevent bed bugs at home.
Practices such as leasing furniture and purchasing used furniture have significantly contributed to the rapid spread of modern bed bugs.
Leasing companies without strictly enforced bed bug policies are a big part of the problem.
If renting furniture, be sure to check store policies for a bed bug clause.
It goes without saying that used mattresses left on the street should be left alone if you fear bed bugs.
Furniture is typically left on the street for a reason – bed bugs often are a part of that list of reasons.
If you do decide to adopt used furniture, conduct a thorough inspection before bringing it into your car or home.
Treating Used Furniture
Steam treating furniture is an inexpensive precaution to take, although doing so only reaches bugs on the surface.
Other used furnishings such as small carpets and curtains can be treated in a dryer set to high for at least 20 minutes.
A core temperature of 120˚F must be reached for items to be considered certifiably sterilized. If you have a larger personal heater, that would do the job perfectly.
Other Used Goods
Bed bugs can survive almost anywhere. This includes inside used electronics, suitcases, children's toys, clothing, and even books.
When buying used clothing, drying at 120˚F is an easy way to keep your home safe. If dealing with delicate items, dry cleaning is an option although dry cleaners typically do not guarantee bed bug elimination.
The process of treating for bed bugs with a dryer can also be used on various smaller items like plush toys, backpacks, and shoes.
If you'd like to treat delicate or larger items that can't be tumbled in a dryer, personal bed bug heaters like the ZappBug heater will do the job.
Unit to Unit Spread
Once established in more than one unit, meaningful efforts to rid a building of bed bugs require nothing less than broad cooperation and comprehensive treatment that targets all surrounding units simultaniously.
Slow unit-by-unit efforts will fail in multi-unit infestations.
Treating your own unit and making it not worth the bugs' time by sealing off entrances, dusting, and securing your bed is the best way to avoid being a target while you wait for management to have comprehensive treatment done.
For laws regulating landlord-tenant responsibilities in the case of bed bugs in California, see the post on the subject.
Laws regarding the burden of payment for treatment vary from state-to-state.
Bed Bugs And Travel
When traveling, you come into contact with shared furniture and bedding far more often than usual. This is true whether you're staying in a fancy hotel or in a budget-friendly hostel.
Studies have shown that international travel is a critical component in the modern resurgence of bed bug cases throughout the industrialized world, particularly in the United States and Europe.
With a revolving door of warm-blooded hosts taking a seat on that couch in the lobby or sofa in the room, hotels and similar hubs of shared housing can be infested in spite of the use of quality bed protection and consistent housekeeping.
Traveling safely with bed bugs in mind is the most meaningful thing you can do to prevent infestations in general.
We have a section in the prevention page that goes over the step-by-step process I use to make sure I don't bring bed bugs back home after traveling.
 Bed Bug Hot Spots
Big cities are hubs of bed bug infestations. Studies have found that bed bugs most often affect younger people living in rented homes in big cities.
In fact, bed bugs are three times more common in urban areas compared to rural areas.
Large populations, apartment living and easier mobility help them spread.


Every year, the exterminator company Terminix looks into the number of bed bug services they conduct across the country. They then share the top 50 bed bug cities in the US.
You can count on cities like New York, Los Angeles, Philadelphia, and Washington making the top 10 year after year.
Outside of keeping an eye open when staying in big cities, it is good to be aware when staying in budget travel accommodations as well. Budget options typically see greater turnover of customers. That paired with a typically overstretched and underpaid staff can led to infestations slipping through the crack.
I recommend checking reviews online for mentions of bed bugs before committing. During my own travels, I've seen a few hostels with multiple reviews mentioning bed bugs being a problem. That bed may be cheap for a good reason.
We have a guide on how to check for bed bugs here.
Being on buses, planes, and trains puts you shoulder-to-shoulder with lots of people. It does not take much imagination to see how you might miss a bug sneakily crawling onto your clothing or bag while on the subway, bus, or cab.
Summer Is Bed Bug Season
It's good to keep in mind that summer brings an increase in bed bugs feeding and spreading for a few reasons.
Bed bugs are able to pull moisture out of the air but struggle to in typical dry summer conditions.

This leaves one source of liquid for them – blood.
With their lives on the line, bed bugs are more likely to come out during the day and are willing to feed more aggressively.

Warmer temperatures make modes of transportation more hospitable for bed bugs.
For many people, summer means travel, and travel is our most efficient way to spread bed bugs.
As soon as summer rolls in, bed bugs return with a vengeance.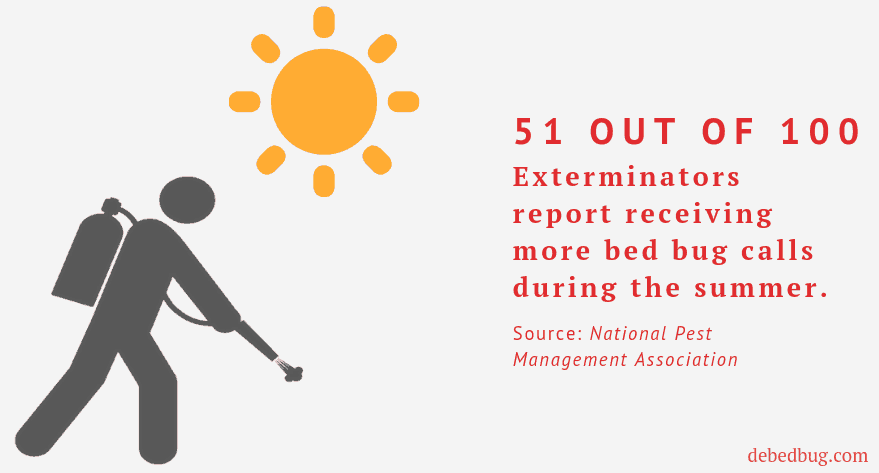 Exercising extra caution during your summer travels is a good idea.
Looking for Bed Bug Signs
Here is an abbreviated list from the Bed Bug Symptoms page:
Off-white eggs, like tiny grains of rice in crevices near bed
Small or cumulatively large dark stains along mattress seams, headboards
Tan semi-translucent molts littering bed bug hotspots
Reddish-black splotches on sheets from crushed blood-engorged bugs
Bed bugs themselves at all stages – catch one for identification!
For pictures of all of the above, you can visit the Bed Bug Pictures page.
Depending on the stage of infestation, you may note none or several of the above symptoms.
It is unlikely that you'd encounter a live bed bug in the open. If you do, try your best to capture it for the purpose of verification.
You can use clear tape or a smooth-walled cup to keep it un-squished and easily identifiable. Be sure to take pictures in case it somehow escapes!
I recommend looking through the rest of the Symptoms page for a better grasp of what to be on the hunt for.
Can I Avoid all Bed Bugs?
It is a common misconception that bed bugs only infest cluttered homes. The only difference between clean and cluttered homes is that a cluttered home offers bed bugs more hiding places.
Their lack of pickiness is part of why they are so successful and can be found thriving all over the world. Bed bugs are so common that 1 in every 5 Americans has had bed bugs or knows someone who has. All 50 states deal with bed bugs.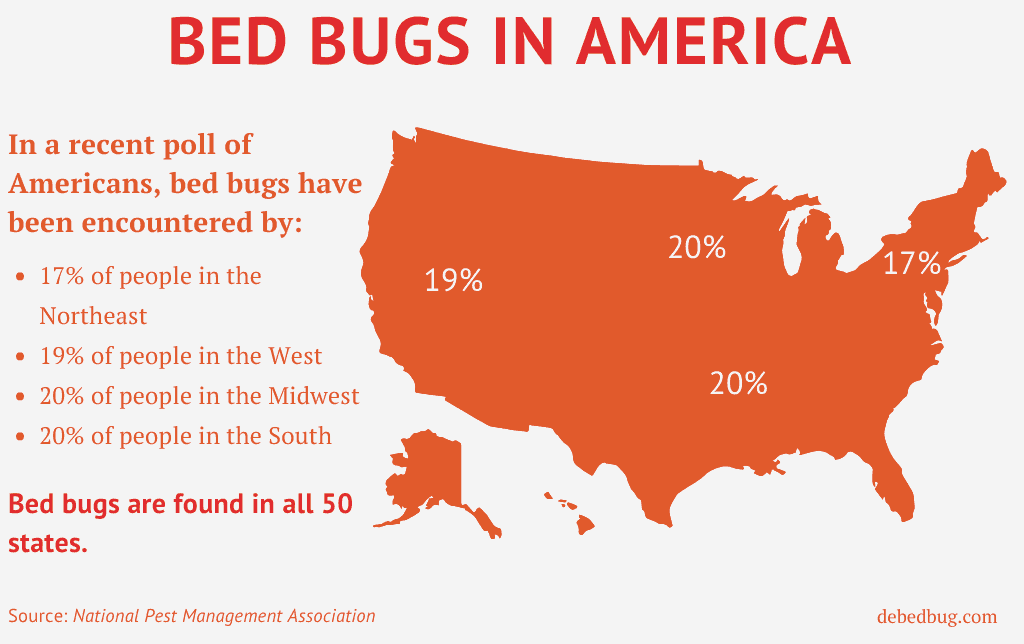 You could prohibit visitors, avoid public places, check every car and bus seat you sit on, and still get bed bugs through a neighbor or visiting relative.
Once I personally understood that, I came to accept that prevention is the best way to stop bed bugs at home.
I recommend taking a look at the prevention page and at least looking through the section on traveling safe from bed bugs.
Understanding where and when you are most vulnerable helps cut your risk significantly, while taking the preventative measures will help you swiftly and painlessly deal with any infestation that might appear.
You will be far better off than those who realize the problem 4 months into an infestation.
Being able to confidently seek bed bugs out and identify them is a critical part of this equation. The Bed Bug Symptoms page will get you up to speed in a hurry.
Detecting Bed Bugs Early
Because bed bugs are impossible to see coming, the importance of early detection cannot be understated.
Bed bugs caught within the first two months of arrival are far easier to eliminate.
Like heat treating your luggage after travel, measures taken to catch bed bugs in their early stages have the potential to save you just as much grief at an even lower entry cost.
For the purpose of early detection, I recommend reading about passive, active, and intercepting traps at this post dedicated to the subject.
Passive monitors or interceptors will absolutely suffice when taking preventative measures. They require no upkeep and are very effective when paired with a properly secured bed.
Here are the best passive and interceptor traps around – compared!
For more on active traps and in-depth reviews, check out the bed bug traps post.
All you have to do is check your trap once a month!
What Not to do
First and foremost, if you find yourself worrying about bed bugs at home, do not begin treating for them without solid confirmation.
Look for the signs and symptoms of bed bug in the bedroom first. Only after finding definitive proof should you begin treatment.
If a pest control operator or professional ever recommends preventative treatment without confirmation, you should be very wary. There are a lot of great pest control operators, knowing how to find a great one will make all the difference!
Do not try products without doing some research.
Bug bombs and foggers are commonly marketed as effective against bed bugs, when they actually spread them around homes rather than eliminating them; this typically makes matters much worse by turning a one-room problem into a whole-house problem. Exposure to such chemicals is also not healthy for people.
Do not apply diatomaceous earth or amorphous silica haphazardly. Many sources propose DE and Cimex as cheap cure-alls that can do no wrong. They are actually not without their side effects. Research has shown silicate matter to be cancerous in cases of repeated acute exposure.
You should never be inhaling any dust or fine particulate which is why I heavily recommend a quality respirator. Proper application is absolutely critical crucial. Learn exactly how to safely apply bed bug powders.
Do not trust any product labeled as a "bed bug repellant."  True repellants formulated for bed bugs do not yet exist; any product advertising as such is likely to be ineffective. Like bug bombs and foggers, they may even make your situation worse by causing bed bugs to escape deeper into your home. There are plenty of bed bug sprays on the market that do work!
Be Ready for Bed Bugs
If you want to take another step and prepare yourself for potential infestations, creating a plan is the best investment of time you could possibly make.
Our guide to getting rid of bed bugs is exhaustive and walks you through the entire process of putting together a multi-pronged plan that will help you dominate infestations unlucky enough to try your home.
Taking your health and treatment into your own hands is liberating. You will understand exactly what products you're using and why you're using them.
Creating a plan in advance will give you the huge benefit of being able to get the ball rolling immediately once you confirm that you have bed bugs on your hands.
The feeling of being able to take control and act right away is priceless in my own experiences.
Thanks for Reading!
If you ever suspect an infestation:
Look for the symptoms of bed bugs in the bedroom first. Don't begin treatment until you have proof.
Avoid bug bombs and foggers.
Understand how to apply products before applying them.
When trying to prevent bed bugs, there is no substitute for knowledge and vigilance.
It is up to you to protect yourself.
This post should have you feeling confident in your ability to assess the most common bed bug risk scenarios so that you can avoid them completely or react appropriately.
Of all the content in this page, I hope that you follow the ideas and guidelines set by the travel section most closely. Armed with this knowledge, you will be eliminating the most often cited source of bed bug infestations.
Following this page, consider learning how to get rid of bed bugs so you ever happen upon an infestation.
With the cumulative knowledge of identifying, preventing, and treating, you will be well equipped to nip bed bugs in the bud before they can become numerous.
Please leave requests and feedback in the comments section. Best of luck staying bed bug free!
More Resources
References
https://debedbug.com/references/