Sprays are the most widely used product in the fight against bed bugs for good reason. These days, some of the best sprays are even completely natural and chemical free. Want a lasting spray that kills bed bugs while you sleep? Look no further, here are the best contact killing and residual sprays on the market.
Powders might not be the first thing you think of when bed bugs get mentioned, but they are an important tool that professionals rely on. Only bed bug powders have the lasting power to kill bed bugs for up to 10 years with a single application. Apply them correctly and you'll protect yourself for a until you need to move out.
Bed encasements are the first thing we recommend people buy whether they have bed bugs or want to prevent them. There are tons of brands around all claiming to be the best. We've done the research to find the best encasements for the money. Get some good rest with encasements that are guaranteed to keep bed bugs out!
Traps, interceptors, and monitors are essential. Interceptors in particular are great because they keep tabs on bed bug populations while also a preventing infestations by catching them early. If you're a part of the 30% of people who do not react to bed bug bites, an interceptor is your best chance to catch infestations early. All you have to do is check them every couple weeks.
Anyone that is concerned about chemicals or interested in natural remedies should seriously consider a bed bug steamer. Steamers kill using water turned into steam and are pretty much free to use once you've purchased one. The steamers we review demolish bed bugs at all stages without breaking a sweat.
Heaters are perfect for treating anything you can't fit in the dryer. These days, there is truly a heater for any job. The ZappBug Room, for example, can safely heat your entire bed in one go. Couches, drawers full of clothes, and anything you can imagine can be easily treated with the right sized heater. Here are our reviews of the best heaters and tips on how to get the most out of them.
Guide to Bed Bug Vacuums
When dealing with a bed bug infestation, the first step that pest management professionals recommend is simply removing clutter and vacuuming. Unlike regular vacuums, vacuums designed to deal with bed bugs make use of higher levels of suction, specific attachments, and advanced ultra-fine filters. Here we share our recommendations for the best vacuums for your specific needs.
We always recommend wearing protection from chemicals when dealing with pesticides. Sprays, dusts and powders float in the air and are great at getting right in your lungs and eyes. Respirators, gloves, and goggles can be confusing with their different levels of protection and filtration. We've rounded up products that are the best at what they do so it's easy for you to choose. Invest in your health!
---
These tools are small investments in a bigger picture. Spending a little on prevention could easily save you thousands in professional treatment costs!
---
The ultimate tool in the Debedbug arsenal is definitely our comprehensive ebook!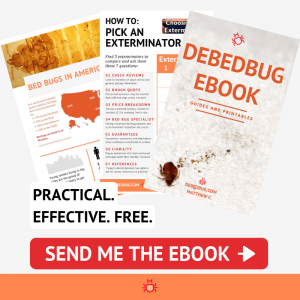 The ebook includes information on putting together a campaign against bed bugs and includes our own Treatment Planner that will help you keep track of the bigger picture.

The ebook goes explains everything you'll need to put together something a pro would use.
It is was specifically created to help anyone quickly understand the signs and their treatment options so you can start dealing with bed bugs sooner.
We don't send any emails after the first unless there's a great deal or an updated version of the ebook.
For more information, click here.