How to Stop Bed Bug Bites
While going through the process of treating bed bugs, it is an inevitable fact that you will be bitten.
Minimizing bites thus becomes the goal since it is unrealistic to expect a perfect rate of prevention even when all steps are followed perfectly. That is unless, of course, you decide to live elsewhere, bringing only properly laundered clothing and verified bed-bug-free belongings with you while a professional deals with the infestation.
If you will be facing your bugs while living at home, you can greatly minimize your exposure to bites by strictly following several precautions.
To learn everything you could want to know about treating bed bugs yourself or professionally, the treatment page serves as the most complete guide on the internet.
Bed bugs most often feed during the hour before dawn and would only attempt to bite you during the day in severe infestations. This means that your bed is the most important part of the bedroom to protect.
By focusing on the bed, we will be denying the population easy food, getting much needed rest, and taking some amount of control in a situation that feels uncontrollable at times.
Bed Bug Bite Prevention Steps
While these steps will stop all biting if done properly, the only way to truly prevent bed bug bites is by getting rid of them by utilizing an IPM.
In the meantime, they will help you take control and get much-needed sleep.
You can read the long-form version of how to keep bed bugs off your bed at the prevent bed bugs page.
Once you complete the steps and consistently keep bedding off the floor, you should find yourself completely free of bed bug bites – even during an infestation.
As a quick rundown, you can follow this quick list of steps:
Remove and clean all bedding at high heats twice a week. Dryers should reach 140˚F.
Move afflicted beds away from the walls and other overhanging objects.
Ensure that nothing hangs off the bed and touches the floor.
Cover your mattress, box spring, and pillows in quality encasements.
Use bedpost interceptors to monitor populations and prevent bites
Shower and wear fresh clothes before getting in bed
Use bug-proof containers to keep your fresh clothes bug-free
For more on protecting your bed and encasements in general, visit the bed bug encasement and Integrated Pest Management (IPM) pages.
To help you figure out which encasement is right for you, I've created several charts that make it easy to compare the best around.
Looking to compare box spring and pillow encasements? Check out the encasement post or click any of the products above.
As for traps and interceptors, there is also a post dedicated to those complete with charts and reviews to boot.
Knowing what not to do is just as important as knowing what to do. Once you've found bed bugs, do not retreat to another bed!
This means not staying with friends or family unless completely certain that you aren't carrying hitchhikers on your person or in your belongings. Where you go, they will follow.
Bug Bug Proof Bed Printable
The printable below will do a lot to help you prevent bed bug bites for the rest of your life.
To print this file:
Right click the image
Select "save image as"
Open the file wherever you saved it
Print as usual!
To get the full resolution and black and white versions of this printable, check out the great Debedbug ebook.
It includes four more hugely helpful printables and condensed information that will get you on the path to freedom from bed bugs. Try it today and start getting results now.
Click here for more details!
What Not To Do
Do not begin treating for bed bugs haphazardly with chemicals, bug bombs, and hardware store "solutions." This is a great way to spread your problem deep into your home as well as your neighbors' homes and does nothing in the way of killing bed bugs.
Do not buy an encasement that isn't well rated. This is your first and last line of defense, invest in peace-of-mind and make it a good one.
Do not bother trying to keep them off by wearing more clothes. They are perfectly capable of biting through thin fabrics and can easily crawl under your clothes anyways. You're only serving to make your face and other necessarily exposed parts more appetizing.
For a more in-depth look at dangerous Do-not's, give the Bed Bug Myths and Misconceptions and Bed Bug Treatment Myths posts a look-through.
Some of these mistakes are hazardous to your health and the health of your housemates.
You can read reviews and all about the best products on the market at this post. Having the right tools for the job is critical in the fight against bed bugs!
Bed Bug Bite Symptoms
Generally speaking, distinguishing the exact cause of a bug bite is very tricky.
Many symptoms and visual queues overlap with the marks other blood-sucking insects leave behind.
In most cases, even professional dermatologists are unable to determine the bug of origin when it comes to welts and itches.
In the hunt for bed bugs, it is thus a better idea to search for more concrete evidence as opposed to hoping for a diagnosis based on a picture of a mystery bite.
In spite of these prohibitive facts, there are certain patterns and signs that experts find to be most commonly caused by bed bugs.
Several rows of two or more bites occurring consistently are frequently is considered evidence enough to conclude that they are bed bug bites.
This methodology of determining bite frequency is a good indicator in cases caught early on if you're reactive to bites.
Bites appearing once every three days to a week can indicate a lone bed bug. While not a foolproof method of identification, such patterns do fit the typical habits of bed bugs.
As soon as you suspect them, the best course of action is to proactively look for specimens as described on the signs and symptoms page.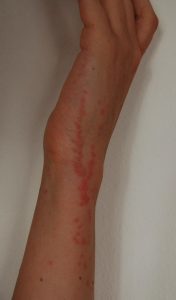 Where do Bed Bugs Bite?
Bed bug bite marks look and feel like many other bug bites and skin irritating conditions. Because the reaction and symptoms people exhibit once bitten range greatly, they may seem very similar to other problems on paper.
People tend to site flat or slightly raised red bumps that itch maddeningly, more so than even mosquito bites.
Importantly, bites seem to appear overnight.
Delayed reactions in some result in an inability to place exactly when bites were received.
The way that bites visibly manifest themselves can vary greatly. Individuals may show large itchy red rashes while others may never show signs at all.
Unfortunately, a bed bug rash looks like any other rash you might receive from allergies or even other bugs. Symptoms can persist for as long as two or weeks or as little as half a day.
You can find more pictures of bed bug bumps and rashes at this page.
Bites in Rows
Looking for bites in loose rows in areas that bed bugs typically feed is a potentially useful way to narrow down possibilities.
While fleas and ticks like to target ankles and exposed feet, bed bugs are less finicky, preferring any amount of exposed skin such as your face, neck, back, arms, hands, feet, or legs. This may help in determining if your problem is a different bug should your bites be somewhere well covered during sleep.
Anecdotally, bed bugs prefer to feed where there is less body hair. If you are concerned about bed bug bites on your face, you aren't being particularly unreasonable.
The best way to prevent them is by making your bed bed bug proof. You can learn about bug-proofing your bed and more preventative measures at my page on preventing bed bugs.
Bite Chemistry
Bites typically are not felt until well after the bugs have finished feeding.
This is thanks to the potent numbing anesthetics and anticoagulants that simultaneously quell any discomfort while also keeping blood flowing until the bed bug has fully engorged itself.
After feeding for up to five minutes, bed bugs will scurry back to their safe havens with up to six times their original weight of blood in tow.
While some people react violently and immediately, up to 30% of people do not react at all. Others find themselves in the middle ground, beginning to itch only mild after several hours to even days after being bit.
In Summary
Common characteristics of bed bug bite symptoms shown by most people are:
Bites grouped in loose lines of two or more
Red rashes or raised red welts
A persistent deep itch, worse than mosquito bites
Bites appearing after regularly scheduled sleep
Potential Misdiagnosis
Misdiagnoses of bed bugs is exceedingly common; even more so than in the cases of most other pests.
The media has gone through numerous phases of concentrating attention on bed bugs, resulting in a general sense of hyper-paranoia amongst the public.
Many cases of supposed bed bugs wind up being attributed to completely different causes.
Other bugs that bite, environmental factors that create symptoms similar to bug bites, and even psychological manifestations of symptoms have proven to be the actual causes of maladies, rather than bed bugs in some notable cases.
These ghost symptoms are further discussed in the section on symptoms mistaken for bed bug bites.
Each of these considerations should lead you to better grasp the importance of an accurate and verified diagnosis. Most non-professionals are not above making an incorrect diagnosis, especially if only looking at a bite as evidence.
To avoid misdiagnosis, it's important to look for other symptoms of bed bugs.
The bed bug symptoms page is written to help you do exactly that with great accuracy. Use it to figure out where and what to look for before you expose yourself to potentially harmful pesticides and sprays.
Do Bed Bugs Spread Disease?
Disease and bed bugs are often logically linked together.
In spite of this, the actual rate of disease transmission by bed bugs is veritably zero.
Like mosquitos and fleas, bed bugs are known to carry a host of different human borne illnesses, however, they typically do not transfer bacteria or disease.
You are far more likely to cause scarring or infection through scratching than you are to receive anything from a bite itself. Topical antibiotics and antihistamines are recommended to prevent this sort of behavior.
Fringe cases in which recently fed bed bugs are crushed over open wound, or of people exposed to acute amounts of bed bug feces have resulted in transmitted diseases, but are truly outliers.
Bed Bug Bite Complications
Mental Effects
Outside of typical symptoms, those dealing with an infestation often have to deal with the heavy mental toll that bed bugs have.
Paranoia at home, insomnia, and a constant general sense of discomfort are normal consequences, all of which can be seen as diseases in their own rights.
Mild Reactions
Some individuals do react poorly to the anesthetic and anticoagulant proteins injected during feeding.
Those unlucky few that are allergic to the compounds are at risk of a severe reaction, as with any allergic exposure. Mild reactions include incessant itching and the appearance of pronounced rashes and welts.
Severe Reactions
Serious reactions may induce a loss of breath and vomiting, or even heart attack and shock.
Another reported danger in extreme cases is anemia. Anemia is developed through an excessive loss of healthy red blood. Symptoms of anemia may include fatigue, lightheadedness, dizziness, and pallor.
Such symptoms could only arise in the most severe of cases in which a heavy infestation is allowed to feed freely for an extended period of time.
Seeking Medical Help
Proper medical care will normally halt or resolve most of these extreme negative reactions.
Outside of extreme cases, medical treatment is almost never needed, seeing as bed bug bites are more of a huge nuisance than a health danger.
If you do suspect an allergic reaction or anything problematic, you can verify the hunch with the help of a doctor or dermatologist depending on your case.
Due to the physical and mental trauma inflicted by bed bugs, several agencies such as the Centers for Disease Control and Prevention and the United States Department of Agriculture still consider bed bugs a public health pest in spite of the fact that they do not spread diseases, unlike most other pests on the list.
Should you be at all concerned with your well-being, please do not hesitate to consult a physician or other qualified health professional.
Symptoms Mistaken for Bed Bug Bites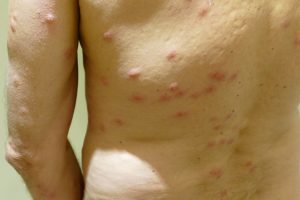 Once bitten, your first priority should be acquiring a sample of your biter. Typically, bed bug fears are set off the when the source is unseen. If symptoms persist, panic develops and can lead to assumptions of the worst-case scenario.
Assuming that you have bed bugs without concrete evidence can, however, make a small problem much worse than it needs to be. Don't forget that in many cases, people find that whatever is plaguing them turns out to be completely irrelevant to bed bugs.
Others are not so lucky.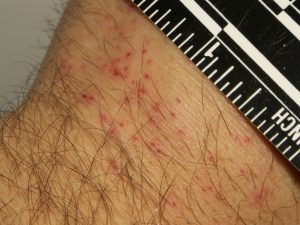 Lice, mosquitoes, ticks, chiggers, fleas, and bed bugs all leave behind similar calling cards.
You can find photos of these dead ringers in the pictures page!
Dermatological conditions such as eczema and allergies can also create comparable symptoms.
In the post describing bed bug symptoms, potential environmental culprits are also described.
Certain fabrics, stray fiber from insulation, carpets, furniture, and even dry air all can lead to rashes, itching, and general allergic reactions. Hives, which are another symptom of allergies, can be reminiscent of raised welts from bed bug bites.
Thanks for Reading!
It's likely that you noticed how a good amount of this page was dedicated to warnings of misdiagnosis. I'd like to reiterate that bites are not a reliable method of identification.
It is unwise to begin treating while simply assuming bed bugs to be your problem without physical evidence. Please don't make that mistake!
In many of the described cases, bed bugs are irrelevant. Treating for them would not only be a waste of time and money, it would cause undue stress, potentially expose you to harmful chemicals, and also leaves the actual cause untreated.
Always establish verified proof before starting a bug fighting campaign!
If bed bugs are found to be your culprit, comprehensive treatment is the only true fix for your problem.
Prevention, however, is never a bad idea and can potentially save you a lot of grief if you are worried, or suspect that you might be exposed some day. I especially like the ThermalStrike Ranger for this purpose.
For more information on what to use when fighting bed bugs, check out the page on bed bug tools.
Through prevention, you get to fight on your own terms.
More Resources
References
https://debedbug.com/references/