Bites are by far the most common first sign of bed bugs that people notice. This page will help you decide if your mystery bites are actually from bed bugs.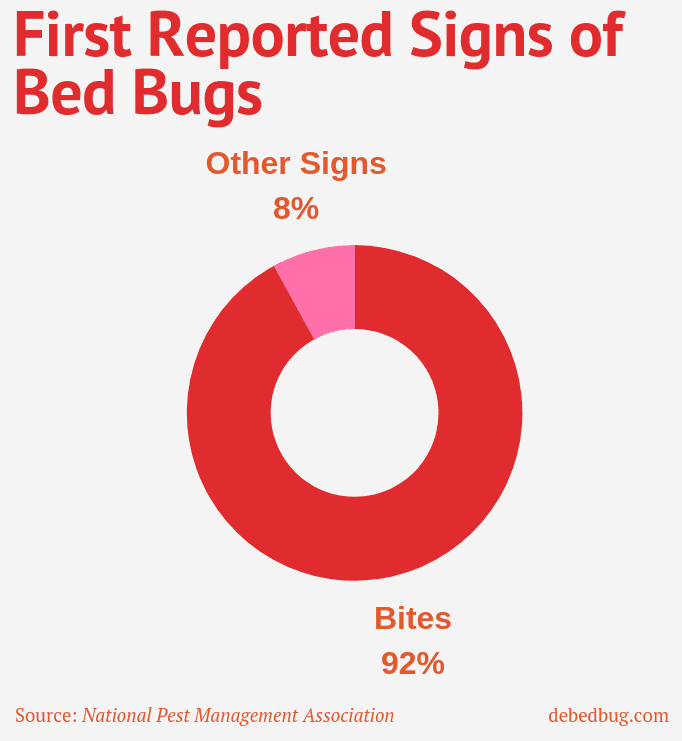 Bites are the first warning you can get that an infestation might be brewing. You should find definitive signs before spending money on bed bug products.
Even professionals aren't confident identifying pests based only on bites. The symptoms page will show you exactly where and what to look for outside of bites.
There are certain bite patterns that point towards bed bugs though.
Some bed bug biting habits and symptoms include:
Bites appear grouped in lines of two or more
Bites appear after periods of rest (naps, sleep, reclining, etc)
Bites appear every 3 days to 5 days early on
Bites appear on skin exposed during sleep
Bites typically found in areas with less hair
Symptoms vary but are generally described as:

flat or slightly raised red welts, bumps, or rashes
A deep persistent itch, worse than mosquito bites
Symptoms can persist for as long as two or weeks or as little as half a day.
All these signs depend on whether you are reactive to bed bug bites in the first place. For some people, signs appear almost immediately. Others take 2-3 days before feeling the itch, while others don't react at all.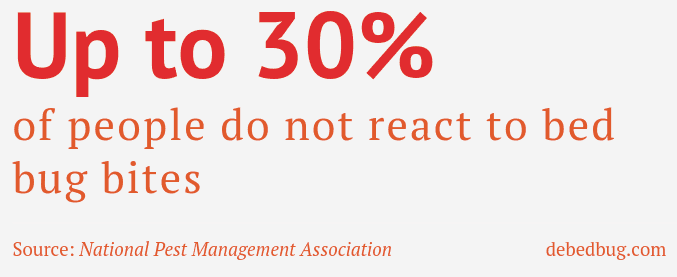 Being itchy isn't fun, but not knowing you have a problem until it's a full-blown infestation is worse.
Look for bites anywhere that skin is exposed during sleep.
Any part of your body that is not covered during sleep is easy pickings for them.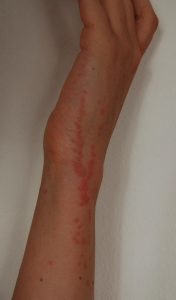 Bed bugs prefer to feed on areas of the skin with less hair as these areas are easier to get to.
If bites are showing up in hairy spots that you've covered during sleep, you might not be dealing with bed bugs.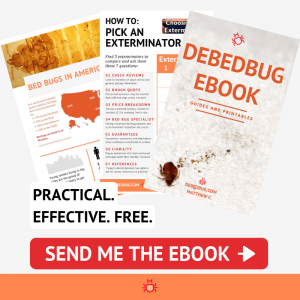 What Do Bed Bug Bites Look Like?
The way they look can vary from person to person. Some people get large itchy red rashes while others may never show signs at all.
Check out this page for more pictures of bed bug bites on real people.
If you are dealing with bed bugs, you can count on new bites appearing overnight. This is true for most, although less reactive folks may take much longer to show bite symptoms.
Bed bugs prefer to feed while you're asleep.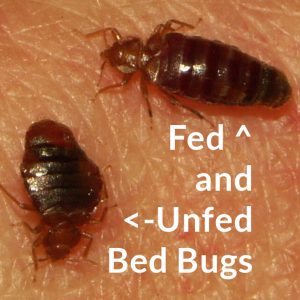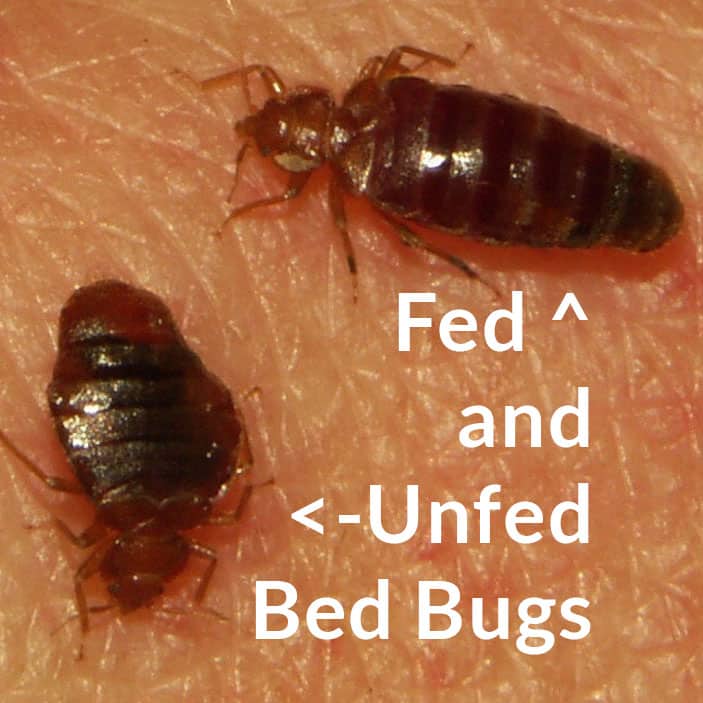 Bed bugs will adjust to your sleeping habits. Sleeping during the day won't solve the issue – they have evolved to stalk us perfectly.
Bed bugs read the chemicals released by your body during sleep, as well as your breathing, like a book.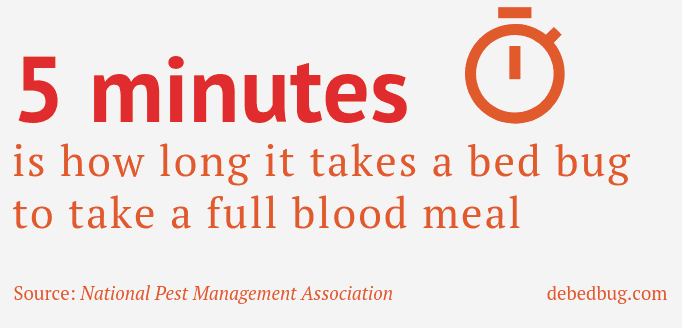 The process of getting and extracting a full meal takes about 5 minutes. A bed bug can ingest 7 times its weight in a single meal!
When it comes to bed bugs, the one pattern that is most tied to them is biting appearing in rows of 3 or more. If your bites are erratic and not grouped in any way, you could assume the cause might be something else.
Fleas and ticks like to target ankles and exposed feet in general. Bed bugs are less finicky – they will bite any exposed skin on your face, neck, back, arms, hands, feet, or legs.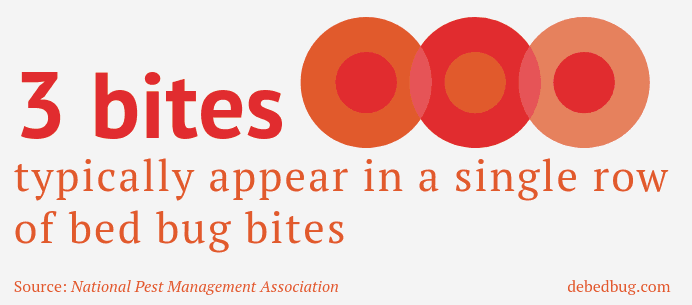 That being said, there is no rule that says all bed bugs will bite 3 times in a neat row every time. There is also no rule that says other bugs can't bite 3 times in a row as well.
This is why it is so easy to misdiagnose your problem based on bites alone.
The best way to prevent getting bitten is by bed bug proofing your bed.
We get into exactly how that's done on our preventing bed bugs page. The page covers all the other preventative measures you can take as well.
Why Do Bed Bug Bites Itch?
Most people will have no idea they've been bitten until the bug has finished feeding and is long gone.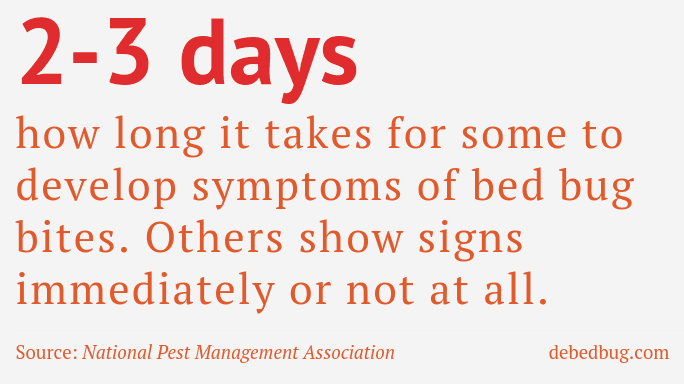 Itching happens because of the chemical cocktail bed bugs use when biting. A numbing chemical and powerful anticoagulant work together to keep blood flowing undetected. That gives the bug plenty of time to have its meal and escape.
Bite symptoms are actually symptoms of your body fighting invading chemicals.
While some people react violently and immediately, up to 30% of people do not react at all. Other people are less reactive and begin to itch several hours or even days after being bitten.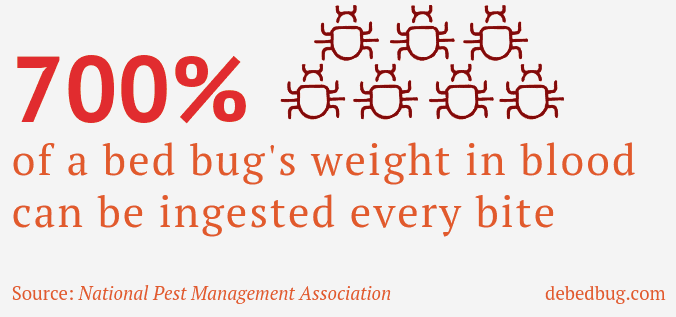 Bed bug bites are dangerously itchy. Bed bugs do not transmit diseases. The biggest health danger they pose is an infection caused by skin broken due to itching.
It's difficult not to itch, especially for those who are highly reactive. It's natural to scratch while unconscious and asleep too.
To help stop the itching, we cover how to stop bed bugs from getting onto your bed in the next section. We also have a page on how to treat bed bug bites for those dealing with any kind of itchy bite.
How to Stop Bed Bug Bites
While going through bed bug treatment, expect to be bitten a couple of times. We can do a lot to cut down on bites.
If you can afford it, temporarily moving out is the only way to stop bites right away. Only bring laundered clothes and verified bed-bug-free belongings during your brief exodus.
A professional could deal with the infestation while you're away.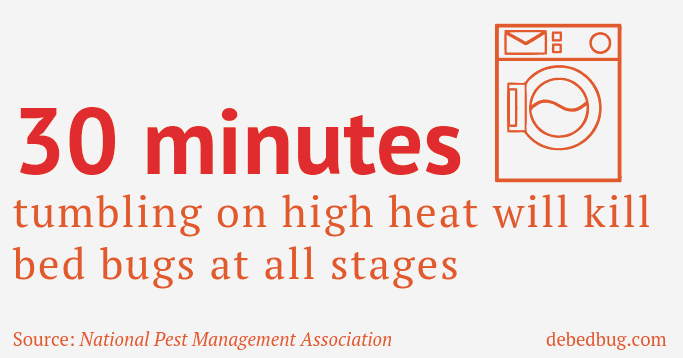 For those facing bugs while staying at home, reducing bites is easy if you follow a few guidelines.
Quick Tip
Your bed is the most important part of the house to protect.
We will deny the infestation of the food it needs by focusing on protecting your bed. This helps you take back some control in a situation that can feel uncontrollable. You'll be getting better rest too.
How to Prevent Bed Bug Bites
Stop most bites using the following steps:
Remove and clean all bedding at high heats twice a week. Dryers should reach 140˚F.
Move beds away from walls and other overhanging furniture and light fixtures.
Be sure that nothing hangs off the bed and touches the floor.
Secure your mattress, box spring, and pillows in encasements.
Use bedpost interceptors to monitor populations and prevent bites
Shower and wear clothes that have been through the dryer before getting in bed
Use bug-proof containers to keep your fresh clothes bug-free
For more on protecting your bed and encasements in general, visit the bed bug encasement page.
These steps will most bites when done properly. The only way to completely stop them is by getting rid of them.
In the meantime, this short guide will help you take control and get much-needed sleep.
You can read the long-form version of how to keep bed bugs off your bed at the prevent bed bugs page.
Once you complete the steps, you should find yourself free of bed bug bites – even during an infestation. Keep bedding off the floor is especially important and difficult.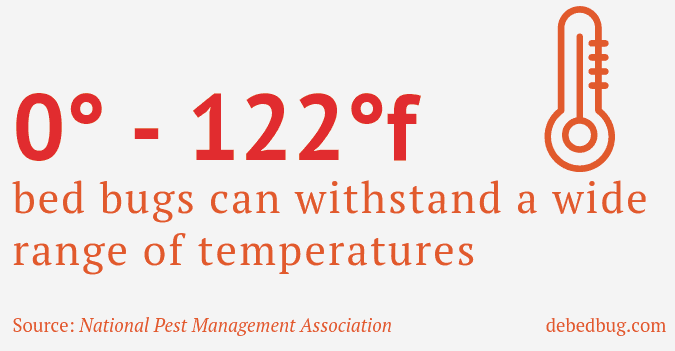 We've created comparison charts that make choosing the perfect encasement easy.
Click any product name or picture to go to the corresponding review:
| | | | | |
| --- | --- | --- | --- | --- |
| | AllerZip Smooth | SafeRest Premium | SureGuard | Sleep Defense |
| Lab Tested | Yes | Yes | Yes | Yes |
| FDA Registered | Yes | Yes | No | No |
| Zipper | BugLock 3-part | Velcro, Micro-Zipper | Velcro, "Zipper Technology" | Velcro, Zip-tie |
| Material | Cotton, polyester terry fabric | Polyester knit fabric | Polyester knit fabric | Polyester knit fabric |
| Sleeping Surface | Cotton | Cotton Terry | Cotton Terry | Polyester knit fabric |
| Rating | 100 / 100 | 96 / 100 | 80 / 100 | 68 / 100 |
| Why Buy? | Best Overall | Great Value | Budget Comfort | Budget Friendly |
| Price | $$$ | $$ | $$ | $ |
| More | READ REVIEW | READ REVIEW | READ REVIEW | READ REVIEW |
Interested in box spring and pillow encasements? Check out the encasement post or click any of the products above.
As for traps and interceptors, we also host a page dedicated to them, complete with charts and reviews.
Click any product name or picture to go to the corresponding review:
Knowing what not to do is just as important as knowing what to do. Once you've found bed bugs, do not retreat to another bed.
Don't stay with friends or family right away if you've found an infestation.
Be sure you aren't spreading them. Only bring clothes that have been treated in a dryer. Store clothing in large plastic or zip-top bags after drying.
Bed bugs are known as the hitchhiking bug. Don't let them hitch a ride into your friend's or family's homes.
See the treatment page for everything you'd want to know about getting rid of bed bugs yourself
Bug Bug Treatment Planner Printable
The printable below will do a lot to help you prevent bed bug bites for the rest of your life.
To get the full resolution version of this printable and several more, check out our helpful Debedbug ebook.
The ebook includes printables and condensed information in one convenient place. Try it for free today!
Click here for more details.
People often believe they have bed bugs when they are dealing with different pests. Making sure you're dealing with the right pest saves your money, time, and health and is worth your time.
Misdiagnosing bed bugs is more common than with other pests. Seeing as they're sneaky by nature and operate by night, it's easy to understand why.
The media highlights dramatic infestations on planes and in public places as well. This has given many people a general feeling of paranoia which increases misdiagnoses.
But, other bugs are sometimes blamed when folks actually do have bed bugs.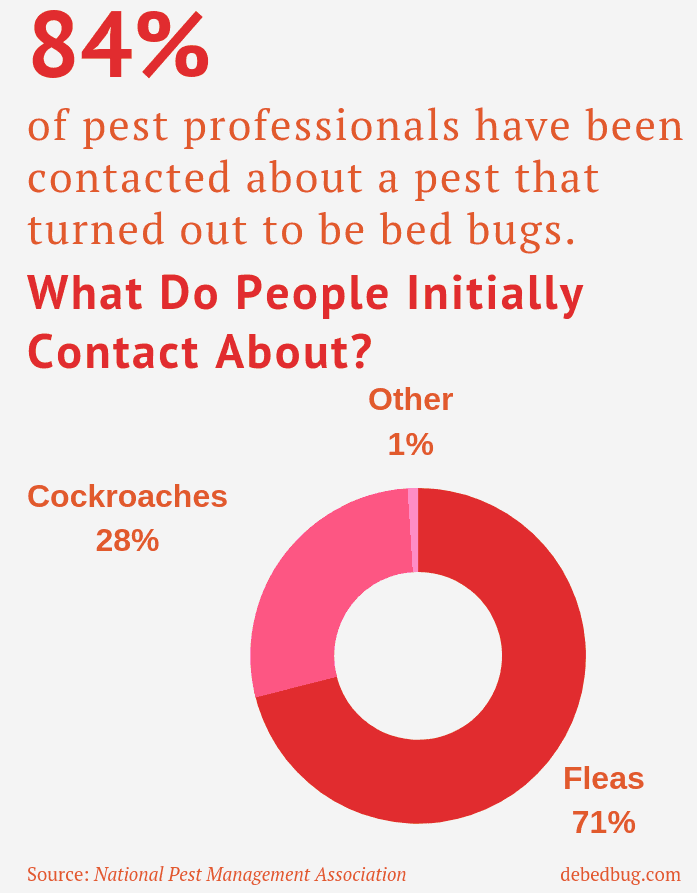 Either way, the importance of an accurate diagnosis is the same. It's easy to misdiagnose – especially when deciding based only on bites.
To avoid misdiagnosis, it's important to look for many symptoms of bed bugs.
The bed bug symptoms page was written to help you find all the 5 signs of bed bugs. The page shares exactly where and what to look for.
Give it a look before spending money and exposing yourself to pesticides.
We also have a page of pictures dedicated to showing you bites on real people to help you compare.
Symptoms Mistaken for Bed Bug Bites
All sorts of things can lead people to believe they have a bed bug infestation.
Other biting bugs (fleas, ticks, gnats, mosquitos, lice, etc.)
Environmental factors (fabrics, insulation, upholstery, detergent, air conditioning, etc.)
Genetic factors (allergies, eczema, etc.)
Imagined symptoms (insect phobias, paranoia, stress)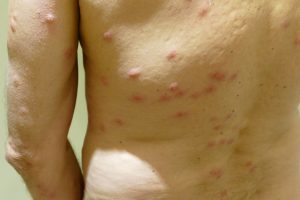 You can find photos of more lookalikes on the pictures page.
Making the leap that a bite means bed bugs can make a small problem much worse.
In many cases, people find that whatever is plaguing them turns out to be completely irrelevant to bed bugs.
Many nuisances cause similar symptoms.
Do not begin randomly treating for bed bugs with chemicals, bug bombs, and hardware store "solutions." This is a great way to spread your problem deep into your home as well as your neighbors' homes. These products do not kill bed bugs.
Do not buy an encasement that isn't well rated. This is your first and last line of defense, I recommend investing in peace-of-mind and good sleep.
Do not bother trying to keep them off by wearing more clothes. They can bite through thin fabrics and can crawl under your clothes anyways. You're only serving to concentrate bites on your face and other parts that have to have uncovered.
For a more don'ts, give the Bed Bug Myths and Misconceptions and Bed Bug Treatment Myths posts a look.
Some of these mistakes are hazardous to your health and the health of your housemates.
You can read reviews and all about the best bed bug killing products on the market at this post. Having the right tools for the job is critical in the fight!
Do Bed Bugs Spread Disease?
People often assume that bed bugs transmit diseases. It makes logical sense, seeing as fleas, ticks, and mosquitoes do, but bed bugs absolutely do not.
The rate of disease transmission by bed bugs is zero.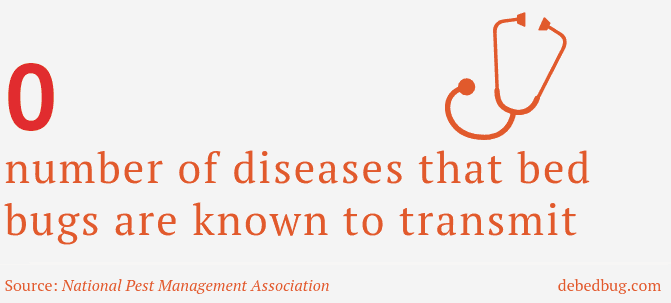 Bed bugs carry different diseases but they do not transfer them except in extreme cases.
The dangers they pose are scarring, loss of sleep, and infection due to excessive itching. The Center for Disease Control and Prevention (CDC) confirms this.
Using topical antibiotics and antihistamines prevents nighttime scratching.
Cases of bed bugs transmitting diseases tend to be exceptional. Imagine fed bugs crushed over open wounds or people exposed to large quantities of bed bug feces. These are unlikely scenarios until infestations become massive.
Bed Bug Bite Complications
The greatest toll that most bed bug sufferers take on is mental.
Paranoia at home, insomnia, and a constant sense of discomfort are normal. All these symptoms are diseases in their own rights as they affect your everyday life.
Psychologists have even shown that severe infestations can lead to signs of post-traumatic stress disorder.
Some people have especially aggressive reactions against chemicals bed bugs inject during feeding.
Those unlucky few that are allergic to the compounds are at risk of a severe reaction, as with any allergy.
Mild reactions include persistent itching and the appearance of pronounced rashes and welts.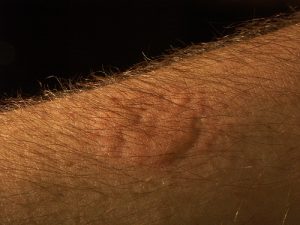 Serious reactions may induce a loss of breath and vomiting, or even heart attack and shock.
Another reported danger in extreme cases is anemia. Anemia develops when you lose an excessive amount of healthy red blood. Symptoms of anemia may include fatigue, lightheadedness, dizziness, and pallor.
These symptoms could only arise in the most severe cases. You'd have to allow a heavy infestation to feed for an extended period for anemia to develop.
Proper medical care will normally stop or completely fix most of these extreme reactions.
Outside of extreme cases, medical treatment is almost never necessary.
Bed bug bites are an extreme nuisance, but they are not considered a health threat.
Consult a doctor or dermatologist immediately if you are allergic or reacting alarmingly.
Although they don't spread disease, the CDC and the United States Department of Agriculture (USDA) consider bed bugs a public health pest. This is because of the physical and mental trauma they pose.
Most other pests on the list famously spread diseases and infections.
Concerned about your well-being? Don't hesitate to consult a qualified health professional.
I'd like to reiterate that bites are not a reliable method of identification.
Treating while assuming you're dealing with bed bugs is asking for headache. Please don't make that mistake!
Save yourself time, money, exposure to chemicals, and stress. Check for the other 5 signs of bed bugs before beginning treatment.
If you find bed bugs, comprehensive treatment is the only true fix for your problem.
Prevention is always a good idea. A little bit can save you a lot of grief. Prevention is the best form of medicine!
For more on what you'll need to fight bed bugs, check out the page on bed bug tools.