When treating for bed bugs, you are going to be in close contact with pesticides and chemicals.
Staying protected from chemicals is just as important as protecting yourself from bed bugs. Many would argue that it's more important when you consider your long-term health.
This post will guide you through the bits of protection you'll need when getting rid of bed bugs with powders, sprays, and steamers.
Respirators Rated for Pesticides
Respirators are affordable – especially when compared to a medical bill for cancer or lung trauma.
There is a big difference between masks you can find at the dollar and those meant to filter out the tiny particles you're exposed to when applying powders and sprays.
Click any product name or picture to go to the corresponding review on this page:
Important Respirator Features
Models that filter out a higher percentage of airborne particles and feature everything necessary to protect you against pesticides specifically are going to be a little more expensive, but are well worth the cost.
Generic $1 face masks will not do the job.
Some are disposable and not meant for repeated use, while others use a cartridge system so that you can replace filters as recommended by the manufacturer or when airflow becomes slow.
Even completely natural and organic solutions like diatomaceous earth are dangerous when inhaled in excess amounts.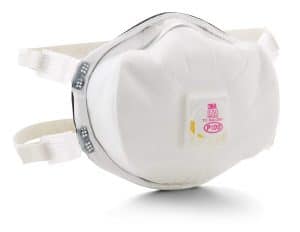 3M Disposable Cup Respirator Review
NIOSH Rating: P100
Perfect National Institute for Occupational Safety and Health (NIOSH) rating (OV/R100)
Disposable
Does not have pre-filter
Most affordable respirator but not reusable
3M's Disposable Cup Respirator offers the convenience that you'd expect from a disposable mask. Use it and toss it, but note that this model is very different from the standard "cheap" mask that you'd expect when reaching for a disposable mask.
The filter on its front is the important part that allows it to filter air.
You need a filter that will hold on to fine dusts and oils, and this does the job.
This disposable model goes above-and-beyond with a perfect P100 rating from NIOSH. That number tells you that 99.97% of airborne particles, as well as all oils, will be caught by the filter.
That's a great deal on anyone's budget.
It isn't a perfect product, however, and doesn't have an important pre-filter that would help trap large particles before reaching the main filter.
Pre-filters are especially important when discussing sprays because they help trap liquid particles.
Its foam molding is also not perfect and may not always create a perfect seal.
This mask is not specifically rated to protect you from pesticides, but it will do a decent job at a great price.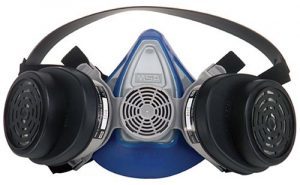 MSA Safety Pesticide Respirator Review
NIOSH Rating: R95
National Institute for Occupational Safety and Health approved (NIOSH, OV/R95)
Activated carbon cartridges
Replaceable large surface area pre-filters
Replaceable cartridges
8-hour or longer lifespan per cartridge
Rated explicitly for pesticides and paint
Flexible mask molds to fit face
MSA's pesticide respirator is specifically designed to keep chemicals found in pesticides out. It features replaceable pre-filters and cartridges rated at R95 by NIOSH.
An R95 rating indicates that 95% or airborne particles and 95% of oils are caught by the filters.
This makes it great for non-oil pesticides and a decent pick for oil-based pesticides. You can apply any non-oil based sprays or powders with confidence in the two-part filtration as well as the specific pesticide-proof rating.
Each cartridge will last at least 8 hours, while the flexible mask does a good job of moulding to your face and creating an airtight seal.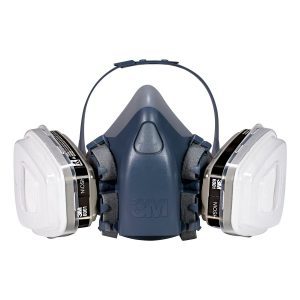 3M Professional Respirator Review
NIOSH Rating: R95
National Institute for Occupational Safety and Health approved (NIOSH, OV/R95)
Organic vapor cartridges (higher filtration than carbon)
20 – 40 hour lifespan per cartridge
Rated for oil and pesticides specifically
Flexible "advanced" silicone molding for comfort and durability
Meant for workplace and professional settings
A NIOSH rating of P95 indicates 95% filtration of airborne particles and complete resistance against oils.
When it comes to spraying pesticides like the popular JT Eaton Kills Bed Bugs, anything less will leave you inhaling some pesticide-laced oil.
Each cartridge is reported to last anywhere from 20 to 40 hours.
That's more than enough time to administer all the powder and sprays you could possibly need over an entire infestation.
With organic vapor cartridges that are filter more than even carbon cartridges, the 3M pro allows you to be completely confident knowing that you're wearing a mask that a professional pest control operator would rely on any day of the week.
Once you start looking at the ingredients in sprays and powders and see how common oils are in insecticides, it becomes an easy choice to choose a respirator that protects you from everything.
NIOSH – The National Institute for Occupational Safety and Health is a part of the Center for Disease Control (CDC) and oversees certification of filters to ensure that they're up to the challenge of protection people at work.
Cartridge – The replaceable primary filter of your respirator. These are often sold in packs or two so that you can replace both at the same time. The cartridges we're concerned with serve to catch chemicals, while pre-filters catch the rest.
Pre-filter – Used with cartridge systems, pre-filters are also replaceable and serve to catch mist and dust particulates. They are especially important to us because they trap the liquids often present in pesticides.
Do I Need a Fancy Respirator?
Choosing a respirator is a personal decision. It is ultimate a decision about your own health.
Quick Tip
You get what you pay for when purchasing a respirator.
When it comes to getting rid of bed bugs, this is where I would most seriously encourage you to not pinch pennies if possible.
You can use these same respirators for painting, woodworking, and a all sorts of other household activities.
A quality respirator is an investment in your own health.
Rest assured knowing that we've only recommended products that will do the job, even the most affordable one.
Gloves Rated for Pesticides
Wearing gloves helps prevent direct contact with chemicals that are meant to kill one of the toughest bugs around.
I especially recommend wearing them when applying chemical products such as sprays and pesticide-infused powders. Even natural products like CimeXa and DE can dry and irritate the skin through direct contact.
You really don't have to buy anything too fancy – the most expensive option here is the box of disposable gloves which have plenty of uses outside of handling pesticides.
Click any product name or picture to go to the corresponding review on this page: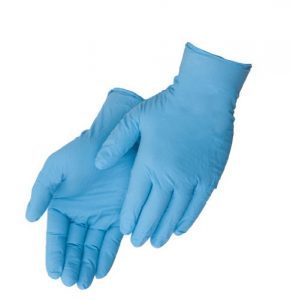 Liberty Industrial Duraskin Nitrile Gloves Review
Disposable, industrial-grade

Nitrile gloves

Powder-free

Textured finish
Useful for any job that requires gloves, these powder-free industrial-grade nitrile gloves are great for the job and for whatever you might need them for later.
Unlike latex gloves, your hands won't have the moisture sucked out of them by powdered linings.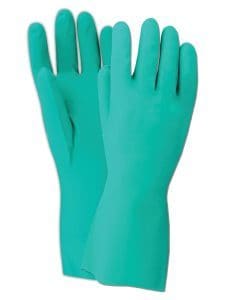 Liberty Industrial Duraskin Nitrile Gloves Review
Liquid resistant

FDA Compliant

Nitrile coated

Flock Lined
Coming with 3 pairs of gloves, these are industrial ready, nitrile coated, and extend well beyond your wrist for more coverage and room for accidental splashes.
These gloves are FDA compliant to protect from heavy-duty chemicals so that you can apply products with absolute confidence.
Inside the glove is a lining of cotton flock making them easy to put on and take off!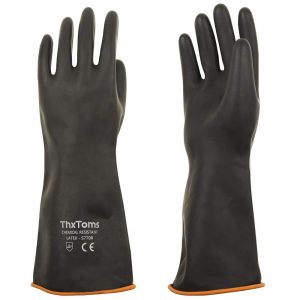 ThxToms Heavy Duty Gloves Review
High-grade heavy duty latex exterior

Reusable

Resists acids, oils, grease, and more

Generously large and long for comfort
The heavy duty option – pick these up if you're serious about not letting a drop of chemicals touch you.
These are also the only reusable option.
You can use these for years doing anything disposable gloves could do – without the risk of tearing!
---
Eye Wear Rated for Pesticides
If you're on the fence about picking up goggles, consider that you'll be stuck applying chemicals and sprays indoors.
It's only a matter of time before some of those chemicals end up in the air around your eyes.
This is an especially real danger when using a steamer, as they are known to kick up whatever residual powders or sprays you've already applied.
 Just as with your lungs, eyes are sensitive organs that allow chemicals to enter your bloodstream if left unprotected and exposed.
Goggles that do a great job are not expensive – there's no reason to not get a pair.
All of the goggles below are rated by the American National Standards Institute (ANSI) and are appropriate for use around chemicals.
Click any product name or picture to go to the corresponding review on this page: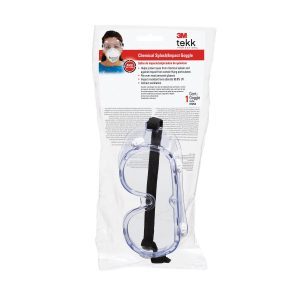 3M Chemical Goggles Review
Vents may let some particulates in
Will likely fog
Cannot be worn with glasses
American National Standards Institute approved (ANSI Z87)
3M's generic chemical goggles are what you imagine when someone reminds you about lab class in 6th grade.
They will do the job better than glasses or no protection at all, but are not airtight and not exactly comfortable, stable, or otherwise amazing.
If you wear them for any decent length of time, you will find that they do fog on you.
They are a great budget option, but for a few dollars more you can have something much more comfortable and usable.
The biggest issue is the presence of vents, which lets some particulates in.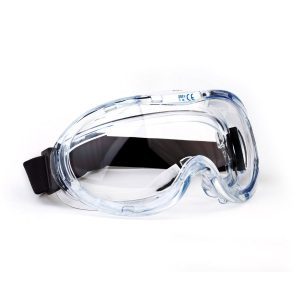 TR Industrial Wide-Vision Goggles Review
PVC frame is soft and forms protective seal

Ventilation may let some particulates in
Anti-fog treated
Cannot be worn with glasses
American National Standards Institute approved (ANSI Z87)
TR's wide-vision goggles are a step up from 3M's generic pair.
They are treated with an anti-fog coating. This makes a big difference because their ventilation holes are narrower. Narrow ventilation makes it easier to fog but harder for particulates to get in.
The PVC frame that molds to your face keeps the seal nice and flush but comfortable.
You cannot wear glasses beneath this pair of goggles.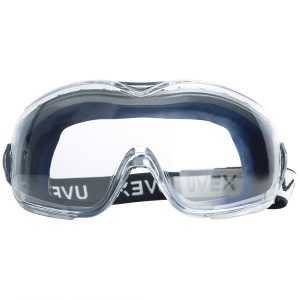 Uvex Over-The-Glasses Goggles Review
Soft elastomer frame forms protective seal

Indirect ventilation keeps particulates out
Duo-coated anti-fog and anti-scratch treated
Can be worn with glasses
Snap-on lens replacements with multiple tints
Lifetime frame warranty
American National Standards Institute approved (ANSI Z87)
The price difference between these and the TRs is small enough that it is easy to recommend choosing this pair over the TRs.
These goggles will fit over your glass, are coated with an anti-fogging substance, and even have an anti-scratching treatment.
As the only company offering a lifetime warranty, Uvex is making a statement of confidence in their product.
The best thing about about these goggles is that they use indirect ventilation to keep you defogged and completely ventilated.
No dust or mists are going to make it into these.
Additionally, the goggles come with a few sets of snap-on lenses that you can use for a variety of other jobs.
For those with glasses, you'll be relieved to hear that most pairs of glasses will fit beneath these goggles comfortably.
Choosing Uvex gets you the best safety and comfort for the job at a good price.
No matter what you choose, having a pair of goggles on is infinitely better for your eyes than none at all.
What Protection is Necessary
You don't need to buy a hazmat suit to be protected from consumer-grade pesticides, but wearing a respirator at least is a great idea.
Quick Tip
To find the level of protection that will be perfect for you, check the warning label on the pesticides you decide to use in your
bed bug plan
.
They will display a recommended minimum NIOSH rating for your respirator.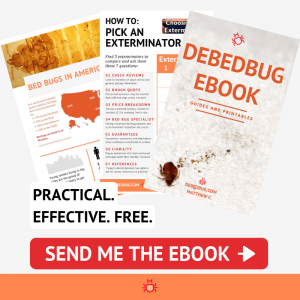 Alternatively, you can opt to get a high-quality respirator off-the-bat and protect yourself from anything you might end up using.
Second to the respirator, we recommend picking up a pair of goggles to protect your eyes as they are delicate.
While gloves may be at the bottom of the list, they are cheap enough that it doesn't make sense not to recommend them. At the very least, gloves prevent any irritation you might experience handling chemical pesticides.
Wearing protection from pesticides is a great investment in yourself – you've made a great decision by going through this post!
In spite of the warnings we've shared, pesticides do not pose a serious threat to your health as long as you stay protected and follow manufacturer instructions.
Be especially diligent with bed bug powders as they are the easiest to over-apply and inhale.
Congratulations on investing in your own health!