If you take your time to find an exterminator who specializes in bed bugs, you'll only have to go through the process once.
Compared to doing it yourself, hiring an exterminator eliminates the danger of spreading your infestation, lessens your exposure to potentially harmful chemicals, and provides peace-of-mind as you can rest easy knowing that a licensed professional is handling the situation.
This is an important decision and a big financial commitment. I've compiled the most important questions you need answered and have laid it all out so you can ask the right questions at the right time.
Exterminator Checklist
Prices vary greatly between locations and what you treatments decide to have them execute. In my case, I was given quotes ranging from $500 to $1,500 for an apartment with several methods being offered.
You can let your operator know what kinds of treatment you're hoping for after going through this page, and will have the added advantage of knowing exactly what to look for if you've been browsing this site's other pages about bed bug tools.
To help you through the process of vetting Pest Control Operators (PCOs), I've created an easy-to-follow 9-step action list of considerations to square away before committing:
9-Steps to Choosing an Exterminator
Compare rough pricing from at least three exterminators
Look through reviews and estimate the high and low range of prices 

Underpriced options are likely too good to be true with poor service and a lack of experience
Overpriced options might not actually be interested unless they are overpaid and might not be equipped to deal with bed bugs

Ask for a breakdown of planned methods and compare

Exterminators should want to

first

confirm that you have bed bugs. If they propose starting treatment without wanting an inspecting or seeing proof, this should raise a big red flag
Pesticides are considered standard, but other methods should also be used as part of Integrated Pest Management
Many options detailed in our DIY get rid of bed bugs guide – like steam cleaning, vacuuming, bed isolation, and powder dusting are very effective when used by a professional. Several elements should be part of the plan
Some sort of crack and crevice treatment like caulking should be included
Non-pesticide based solutions may be key if infestations end up being pesticide tolerant/resistant
Make it clear that you expect the entire structure to be treated. You could easily treat beds and furniture yourself. You are paying to have an exhaustive treatment done

Establish an hourly rate for treatment

per exterminator

Each session should take at least two hours
Some companies send more than one exterminator at a time which would decrease total hours but cost the same amount in labor

Ask how many sessions will be required to get rid of all bed bugs

One is too few
Two to three is normal, if done correctly
More than three is unusual but may be required in heavy or particularly deep infestations
Treatment should be spaced at least two weeks apart
Follow up inspections and re-treatments should be discussed and expectations made clear

Ask if any operators are dedicated bed bug technicians

Non-bed bug dedicated operators have far less experience and knowledge regarding this problem specifically
Request a copy of a current licenses and relevant training certification

Ask about guarantees/warranties, and stipulations

Guarantees for apartments and other multiple occupancy housing is rare. The possibility of a recurring infestation is uncontrollable
If in an apartment, ask about standalone home guarantees; this is a good metric indicating their confidence
If getting a guarantee, be sure to get it in writing
A higher guarantee means greater confidence

Ask about their liability insurance and estimated coverage

A number should

absolutely

be available

Ask for references from previous clients

This can help you choose when choosing between two solid options
Exterminator Picker Printable
Here's a printable from the Debedbug Ebook that will help you keep track of everything.
To print this file:
Right click the image
Select "save image as"
Open the file wherever you saved it
Print as usual!
Full resolution and black and white versions alongside the Ebook!
You'll also get the other four high quality printables that will help make the process a little less painful. It also includes condensed information for convenient reference.
Click here for more information!
Professional Treatment Options
While individuals can succeed in their fight against infestations alone, non-professional attempts can make situations worse and potentially more expensive. Complete success is not guaranteed.
When hiring a professional, you get your money's worth in the form of contractual guarantees of success, warrantees, access to specialized large-scale equipment, and experienced hands that come with a licensed operator.
Things like whole-home heat treatment, gas treatment/fumigation, and industrial pesticide application are made available. Such methods and substances would be highly dangerous or completely inaccessible to a non-professional otherwise.
Here are the options that will most likely be offered to you.
Large-Scale Heat Treatment
Heat treatment is a popular option at all stages of infestation.
Heat leaves no residual impact on structures, doesn't require the use of potentially harmful chemicals, and is completely safe when handled by a licensed and trained professional.
With the proper tools, a PCO is able to monitor the temperature of not only general spaces, but also in the nooks and crannies where heat must penetrate to hit all bed bugs.
For heat treatment to be successful, the targeted temperature must be achieved in a quick-enough manner so that bed bugs are unable to escape into the deeper recesses of your home.
This task is impossible to achieve safely using products available to consumers and requires expensive specialized equipment that only pest control companies would normally invest in.
For individuals wishing to prevent future bed bugs, a personal heater is one the best investments you could make. Heat is a convenient and largely harmless avenue of killing the pest.
Traditional Pesticides
The use of traditional pesticides remains widespread in the pest control industry.
In spite of this, several commonly used chemicals are speculated to be no longer effective.
Resistance to compounds like DDT and pyrethroids has been carefully studied and shown to be present amongst many bed bug populations.
Asking your PCO what chemicals will be used so that you can research them yourself is a good idea. Ask about what they know regarding bed bug resistance to pesticides as well as their full opinion on the chemicals they're recommending using on your home.
Debedbug features extensive reviews, guides, and recommendations for chemical sprays and powders that will give you an understanding of what products are currently effective against bed bugs.
This is the best way to ensure that you won't be wasting money on ineffective health-compromising treatments.
Should traditional pesticides be used, keep in mind that residue will be around for some time.
Contamination of sensitive areas like the bed, furniture, and general living space is never good; health concerns regarding pesticides harming both people and pets are not unfounded.
Be sure that your exterminator takes precautions to protect your furniture and other surfaces your bare skin may contact after being sprayed.
With so many alternative methods available these days, traditional pesticides are no longer your only option.
At the end of the day, pesticides require the utilization of other methods in order to get to bed bug populations resistant to them anyways.
Bed Bug Fumigation
Treatment by gas, also known as fumigation, is an extremely effective method. Recent developments have made it even more affordable.
I would personally heavily consider fumigation if I were dealing with an infestation now after looking into the options currently available.
Vikane Gas
Vikane gas, or inorganic sulfuryl fluoride, is the industry standard at the moment. The gas is not a poison and functions by suffocating both bed bugs and their eggs.
Vikane is frequently used to treat entire homes, apartment building, and even vehicles.
Bed bugs have not yet become resistant to Vikane unlike other chemicals.
Treatment by Vikane involves an airtight tent or container, requires a complete evacuation of people and their pets, takes anywhere from half a day to two full days, and penetrates a home completely.
Thanks to the fact that it quickly degrades into harmless components after administration, Vikane can allegedly be applied to the entire home including clothing, electronics, and even dishes without leaving trace residue or odor.
Small-Scale Gas Treatment
An increasingly popular option involves filling a truck with furniture and other items you'd like sterilized, sending it to a centralized treatment plant, and having the clean contents sent right back to you.
This option is a middle ground between getting an exterminator involved and doing it yourself.
An approach that I would recommend considering involves shipping items off to be treated while you are in the process of moving out of an infested home. Once treated, you can have the load shipped directly to your next home.
This method ensures that you won't be bringing any sneaky bed bugs along hidden in the sofa.
Studies haven't attached negative side effects to Vikane treatment so long as the home or building is given sufficient time to air out.
The stuff works, has a track record of being safe, and is cost-effective thanks to low dosage requirements.
As with your other options, discuss Vikane with your exterminator before deciding.
Other Control Methods
A good exterminator will use the entire gamut of tools available to help you beat bed bugs.
This includes tools available to regular consumers.
In the case of steam cleaning, vacuuming, and residual powder application, the actual contents of products are more or less the same. Other tools are scaled up and more powerful than what normal people would be willing to pay for.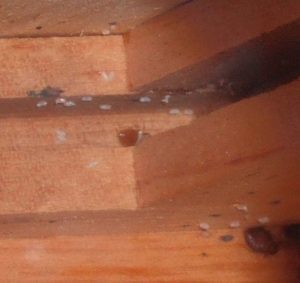 Steam cleaners used by exterminators, for example, might utilize higher pressures to permeate deep into furniture and baseboards. A pro will apply desiccants (likely DE or amorphous silica) in appropriate density and in all the right places for great results.
A PCO serves to give you the peace of mind that they have applied their experience and knowledge to make these methods as effective as possible.
It's likely that they will also encourage at least the same level of bed protection that we recommend here. Encasements will be definitely a part of the plan.
Preparing for Bed Bug Treatment
Throughout the process, a homeowner's cooperation between treatments will be required for guarantees to be honored. In many cases, you'll probably have to continue living in your home during treatment.
Without a food source, bed bugs will remain in hiding and will consequently avoid the traps you and your PCO have set for them.
If you choose to take the professional path, there are a few steps that you can take to be best prepared for when your operator arrives to begin treatment.
Many extermination companies maintain their own preparation guidelines and requirements depending on the recommended methods of treatment. They should provide instructions once you've had an inspection.
It is critically important to complete the steps provided.
Always ask before doing anything you're uncertain about.
Some PCOs prefer you leave your home as-is to prevent the scattering of bed bugs into deeper areas of you home.
Others will require that you clear clutter and take some light initial steps such as vacuuming and moving furniture, much like the first steps of getting rid of bed bugs yourself.
It's best to ask to avoid problems although being able to point out hotbeds of bed bug activity will always be helpful.
In the case of infestations caught early on, moderate levels of preparation can be valuable. Clutter and various objects found beneath beds or on the floor should be cleared and processed through a dryer.
Bed linens and clothing can also be treated at the minimum temperature of 120˚F with a dryer.
For larger items like cushions and chairs, you should discuss treatment options with your PCO if you don't have a bed bug heater.
In the case of advanced infestations, preparations are symbolic. Bugs dispersed deep and throughout a large area are very difficult to deal with, even by professional standards.
Your PCO will take the reins in such a case.
In many cases, you'll probably have to continue living in your home during treatment.
Without a food source, bed bugs will remain in hiding and will consequently avoid the traps you and your PCO have set for them.
Throughout the process, a homeowner's cooperation between treatments will be required for guarantees to be honored.
Keeping Bed Bugs Out For Good
One concern that you will undoubtedly have once bed bug free is how to keep it that way.
The best defense against another infestation is education regarding the common ways bed bugs get in your home in the first place.
You can learn about the most common exposure risks like travel and buying used furniture in the Preventing Bed Bugs page.
The best way to protect yourself from future infestations is by being wary of the most common ways to get bugs and keeping away.
Thanks for Reading!
Just as with any other type of business, the world of pest control companies is filled with good, bad, and plenty of operations that fall somewhere in between.
Knowing what to look for and what to avoid protects you from spending more than you have to; whether you save yourself from being overcharged or fooled by a deal that was too good to be true and yielded no results at all, it's worth your time to go through the vetting process.
More Resources
References
https://debedbug.com/references/