If you take your time to find an exterminator who specializes in bed bugs, you'll only have to pay once.
Why Hire a Pro
Removes the danger of spreading your infestation through incorrect product application
Lowers your exposure to potentially harmful chemicals
Gets you access to professional-grade whole house treatment
Provides peace of mind. Rest easy knowing that a licensed professional is handling everything. Good pest control operators will offer a guarantee of success
You can certainly have success in treating your own bed bugs if you start with a plan and the right tools.
That said, whole-house gas and heat treatment are only available through a professional. For some situations, like multi-unit houses, whole-house treatment makes the most sense.
Choosing an exterminator is an important decision and a big financial commitment.
We've put together the big questions you need to ask. You'll get right to the answers that will help you choose a fantastic company.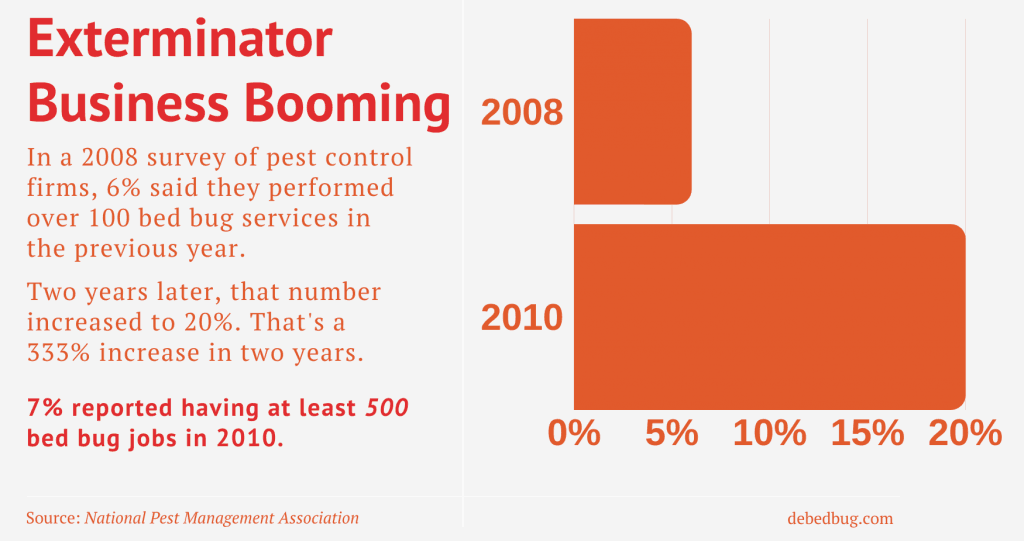 6 Questions to Ask an Exterminator
Prices vary based on location and treatment methods. Expect quotes range from $500 to $1,500 for an apartment. Several treatment methods will be available which also affects the price.
We go over the most popular professional treatment options here. Let your operator know what treatment you prefer to make price comparison easy.
Look into at least 3 different companies. These 6 questions will help you choose the best of the bunch.
6 Questions To Ask Before Hiring An Exterminator
Ask for rough quotes

Take note of the hourly rate per-operator and the number of sessions each outfit says they will need.

Ask for a price breakdown

Take note of the number of inspections, followups, crack-and-crevice treatment, and all treatment options.

Ask for a bed bug specialist

Bed bugs require specialized knowledge and tools. Ask if they employ licensed and certified operators.

Ask about guarantees and stipulations

A better guarantee means more confidence. Guarantees offered on multi-unit infestations are rare. Get guarantees in writing.

Ask about liability insurance

They should provide an estimated amount of coverage without hesitation.

Ask for references

Good companies will be excited to share references from happy customers. Check online reviews as well.
As when paying for anything, under-priced options can be too good to be true. The difference will come in the shape of poor service or a lack of experience.
Overpriced options may not even want to deal with bed bugs unless they are overpaid. They may not have the equipment or experience needed for the job.
Look for pest control operators certified by organizations like the National Pest Management Association (NPMA). They will have the latest knowledge and education on bed bug management.
Make it clear that you expect to have your entire home treated. You can treat beds and furniture yourself. You are paying to have an exhaustive treatment done
Exterminator Picker Printable
Here's a printable from the Debedbug Ebook that will help you keep track of everything.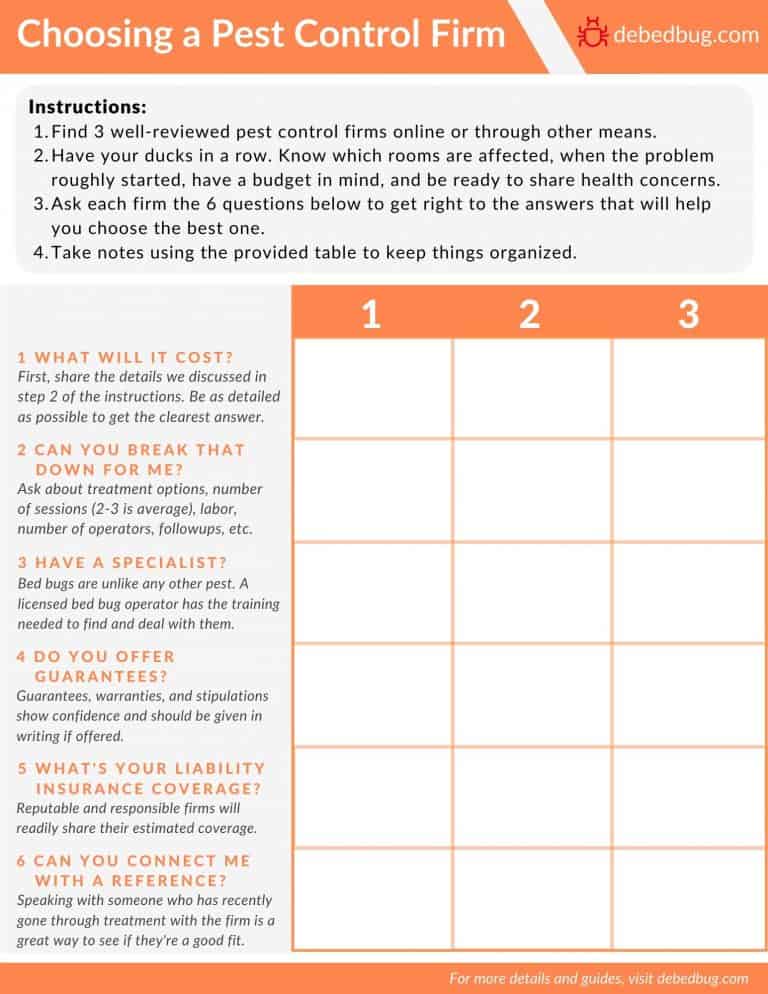 Try the debedbug ebook for full resolution versions of all our printables.
It includes sheets that will make the process clear and straightforward every step of the way.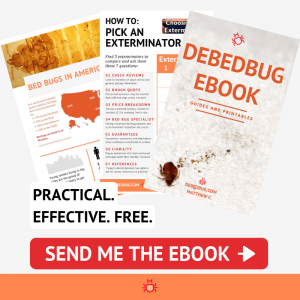 Professional Treatment Options
When hiring a professional, you can look for several offerings that ensure your money is well-spent and the problem is taken care of.
What Can Professionals Offer
Contractual guarantees of success
Warranties
Access to specialized large-scale equipment
Experienced hands that come with a licensed operator
Not having to worry about every detail of treatment
Whole-house heat treatment, gas treatment/fumigation, and industrial pesticides are only available through professionals.
Those methods are potentially hazardous and completely off-limits to non-professionals.
Here are the options that your exterminator will most likely offer to you.
Large-Scale Heat Treatment
Heat treatment is a popular option at all stages of infestation.
Why choose heat treatment? Heat is chemical-free, totally effective, has no impact on structures, and is completely safe when handled by a professional.
Whole house heat treatment is only possible with the right tools. Your pest control operator will use an industrial heater and many well-placed sensors. This helps them guarantee that heat has saturated your home and leaves nowhere for bed bugs to hide.
For heat treatment to be successful, your entire home needs to hit 122ºF fast. If it takes too long, bed bugs will have time to escape deeper into your home.
You can imagine that bed bugs hiding in your foundation would be a huge pain to deal with.
This requires industrial equipment. This is why DIY whole-house heat treatment either doesn't work at all or literally goes up in flames.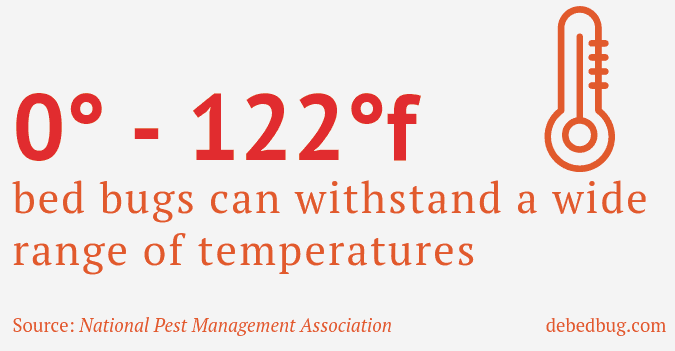 It is impossible to hit those temperatures quickly and safely using products available to consumers. Hiring a professional gets you industrial equipment and someone who knows how to use it.
For those who want to prevent bed bugs, a personal heater is one the best investments you could make.


A heater lets you make sure bed bugs never make it into your home through your luggage or used furniture.
The use of good old pesticides remains widespread in the pest control industry.
Several common pesticides are turning out to no longer be effective.
Studies have found genetic resistance to pesticides like DDT and pyrethroids in many bed bug populations.
Ask your PCO what chemicals they use so that you can look into them yourself. It doesn't hurt to ask what they would use in their own homes.
For a rundown on the sprays and powders that work on today's bed bugs, check out our pages on the best on the market.
Professionals use the same products for the most part.


Do a little research so you don't waste money on ineffective treatments.
If you do sign up for spray treatment, keep in mind that residue will be around for a good while.
Spraying sensitive areas like the bed, furniture, and other places that touch skin isn't ideal. Health concerns about pesticides harming both people and pets are very real.
Your operator should explain the process of returning to your home after spraying.
Traditional pesticides are no longer your only option. These days, there are plenty of effective alternative methods.
Spraying calls for several treatment methods to handle bugs resistant to pesticides.
Treatment by gas, also known as fumigation, is a popular and effective method. Recent developments have made it more affordable than ever.
Fumigation is one of our favorite treatment options today.
Vikane gas, or inorganic sulfuryl fluoride, is the industry standard at the moment. The gas is not a poison, it actually works by suffocating both bed bugs and their eggs.
Vikane is used to treat entire homes, apartment buildings, and even vehicles.
Bed bugs have not yet become resistant to Vikane, unlike other chemicals.
Vikane treatment involves an airtight tent or container. It requires the complete evacuation of people and their pets. It takes anywhere from half a day to two full days and can treat an entire home in one go.
Thanks to the fact that it degrades into harmless components, Vikane can be used on the entire home. You can leave clothes, electronics, and even dishes without worry.
This makes Vikane treatment much more convenient than traditional fumigation.
Small-Scale Gas Treatment
Vikane treatment by the truckload has become popular recently. It's as straightforward as it sounds. Fill a truck with furniture and all the other items you'd like sterilized. It gets shipped to the treatment plant and returns shortly after bed bug free.
This method can be a compromise between getting an exterminator and doing it yourself.
If you're moving homes during an infestation, this is the perfect solution.
It's as easy as shipping items off to while you move out of the infested home. Once treated, you can have it shipped to your new home with zero chance of contamination.
This ensures that you won't be bringing any sneaky bed bugs along to your next home hidden in the sofa.
Studies haven't found side effects of Vikane treatment as long as it has time to dissipate.
The stuff works and is cost-effective thanks to low dosage requirements.
As with your other options, discuss Vikane with your exterminator before deciding.
A good exterminator will have a collection of different tools to deal with any situation.

This includes tools available to regular consumers.
Professional tools are more expensive and more powerful. Many tools need some training to be used properly.
Vacuums for pest control make use of fine-grade HEPA filters and pack some extra oomph. Professional vacuums have tons of suction and attachments made for the job.

Professional steamers offer extreme levels of pressure and heat. This helps them penetrate furniture and baseboards better than budget options.
These days you can get a powerful steamer for a reasonable amount of money. It's possible to treat your infestation naturally without breaking the bank.

A pro will apply powders in the right place with good technique for the best results.
A good PCO is worth the money. They have the experience and knowledge to make each tool as effective as possible.
It's likely that they will recommend many of the same things that we recommend here. Encasements and interceptors will definitely be a part of the plan.

Preparing for Bed Bug Treatment
Throughout treatment, a homeowner's cooperation is needed for guarantees to be honored.
This will be part of the contract.
If you choose to hire a professional, there are a few preparations your operator may ask you to make.
Most operators have preparation guidelines that change depending on the method of treatment they will be using.
They will provide instructions once you've had an inspection. It is very important to complete the steps they give you.
Quick Tip
Always ask your exterminator before doing anything you're uncertain about.
Some PCOs prefer you leave your home as-is to prevent the scattering of bed bugs into deeper areas of your home.
Others will ask you to clear clutter, vacuum, and move furniture. These are the first steps we discuss in how to get rid of bed bugs.

Being able to point out signs of bed bugs will always be helpful. It can help inspections go by quickly so treatment can start sooner.
In the case of infestations caught early on, a few steps of preparation can be very valuable. Your exterminator may recommend clearing clutter beneath beds and on the floor.
It's rarely a bad idea to sanitize bed linens and clothes in a dryer. This is as simple as running them in your dryer on high for at least 30 minutes. This will do the job as long as you haven't overstuffed it.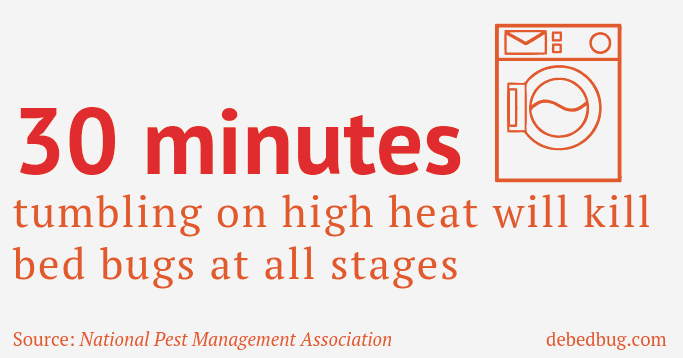 For larger items like cushions and chairs, discuss options with your PCO if you don't have a bed bug heater.
In the case of advanced infestations, preparations won't do much. Bugs spread across a large area are difficult to deal with, even for professionals.
Your PCO will take the reins, it's best to trust them.
Often, you'll have to continue living in your home during treatment.
Bed bugs stay in hiding if there's no one to bite. You'll have to stay at home and act as bait to allow the sprays and powders your PCO has used to work.
You can suggest something like the Nightwatch bed bug trap if it's an option.
Keeping Bed Bugs Out For Good
One concern that you will have once bed bug free is how to keep it that way.

How To Avoid Infestations
Keeping these in mind will greatly reduce your chances of facing another infestation.
The world of pest control companies is filled with all sorts of operations from bad to great. It's the same as any other industry.
Knowing what to look for and what to avoid protects you from spending more than you have to.
Save yourself from overpaying or buying into a deal that was too good to be true. It's worth your time to go through the vetting process.
References
https://debedbug.com/references/
---