Heat is an effective and chemical-free way to get rid of bed bugs at all life stages.
The ZappBug Heater is just the right size for most homes.
The Heater is larger than the classic Packtite heater design but manages to be more packable and significantly cheaper.
It is not perfect, but it will certainly do the job in most homes. As with most entry-level heaters, cold spots and a noisy fan are part of the deal.
If you travel frequently, using a heater is the best way to ensure you don't bring bed bugs home. This heater will fit your luggage with ease.

For those interested in using a heater as a part of the plan to get rid of bed bugs, a larger heater may be worth the cost.
Volume: 13.6 cubic feet (collapses into 13 inch cube without heater)
Dimensions: Length: 43 inches, Width: 22.75 inches, Height: 24 inches
Weight: 10 pounds unloaded
Power: 1500 watts
Materials: Double-walled heat-reflective insulated fabric
Heating Method: Convective – One heater blowing hot air
Maximum Temperature: 120˚F – 155˚F
Temperature Probe: Included, wireless
Setup: Unfold tent, insert heater to ventilation, load, plug, and run included timer in 5 min. max
Time per Load: 6 hours to be safe – the maximum timer duration
Automatic Shutoff: Yes
Warranty: 1-Year limited
Lab-tested and verified effective
Compact size: It's the second most compact bed bug heater after the ThermalStrike Ranger
The ease of setup and simple controls make the ZappBug Heater a great option for frequent users.
Travelers will appreciate being able to set their Heater up in minutes after getting home.
You'll have no problem fitting your luggage, backpack, purse, and shoes in a single load. No more worrying about bringing bed bugs home from abroad!
The Zappbug Heater is large enough to treat medium-sized suitcases and carryon bags.
It's a 100% effective and pesticide-free way to treat your items.
Why pick the ZappBug Heater?
It is quick to set up
Designed to pack away small
Easy to use
100% effective
Affordable
For many, the ZappBug Heater is the perfect size. As one of the most affordable units, it is not free of a few faults that you'll have to consider.
It does have cold spots
Its fans make noise
It can't quite fit large items like chairs nightstands.
If you're in the market for a heater that will fit larger items, you will need to look elsewhere. The ZappBug Oven 2 and Packtite Closet fit the bill nicely.
For those looking to prevent bed bugs, the ZappBug Heater is the perfect tool. A heater lets you take prevention into your own hands and will help you avoid bringing bed bugs home.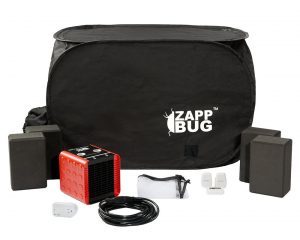 The ZappBug Heater is tied with the smaller ThermalStrike Ranger for the title of most affordable bed bug heater. If you plan on treating bed bugs on your own, a heater can be a core part of your plan.
Thanks to the Heater, you don't have to break the bank to use one.
When used diligently after traveling and on used goods, any heater will pay for itself. Just one prevented infestation would save you thousands in professional pest control fees.
Once you've invested in the Heater, its free to use for years outside of electricity costs.
In spite of cold spots, a noisy fan, and budget construction, the ZappBug Heater deserves a 90.
Compared to the ThermalStrike Ranger, the Heater offers more space and a different style of heating. The Ranger has complete heat saturation but has far less usable space and costs the same amount.
The single heater that the Heater is outfitted with is small but powerful.
Bed bugs will die in as little as a minute once exposed to temperatures above 120˚F.
That said, ZappBug recommends keeping the heat on for several hours to be safe. This guarantees the complete eradication of bed bugs and their hardy eggs.
When treating a suitcase full of stuff, it is recommended that you run the Heater for a full 6-8 hours. When left unzipped, the contents will definitely reach the necessary temperature.
It takes time for heat to completely saturate whatever you'd like to treat. Try to use full cycles whenever possible. It is the safest approach. Better safe than sorry!
The included wireless thermometer probe makes it easy to make sure everything gets heated.
Empty suitcases take less time to reach 120. Cleaning clothes in the dryer will help speed things up.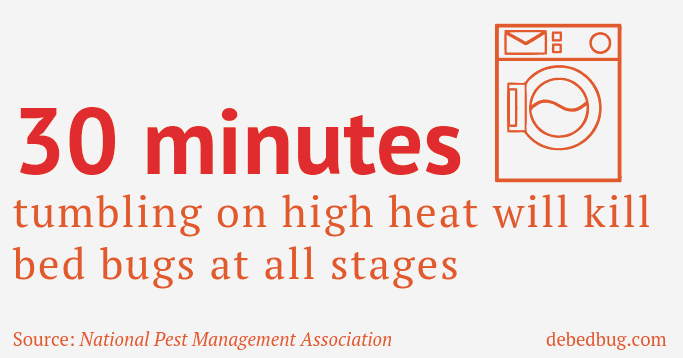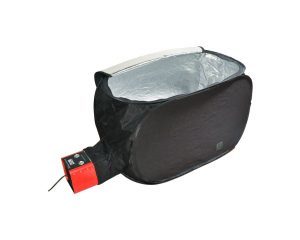 The ZappBug Heater is perfect for travelers and traveling professionals. It's one of the best tools to prevent bed bugs.
Keeping bed bugs out after a trip is as easy:
Keep your bags outside
Change and throw worn clothes in the dryer immediately
Place luggage, shoes, and other bags in ZappBug Heater
Run it
With these four easy steps, you no longer have to worry about the number one vector of bed bug infestation. The Heater offers peace of mind, which is priceless.
Unlike the ThermalStrike Ranger, the Heater is large enough to accommodate more than a carryon bag. The Heater actually has 3 times the usable space.
It is a great option for anyone dealing with bed bugs on a budget.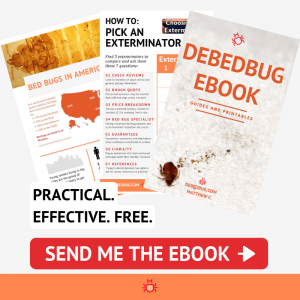 What Should it Be Used On?
Those dealing with active infestations can get a lot of utility out of a heater. Heaters are the best tool to use if trying to get rid of bed bugs in delicates. When you can't use the dryer, steam, or sprays, a heater is your best bet.
Heaters can treat items too large for your dryer and things that call for gentler treatment like:
Thrifted and used goods
Library Books
Rugs
Delicate clothing
Shoes
Clothes
Luggage
Documents
CDs
Bedding
Curtains
Pillows
Bean bags
Boxes full of miscellaneous goods
Briefcases
Purses
Keep in mind that the Heater's maximum internal temperature of 155˚F can do damage to some items. Paintings and some electronics can't stand up to those temperatures.
You can throw garbage and Ziploc bags in the Heater.
The bag will not melt and provides a convenient container. Keep bags open so that heat can circulate easily.
Certain electronics can be treated by heaters. Be sure to read the manufacturer's manual before committing to heating electronics.
ZappBug Heater Alternatives
Compared to the ZappBug Heater,
The ThermalStrike Ranger has 1/3rd the space
The ZappBug Oven 2 has 6 times more space
The PackTite SC has 3 times more space but is not currently in production
The PackTite Closet has 6 times more space but is not currently in production
The ZappBug Room has 21 times more space
When buying a bed bug heater, you will pay more for space and extra heating elements.
Looking for more in-depth reviews and more on options like the massive ZappBug Room? Look no further than the heaters page. It's the most extensive bed bug heater page on the internet.

If you do decide to go with the ZappBug Heater, you won't regret it!
It is the most affordable unit, but it overperforms. For the price, you get the best tool out there for preventing bed bugs.
You'll love your newfound control over what comes into your home.
Best of luck getting and staying Debedbugged.
---