How to Treat Bed Bug Bites
As it stands, specialized creams and ointments for the treatment of bed bug bites do not exist.
Despite this, there are several generic solutions and methods of relief that should help you stop the itching and annoyance caused by bed bug bites.
Luckily, most of these options are relatively cheap.
While annoying, it is important to note that bed bug bites are almost never a reason to go to the hospital outside of cases of severe allergic reaction. Bed bugs do not transfer diseases via bites outside of a few extremely rare cases.
Over-the-counter solutions are clinically proven and serve their purposes very effectively. Some side effects can come up with the use of more potent products, it is ultimately up to you to decide whether or not it is worth the itching.
You should be able to find most of these products at your local pharmacy or drug store!
|   | | | | | |
| --- | --- | --- | --- | --- | --- |
| | Caladryl Calamine Lotion | Sarna Anti-Itch Lotion | Benedryl | Advil | Hydrocortisone |
| Fixes | Anti-Itching | Anti-Itching | Anti-Inflammation | Anti-Pain & Inflammation | Anti-Itch & Inflammation |
| Active Ingredient | Camphor | Pramoxine Hydrochloride | Diphenhydramine | Ibuprofen | Hydrocortisone |
| Price | $ | $$ | $ | $$ | $ |
| Purchase | Shop | Shop | Shop | Shop | Shop |
Anti-itch
Calamine lotion, like what is used for poison ivy and mosquito bites, helps to dry rashes and protect skin, easing symptoms of itchiness and pain
Anti-inflammation
Take antihistamine tablets as prescribed to control allergic reactions such as rashes and swelling. A topical antihistamine can also be applied to the bitten area.
The pain reliever Advil in particular contains ingredients that fight inflammation.
Anti-itch and anti-inflammation
Topical over-the-counter analgesics containing pramoxine and/or diphendrydramine help relieve pain and itch simultaneously. Pramoxine is especially potent in countering itchiness.
Mild over-the-counter steroidal creams containing hydrocortisone help control swelling, itching, and redness. Make sure to follow directions!
Pain Relief
Generic pain relievers that include acetaminophen can help if you are experiencing pain. Consult a doctor before committing to a regiment of pain relievers.
Home Remedies for Bed Bug Bites
What you use for your bed bug bites is a very personal choice at the end of the day. Many people prefer utilizing natural and home remedies rather than over-the-counter synthetically engineered options.
There are many such choices to help you get rid of bed bug bites that have been around for a long time and seem to work consistently.
You are quite likely to have the components for several solutions sitting around already.
As with the commercial treatment section, please leave a comment below if you have any suggestions to add to the lists!
Unlike the commercial treatment section, I cannot guarantee you results with these solutions.
Anti-itch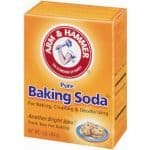 Baking soda paste. Slowly add water to baking soda, create a thick paste.

Cover the affected area with paste.
Allow to dry for at least 15 minutes.
Rinse off with warm water.

Astringent products – Simply dab onto afflicted area.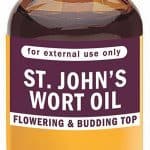 Anti-inflammation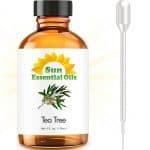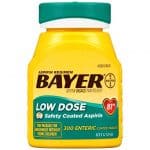 Anti-itch and anti-inflammation
Heat treatment: heat pads, a hot bath, heated damp cloths, and warm water pouches help almost instantly relieve itchiness and redness.
Apply heat until feelings of relief stop, then run cold water over the same spot. This should lessen swelling and redness.
Warm soapy water lathered onto bite areas helps relieve itching if left and allowed to dry. The soap also functions as both an antibacterial and antiseptic. Antibacterial soap can be used if available for extra oomph.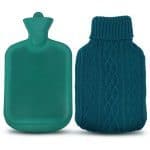 Be careful not to overdo it with hot water. Burning yourself makes healing more difficult – especially if the skin is already damaged by scratching.
If symptoms persist or worsen in the coming days and weeks, it is best to see a doctor. If experiencing severe symptoms such as loss of breath or vomiting, a doctor should be consulted immediately.
Bed bug bites are infamous.
Learning how to effectively deal with the bites themselves is valuable knowledge that could save you stress and discomfort down the line.
It's important to know how to deal with bites even if you hire a professional, given that many pros will have you act as bait while treatment is happening.
You're bound to get bitten a few times, it's the unfortunate truth.
It is possible to stop bites during an infestation though!
Bite Reactions Vary
In spite of all the fear surrounding bed bug bites, studies have found that up to 30% of people are completely nonreactive to the toxins in bites.
There are many stories of people feeling that their spouses seem to be completely unaffected by bed bugs. "They only want to bite me," is a common remark in bed bug stories.
If one person is showing symptoms, however, both are definitely getting bitten. A difference in reactivity is all the difference there is.
While you might consider yourself a part of the unlucky 70%, without someone to act as the proverbial canary in the mineshaft, bed bugs and treatment would not be on anybody's mind until it was far too late.
In the battle against bed bugs, time is the most important ingredient for success.
Their populations grow exponentially and become exponentially harder to deal with with each passing day as they delve deeper into your home.
Catching an infestation early might be the best luck you could have after not getting bed bugs in the first place.
| back to top |
Thanks for Reading!
Always establish verified proof before starting a bug fighting campaign!
If you're sure you've got bed bugs, comprehensive treatment that utilizes Integrated Pest Management allows you the best chance you have at self-treatment success.
Prevention, however, you can start today. It's never a bad idea to be prepared. You could potentially save you a lot of money and trauma with minimal planning.
Through prevention, you get to fight on your own terms.
And finally, if you're so inclined, there's much more to be about the timing, chemistry, and patterns characteristic of bed bug bites on the page dedicated to the topic.
| back to top |
More Resources