The Vapamore MR-100 Primo is the most popular consumer dry vapor steamer on the market. At under $300, it is half the price of any comparable alternatives.
It boasts 58 PSI of pressure, a tank that holds 1.6 liters, and a lifetime warranty. It's tough to match at this price point.
The Primo was also named Consumers Digest's Best Buy in the pest steamer category.
Bed bugs today are resistant to many chemicals and pesticides. No bed bug can survive the raw heat that steaming uses.
Steam is a timeless solution to bed bugs that is completely natural and as cheap as water once you own a steamer.
The Vapamore is a great tool to have in your belt. Following a plan will still be necessary to get guaranteed results.

The Primo cleans and sanitizes with fully adjustable electronically delivered steam. This electronic system is normally reserved for more expensive steamers.
Many steamers that have the system are double the price.
This system achieves an incredible 5% hydration by volume.
All that means is that the areas you steam will be less damp. It's an important feature for treating sensitive spaces like your bed and painted walls.
Adjustable pressure lets you treat any surface without worrying about blowing bugs away. It's a common problem that most steamers in this price range face.
Steamers at this price don't normally have adjustable pressure.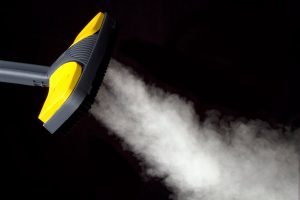 It's a dry steamer that delivers on the dry.
The MR100 produces a lethal 220˚F at the tip with the help of its 58 PSI chamber.
That is 100˚F higher than the 120˚F that experts recommend to kill bed bugs at all life stages.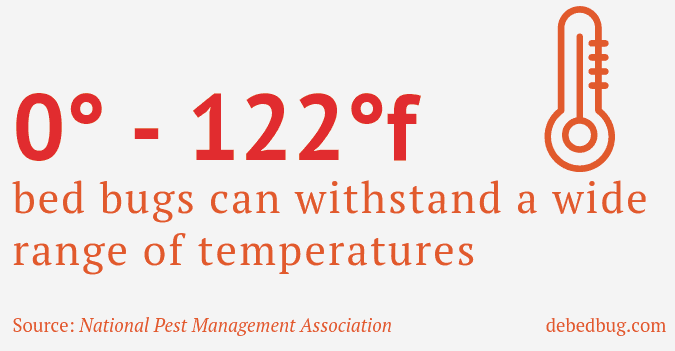 Those extra degrees allow the steam to penetrate deeper into furniture and beds. That's important because bed bugs prefer to hide in tucked-away spots.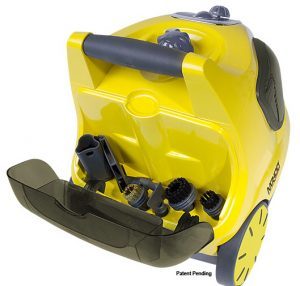 Dry vapor – 5% water vapor by volume
220˚F top-temperature at the tip
58 PSI
1500-Watt heater
18-foot (18′) Electrical Cord, 6-foot (6′) hose
1.6-Liter stainless steel tank – 60 minutes of use
Includes 17 attachments for every job
Integrated accessory storage
Adjustable output
ETL certified – meets strict industry standards
Lifetime limited warranty
The Primo performs phenomenally in field reports.
It reaches deep into furniture, kills bed bugs at all life stages, and even kills dust mites. It destroys allergens, mildew, germs, stains, and anything else you point it at.
It's safe to say that it is extremely effective at treating bed bugs in particular.
The many attachments included with the Vapamore allow you to reach any area you'd like to with ease. The wide-angle attachment provides a large surface, perfect for cleaning mattresses, box springs, pillows, and couches.
Attach the cotton cover to the wide-angle attachment and you have the exact setup that we recommend on the steamers page. The difference is that you skip the hassle of rigging your own.

The floor cleaning head is great for scouring your carpet, wood, or tile flooring for hidden nymphs and eggs.
The jet tip adapter and other small tips will make it easy to hit baseboards, headboards, and all the other narrow hideaway that bed bugs love.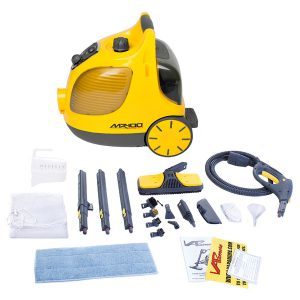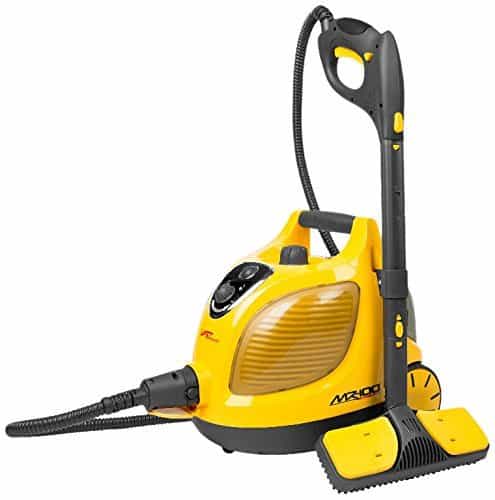 The Vapamore Primo is the most affordable steamer that satisfies every important benchmark. It has a PSI of over 50, hits 220˚F, runs for an hour, and includes attachments and pressure controls.
You won't regret investing in one even after you've eliminated bed bugs. It can be used for daily tasks like deep cleaning grills and bathrooms or removing stains in clothes.
With the Primo, you get a convenient and effective tool that can be used for a lifetime thanks to its warranty.
It is easy to use, stores well, has all the bells-and-whistles of a premium steamer, and absolutely destroys bed bugs.
The Vapamore MR-100 Primo will be a core tool in any bed bug treatment plan.
The price, quality, and function are all there.
If you're interested in getting rid of bed bugs without chemicals, a steamer will be essential.
People sensitive to insecticides and smelly chemicals will adore their Primo.
Even if using chemical pesticides, we recommend considering a steamer. A steamer will take care of all bed bugs, while chemical solutions can't do anything about resistant bugs.
If you hire a pest control operator (PCO), he or she will probably use a steamer for the same reasons.
The Primo's premium features and 60-minute tank make it the best choice for anyone serious about replacing sprays with steam.
The MR100 allows you to treat entire rooms in a single sweep. Bed bugs will run from the area you're treating while you refill and reheat smaller steamers.
The Primo is the most affordable steamer that is up to the job.
Taking into consideration its quality, accessories, construction, and adjustable pressure, alternatives can't compete. You won't find a better deal for your dollar.
There are other heaters that are cheaper with their own drawbacks. Looking for more in-depth reviews? Look no further than the steamers page.
Click any product name or picture to go to the corresponding review on this page:
| | | | | |
| --- | --- | --- | --- | --- |
| | Amico | Steamfast | Primo | Vapor Clean II |
| Tip Temperature | 200˚F | 210˚F | 220˚F | 240˚F |
| Pressure | 43.5 PSI | 44 PSI | 58 PSI | 65 PSI |
| Adjustable PSI? | No | No | Yes | Yes |
| Water Capacity | 0.8 Cups | 1.4 Liters | 1.6 Liters | 1.7 Liters |
| Steam Time | 5 to 10 min. | 40 min. | 60 min. | Over 60 min. |
| Attachments | 17 | 17 | 17 | 13 |
| Rating | 84 / 100 | 80 / 100 | 100 / 100 | 96 / 100 |
| Relative Cost | $ | $$ | $$$ | $$$$ |
| Full Review | View | View | View | View |

I challenge you to find a steamer that offers more value than the MR100.
(If you do, please let me know in the comments or through the contact page – I'd love to review it!)
Read the techniques, tips, and tricks section on the steamer page before using yours.
Regardless of what steamer you choose, you'll be closer to getting Debedbugged.
---