How Does the NightWatch Work?
Developed by BioSensory, the NightWatch Bed Bug Trap and Monitor is one of the most powerful tools on the market when it comes to bed bug detection and monitoring.
It utilizes three signals that bed bugs hone in on and turns it against them. Emitting a realistic heat, seeping carbon dioxide, and housing an artificial kairomone lure, the trap is irresistible to any bug in your average-sized room.
Kairomone is an artificially produced substance that mimics the alert chemicals bed bugs send out to let others know that a food source is nearby. That's some advanced chemical warfare.
Its trapping mechanism is nothing more than two slick removable pitfalls installed on either side of the device. This means that the NightWatch is completely non-toxic and can be used confidently in the presence of children and pets.
Professional pest controllers swear by the NightWatch, and so will you.
NightWatch Features
Customizable timer to be activated during peak hours of bed bug activity
Intuitive controls, one-button interface
Quick and easy setup takes less than 10 minutes
Silent CO2 seeping mechanism
Low CO 2 alert
Does not include CO2 tank!
Kairomone bait replaced every 7 days
Thermal tape lure
Restarts in the case of power outage
Made of steel and plastic base
The lack of a CO2 tank is disappointing, but unavoidable for legal reasons. Filled canisters of CO2 cannot be shipped but are easy to find locally. Wal-Mart, Lowes, Dick's, and your local paintball shop should all carry what them.
A 20oz tank is recommended and should last the full 6 to 7 days if properly installed and used during the recommended operating times of 10:00pm to 6:00am. I'll discuss the costs in detail later in this review.
The NightWatch is designed to be convenient. The one-week cycle and intuitive electronics make it easy to set it and forget it for up to a week, when you'd want to check it and refill its lures.
You can find its manual with all the details here: https://www.rqllc.net/NightWatchOpManual.pdf
Where is it Best Used?
The greatest strength of the NightWatch is its multifaceted lure. It is the most effective active traps on the market and is used by professionals.
Unlike with passive and interceptor traps, human bait is not necessary.
Seeing as bed bugs will typically stay in hiding when food is absent, the NightWatch, and active traps in general, fulfill an important role.
They are powerful tools for hotels, apartments, condos, offices, personal businesses, trailers, RVs, and anywhere else that people might vacate during bed bug treatment.
If you'll be staying elsewhere while self-treating your bed bugs, a NightWatch would be perfect for you.
When used in conjunction with residual sprays and powders, the NightWatch becomes an effective part of your plan to get rid of bed bugs as it will attract bugs at all hours; even while you aren't home.
The NightWatch helps ensure that unoccupied rooms are still monitored and controlled when bed bugs would otherwise stay in hiding. It will also let you know when it's safe to offer the room again.
It is actually recommended that NightWatch be used in an unoccupied room in order to avoid competition.
When is it Best Used?
Unlike interceptor traps, the NightWatch begins working immediately once setup.
It can be used throughout your entire infestation in order to initially detect an early infestation, keep tabs on a stable population, and ensure that you've gotten rid of bed bugs for good by the end of your journey.
Being able to monitor populations is always useful.
What's it Cost?
Base Model with 4 Lures: ±$300
Replacement kairomone lures: ±$20 per pack of 4
20oz CO2 bottle: ±$35.00 / ±$10 per refill
Total Cost: ±$335
Monthly Cost: ±$20 + ±$40 (4 CO2 refills x ±$10) = ±$60
As the premier active bed bug trap on the market, the NightWatch commands a sizable entry fee. At about $2 a day to run, the question isn't about effectiveness, but whether it's worth it to you.
If facing a multi-unit infestation, the NightWatch is absolutely a great investment that you will use for weeks straight.
Being able to refill tanks does cut down costs in the long run but is somewhat inconvenient. Considering that the next most popular CO2 bed bug trap costs $60 for two weeks of use, the refillable tank is relatively affordable.
Purchasing multiple tanks per device could even save you a weekly trip to refill.
Purchase NightWatch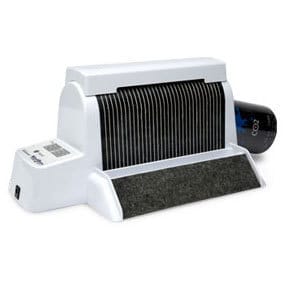 You can pick up the NightWatch from Bed Bug Supply by clicking the picture above or the button below!
NightWatch Active Review
All accounts of the NightWatch trap and monitor have one thing in common: It actually works. In cases of an established infestation, you can expect to see a few bugs in the trap within the first night.
Populations will be diverted away from you if using it while still in the room, couches will be abandoned for the pitfalls, bed bugs will literally crawl out of the walls for the NightWatch, and you'll be resting easier well before you run out of bait in most cases.
I'm a big fan of tested products, and this one passed that category with flying colors.
Dr. John F. Anderson of the Connecticut Agricultural Experiment Station tested NightWatch prototypes for over a year. His many tests indicate that an infestation of 10 bedbugs has a 99.98% chance of detection by the NightWatch over a 7 day period.

The NightWatch was successful in catching bed bugs in both occupied apartments and unoccupied apartments both with and without furniture.
You can read more at the following journal article from the National Library of Medicine.
This is all assuming that you use the NightWatch as part of an overarching IPM, of course. Don't look to this one device as the silver bullet, but as one deadly bullet in a chamber of six!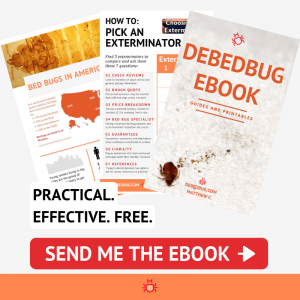 NightWatch Monitor Rating
4.8 / 5.0
There's very little to complain about when it comes to the NightWatch besides its heavy upfront cost. If you're willing and able to bear the initial price and cost of refills, you'll get some seriously great results.
The nuisance of having to refill CO2  as well as the need for new kairomone lures resulted in me pulling 0.2 off of the rating.
In spite of this, refills only need to be dealt with on a weekly basis – there's very little to complain about when you consider the great results everyone gets from this product.
If you're a landlord or bed bug prepper, you'll sleep easier knowing that the NightWatch actively has your back.
Investing in one is investing in a proven product that brings sleep and peace-of-mind.
Alternatives
Although there are many active traps on the market, none are directly comparable to the NightWatch.
These single-bait active traps can be very effective, but are not as consistent or overwhelmingly successful compared to the NightWatch.
For long term monitoring, passive and interceptor traps are where you should look.
Looking to compare traps? Give the bed bug traps page a gander and easily compare the best products available!
Thanks for Reading!
I hope this post helped clear up some of your questions regarding the NightWatch trap and monitor. Just like any tool in your bed bug fighting arsenal, be sure to use it in combination with other methods for real results.
If you have any comments or suggested products I should review, please leave a comment below or contact me.
Best of luck keeping tabs on your bugs and on getting Debedbugged!
More Resources