An infestation of 10 bedbugs has a 99.98% chance of detection by the NightWatch over a 7 day period.
How Does the NightWatch Work?
The NightWatch is a bed bug trap and monitor developed by BioSensory. It is one of the most powerful tools on the market when it comes to bed bug detection and monitoring.
It takes advantage of three different lures that bed bugs target and turns the tables on them.
The 3 baits used by the NightWatch are:
Heat that mimics a human body
A slow leak of carbon dioxide that imitates human breath
An artificial kairomone lure
Kairomone is an artificial chemical produced in a lab. It mimics the chemicals that bed bugs send out to let others know that a food source is nearby.
It uses two removable pitfalls on both sides of the device. Bugs get trapped on their way to the baits in the middle. It is completely non-toxic. You can use it in rooms with children or pets with no problem.
Professional pest controllers swear by the NightWatch, and so will you.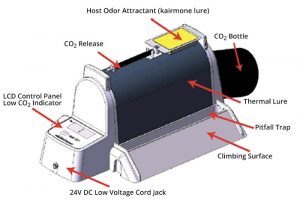 A customizable timer to be activated during peak hours of bed bug activity
Intuitive controls, one-button interface
Quick and easy setup takes less than 10 minutes
Silent CO2 seeping mechanism
Low CO 2 alert
Kairomone bait replaced every 7 days
Thermal tape lure
Restarts automatically in the case of a power outage
Made of steel and plastic base
Note: The NightWatch does not come with a CO2 tank. If you want to use CO2, you must buy a tank separately.
The lack of a CO2 tank is disappointing, but unavoidable for legal reasons. Filled canisters of CO2 cannot be shipped but are easy to find locally. Wal-Mart, Lowes, Dick's, and your local paintball shop should all carry what them.
A 20oz tank is recommended and should last the full 6 to 7 days if properly installed and used during the recommended operating times of 10:00pm to 6:00am. I'll discuss the costs in detail later in this review.
The NightWatch is designed to be convenient. The one-week cycle and intuitive electronics make it easy to set it and forget it for up to a week, when you'd want to check it and refill its lures.
You can find its manual with all the details here: https://www.rqllc.net/NightWatchOpManual.pdf
Bed bugs will stay in hiding when food is absent. Active traps do their best to draw bed bugs out of hiding while people aren't around.
The use of several different lures separates the NightWatch from competitors. Unlike passive and intercepting traps, human bait is not necessary.
By using 3 baits, the NightWatch does the best job of any active trap available today.
Professionals trust it in:
Hotels
Apartments
Condos
Offices
Personal businesses
Tailers
RVs
Anywhere undergoing bed bug treatment
The NightWatch is perfect for anyone staying away from home while self-treating an infestation.
The NightWatch can be a key part of your plan to get rid of bed bugs. It works with residual sprays and powders to capture and eradicate bed bugs at all hours of the day.

The NightWatch ensures that unoccupied rooms are still monitored and controlled. If dealing with an infestation in a guest room, it will let you know when it's safe to offer the room again.
This trap shines in rooms that are unoccupied.
Unlike interceptor traps, the NightWatch begins working immediately once setup.
If you ever get suspicious bites, the NightWatch can capture live bugs. Some people have even completely gotten rid of infestations with the NightWatch alone.
For the rest of the time, the trap is useful for keeping tabs of populations.
Checking the trap is as easy as looking in the traps and counting the number of bugs its caught. Fewer bugs reflect a dying population while more signals a growing infestation.
Base Model with 4 Lures: ±$300
Replacement kairomone lures: ±$20 per pack of 4
20oz CO2 bottle: ±$35.00 / ±$10 per refill
Total Cost: ±$335
Monthly Cost: ±$20 + ±$40 (4 CO2 refills x ±$10) = ±$60
As the premier bed bug trap on the market, the NightWatch is not the cheapest trap. At about $2 a day to run, the question isn't about effectiveness, but whether the results are worth it to you.
If facing a multi-unit infestation, the NightWatch is priceless. Professionals rely on it when on the job.
Being able to refill tanks cuts down on costs in the long run, but refilling can be inconvenient. The next best CO2 bed bug trap costs $60 for two weeks of use. In comparison, the NightWatch's refillable tank is cheap.
Property managers and others dealing with bugs frequently can buy a few tanks to save time on refilling.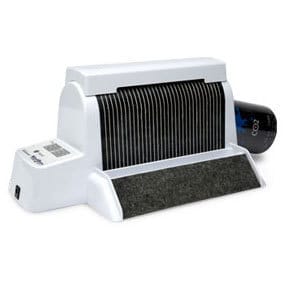 Reviews of the NightWatch have one thing in common: People say it actually works. In cases of established infestations, you can expect to see bugs in the trap after the first night.
Use it in your room to redirect bugs away from your bed. In living rooms, bed bugs will leave your couch and get trapped in the NightWatch's pitfalls. Bed bugs will crawl out of the walls for the NightWatch.
We're big fans of tested products on Debedbug. This one passed the tests with flying colors.
Dr. John F. Anderson of the Connecticut Agricultural Experiment Station tested NightWatch prototypes for over a year. His many tests indicate that an infestation of 10 bedbugs has a 99.98% chance of detection by the NightWatch over a 7 day period.
The NightWatch was successful in catching bed bugs in both occupied apartments and unoccupied apartments both with and without furniture.
You can read more in the following journal article from the National Library of Medicine.
The NightWatch still works best as part of an overarching plan to get rid of bed bugs. Don't look to this one device as the silver bullet, but as one tool in a chamber of six!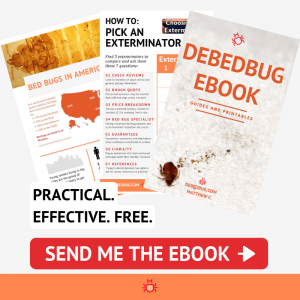 There's very little to complain about when it comes to the NightWatch. You get what you pay for in this case.
We'd give it a perfect score if not for the CO2 tank and need for refills.
In spite of this, refills only need to be dealt with on a weekly basis – there's very little to complain about when you consider the great results everyone gets from this product.
If you're a landlord, property manager, or bed bug prepper, you can sleep easy knowing that the NightWatch always has your back.
There are many active traps on the market. None are directly comparable to the NightWatch.
These single-bait active traps can be very effective. They are not as consistent or reliable as the NightWatch.
| | | | | |
| --- | --- | --- | --- | --- |
| | NightWatch | BB Alert | BB Beacon | SenSci |
| Bait | Heat, CO2, Pheromones | Heat | CO2 | You, Pheromones |
| Trap | 2 Pitfalls | Sticky Sheet | Pitfall | Pitfall |
| Refill | 1 Week | Daily | 2 Weeks | 3 Months |
| Rating | 97 / 100 | 52 / 100 | 88 / 100 | 74 / 100 |
| Relative Cost | $$$$ | $ | $$ | $$ - $$$ |
| Full Review | View | View | View | View |
For long term monitoring and prevention, passive and interceptor traps are your best bet.
Looking to compare traps? Give the bed bug traps page a look. We've compiled the best passive and active traps available today.

The NightWatch is a powerful tool that is even more effective when used as part of a plan.
If you have any comments or suggested products we should review, leave a comment below.
---