How to Avoid Bed Bugs
With bed bugs on the rise throughout the world, prevention is on the mind of people who like to be prepared.
New Yorkers, Californians, and Floridians make it into the news with headlines proclaiming soaring statistics that would put anyone who's experienced bed bugs on edge.
When discussing the prevention of bed bugs, we are specifically trying to figure out how to prevent them from entering and infesting our homes.
Can I Avoid all Bed Bugs?
How diligently you clean your house doesn't matter to a bed bug; they are acquired through exposure unlike flies, cockroaches, or termites, which are attracted by things like filth or decay.
Understanding where and when you are most vulnerable helps prevent bringing bed bugs home in the first place. The first step in preventing them is educating yourself and being able to confidently identify them.
Understanding their preferences and hiding places will help you get to the identifying phase. The Comprehensive Bed Bug Guide and Bed Bug Symptoms pages will teach you all this and more.
Identifying the high-risk situations that are most likely to expose you to bed bugs is the most effective way to prevent them from being a problem.
Should you be exposed, knowing how to react and treat for them comes next.
You can read about how to treat bed bugs yourself or with the help of a professional on the exhaustive page dedicated to the topic.
Travel Safe From Bed Bugs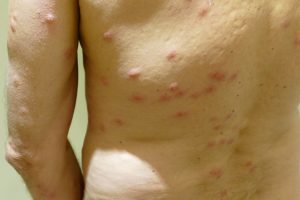 Don't bring hitchhiking bed bugs home!
Studies of bed bug transference have repeatedly cited travel as one of the most common threats of exposure.
Hotels of all price points, motels, bed and breakfasts; any bed that sees multiple people a week is at a notably higher risk than the one you have at home.
Paying due diligence while traveling is one of the most realistic and reliable ways to protect yourself from bed bugs.
Safe Travel Checklist
Here are a few things you can easily do to protect yourself the next time you are traveling:
Keep luggage stored in large sealed plastic bags when in hotel rooms. Garbage bags are acceptable, although purpose-made products are even better and provide guaranteed protection if used properly.
Inspect the room quickly, paying particular attention to the bed. Check behind headboards and pull away sheets to check for stains and other telltale signs as listed here.
Check furniture such as nightstands, couches, and chairs for symptoms. Dark corners and narrows spaces are the most suspect areas.
Keep your suitcases, backpacks, purses, bags, and clothing far from the bed and off of the floor. Use luggage stands, closets, or the bathtub to store clothing. Smooth-sided bathtubs make it impossible for bed bugs to climb.
Establish a protocol for treating luggage once you get home. A small bed bug heater is an incredible investment if you travel frequently and can save you thousands in professional treatment costs.
A flashlight will help you in your search. If you do find signs of bed bugs, report them to the front desk or whomever is appropriate immediately.
Action should be taken to move you to a clean room at the very least.
If you suspect that you have been exposed, measures should be taken to protect your home. You'll be treating bed bugs on a small scale to save yourself from the infestation.
You can find detailed instructions and suggestions on this page.
Here's an example of a plan that you can use every time you get home to be safe:
Leave bags outside upon returning home.
Change into clean clothes and put worn clothing into the washer or dryer.
Have a shower.
Bring laundry in and at least dry any clothing you took traveling.
Use your bed bug heater on the entire suitcase's contents in several batches if needed.
If you do not have a bed bug heater, treat dryer safe items in the dryer.
If you do not have a bed bug heater, leave luggage outside for a week before bringing it indoors. Check it thoroughly before bringing it back in.
You don't need to be supremely strict about this protocol although there isn't any detriment to extra caution. You should, however, go all-out in cases where you've had suspect bites or hear stories from neighboring rooms.
Safe Travel Printable
It's hard to keep track of that huge checklist while abroad. That's why I've designed a free checklist for you to bring on your journeys. I hope it keeps you safe!
To print this file:
Right click the image
Select "save image as"
Open the file wherever you saved it
Print as usual!
You can also get this printable in full-resolution and in black and white. For those, give the exclusive Debedbugged Ebook a try!
It's jammed full of useful printables like this one, as well as all the information you need to deal with bed bugs on your own in a practical and easy-to-read package.
Click here and check out the sweet details.
Avoid Used Furniture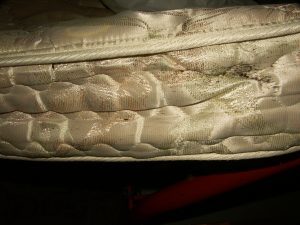 Used furniture should always be considered a high-risk pickup.
Furniture is typically left on the street for a reason; bed bugs would certainly make that list. If you do decide to adopt used furniture, make sure to conduct a thorough inspection before bringing it into your car or home.
It goes without saying that used mattresses left on the street should be left alone if you fear bed bugs.
Treating Used Furniture
Steam treating furniture is a relatively inexpensive precaution to take, although doing so only reaches bugs on the surface.
If renting furniture, be sure to check store policies for a bed bug prevention clause.
Any other used furnishings such as carpets and curtains should be treated similarly and dried in a drier set to hot for at least 20 minutes.
A core temperature of 120˚F must be reached for items to be considered certifiably bed bug free. If you have a large personal bed bug heater, that will do the job perfectly!
Check Used Goods
Bed bugs can be found inside anything.
This includes used electronics, suitcases, children's toys, clothing, and even books.
When buying used clothing, washing and drying at 120˚F before storing can save you from an infestation. If delicate, dry cleaning is always an option although dry cleaners typically do not guarantee bed bug elimination.
This process of treating for bed bugs with a dryer can be used on a variety of items such as plush toys, backpacks, and shoes.
If you'd like to take your prevention game to the next level and treat larger items, investing in a personal bed bug heater is a great idea that provides unparalleled peace of mind when used regularly.
Avoid Bed Bug Infested Areas
Most cases of infestation come from exposure to an infested environment.
Staying at a friend or family's home can result in eggs or a few live bed bugs tagging along for the ride back. Kids living in dorms in college or in private schools are prime targets and have the potential to pass bed bugs around like wildfire.
Those that are either nonreactive, or slow to react to bites are especially vulnerable in these cases.
Being vigilant and properly inspecting beds you intend to sleep on is the best way to protect yourself.
I wouldn't go so far as to advocate an all-out disassembly of mattresses, furniture cushions, and bedframes, however, learning to identify the most easily distinguished symptoms will save you from heavy infestations every time.
Bed Bug Signs
Here is an abbreviated checklist from the Bed Bug Symptoms page:
Off-white eggs, like tiny grains of rice in crevices near bed
Small or cumulatively large dark stains along mattress seams, headboards
Tan semi-translucent molts littering bed bug hotspots
Reddish-black splotches on sheets from crushed blood-engorged bugs
Bed bugs themselves at all stages – catch one for identification!
For pictures of all of the above, you can visit the Bed Bug Pictures page.
Depending on the stage of infestation, you may note none or several of the above symptoms.
It is unlikely that you'd encounter a live bed bug in the open. If you do, try your best to capture it for the purpose of verification.
You can use clear tape or a smooth-walled cup to keep it un-squished and easily identifiable. Be sure to take pictures in case it somehow escapes!
Hopefully your friend or family member had no idea, your help getting a specimen for identification will be crucial in their new war with bed bugs.
Preventing Bed Bugs at Home
In reality, there are many cases in which getting exposed to bed bugs may be completely out of your control.
Visitors unknowingly bringing hitchhikers into your home, stray bugs attaching themselves to you in public transportation or outside in general, moving and finding that bed bugs were in the rental truck, or a bat or bird dropping through your chimney are all possible ways to be exposed and are completely uncontrollable.
Taking a few precautionary measures and being prepared at home is the best way to deal with these outliers in a reasonable and sane way.
Holes and cracks in walls can create bed bug highway. General wear, plumbing, and electrical wiring are just a few possible entrance points. You can easily seal these points with caulking on your own.
If you intend to seriously prepare against potential infestations, education yourself about the simple details of Integrated Pest Management (IPM) and picking up a few preventative IPM items is the best investment you can make.
Being prepared leaves you far ahead of most people when it comes to bed bugs.
Understanding what IPMs are and what they offer you as an exterminator is crucial to success against infestations of any size.
For an example of a preventative IPM, click here.
I've chosen products that will last literal decades if applied and installed correctly, providing you years of protection!
Vacuum and Clean
Vacuuming often as well as avoiding clutter will help decrease the potential severity of an infestation should one occur by reducing potential hiding places. Vacuums should be emptied into properly sealed bags and disposed of outside immediately if you ever suspect bed bugs to be present.
Bed Bug Powders
Making use of affordable and provenly effective bed bug powders such as diatomaceous earth (DE) and amorphous silica can provide passive protection once properly applied.
CimeXa, the primary manufacturer of amorphous silica at the moment, claims that a single proper application of the stuff can last up to 10 years if left undisturbed.
The relatively cheap cost to give it a try makes it a viable and meaningful method of bed bug prevention.
Always apply fine powders and chemical sprays while wearing a respirator – invest in your health!
Use Bed Bug Encasements
Setting up your home so that it is effortless to inspect can make identifying an infestation much easier.
The bed is the number one place to reinforce if hoping to deter bed bugs. Making your bed accessible and easy to break down will allow you to perform periodic inspections without hassle.
I would consider anything more frequent than a monthly inspection excessive.
Use a quality encasements, it will make your life much easier should you ever face an infestation.
The next section will be entirely dedicated to making your bed a haven; that's how important it is!
Communicate with Neighbors
Because bed bugs can sneak in from any direction, communication is an important tool in preventing them.
Asking neighbors, or potential neighbors, about bed bugs before purchasing or renting a place should be part of your routine.
Conducting a quick search for signs personally is like investing in free insurance.
Units above, below, and on either side of you all have the potential to be infested.
Let neighbors know that you would like to be informed of bed bugs should they come across them, and that you will do the same should you encounter them.
Try to communicate the importance of not using commercial bed bug "solutions" like foggers and bug bombs. As it stands, there does not exist an effective repellant that targets bed bugs specifically. In reality, bombs and foggers are the best way to spread the bed bug plague and serve to disperse infestations rather than killing them.
No home or person is immune to bed bugs. At the end of the day, you must decide how much your fear and hatred of them will control you.
You could prohibit visitors, avoid public places, check every car and truck you get into, and still get bed bugs.
Being aware of primary threat areas and taking the precautions shared above should put you at reasonable ease. If you want to take it a step further, protecting your bed with interceptors and other traps is my final suggestion outside of living in a bubble!
If you ever find yourself facing an infestation, be sure to make use of an Integrated Pest Management approach. It will be the difference between success and failure.
The Bed Bug Preventing Bed
Compared to fighting a bed bug infestation deep inside your mattress, taking steps to keep your bed safe is inexpensive, painless, and easy.
If you choose to proactively bug-proof your bed, you will be in a distinctly better position should bed bugs ever rear their ugly heads.
In addition to the guide above, you can download or print the Debedbug 8-Step Bed Bug Proof Printable!
If you ever suspect bed bugs lurking, the next step is to look for symptoms and then begin treating for them.
Before beginning this process, please note that it is necessary to take all recommended actions in one session. Any missed step negate the rest of your progress by contaminating steps taken earlier or later.
Begin by removing all bedding including sheets, blankets, pillow covers, bed skirts, etc., and run dryer on high heat for 20 to 30 minutes. To guarantee dead bed bugs at all life stages, a temperature of 120˚F must permeate. The high setting of a dryer should reach about 140˚F and do the job. Washing is unnecessary but can be done after items have gone through a complete drying cycle.
Repeat this step twice a week.
If infestations have completely ruined certain items, replacement is a fine alternative. New items will be exposed to bed bugs until completely eliminated though.
Ensure that the bed does not touch anything bed bugs might crawl across to bypass defenses. Move the bed away from walls, overhanging lamps, and out from under ceiling fans. Bed bugs may even drop from the ceiling onto the bed, although it is unlikely.
The next step is to cover the mattress and box spring in a vinyl, plastic, terrycloth, or similar quality encasement. Encasements deny bed bugs of their most typical homes and also blocks direct access to their food source by keeping new bugs out and old bugs locked in to die. They also make inspections much easier because bugs can easily be found on top of the typically white encasements, unable to scurry into hiding.
Pillow encasements can also be purchased for those wary of bed bugs being close to their face. While some brands guarantee an unbreachable zipper, placing duct tape over the zipper of any encasement provides added security. For more tips on selecting and protecting encasements, you can visit my blog post on them. Encasements are crucial!
When replacing sheets and blankets, always remember that bedding should never touch the floor. Inserting rails/gates like those used to protect children can help prevent spillovers during the night. It is dangerous to count on your unconscious self to keep bedding off the floor. Take whatever precautions are needed to prevent the problem. If using bed skirting, ensure that it does not touch the floor. Better yet, don't use one at all.
Finally, make use of bedpost interceptors! If you have bedposts, these are extremely valuable tools. The precautions we've put into place ahead of time make bedposts the only way to get to you. They are thus far more likely to be caught in interceptors. Interceptors serve both as a form of protection, as well as an indication of the infestation's status. They should be checked on a weekly basis and require no upkeep. If you do not have bedposts, you can try placing your bed on plastic bins with extremely smooth vertical sides or use a smooth one-sided tape all around the box spring to at least discourage climbing.
Before getting into bed, always shower and wear clean clothes kept safe in any bug-proof container (plastic bags, bug boxes, etc.) to prevent hitchhikers from sneaking in with you.
After following this procedure, you should be resting easy.
This chart will help you compare and narrow down your choice of the best mattress encasements found online!
Click through to read more on each and to browse the box spring and pillow encasements on the page it leads to.
Detecting Bed Bugs Early
Because bed bugs are impossible to see coming, the importance of early detection cannot be understated.
Bed bugs caught within the first two months of arrival are far easier to eliminate.
Like heat treating your luggage after travel, measures taken to catch bed bugs in their early stages have the potential to save you just as much grief at an even lower entry cost.
For the purpose of early detection, I recommend reading about passive, active, and intercepting traps at this post dedicated to the subject.
Passive monitors or interceptors will absolutely suffice when taking preventative measures. They require no upkeep and are very effective when paired with a properly secured bed.
Here are the best passive and interceptor traps around – compared!
For more on active traps and in-depth reviews, check out the bed bug traps post.
All you have to do is check your trap once a month!
What Not to do
First and foremost, if you find yourself worrying about bed bugs at home, do not begin treating for them without solid confirmation.
Look for the signs and symptoms of bed bug in the bedroom first. Only after finding definitive proof should you begin treatment.
If a pest control operator or professional ever recommends preventative treatment without confirmation, you should be very wary. There are a lot of great pest control operators, knowing how to find a great one will make all the difference!
Do not try products without doing some research.
Bug bombs and foggers are commonly marketed as effective against bed bugs, when they actually spread them around homes rather than eliminating them; this typically makes matters much worse by turning a one-room problem into a whole-house problem. Exposure to such chemicals is also not healthy for people.
Do not apply diatomaceous earth or amorphous silica haphazardly. Many sources propose DE and Cimex as cheap cure-alls that can do no wrong. They are actually not without their side effects. Research has shown silicate matter to be cancerous in cases of repeated acute exposure.
You should never be inhaling any dust or fine particulate which is why I heavily recommend a quality respirator. Proper application is absolutely critical crucial. Learn exactly how to safely apply bed bug powders.
Do not trust any product labeled as a "bed bug repellant."  True repellants formulated for bed bugs do not yet exist; any product advertising as such is likely to be ineffective. Like bug bombs and foggers, they may even make your situation worse by causing bed bugs to escape deeper into your home. There are plenty of bed bug sprays on the market that do work!
Thanks for Reading!
Knowledge and vigilance prevent bed bug infestations. There is no substitute!
Without guaranteed methods of prevention, it is up to individuals to protect themselves from situations that have higher chances of exposure.
This post should have you feeling confident in your ability to assess the most common high-risk scenarios so that you can avoid them or react appropriately.
Of all the content in this page, I hope that you follow the ideas and guidelines set by the travel section most closely. Armed with this knowledge, you will be eliminating the most often cited source of bed bug infestations.
Following this page on preventing bed bugs, you might continue on to learn how to get rid of bed bugs.
With the cumulative knowledge of identifying, preventing, and treating, you will be well equipped to nip bed bugs in the bud should they ever come about.
Please leave requests of feedback in the comments section and best of luck getting debedbugged!
More Resources
References
https://debedbug.com/references/