There are several things you can do to make your home harder for bed bugs to infest. Taking just a few easy precautions will help you prevent potential infestation from getting out of hand.
Bed bugs are a growing problem that won't be going away any time soon.

Prevention is the best form of medicine. The saying's true when it comes to bed bugs too!
Securing your bed is the first thing you should do if your goal is to prevent infestations. Doing so will make the biggest difference of all.
Just as importantly, take the time learn the most common causes of bed bugs so you can avoid making those mistakes and drastically reduce your chances of ever bringing bed bugs home.
---
How to Protect Your Bed from Bed Bugs
Quick Tip
Protecting your bed should be your number one priority when preventing bed bugs at home.
It only takes two tools to completely protect your bed. They are: encasements and interceptors.
Having quality bed encasements installed will make your life much easier should you ever face an infestation.
A good encasement will completely save you mattress, make it easy and quick to check for bed bugs, and will deny them their favorite place to hide.
Interceptors simply make it impossible for bed bugs to climb your bed posts. They trap bugs that try, which makes checking for bed bugs as easy as peeking inside the dish of your interceptor.
Anyone can secure their bed with these 5 easy steps:
Physically move your bed away from any and all walls.
Ensure that no part of your bed touches the ground.

This means using a short bed skirt, or not using one at all.

Install encasements on your mattress and box spring.

Pillow encasements are optional and can be used if worried about bed bugs making homes near your face.
Mattress and box spring encasements are both necessary.
Place duct tape on edges and staples of your box spring to avoid poking holes through encasements.

Install bedpost interceptors.

Interceptors are very important. Bed posts are the only remaining way for bed bugs to get to you since they can't live in your mattress or box spring. Interceptors take that opportunity away from them.

Check interceptors every week or two to see if they have caught anything.

Bed bugs that had tried making their way to you for a meal will be trapped, interceptors make it a breeze to take pictures to compare what you find with pictures online.
Quality encasements crucially deny bed bugs all their favorite hiding places.
Here are a few of the best mattress encasements available online: 
| | | | | |
| --- | --- | --- | --- | --- |
| | AllerZip Smooth | SafeRest Premium | SureGuard | Sleep Defense |
| Lab Tested | Yes | Yes | Yes | Yes |
| FDA Registered | Yes | Yes | No | No |
| Zipper | BugLock 3-part | Velcro, Micro-Zipper | Velcro, "Zipper Technology" | Velcro, Zip-tie |
| Material | Cotton, polyester terry fabric | Polyester knit fabric | Polyester knit fabric | Polyester knit fabric |
| Sleeping Surface | Cotton | Cotton Terry | Cotton Terry | Polyester knit fabric |
| Rating | 5.0 / 5 | 4.6 / 5 | 4.0 / 5 | 3.4 / 5 |
| Price | $$$ | $$ | $$ | $ |
| More | READ REVIEW | READ REVIEW | READ REVIEW | READ REVIEW |
| Why Buy? | Best Overall | Great Value | Budget Comfort | Budget Friendly |
Click through to read more on each. Feel free to browse our box spring and pillow encasement reviews on the encasement page.
---
Use Preventative Bed Bug Powders
Making use of affordable and proven bed bug powders such as diatomaceous earth (DE) or amorphous silica will provide protection for years after a single application.
CimeXa, the primary manufacturer of amorphous silica these days, reports that a single application of the stuff can last up to 10 years when left undisturbed.
Always wear a respirator when applying powders to avoid inhaling dust.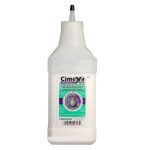 Please wear a respirator while applying powders to prevent micro-abrasions within your lungs and other potential medical complications.
For more information on how and where to apply preventative powders, visit the page dedicated to them.
---
Other Ways to Prevent Bed Bugs
Keep Clutter In Check
Unlike flies or cockroaches, bed bugs are not a direct outcome of unclean living conditions.
While that may be the case, studies have shown that cluttered houses have a greater chance of severe and persistent bed bug infestation.
Things like crowding and clutter offer bedbugs more places to hide and grow in numbers.
Simply keeping your floors clean helps get rid of many possible hiding places.
Vacuuming
Pest control operators often request that clients vacuum before professionally treating their homes.
Vacuuming helps by clearing out the nooks and crannies where bed bugs love to hide. Vacuuming also makes it easier to inject preventative bed bug powders into tight spaces that'd otherwise be full of dust.
When it comes to vacuuming an active infestation, features like advanced HEPA filters are important to keep contaminants inside.
Regular vacuums suck in bed bug feces and bits of regurgitated blood before throwing them into the air instead of filtering them out.
If using a household vacuum, be sure to dispose of the filter bag in a tightly sealed plastic bags outside immediately if you believe bed bugs may be present.
Quick Tip
Never trust a vacuum to keep live bed bugs in it.
Seal Entry Points
Cracks caused by general wear, holes used to route plumbing, and electrical wiring routes are just a few possible entrance points for bed bugs.
Holes between walls can create bed bug highways in multi-unit housing like apartments.
Sealing them is easy with a little bit of caulk or sealing putty.
Communicate with Neighbors
Sealing entrance points is a good place to start, but since bed bugs can sneak in from any direction, communication with neighbors is a necessary thing to prevent them.
Units above, below, and on either side of you have the potential share their infestation with you.
Talking with neighbors gives you a chance to share news and knowledge honestly. Openly communicating is the absolute best way to prevent an infestation from getting out of hand in a multi-unit situation.
Here are some tips to point you in the right direction:
Ask future neighbors about bed bugs before purchasing or renting a place.

People are typically happy to share if they've had any problems with management.

Ask neighbors to let you know if they ever come across bed bugs.

Offer to do the same for them. Honest communication is important here!

Try to communicate the importance of not using over-the-counter "solutions" like foggers and bug bombs.

Bombs and foggers are the best way to spread infestations. Bed bugs will scurry away into neighboring units or into building foundations if they smell them.
Bombs and foggers do not kill bed bugs.

If an infestation does come about, coordinate efforts and handle the situation together quickly.

Having a comprehensive plan is the only way to get rid of bed bugs in a multi-unit living situation.
The burden of paying for professional treatment may fall on the owner or tenant depending on the laws in your state or country.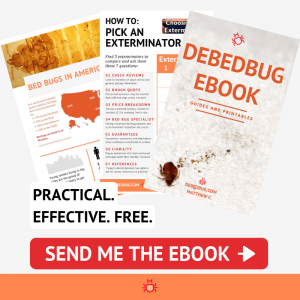 Where Should I Check for Bed Bugs
As we discuss in the bed bug causes page, the most common places you'll bump into bed bugs are family homes and apartments.
Taking the time to check your family's guest room, hotel room, or hostel bed before staying the night is the best way to make sure you don't bring hitchhiking bed bugs home!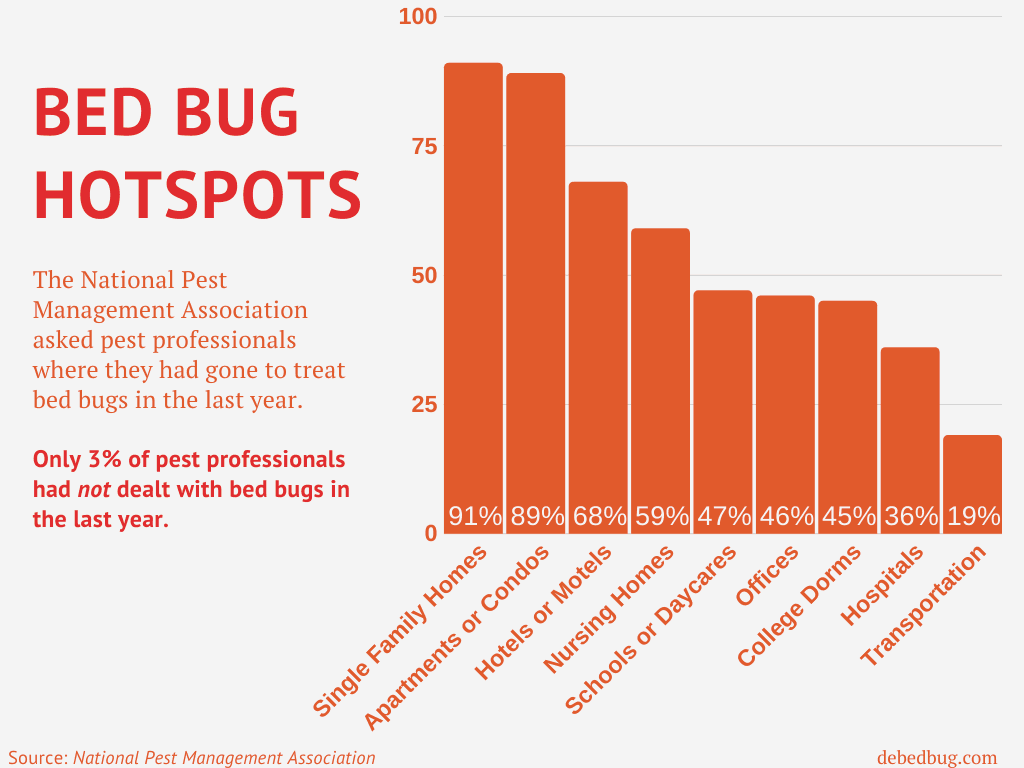 Hotels at all price points, motels, bed and breakfasts; any bed that sees multiple people a week is at risk of housing bed bugs.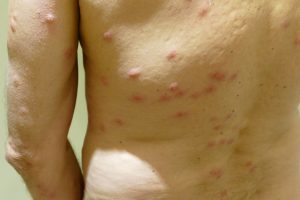 Paying attention and being careful while traveling is one of the most realistic and reliable ways to protect yourself from bed bugs.
How to Check Rooms for Bed Bugs
Here are a few steps you can take to protect yourself the next time you're on the road:
Read reviews online and look for any mentions of bed bugs.
Inspect your room before unpacking.

Look out for rusty brown and black stains, dried blood spots, molts, eggs and other signs. See bed bug signs and symptoms for more.
Pay special attention to the bed and all furniture nearby the bed.
Check behind: headboards, under mattress sheets, along mattress seams, along encasement zippers, under and between joints of couches, nightstands, love seats, chairs, closets, etc.

Keep luggage sealed inside plastic bags while there.

Garbage bags are acceptable if you tie a knot at the top.

Keep clothing in a separate airtight container away from the rest of your bags.

Bed bugs are attracted to human scents and will be hunting for your smell on clothes.

Store luggage and clothing away from the bed and off of the floor.

Use provided luggage stands, hangers, and the bathtub to keep your stuff safe.
Bed bugs can't climb smooth-sided bathtubs and have trouble crawling along metal hangers.

Make a plan to treat everything as soon as you get home. More on this in the next section.
A flashlight will help you check dark narrow spaces which are a bed bug's favorite hiding place.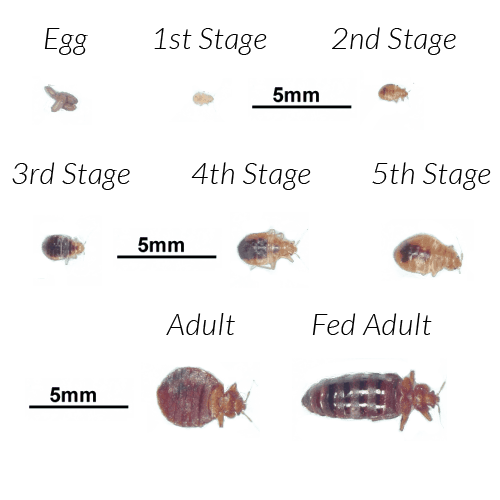 If you do find any signs of bed bugs, let management know and ask to be moved to a room several units away. Check out this page for details on all the symptoms there are to look for.
If you suspect that you have been exposed to bed bugs, steps should be taken to protect your home before you get back.
Following the steps in the next section will help you do exactly that.
For real life examples of the signs we've gone over and to see what a bed bug looks like, take a peak at the image gallery.
Better safe than sorry absolutely applies to bed bugs. Be especially careful if you've read reviews mentioning them or heard stories from neighboring rooms.
How to Stop Bed Bugs at the Door
The second part of traveling safely is not bringing them inside your home. Preventing bed bugs is all about staying two steps ahead and not giving them a chance, even if you happen to bump into them during travel.
Here's the simple process that we follow after every trip – it hasn't failed yet!
Before getting home, commit to immediately cleaning your clothes and baggage. This is honestly the hardest step after a long tiring trip!
Leave your bags outdoors before going in.
Change into clean clothes and toss everything you wore directly into the washer or dryer.
Bring your packed clothes in and either wash and dry, or just dry all of the clothing you brought traveling.

If using a dryer, run on high for at least 20-30 minutes.

Use your bed bug heater on the entire suitcase and its remaining contents.

Do this in several batches if needed while leaving the stuff that doesn't fit outdoors.
If you do not have a bed bug heater, treat dryer-safe items in the clothing dryer.

Take a shower while the dryer and heater run. Wash hair well.
If you do not have a bed bug heater, leave luggage outside in direct sunlight for a week before bringing it indoors. Check thoroughly for eggs and baby bed bugs before bringing it back in.

A week is just a guideline. It gives eggs time to hatch and the nymphs time to evacuate the hot luggage. Checking just in case is still very important.
One of the best ways to stop yourself from bringing bed bugs home is through the generous use of a bed bug heater – especially if you travel often.
A heater allows you to treat all of your stuff at once and gives me much more confidence in everything being bed bug free compared to leaving it outside and hoping for the best.
The ZappBug Heater, for example, easily fits most suitcases and kills bed bugs at all stages when used as instructed. It has the potential to save you thousands in professional treatment, not to mention the bites and stress.
Take special care when following the steps above if you ever find suspect bites or possible signs of bed bugs during your travels.
I would also definitely install encasements and interceptors if you haven't already.
---
Travel Safe Printable
It's hard to keep track of things while traveling. That's why we designed another checklist for you to bring on your journeys.
You can get this and several more helpful printables in the free ebook. It's a condensed reference for everything you might want to know about bed bugs.
How to Avoid Bed Bugs
In reality, there are many cases in which bumping into bed bugs is out of your control.
They are one of the most successful pests in the world and can be found in every single American state.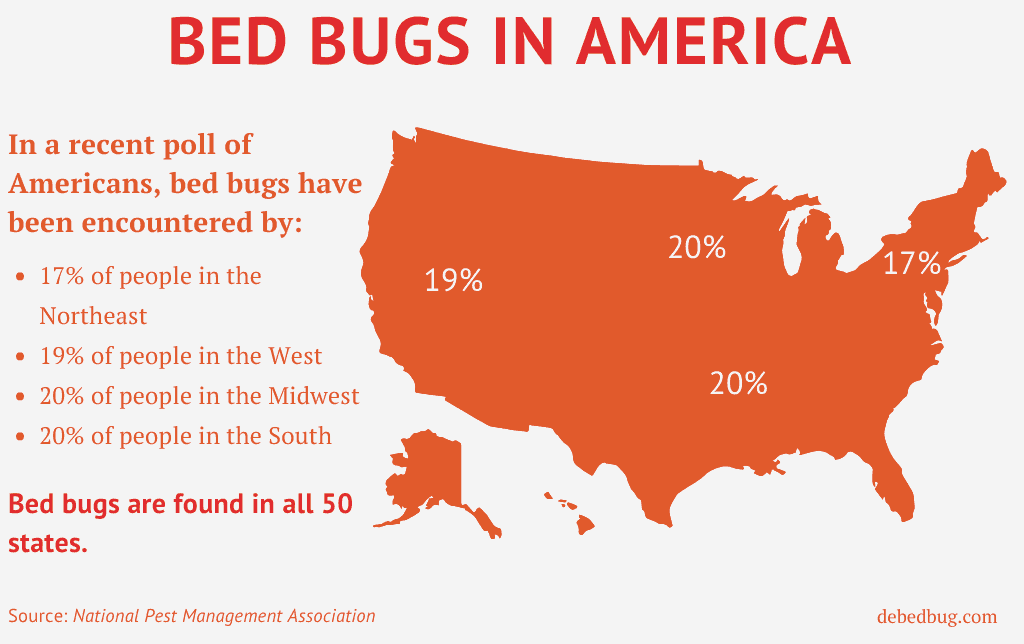 How diligently you clean your house doesn't matter to bed bugs. You get them by bumping into an infestation unlike flies, cockroaches, or termites, which are attracted by things like filth and decay.
Visitors unknowingly bringing hitchhikers in, stray bugs attaching themselves to you in public transportation, moving homes and finding that bed bugs were in the rental truck, or a bat or bird dropping through your chimney are all possible ways to be exposed and are simply out of your control.
Understanding how to identify and avoid situations that are known to cause bed bugs will help you prevent infestations more than anything.
For more on how you're most likely to get bed bugs, we have a page dedicated to sharing their most common causes and favorite places to live so you know where to be extra careful.
Once you learn their favorite places, learning exactly where to look for symptoms in those places is very helpful. To help you know where and what to look for, we have a page dedicated to all the signs and symptoms you can expect to show up when bed bugs are creeping.
We also have pages showing pictures of bed bugs in all sorts of environments and pictures of bed bug bites on real people to give you a good idea of what to look for.
If you want to be totally prepared for a potential infestation, setting up a
plan to get rid of bed bugs
before they happen is the best investment of time you can make.
Having a plan allows you to just start doing once you suspect you might have an infestation and avoids the worst part – sitting around, researching, and finally ordering the stuff you need before starting treatment.
For an example of a preventative plan, see the last example at this link.
Thanks for Reading!
Of all the content on this page, I hope that you come away remembering to always check your room before settling in!
Armed with the knowledge of how to do that, you will be reliably stopping the most common causes of infestations.
Knowing how to treat infestations before it happens is very handy since you won't be doing research while being plagued by bites. The same is true of learning how to treat bed bug bites.
With the combined knowledge of identifying, preventing, and treating, you will be ready to nip bed bugs in the bud should they ever come about.
Feel free to leave requests and feedback in the comments section.
---
More Resources
References
https://debedbug.com/references/
---