Not all vacuums are designed to deal with bed bugs. A good pest vacuum will capture bed bugs at all life stages while also helping clean up dead bugs, shells, and eggs.
Professionals use special vacuums with extra filtration and suction to do the job. These days, there are many affordable options that do a great job.
Why Get a Pest Vacuum
Vacuuming removes dead bugs, molts, and hatched eggs before they pile up.
Vacuuming cleans out nooks and crannies, making it easier to insert steam, powders, and sprays where it matters most.
Pest-rated vacuums capture bacteria and viruses instead of sucking them up and throwing them in the air.
Vacuums clear out powders before reapplication or steaming.
The wrong vacuum won't do anything but annoy bed bugs and drive them deeper into your furniture and home.
Important Vacuum Features
Key Specifications
Powerful suction
Aggressive filtration
Suitable attachments
Having plenty of suction is crucial for reaching bed bugs hiding deep in cracks and crevices. It's always better to have more power over too little.
When it comes to vacuums, the most reliable measure of power is a unit's CFM, or Cubic Feet per Minute.
Simply put, CFM measures the amount and speed of air flowing through a vacuum. It is comparable to horsepower when looking at cars.
A higher CFM means more power – we recommend vacuums with at least 60 CFM of suction for dealing with bed bugs.
The more CFM the merrier!
Bed bug eggs (the smallest stage in a bed bug's life cycle) are about 1 millimeter, or 1000 microns, long.
The lowest level of HEPA filtration captures 99.97% of particles 0.3 micron or larger.
When it comes to capturing tiny bed bugs, HEPA filters are a great place to start. They will definitely catch them at all life stages.

All the vacuums we recommend and have reviewed below feature a HEPA filter.
While that level of filtration can seem excessive if you only consider bed bug eggs, it serves a purpose.
A 0.3-micron filter will capture bacteria and viruses found in bed bug feces and stains.
A less aggressive filter would suck up bacteria and viruses before blowing them right back out into the air.
Although bed bugs do not transmit disease, it is nice to know that you don't have to inhale their waste.
Aggressive filtration and plugs designed to stop bugs from escaping are important features.
Having the right attachment for the job will make your vacuum much more effective. A vacuum with a ton of airflow but the wrong attachment will give weak results.
Quick Tip
The right attachment creates a solid seal and makes the most of your vacuum's power.
You'll be using your vacuum on mattresses, box springs, furniture, baseboards, cracks, and crevices.

A narrow crevice tool and an extension tube are the perfect attachments to get into those tight spaces.
A good narrow crevice tool is essential.
Some manufacturers get fancy and include things like mattress attachments with "turbo brushes." These are useful, but not necessary.
---
Best Bed Bug Vacuums Reviewed
Click any product name or picture to go to the corresponding review on this page:
| | | | | | |
| --- | --- | --- | --- | --- | --- |
| | Lil Red | ERGO | Express | Omega | Vento |
| Power | 71 CFM | 106 CFM | 79 CFM | 99 CFM | 66 CFM |
| Filter | 2-Quart Bag, 3 Stages | 6-Quart Bag | 1-Pint Cartridge | 1-Gallon Cartridge | 4-Quart Bag |
| Weight | 6.5 Pounds | 10.3 Pounds | 4 Pounds | 12 Pounds | 26 Pounds |
| Rating | 90 / 100 | 100 / 100 | 73 / 100 | 96 / 100 | 76 / 100 |
| Relative Cost | $ | $$ | $$$ | $$$ | $$$$ |
| Current Price | View | View | View | View | CHECK PRICEbackground="#e15f00" color="#ffffff" size="8" #ffffff" rel="nofollow"]View[/su_button] |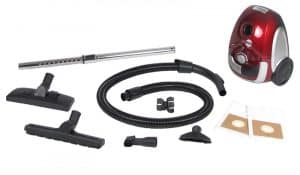 Atrix Lil Red HEPA Vacuum Review
Power: 71 CFM
Filtration: 2-quart HEPA filter bag, reusable foam premotor filter, reusable exhaust filter
Weight: 6.5 pounds
This is the most affordable option of all the vacuums we'll be reviewing. That doesn't mean it isn't great at what it does!
The Lil' Red packs a punch with 71 CFM of suction power. It offers great value in the form of features you'd expect in far more expensive vacuums.
Who Should Buy it?
If you're on a budget, this is the vacuum for you.
The Lil' Red is a great choice for anyone treating a small amount of space. Think one or two rooms in an office, apartment, condo, or dorm.
It is also perfect for vacuuming vehicles.
A vacuum with more power and containment plugs will be worth the money if treating more space.
If you want a vacuum that is effective but cheap enough to get rid of after an infestation, the Lil' Red fits the bill.
The Lil' Red is the best budget bed bug vacuum available.
Highlights:
Large dial for easy power adjustment
Affordable replacement HEPA filter bags
16.5 feet of retractable power cord
6-foot hose, 22 – 36-inch extending wand
5 attachments, including a crevice tool
Handle for convenient mobility
Compact size for easy storage
Lightweight at 6.5 pounds
1 year limited warranty
Filters:
Having a HEPA filter bag makes this vacuum much better than regular vacuums at dealing with bed bugs.
As with all pest vacuums, the Lil' Red's filter bag must be thrown away after each treatment session.
The 2 stages of filtration should be thoroughly cleaned and inspected after each use. Especially because hose and filter plugs are not included.
Cleaning and inspection are important. Skip either step and you'll be giving bed bugs a chance at surviving and escaping your vacuum.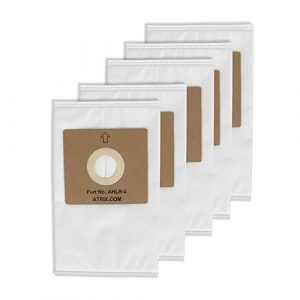 Filters for the Lil' Red can be found online. They are inexpensive compared to the cartridge filters in more advanced vacuums.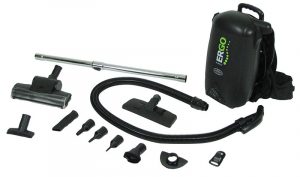 ERGO Backpack HEPA Vacuum Review
Power: 106 CFM
Filtration: 6-quart HEPA filter bag
Weight: 10.3 pounds
The ERGO backpack is the strongest vacuum on this list. It's somehow one of the more affordable ones too.
It packs a whopping 106 CFM and offers the best value of power per dollar.
Weighing 10.3 pounds, this vacuum is a workhorse that will suck up anything you point it at.
Its backpack design makes it easy to maneuver and comfortable over prolonged use. The backpack includes a utility belt to help hold onto all the accessories you'll need for the job.
Who Should Buy it?
The ERGO backpack is an excellent choice for anyone wanting a serious bed bug vacuum.
It is our top recommendation because it is affordable and designed with bed bugs in mind.
The attachments, carry design, capacity, power, and filter were all chosen to make capturing bed bugs easier.
The ERGO also works as a blower and includes a set of attachments for that purpose.
It is a powerhouse of a vacuum that you'll enjoy using at home for years – long after the infestation is over.
Highlights:
Designed specifically for bed bugs and pests
Hose and filter plugs included
Affordable replacement HEPA filter bags
Backpack design for comfort and convenience
Generous 8-Quart filter capacity
6-foot hose, 22 – 37-inch extension wand
5 attachments including a crevice tool
1 year limited warranty
Quick Tip
You will need your own extension cord for the ERGO – the included cord is only a couple feet long. We recommend a 15′-20′ power cord for most homes.
Filters:
We recommend the ERGO to anyone who wants a great vacuum that doesn't break the bank.
Most vacuums meant for pest control use expensive cartridges over bags.
By using filter bags instead of cartridges, the ERGO saves you money. You will be going through a few filters over the course of an infestation. They add up.
Never trust a vacuum with live bed bugs inside. Throw away used filters after each use.
Cartridges make sense for pest management professionals dealing with multi-unit and advanced infestations. They are typically too large and expensive for the average home infestation.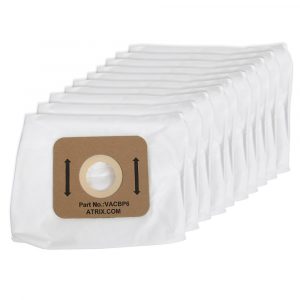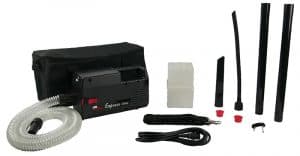 Atrix Express Plus HEPA Vacuum Review
Power: 79 CFM
Filtration: 1-pint immediate containment HEPA filter cartridge
Weight: 4 pounds
The Atrix Express manages to be much lighter than the budget Lil' Red. It also ships with more suction and several advanced features. A clear hose, hose plugs, filter plugs, and a HEPA filter cartridge make it a premium vacuum.
A clear hose makes inspecting for sneaky straggler bugs a breeze.
You won't find a more portable and lightweight HEPA rated vacuum than the Atrix Express.
Who Should Buy it?
Weighing only 4 pounds, the Atrix Express Plus is for those who value portability and comfort.
It's meant for anyone dealing with early to middle-stage infestations.
Those who want a featherweight option that packs a punch will love with the Express.
The Express Plus only supports 1-pint cartridges. These fill up fast but are enough for small jobs.
If you want a filter cartridge vacuum on a budget, this is a strong option.
As far as vacuums go, the Express is relatively inexpensive. The price of replacement cartridges can add up though.
Highlights:
Designed specifically for pests
Hose and filter plugs included
Immediate containment HEPA filter cartridge
Generous 25-foot power cord
Clear 5.6-foot hose, 18 – 36-inch extension wand
Carrying case for unit and accessories
5 attachments including 1 crevice tool
Extremely light at 4 pounds
18 month limited warranty
Filter:
Worried that bugs might escape from the vacuum bag as you're changing or tossing it?
The Atrix Express is a low-cost vacuum that uses immediate containment HEPA filter cartridges.
Cartridges capture bugs, molts, bacteria, viruses, and eggs and keep them in with plugs. They don't come with the danger of ripping or tearing, unlike filter bags.
HEPA cartridges are expensive because they are convenient, sanitary, and easy to change.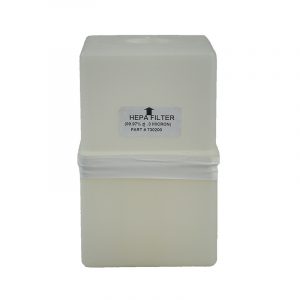 When vacuuming bed bug waste, sanitary and secure are valuable features. Cartridges are worth it to professionals and those who deal with bed bugs often.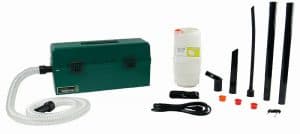 Relative Price: $$$
Rating: 4.8 / 5.0
Power: 99 CFM
Filtration: 1-gallon immediate containment HEPA filter cartridge
Weight: 12 pounds
This is a commercial grade pest vacuum through and through.
Unlike the Express, the Omega does not trade power or filter capacity for weight savings.
The Omega weighs 12 pounds – 3 times as much as the Express. It features a 1-gallon filter. That is 8 times as much volume as the Express and 4 times as much as the ERGO.
It boasts 25% more suction power over the Express. The Omega doesn't skimp on the accessories or 3-year warranty.
An optional backpack attachment is available for those who could use the comfort. It's a worthwhile buy if you'll be using the vacuum for any big jobs.
Considering its suction power and features, the Omega offers a lot for a reasonable price.
Who Should Buy it?
The Atrix Omega is a professional grade vacuum.
It will deal with any stage of infestation. Individuals, pest management professionals, and property managers will never feel outgunned.
It is also useful for dealing with other pests. Handle cockroaches, ants, and bees, rodent droppings, hazardous chemicals, and more with ease.
We recommend this vacuum to property managers, and pest management professionals. It's meant for people who deal with advanced infestations.
This is the professional's choice. It is a reliable and powerful workhorse made to be traveled with. It is fully featured to deal with bed bugs and is available at a competitive price.
Highlights:
Designed specifically for pest control professionals
Hose and filter plugs included
Immediate containment HEPA filter cartridge
Generous 1-Gallon filter capacity
Generous 25-foot power cord
Clear 5.6-foot hose, 18 – 36-inch extension wand
Self-contained vacuum and accessories
5 attachments including small and long crevice tools
3 year limited warranty
Filter:
The Omega uses an immediate containment filter cartridge.
The 1-gallon cartridge is a self-contained plastic box. It that traps bed bugs at all stages, as well as their feces, regurgitated blood, and anything else you point it at.
Hardy construction removes any danger of ripping or tearing, unlike filter bags.
The Omega's 1-gallon filter capacity is generous. You will be able to clean entire homes or several units without needing to replace it.
Filter and hose plugs are included for safe transportation between treatment sites.
Only professionals should transport or reuse used filters. Even with plugs installed, use extreme caution. Bed bugs escaping and infesting your car would cause a lot of trouble.
Never trust or store used cartridges. Throw them away after each session when dealing with live infestations.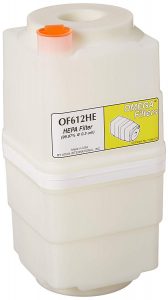 Cartridges are expensive because they are convenient, secure, sanitary, and easy to change.
They are easily worth the money for those who are regularly exposed to infestations.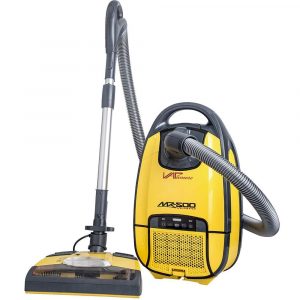 Vapamore MR-500 Vento HEPA Vacuum
Relative Price: $$$$
Rating: 3.8 / 5.0
Power: 66 CFM
Filtration: 4-quart HEPA filter bag
Weight: 26 pounds
In the world of cleaning, Vapamore is a household name.
Historically associated with steamers, Vapamore has put their expertise into creating this vacuum. The Vento ships with advanced attachments that are useful for more than pest control.
The Vento is a tank, weighing in at roughly 26 pounds.
It is the closest thing to a "traditional" vacuum on this list and can be used as a home vacuum when not being used as a pest vacuum.
Who Should Buy it?
The Vento is a good pick for anyone dealing with an infestation that happens to be in the market for a new home vacuum.
26 feet of retractable power cord and built-in attachment storage make it easy to store. Its lifetime warranty and affordable filter bags make it a reliable multi-use vacuum.
Highlights:
Affordable replacement HEPA filter bags
Generous 26-foot retractable power cord
5-foot hose, 12.5-inch crevice attachment
Built-in accessory storage
6 attachments including crevice tools and powered heads
Limited lifetime warranty
Filter:
The Vento uses affordable HEPA filter bags with a reasonable 4-quart capacity.
The vacuum comes with 6 filter bags off the bat – plenty for most infestations in their entirety.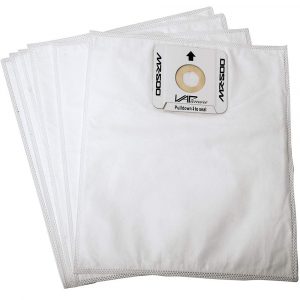 Filter bags are a money-saver. HEPA cartridges are many times more expensive to replace.
Seeing as filters must be replaced after each use, savings add up.
As with any contact-based bed bug tool, you should target the usual spots where bed bug symptoms are found.
Areas to Focus Vacuuming
Mattresses
Furniture
Upholstered items
Clothing
Cracks and crevices
Drapes and blinds
Baseboards
Floorboards
Edges of carpet
Rugs
Hard floors
Cars

Quick Tip
Spend extra time vacuuming nooks and crannies. Areas where the carpet meets the wall are often overlooked hotspots.
By taking the time to clean these spots out, your steamer, powders and sprays will get in deep where it matters most.

There are no hard and fast rules. Vacuum wherever you've seen signs and anywhere you think could use some cleaning.
The more you vacuum, the fewer places there are for bed bugs to hide.
Tips On Using Your Vacuum
A vacuum will help immediately reduce bed bug populations when used the right way. While treating bed bugs.
When Should I Use My Vacuum?
Vacuuming first removes easy-to-reach bugs and dust from spots you'll be treating. Clearing dust and debris out of cracks and crevices makes a big difference.
Pesticide products will penetrate deeper and reach bed bugs right where they live.


Do not vacuum after using a steamer. You should never vacuum wet particles with these vacuums. Wet particles will damage any vacuum that isn't designed for wet use.
One of our favorite uses of vacuums is sanitizing your bed before installing encasements.
Steps to Take Before Installing Encasements
Vacuum
Steam, heat-treat, or apply sprays if desired
Allow your bed to fully dry
Install encasements
While it isn't necessary to clean your bed before installing encasements, most people prefer knowing that they're not sleeping on top of a live bed bug colony.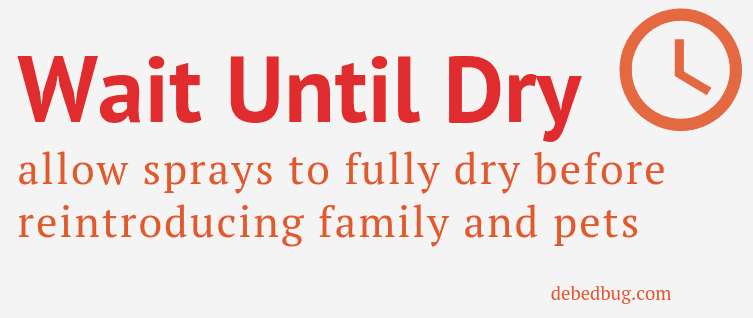 When Should I Replace Filters?
Replace filter bag after each use.
Never trust a vacuum that has live bed bugs inside.
Bed bugs won't die after getting sucked into a vacuum. Tossing used bags and cartridge is the best way to make sure bugs won't escape through the hose or filter.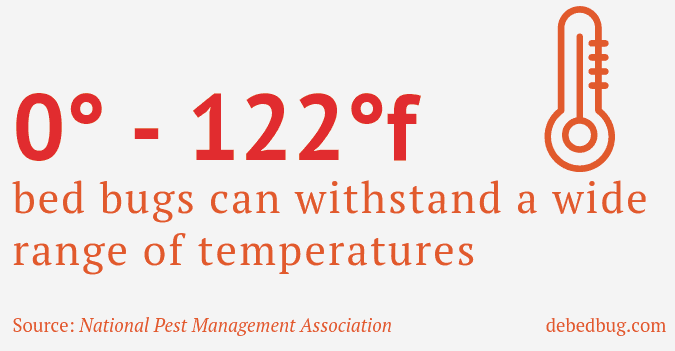 Replace filters when full or every 2 to 3 years once you're done using the vacuum for bed bugs.
HEPA Bags Vs. Cartridges
HEPA bags and cartridges provide the same level of filtration. They each have positives and negatives.
HEPA bags are cheaper than cartridges and do not produce as much waste. There is no built-in way to seal bags for later disposal. They can be taped shut or sealed in tied bags though.
Change and remove filter bags carefully. Ripping and tearing is possible as they are delicate. Be careful to avoid exposure to contaminants like bed bug feces and regurgitated blood captured in the bag.
HEPA cartridges are also called immediate containment filters. They are secure plastic bug prisons. Unlike bags, cartridges include plugs to make sure bugs can't get out between uses. Cartridges are perfect for professional use. Switching them out is fast and foolproof unlike with bags.
Cartridges reduce the danger of exposure to contaminants thanks to their design.
They are also much more expensive than bags and can be excessive for personal small-scale use.
If your heart is set on a filter cartridge vacuum, consider the Atrix Express. It won't break the bank and has a filter big enough to get the job done.
References
https://debedbug.com/references/
---