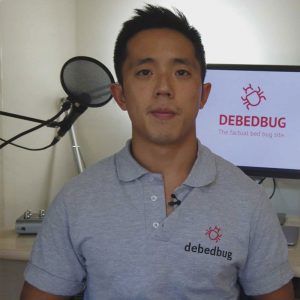 I'm Matthew, the Founder of Debedbug. Nice to meet you and thank you for choosing Debedbug!
I decided to create this site after a terrible infestation that involved a couple of sub-par pest control companies back in 2013. After returning home from living abroad, my second month back was spent emotionally and physically battling bed bugs as bites began to appear.
Just like you, I took to the Internet looking for answers. While you can find all sorts of valuable information, there was no one website that covered everything I needed to know about bed bugs. There were no straightforward guides and information contradicted itself everywhere I looked.
In a time of great stress, I found myself too impatient to put the information together myself, which is why I decided on expensive professional help. By creating this site, I hope that you find yourself empowered to tackle bed bugs on your own, or confident in your ability to select a qualified exterminator.
We've dredged the internet so you don't have to. We've got you covered whether you're interested in products safe to use around kids and pets, or you just want to know where you're most likely to bump into bed bugs.
Speculation tends to fly around as fact when it comes to bed bugs. A lot of the information being shared is only there to help sell some "miracle" product. This is why we include citations that come from reputable academic and governmental sources.
I learned a lot from my first infestation and got to put all of that knowledge to the test in 2014 when moving into a new apartment. We discovered that the neighbors had bed bugs. I took preventative action immediately this time around and it made a huge difference. That experience is a big reason why prevention is a major category here.
Our goal is to give you the knowledge you need to spot and stop bed bugs before they get out of hand. We've created the tools to take the fight to them.
The ebook is one of our favorite resources; it was created as an all-in-one guide to get you to take action right away.
Debedbug is about comprehensive bed bug prevention, identification, and elimination. It is the factual bed bug site for everything there is to know about the pest without ads or BS.
We believe that knowledge is power.
Our goal is to alleviate a bit of stress, get you the information you need, and help show you the next steps to take.
I will personally answer questions sent to the addresses below.
Best,
Matthew
Contact:
For inquiries or concerns, contact us at:
contact@debedbug.com
Or send mail to:
713 West Duarte Road #G811
Arcadia, CA 91007
Or leave a comment!
Let's get started!