Protecting California's Renters Against Bed Bugs
A new state legal amendment requiring CA landlords to provide tenants with written information about bed bugs and how to report possible infestations to their landlords has been enacted.
The law from which the amendment stems from is unique in that it is aimed specifically at bed bugs.
This is due to the serious expenses associated with them, and the difficulty professionals have with containing them. If you're on this site, you're likely no stranger to this reality.
That difficulty is magnified in multifamily housing where people live in close proximity – such as in apartments.
Curious about the entire extent of protections you have as a tenant in California? Give the California Renter's Bed Bug Protections post a read.
Changes to The Bed Bug Law
You can skip to the bottom of this section for an infographic on the changes.
The amendment to Section 1942.5 has put into place a number of protections for renters that were glaringly missing in the past.
For example, landlords can no longer show, lease, or rent out units with active infestations.
It also disallows landlords from retaliating against tenants who report their bed bug problems.
Landlords cannot raise rent, reduce services, or otherwise retaliate against a tenant who notified or complains property owners about a suspected bed bug problem.
These two rules alone are a big deal in terms of promoting human decency and a basic standards of living.
That being said, I think that we can agree that it's amazing that these protections weren't already in place.
Landlords will now also be required to provide written disclosure of a unit's bed bug infestation history from the past two years should prospecting tenants ask for it.
Also new is a requirement that landlords must hire a licensed pest control operator (PCO) within two days of receiving notice.
The professional must inspect the complaining unit, as well as its immediate next-door neighbors, units across the hall, above, and below the affected unit.
Finally, one should note that property owners are not yet required to inspect units for bed bugs without a complaint or notice on the books.
If, however, the landlord has received notice, or if an infestation is apparent through visual inspection, the landlord is presumed to know about the infestation, therefore making them liable.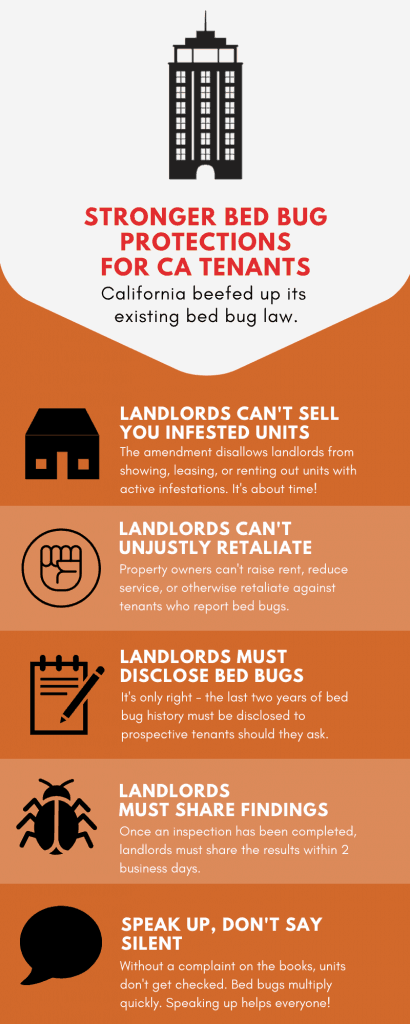 Feel free to use this graphic so long as you attribute it back to this site. For a full-resolution copy, click the image or see this link.
The Amendment is already in effect for new Californian tenants as of July 1st, 2017, existing tenants will be included come January 1st, 2018.
Don't Let Bed Bugs Get Ahead
All of these protections have their value and will serve Californians well. In reality, the amendment does not broadly solve the growing issue of bed bugs.
Bed bugs are maintaining their upward trend throughout America, with California being something of a hotbed.
In August of 2017, Terminix published a bed bug report sharing that San Diego ranked 20th of the country's most infested cities, while San Francisco came in at 15th.
Meanwhile, pest control professionals at Orkin published a study based on bed bug treatment data from the areas where they performed the most bed bug treatments from December 1, 2015 – November 30, 2016.
They ranked Los Angeles at 6th and San Francisco at 10th.
It is still important to take preemptive measures if you plan on renting or living in multi-family housing.
Debedbug as a site is a huge advocate of preventing bed bugs. The easiest way to not get seriously infested is to catch them as early as possible. Infestations caught early on help tenants and landlords alike.
The earlier you catch on, the easier to treat and manage they are; they process is far more affordable as a consequence.
Proactively placing bed bug traps, communicating with neighbors, traveling with bed bugs in mind, being careful around used goods (furniture especially), and being privy to bed bug signs could save you more grief than these amendments ever could.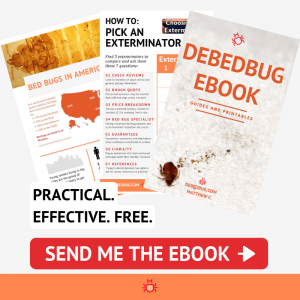 There are resources like the traveling checklist all over this site that will help you be more prepared should bed bugs make an appearance in your life. For the complete package, see the free Debedbug Ebook.
I hope that some of what you learn here makes it a supremely short appearance!
It's great that the State of California has made a choice to further protect tenants, but you are most powerful when you take control of your dwelling by educating yourself and taking preventative measures.
Thanks For Reading!
As always, congratulations on investing in your own health, and best of luck in your fight to get Debedbugged!
More Resources