Protecting California's Renters Against Bed Bugs
Thanks to a new amendment, CA landlords must provide tenants with written information about bed bugs. They must also encourage reporting possible infestations.
The law from which the amendment stems from is aimed specifically at bed bugs.
This is due to the serious expenses associated with treating bed bugs. They're one of the most difficult pests to contain according to professionals. If you're on this site, you're likely no stranger to this reality.
Their ability to spread is magnified in housing where people live near each other – such as in apartments.
Curious about the entire extent of protections you have as a tenant in California? Give the California Renter's Bed Bug Protections post a read.

Changes to The Bed Bug Protection Law
You can skip to the bottom of this section for an infographic on the changes.
The amendment to Section 1942.5 has put into place a number of key protections for renters that were missing.
New Bed Bug Protections
Landlords can no longer show, lease, or rent out units with active infestations.
Landlords can no longer retaliate against tenants who report their bed bug problems.
Landlords must keep records of bed bug infestations. Prospecting tenants may ask for full disclosure of a unit's infestation history. Landlords must disclose the history in writing.
Landlords must share the findings of pest control operators (PCO) within two business days of receiving them.
Landlords cannot raise the rent, reduce services, or otherwise retaliate against tenants who report bed bugs.
It's startling that these protections weren't already in place.
Property owners are not yet required to inspect units for bed bugs without a complaint or notice on the books.
Landlords are not required to inspect units or common areas if they have not received notice of suspected or actual infestation. If an infestation is readily visible, the landlord is considered to have received notice.
Quick Tip
Send all reports of bed bugs in writing.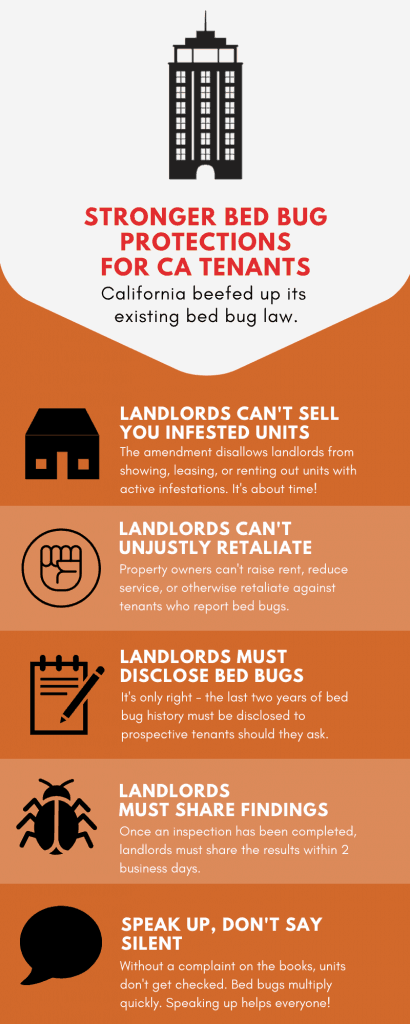 The Amendment came into effect fas of July 1st, 2017.
Don't Let Bed Bugs Get Ahead
All these protections have their value and will serve Californians well. In reality, a single amendment cannot solve the growing bed bug epidemic.
Bed bugs are maintaining their upward trend throughout the world. Big cities everywhere are hotbeds of infestations.
In August, Terminix published its annual bed bug report of the 50 most infested cities. Los Angeles ranked 6th of the list of the country's most infested cities while San Francisco came in at 34th.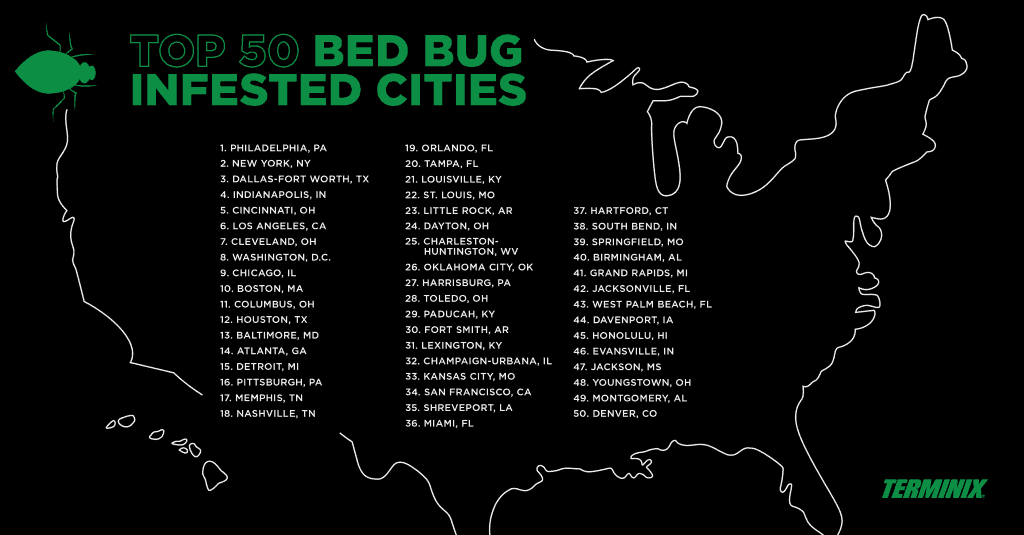 Meanwhile, pest control professionals at Orkin published their own list of the 50 most bed bug infested cities. They based it on the number of bed bug treatments they gave each city in 2019.
They ranked Los Angeles 4th, San Francisco 9th, and San Diego 41st.
The best way to protect yourself at home is by taking preventative steps before you have a problem. Your home is the only place you can completely control.
The best way to avoid serious infestations is by catching them early. Early infestations are many times easier and cheaper to get rid of. It's a win-win for landlords and tenants alike.

Here are 4 things you can do to start prevent bed bugs now.
Use encasements and bed bug interceptors
Learn the 5 symptoms of bed bugs to watch out for
Start communicating with neighbors about bed bug symptoms
Be careful when bringing home used clothes and furniture
Learn the most common causes of bed bugs and avoid them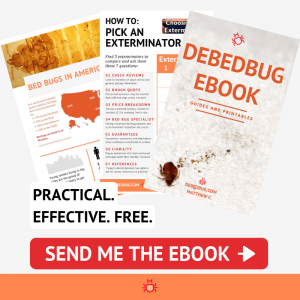 For resources like the traveling checklist, try the free ebook. The ebook includes several practical printables and a lot of information in a convenient package.
It's great that the State of California has made a choice to further protect tenants. Know your rights and be sure to do everything in writing.
Educating yourself and taking preventative measures is still the best way to protect yourself from bed bugs.
References
https://debedbug.com/references/
---