What Are Bed Bugs
Bed bugs are one of the world's most reviled pest.
And they're making a worldwide comeback.
They're resistant to pesticides, follow our sleep schedules, and even sense the air we exhale.
They can be impossible to spot until it's too late, are hard to get rid of, and live by drinking our blood in the dead of the night.
Basically, bed bugs are tiny evil vampires.
If you want the slightest chance of defeating them yourself, you're going to have to get two steps ahead. That means learning everything you can and knowing what they'll do before they can do it.
Facing your own infestation? Take the time and create an Integrated Pest Management plan! It's the single best thing you can do for yourself.
Pest control operators (PCOs) largely consider bed bugs to be one of the most difficult pests to eliminate, reading this post is a great first step towards knowing the enemy.
What You'll Learn
In this comprehensive primer on bed bugs, you will learn about their anatomy, the details of their life cycle, who exactly is susceptible to bed bugs, where they might catch you, along with the dangers and costs of contracting an infestation.
You will come away with a full arsenal of knowledge, arming you with the ability to confidently identify the thing you found crawling on your bed, as well as the know-how to track them down.
This page's goal is to help you catch and treat bed bugs early.
Infestations caught within the first two months are far easier to deal with!
The best way to stop bedbugs, however, is by preventing them.
Bedbugs are a plague of both the body and mind; if you already established that you've got a case of bedbugs, know that they are not a reflection of you or your habits.
Anyone can get bedbugs – rich or poor, fastidiously neat, or as messy as that one roommate you had. They are not necessarily a consequence of some hygienic failing. 
Bed Bug Extermination Costs
The cost of professionally controlling infestations is a big prohibitive factor that has led public perception to link bed bugs and poverty.
A complete treatment of a heavily infested home can easily cost anywhere from $1,000-$8,000.
Prices vary greatly depending on the number of rooms that need to be treated, chosen methods of treatment, as well as by local economy.
If you're looking to get a professional to diagnose your situation, or know that you'd like to consider an exterminator, check out the following printable.
I created it to help you choose a great exterminator:
To print this file:
Right click the image
Select "save image as"
Open the file wherever you saved it
Print as usual!
If you'd like high resolution or black and white versions of this printable, as well as four more crucial printables, check out the great Debedbug ebook.
It's free and is guaranteed to effortlessly guide you from victim to hero!
To learn more about it, click check out this link, or click the printable above.
The high costs of professional treatment often result in attempts to control the problem in a DIY way.
What do Bed Bugs Look Like?
Bed bugs come in a few flavors in the form of a common species, as well as several relatives that feed on the blood of warm-blooded mammals.
Common bed bugs prefer humans, unlike their cousins that prefer bats or birds. They are very small, parasitic, nocturnal, and make their homes in small hiding spaces of all sorts.
Bed bugs do have wings, although they are not unusable for flight – much like how penguins can't fly.
Bed bugs multiply with ferocious speed and are hardy survivors thanks to their slim profile, quick maturation, and lack of pickiness.
A single egg-laying female hitchhiking home with you could quietly develop into an all-out infestation in as few as two months.
Early symptoms are easy to miss if you don't know what to look for. It's very possible that you wouldn't even notice them until it's too late!
As a small consolation, bed bugs do not jump, fly, or transmit and spread disease.
They do, however, resort to feeding in full daylight when hungry enough.
Bed Bug Bites Suck
Bed bugs feed by biting and piercing the skin with their beaks.
Their fine needle-like mouths quickly administer an anesthetic and anticoagulant cocktail. These injected proteins numb the feeding site while also keeping blood flowing.
This allows them to feed for several minutes at a time undetected.
Bed bug bites can result in a variety of symptoms like itchy red sores, rashes, or swelling. These signs can show up hours later, many days later, or even not at all.
With such a range of potential reactions, mystery bites are not a reliable way to diagnose bed bugs.
A lack of reactivity is surprisingly common; stories detailing couples frustrated because one is bitten incessantly, while the other doesn't have a single bite seem to come up often.
If bed bugs are the cause, both are likely being bitten equally, one simply isn't reacting.
Many bites and, consequently, early-stage infestations go completely unnoticed as a result.
Itchy welts could tip you off and lead to you getting rid of a few bed bugs before it becomes a big problem. You could feel lucky should you be reacting to a single row of bites since they've potentially warned you early-on.
What Does a Bed Bug Look Like?
Adults of the common species can get to be around 4-7mm long, or about half the width of a dime at the very largest.
Bed bugs have six legs, two antennae, have short hairs covering the body, and are reddish-brown as adults.
While you can see bed bugs with the human eye, you might need a magnifying glass to see the smaller details. They are width and flatness make them the perfect shape for sneaking into cracks and under small folds like the lip of your mattress.
They are frequently misdiagnosed when other bugs are the actual problem.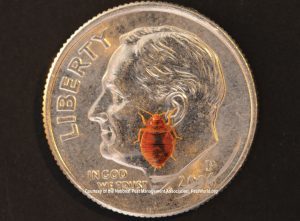 The only time bed bugs aren't quite as thin is following a blood-meal, during which they become the equivalent of a blood-filled accordion.
While engorged with blood, they take on a brighter red and brown hue, and look like elongated red termites without pincers.
You can find more information on insects that look like bed bug on the bed bug symptoms page.
Bed bugs go through five distinct stages of development, each slightly different in appearance.
Up until now, I've only described adult bed bugs.
A not-yet-mature bed bug is smaller still, translucent to a degree, and more distinctly vivid-red following a feeding due to that translucence. They are also harder to see as a result.
For the full gallery of bed bug pictures, check out the picture page.
Warning: Not for people currently eating or the faint of heart.
Immature bedbugs range from 1mm in length to 4.5mm. For a more complete and involved description of bed bugs and their various stages, you can read this section!
Bed Bug Life Cycle
This information, in addition to what you've learned in "What Does a Bedbug Look Like" will help you accurately describe and verify your findings on the web or with an expert!
Bed Bug Babies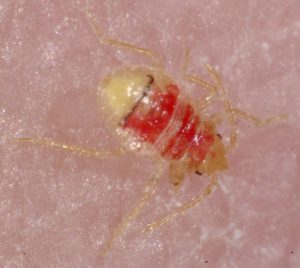 Bed bugs start out as tiny 1mm long off-white eggs laid in crevices or wherever else they might cluster. The developmental stages of bed bugs are given the title of "instars" one through five.
Bed bugs in any of the five instar phases also called "nymphs," rather than adults. The egg and adult stages are standalone categories outside of the instars.
Mistaken Bed Bugs
Bed bugs are most likely to be misdiagnosed or mistaken for other insects during their developmental phases.
Anything from cockroach nymphs to booklice can make for a reasonable misdiagnosis.
You can see pictures and read more about bugs typically confused with bed bugs in this section.
Bed Bug Adults
Bed bugs are quick to mature and can lay eggs as early as five weeks after hatching under ideal conditions. Female bed bugs can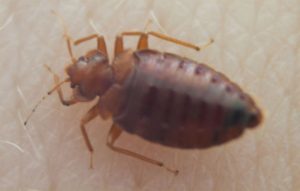 lay anywhere from 200-500 eggs in that span of time.
In bed bug terms, ideal is around 75-80% humidity and around a temperature of 80-90˚F. This is not to say that bed bugs are not capable of thriving with less-than-optimal conditions.
Bed bugs engorged with blood look quite different from your average unfed bed bug!
Each of the bed bug's five stages of development requires at least one blood-meal to continue on to the next. A meal is likewise required prior to laying eggs.
When available, they will take multiple meals, adults will feed approximately every three to five days.
Bed Bug Molting and Lifespans
As they develop, bed bugs molt and shed their skins once per instar. These castings are one of the primary signs to look for when diagnosing your problem.
Bed bugs have exceptionally long lifespans of up to two years, or sometimes even longer.
One of the most cruel characteristics of bed bugs are the adults' ability to survive without feeding for several months, to over a year. Even young nymphs are able to survive without a meal for three months or longer.
It is distressing to consider that after leaving your summer home for a year, you may return to an outbreak shortly after they catch your scent. This ability is even enhanced at cooler temperatures.
This makes trying to starve bed bugs out an unrealistic strategy for most.
| back to top |
Bed Bug Signs
One of the stranger often-cited properties of bed bugs is their smell. They produce a musty, almost-sweet odor as a defensive mechanism.
Smell is not reliable as a method of diagnosis.
In most cases, it takes a serious infestation before any bed bug-produced smell becomes apparent at all. In other words, you'll certainly already know about them well before you smell them.
When looking for bed bugs, dark splotches of undigested blood-meals and feces are more reliable indicators.
The dark stains might be reminiscent of bloodstains seeing as that's basically what they are.
Catching a bed bug is the most obvious way to diagnose an infestation. To do that, professional exterminators use bedpost interceptors which act as tiny moats that are easily installed under the legs of your bed.
Bugs can easily get climb into the traps but cannot escape.
Here's a quick look at some the industry standards around today.
For more on bed bug traps, click any of the links in the chart above.
With passive monitors, you don't have to do a thing besides check them once every month or so. It's entirely up to you and requires no upkeep – they're cheap and could potentially save you thousands if they catch even one bug early on.
There are tons of tools out there that work to keep infestations from ever getting out of hand. I'd personally recommend picking up bed encasements before traps if you're interested in preventing bed bugs.
Being prepared puts you miles ahead of infestations!
I've written an in-depth guide to detecting bed bugs through their symptoms. If you suspect that you have an infestation on your hand, look through the page before spraying!
Where do Bed Bugs Hide
Bed bugs are most at home near their food source's place of rest. The bed is a natural sanctuary for them with all sorts of folds, grommets, headboard slits, and nightstands to hide in while tucked away from prying eyes.
Beds aren't the only issue though – any upholstered furniture, spaces beneath cracked tiles, space behind switch plates, and even utility lines are prime safe havens for bed bugs.
In the case of advanced infestations, you'd have a hard time not finding them.
If numbers are ever high enough for bed bugs to feel crowded in their default harborages, they have no problem moving out into greener pastures.
Metal and plastic are acceptable homes, which is why bed bugs hiding within electronics can be a problem.
For more about where to look for them and bed bug symptoms to look for, here is a post dedicated to exactly that!
Bed Bugs and Temperature
Bed bugs are maddeningly resilient; capable of not only surviving, but remaining active at temperatures as low as 45˚F, making extermination by exposure to cold a difficult task that would take multiple weeks of exposure to yield any results.
On the opposite end of the spectrum, bed bugs are not able to withstand temperatures above 115˚F.
While such conditions are hopefully not natural in your climate, this fact is what makes heat treatment such a prevalent and effective form of control in some cases.
In other poorly contained cases, attempts to treat by heat result in the scattering of the infestation to neighboring homes.
Practical efforts to treat for bed bugs using heat will require temperatures above 115˚F. Typically a completely heat-saturated environment at 120˚F is cited, while others recommend up to 140˚F.
Complete saturation of items at this temperature is necessary and calls for specialized equipment capable of sustaining them for long enough to be effective.
If you'd like to treat bed bugs with heat on a large scale, a professional is the only affordable way to go about it safely.
Do not attempt to heat treat your own home. There are plenty of very effective personal bed bug heaters that are proven and extremely effective.
There's no need to risk a fire with hackneyed DIY builds now that they've so affordable – a DIY approach would probably save you less than $50 and doesn't come with a warranty or guarantee!
Heaters are completely natural solutions that come in a range of sizes and prices. If you have an interest in taking preventative measures, a heater would be perfect for you.
How do you get Bed Bugs?
Friends' homes, movie theaters, hostels, hotels, dorms, cruise ships, and even long-term care facilities: no matter where or when you are in life, bed bugs have the potential to be with you.
Whether you move into a seemingly spotless house, or get them from a once-beloved neighbor through the cracks in the walls, it is safe to say that no one is off the menu.
Prevention is important because being prepared could save you thousands.
A single bed bug caught in a passive monitor early could help avoid dozens of bites and all the headache that comes with full-blown infestations.
Bed Bugs Come in Many Ways
In many cases, it seems as if bed bugs appear out of nowhere. They are masterful hitchhikers that frequently make their way into homes on secondhand furniture or on your luggage after coming home from travel.
Bed bugs are perfectly capable of sneaking into suitcases, used electronics, boxes, furniture, or through the walls themselves. Personal items like backpacks, clothes, shoes, or wheelchairs aren't out of the realm of possibilities either.
Live bed bugs are an issue, but their hardy and hard-to-see eggs are just as menacing. if not more so. Eggs are even more resilient than adult bed bugs and can only be reliably treated with controlled heat and fumigation due to their small size.
They are one of the big reasons why I recommend a bed bug heater.
Bed bugs are opportunistic, but you can do a lot to minimize and prevent bed bug opportunities by learning to recognize situations with a high risk of exposure to hitchhiking bugs and their eggs.
Reducing Infestation Chances
While it is true that any home can fall victim to bed bugs, studies have shown that poor housing standards do result in a greater chance of infestation.
Unlike filth flies or cockroaches, bed bugs are not a direct outcome of unkempt or slovenly living conditions. Factors such as crowding, clutter, and housing in need of repair do, however, offer bedbugs more places to hide and persist.
Practices such as leasing furniture or purchasing used items also contribute to the rapid and persistent spread of bedbugs.
Leasing companies without strictly enforced bed bug policies can spread infestations to new locations, and back to previously treated locations.
Bed Bugs, Apartments, and Hotels
In the case of apartment-style buildings, hotels, motels, or similar multi-unit places of living, it is easy for bed bugs to spread between units under-the-radar.
Once in more than one home, they become exceedingly expensive and difficult to get rid of. Their small size and ability to instinctively avoid chemically treated areas by migrating to nearby rooms through tiny gaps and utility lines make them impossible to isolate.
Multi-Unit Difficulties
Once established in more than one unit, meaningful efforts to rid a building of bed bugs require nothing less than coordinated action encompassing the entire building. Unit-by-unit efforts will not succeed.
Treating your own unit and making it not worth the bugs' time by sealing off entrances and securing your bed is the best way to avoid bugs and bites if you're having trouble getting sweeping treatment for a building.
It is an unfortunate fact that many over-the-counter bed bug control "solutions" actually disperse and displace infestations rather than eliminate them. The best intents of your downstairs neighbor to fumigate or heat treat their unit may result in an infestation moving in to your space.
Laws regarding the burden of payment for treatment vary from state-to-state.
Communicate With Neighbors
Do your best to maintain a communicative relationship with neighbors and property managers.
Being a part of a network gives you a chance to share knowledge and is the absolute best way to prevent a large-scale infestation from happening in the first place.
If an infestation does come about, you'll be able to coordinate efforts and do it right. Staging a large-scale attack is the only lasting solution, do it right and you'll hopefully only have to do it once.
Knowing how to choose a great bed bug pest control operator is the second half of the battle.
Proactivity is always the best course of action! You can learn about measures to prevent bed bugs here.
Bed Bugs and Travel
Your chances of being exposed to bed bugs are the highest when you are traveling.
Bed bugs can be found thriving in temperatures and degrees of humidity that people would consider comfortable all over the world.
While traveling, you come into contact with many times more shared furniture and bedding than usual.
This is true whether you're staying in a nice hotel, budget-friendly hostel, on a couch, or in a bed and breakfast.
With a revolving door of warm-blooded hosts coming through and relining on furniture in public places such as a couch in the lobby or sofa in the hotel room, hotels and similar habitats can be plagued by bed bugs in spite of consistent and thorough housekeeping.
Studies have shown that international travel is a critical component in the modern resurgence of bed bug cases throughout the industrialized world, particularly in the United States and Europe.
Bed bugs are not bound to mattresses or bedrooms in particular, but, rather, to hosts and their general proximity. Because of this, hubs of travel tend to make ideal grounds for the propagation of bed bugs.
If you consider how close you are to people when in public transportation most anywhere in the world, it does not take much imagination to see how the pest might make its way onto you entirely passively.
It is a good idea to keep a wary eye for telltale signs. You can learn about traveling safe from bed bugs here on the prevention page.
One of the most easiest and most effective ways of preventing yourself from bringing bed bugs home in your suitcase, is through the diligent use of a bed bug heater.
The ThermalStrike Ranger, for example, perfectly fits a single carryon suitcase and kills bed bugs at all stages of life. As an investment, it has the potential to save you hundreds, if not thousands, on professional treatment.
If you suspect bed bugs, it's best to perform precautionary steps like those detailed in the prevention page than it is to deal with an all-out infestation months later.
How to Treat Bed Bugs
Efforts to cut costs by using household items like tape, cleaning sprays, rubbing alcohol, and heating units typically go nowhere.
These attempts are very likely to fail without experience and knowledge, and can lead to a cyclical financial drain where a tenant or homeowner suffers increasingly expensive failure after failure.
This quickly wears on individuals and families both financially and mentally.
If you will be treating your own bed bugs, the one page that I would most want you to read is the one regarding Integrated Pest Management, or IPM.
As a someone tackling bed bugs without a professional's help, it will singlehandedly guide you efforts – I guarantee you will have good results if you create and follow an IPM.
Self-treatment can be effective and affordable – if approached the right way. Corners can't be cut: buying a can of diatomaceous earth and throwing it across the room will not only be ineffective, it will also have lasting health effects on you, your family, and your pets.
Taking your health and home into your own hands is great because you'll know exactly what you're using, why you're using it, and will be fully equipped if they ever come back.
It just takes a little reading and investment to become a self-sufficient bed bug killing machine for life.
You can learn how about the many methods available to non-pros at the page dedicated to treating bed bugs.
Physical Bed Bug Health Effects
Several agencies including the Centers for Disease Control and Prevention and the United States Department of Agriculture consider bed bugs a public health pest. Unlike most public health pests, bed bugs do not spread disease.
The imagined dangers of bed bugs are easy to understand. As creatures that feed on human blood, much like mosquitos and ticks, it seems self-evident that the same disease-spreading consequences apply.
The fact that bed bugs also feed on birds and bats raises concerns over avian flu in addition and similar diseases like chagas. In spite of such valid concerns, the common bed bug has yet to be shown directly transmitting any type of disease.
Rare Diseases
The other side of the coin is that bed bug feces may transmit select pathogens (like chagas) in very rare cases of acute exposure.
Bed bugs crushed during feeding over broken skin may result in the passing of a disease in extremely rare cases. Blood from the previous feeding would have to be present and above trace levels for any likelihood of transmission.
Severe Allergies
Bed bugs are successful in small part thanks to their bites being nearly undetectable. As discussed earlier, this is possible thanks to a chemical cocktail that numbs and stops blood from clotting.
That same saliva can sometimes be responsible for allergic reactions, especially in cases involving multiple reoccurring bites. Allergic reactions vary from mild to severe, as with most allergies.
Typical symptoms of bed bug bites include red raised and inflamed welts wherever a feeding has taken place, red rashes that range in size, and, most unpleasantly, a deep and persisting itch.
For in-depth information on bed bug bites, you can read the post dedicated to them and the clinical treatments, secondary syndromes, and home remedies associated with treating them.
Mental Bed Bug Health Effects
Outside of the physical toll taken by bed bugs, the most profound effects tend to be psychological.
These mental issues can stem from several factors including a loss of sleep, being in a state of constant discomfort, or a general sense of nervousness even when at home.
There have even been extreme cases in which victims of infestations have shown signs of PTSD.
Social stigma is yet another powerful factor associated with having an infestation and results in a host of internal conflict on top of an already very stressful situation.
These very real maladies are typically healed by either elimination of the pest or relocating.
While a bed bug infestation is not necessarily a health hazard by textbook definitions, people dealing with active or particularly aggressive infestations experience serious levels of stress and anxiety. Even the CDC and USDA recognize this.
Why are Bed Bugs Making a Comeback?
The modern rise of bedbug cases has been attributed to a variety of potential causes. Some point towards the United States Food Quality Protection Act of 1996, which outlawed several chemicals used to treat bed bugs in homes.
Others make the case that public indifference following their near eradication following the Second World War has allowed them to creep back into relevancy via complacency and the loss of a bed bug educated public.
Some even cite changes in tactics used against other household pests as having had an easing effect on the tangential pressures applied to bed bugs.
Regardless of what the true cause may be, it is a fact that pest management companies and operators have seen major increases in calls for service on bedbug infestations in the past decade.
Estimated figures show that verified infestations have tripled in select regions of North America. One pest management company in the United States reported going from two infestations in 2001 to an average of a call a day.
Europe is likewise victim to the resurgence of the common bed bug. Observational reports have seen up to a tenfold increase in bed bug infestations in Berlin, Germany between 1992 and 2004.
Locally, bed bugs are spreading primarily thanks to affordable domestic and international travel as well as through the usual means of transfer via used furniture and the like.
The best way to protect yourself from the problem is by education yourself and taking preventative action. I highly recommend reading the guide on preventing bed bugs for that purpose.
Thanks for Reading!
While it is uncertain whether bed bugs will ever be completely under control, it is still possible to avoid the bulk of the problem through education. Bringing a sense of caution along with you while traveling the globe is half the battle; understanding how to utilize that caution by proactively knowing how to check for bed bugs encompasses the second half.
After browsing the pictures page you should be able to confidently eliminate a lot of would-be doppelgängers if you ever begin to suspect bed bugs.
By now, you might be itching to know how to prevent or detect the symptoms of bed bugs. If this page has led you to definitively diagnose bed bugs, you're likely wondering how exactly to get rid of them.
Getting well-researched information is the first step to both preventing and getting rid of bed bugs. While efforts to control them will rarely be immediate, control is possible. Best of luck on your journey!
More Resources
References
https://debedbug.com/references/