It's scary – finding a row of mystery bug bites and having your coworkers or family warn that you've got a bed bug bite pattern.
The question of how you know if you have bed bugs is a common one with a complicated answer.
Bed bugs are masters of stealth that operate in the shadows of night. This post will reveal their favorite hiding spots and the telltale signs of bed bugs that you can check for right now.
This serves as an abridged version of the Bed Bug Symptoms page and will help you start identifying bed bugs in a few minutes. Check out the page for more!
Bed Bug Bites
It's useful for most people to see what bed bug bites look like on real people for comparison. I'll share a few pictures with descriptions and a caveat at the end.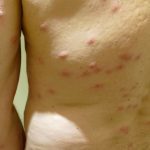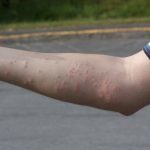 Here you can see a lack of any distinguishing line or row which many people recommend watching out for as a trademark of bed bugs.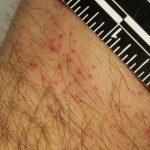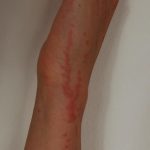 Above are pictures more along the lines of what you might expect bed bug bites would look like. If experiencing bites of similar straightness and relative uniformity as the above two images, you could certainly become suspicious of bed bugs.
If you'd like to know how to deal with itchy bed bug bites, there's a post on that very subject.
I mentioned a caveat. It is that bites are far from reliable at letting you know if you have bed bugs.
There are hundreds of reasons your skin might be welting or acting up in relatively straight lines or with a bunch of small dots.
Furthermore, there is no one bite pattern that all bed bugs use. Bed bug bites look different from person-to-person.
Different levels of reactivity to the enzymes found in bed bug saliva can result in bite reactions as varied as the ones you saw above.
Try verifying by finding at least one of the signs below!
Where To Look To Know If You Have Bed Bugs
The next categories of bed bug signs and symptoms to look for requires that you know where to look.
The subject isn't particularly complicated once you understand the reasons behind where bed bugs choose to hide and lay eggs.
For an in-depth look at the psyche of bed bugs, check out the Bed Bug Guide.
Here's the skinny: Bed bugs don't want to get caught.
They like:
The creases of bed mattresses
Corners and cracks in your bed frame
Corners and tight spaces on your box spring
Between the creases of bed linens
Behind headboards and backboards (always check while traveling)
Small spaces between all of the above
Nearby any places of rest (Couch, sofa, etc.)
 Under loose wallpaper
Where the carpet meets the wall
Corners and joints of desks, dressers, closets, and drawers
You get the idea. Tight dark squeezes around places that you lie asleep for hours on end are hot spots.
The lower half of the list is mostly irrelevant until you reach a more severe level of infestation.
Bed bugs are lazy and like to be near their food until increasing population causes the equivalent of urban flight when they will head to nearby suburban crevices for a less crowded space to have kids.
If you can't find anything in any of the above spots but are still getting bitten and suspect them, try a passive bed bug monitor to help you find out if you have bed bugs.
They're relatively cheap and scientifically proven to be effective for the monitoring of bed bug populations.
Hopefully, you've gotten lucky and detected them before even being able to find any evidence.
For a complete guide to victory over bed bugs, check out the free Debedbug Ebook!
This is the absolute ideal situation and tells you that you should capitalize on your advantage immediately by starting to treat for bed bugs.
Bed Bug Eggs and Molts
Seeing as bed bugs are as good at hiding as they are, it's best to look for the parts of them that don't move.
I'm talking about the eggs they lay and the molts that every single bed bug produces as it ages.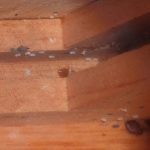 This picture provides a great view of what bed bug eggs look like. They're tiny – smaller than a grain of rice, and very easy to miss.
If you're having trouble finding live bed bugs, you could capture a few eggs, put them in an airtight container sealed very carefully to see what comes out.
In truth, if you've found eggs, you very likely stumbled upon a bunch of molts as well.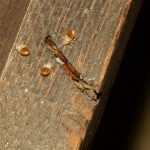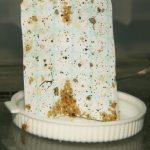 The above picture shows three distinct bed bug molts surrounding a bed frame slot. They have a distinct posture of the tail-end pointing upwards; this is the position the bed bug assumes to exit its old skin.
In more advanced infestations, you're likely to find piles of molts in their favorite hiding places which we discussed above.
Bed Bug Stains
Stains are another one of those immobile signs that we can search for immediately.
It's pretty gross, but everybody poops. Bed bugs are no different.
When it comes to excrement, bed bugs make plenty of it. Rusty black spots are signs of fecal matter and undigested blood meals left behind by resident bed bugs.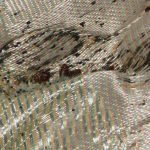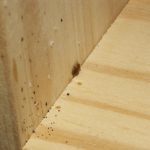 As you itch and turn as a side-effect of your unconscious fighting off bed bugs, you're likely to squish a few bed bugs.
These nocturnal happenings can leave behind small spots of blood on bedding which can be good indicators that a bed bug was squished during or shortly after feeding.
Live Bed Bugs
It might surprise you that I've listed this as the last way to know if you have bed bugs, but catching a live bed bug is seriously difficult. Hopefully.
In early infestations, you would be very lucky (unlucky?) to catch a bed bug scurrying around in the day time, or even at night.
We discussed how bed bugs are attuned to our sleep schedules and the smell of your breath in the Bed Bug Guide. Patience is their most valuable adaptation.
You'd typically only catch a bed bug running around in more advanced infestations…in which case, you probably already know you have bed bugs.
A molt as proof is just as definitive as any live bed bug. You can find plenty of pictures of bed bug molts to compare your findings to.
Should you still be set on a warpath and feel that you need to capture a live specimen, you are equipped with almost all of the knowledge you will need.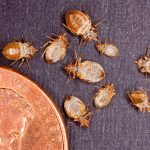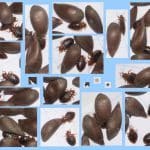 All you need now is a roll of tape to capture the critter with, and a few pictures to show you what bed bugs look like at different stages of life.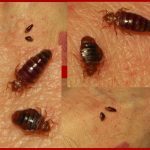 The above can give you a good idea of just how different they look even between feedings. As uncomfortable and gross as it is, I always recommend looking through as many bed bug pictures as you can find.
Educating yourself visually is an important part of being able to tell a bed bug apart from all the other bugs you might bump into.
For the full series of pictures of bed bugs at every stage of life, check out the What Do Bed Bugs Look Like section of the website!

Thanks For Reading!
I hope this guide answered the question of how to know if you have bed bugs for you.
As with many things in life, the simple question has a relatively long and convoluted answer. Sorry to complicate things!
You now know where to look, what to look for, and what to be skeptical about just as importantly. I hope you end up finding nothing and that the bites turn out to be from a mosquito or something you will never know.
As always, congratulations on investing in your own health, and best of luck in your fight to get Debedbugged!
More Resources