You can imagine that when dealing with bed bugs, it's important to protect your bed.
We recommend doing this with encasements, interceptor traps, and bed placement.
These are all great ways to keep bugs off your bed.
That said, wouldn't it be nice if a mattress was designed to keep bugs out?

That's what Nectar has done.
Editor's Mattress Wish List
Having joined the 9 out of 10 people that need a new mattress, I found myself on the hunt for the perfect mattresses.
Here's the wish list I came up with:
A trial period to make sure I loved it
Warranty of over 10 years
Proven customer service
Breathable, super comfortable fabric
Medium-firm – Not too soft or too firm
No off-gassing / new mattress chemical smell
Quality construction
Under $1,000 for a Queen sized mattress
Breathability was especially important as I live in a hotter climate.
Having returned mattresses in the past, I knew what I didn't want. You're going to be spending at least 25% of your day on this thing, so it better be comfortable!
Before reaching the Nectar, I'd tried a generic Sealy Posturepedic mattress from Costco.
Trust me when I say that you will get tired of that "new bed smell." Gasses escape more easily in warm weather. The cheap gel foam smelled and would not let go of heat. The bed was an oven by the end of the night.
Here are the things that make Nectar different.
No Bed Bug Guarantee!
Forever Warranty (Lifetime)
365 day Trial Period
Free Shipping and Return Shipping
Extremely competitive pricing (Limited $100 off coupon)
International Shipping
4 layers of material construction instead of the industry standard 3
Thick, quality, hypoallergenic, medical-grade sleeping materials
Redundant airflow measures for unbeatable breathability/circulation
Construction mindful of medically correct support (side, back, and stomach)
Included Free: Bed Bug Resistant and natural Tencel and long-staple cotton mattress cover that is quilted, embroidered, removable, washable, and contains an aloe-based cooling layer
Free exchanges on mattress covers
The top layer is a quilted gel foam for extra loft and breathability
History of extremely happy customers with reviews to prove it
Any bed frame will fit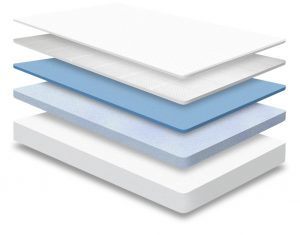 They also offer mattress removal, disposal, and installation as extras. Shipping is timely. I have read that they've been getting backed up on orders recently.
Out of 20,000 reviews, the Nectar mattress has a 4.8-star rating.
Nectar blew the wishlist out of the water. They've included features I hadn't considered.
They have the longest and most generous sleep trial period, by far. The medium firmness is perfect for most.
There's no risk in giving it a go just to see how you like it. Return shipping is free!
Nectar is the only company we found with a lifetime warranty as well as free shipping and returns. That screams pride and confidence in their product to me.
The price is right too. We'll go into detail below.
Nectar is the only mattress brand that offers a no bed bug guarantee. That's not to say that they guarantee you will never get bed bugs. It does mean that they will replace your mattress cover and mattress if it comes to that.
I spoke with Kate from customer service who shared this about bed bugs:
K: Bed bugs need moisture to survive. The Nectar has an inner cover that allows air to circulate but will not admit moisture. NECTAR's vegetal based foams are also naturally resistant. No worries about bed bugs when you own a NECTAR. In fact, if bed bugs are ever found after a set of linens are replaced your NECTAR will be replaced for no cost.
That can't be beaten.
Once you've picked up a Nectar, you can enjoy the peace-of-mind that comes with the guarantee. You'll always have a fresh mattress to look forward to.
They will also replace the mattress and mattress cover if you ever face mold during its lifetime.
I mean lifetime very literally as well. The Nectar mattress comes with a Forever Warranty. That's the strongest and longest warranty in the industry.
| | Single Payment | 6 Monthly Payments |
| --- | --- | --- |
| Twin | $500 | $108 |
| Twin XL | $550 | $114 |
| Full | $700 | $139 |
| Queen | $795 | $159 |
| King | $900 | $175 |
| Cal King | $900 | $175 |
Nectar even offers a 6-month payment plan with 0% interest.
Take a moment to appreciate these prices compared to their competitors: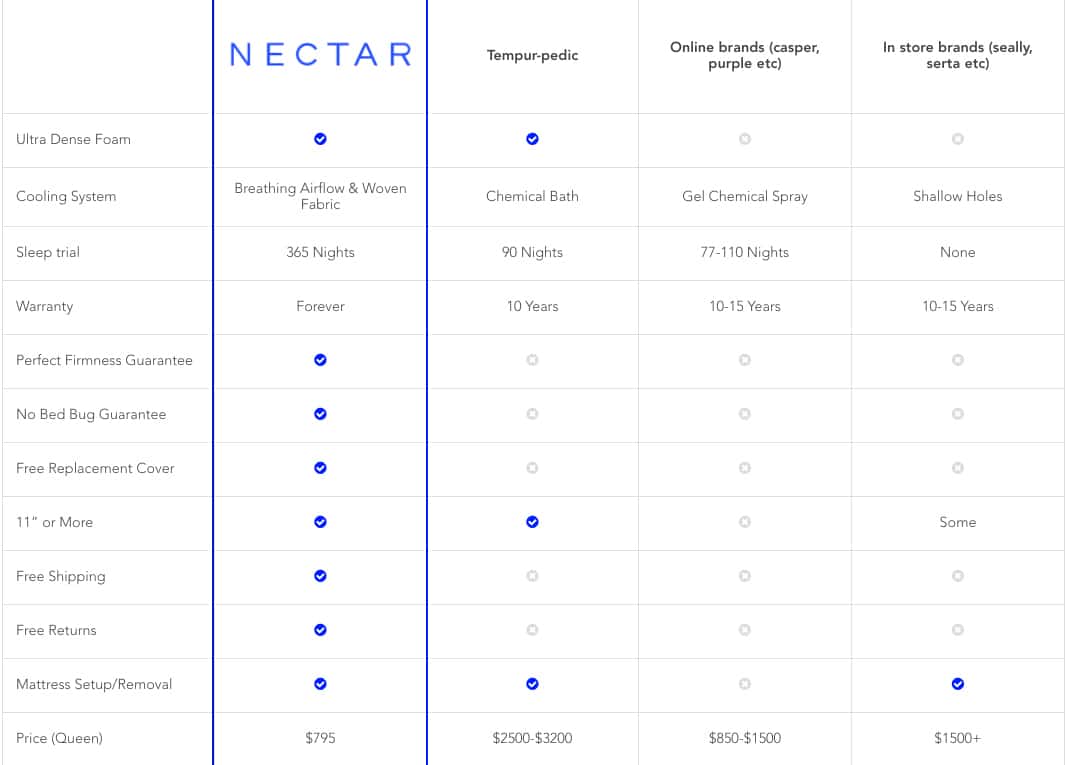 We can't find another mattress company that offers so much value and confidence.
CHECK PRICE
As if the deal wasn't sweet enough, Nectar is offering up to $200 in discounts and 2 memory foam pillows with every purchase.
The link above will take you to the shop page where you can compare sizing and pricing.
What do you get with a Nectar mattress?
Quality medical-grade materials
A lifetime warranty
Materials that resist bed bugs
Actual customer service
The process of quilting is labor-intensive and expensive. Mattresses with more and denser layers are more expensive.
Nectar is well-known across Europe and throughout the world. They have only begun selling in the States recently. Now is the time to jump in while pricing is aggressive.
References
https://debedbug.com/references/
---