I've spent a lot of time proselytizing over the importance of keeping your bed safe from bed bugs.
Bed encasements, traps for your bed, and even where you place the bed itself are all important decisions and steps that keep bed bugs away.
That being said, wouldn't it be nice if mattress companies wizened up to the trend of increasing bed bug problems faced by the world and made some sort of change to…the mattress itself?
I know – revolutionary thinking, right?
Editor's Mattress Wish List
Having recently joined the 9 out of 10 people that need a new mattress, I found myself on the hunt for my personal holy grail as far as mattresses are concerned.
So, here was my wish list:
A trial period to make sure I loved it
Warranty of over 10 years
Proven customer service
Breathable, super comfortable fabric
Medium-firm – Not too soft or too firm
No off-gassing / new mattress chemical smell
Quality construction
Under $1,000 for a Queen sized mattress
Since I live in a hotter climate, breathability and off-gassing are especially important to me.
I'm also understandably picky and have returned mattresses in the past because they just don't work for me. You're probably going to be spending at least 25% of your lifetime on this thing, so it better be comfortable!
How It Compares
Before reaching the Nectar, I'd tried a generic Sealy Posturepedic mattress from Costco.
Trust me when I say that you quickly get tired of the smell of acrid gasses coming from your mattress whenever you try to sleep. Gasses escape more easily in warm weather and only exacerbate the discomfort of sleeping on cheap gel foams that suck up heat and make you sweat late in the night.
After looking into many mattresses before reaching the Nectar, I can give you the skinny on what makes them different.
Forever Warranty (Lifetime)
365 day Trial Period
Free Shipping and Return Shipping
Extremely competitive pricing (Limited $100 off coupon)
International Shipping
4 layers of material construction instead of the industry standard 3
Thick, quality, hypoallergenic, medical-grade sleeping materials
Redundant airflow measures for unbeatable breathability/circulation
Construction mindful of medically correct support (side, back, and stomach)
Included Free: Bed Bug Resistant and natural Tencel and long staple cotton mattress cover that is quilted, embroidered, removable, washable, and contains an aloe based cooling layer
Free exchanges on mattress covers
Top layer is a quilted gel foam for extra loft and breathability
History of extremely happy customers with reviews to prove it
Any bed frame will fit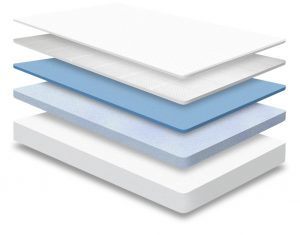 Should you be interested in auxiliary services like old mattress removal/disposal or mattress installation, Nectar does offer them at an additional price.
Shipping happened in a timely fashion in my case, although I have heard that they've been getting backed up on orders recently.
Basically, Nectar blew my wishlist out of the water and replaced it with a slew of features that I hadn't even considered before I stumbled upon them.
They have the longest and most generous sleep trial period – by far. I like the medium firmness personally as a too-soft mattress definitely gives me aches.
You should certainly give it a go and see how you fare; you don't have to worry about paying for return shipping anyways!
They are the only company I've found offering a lifetime warranty and free shipping and returns. That just screams pride and confidence in their product to me.
Most notable to me, however, is their aggressive and highly competitive pricing which I'll go into detail about below.
Nectar And Bed Bugs
While the no bed bug guarantee that they advertise here is not a promise that you will never get bed bugs, it does mean that they will absolutely replace your mattress cover and entire sleep system if it comes to that!
I spoke with Kate from customer service and got this response about bed bugs specifically:
K: Bed bugs need moisture to survive. The Nectar has an inner cover that allows air to circulate but will not admit moisture. NECTAR's vegetal based foams are also naturally resistant. No worries about bed bugs when you own a NECTAR. In fact, if bed bugs are ever found after a set of linens are replaced your NECTAR will be replaced for no cost. 
Holy cow, that just can't be beat.
Having purchased myself a Nectar, I enjoy the peace-of-mind that comes with knowing that should I lose my pillows, linens, and frame I would still have a fresh mattress to look forward to at the end of the war.
They will also replace the cover and system should you encounter mold during its entire lifetime of use. That's a long time!
Nectar Pricing
| | Single Payment | 6 Monthly Payments |
| --- | --- | --- |
| Twin | $500 | $108 |
| Twin XL | $550 | $114 |
| Full | $700 | $139 |
| Queen | $795 | $159 |
| King | $900 | $175 |
| Cal King | $900 | $175 |
Nectar does offer a 6-month payment plan as well! Why does that excite me? Well, they don't charge any interest. At all.
Please take a moment to appreciate these prices compared to their competitors: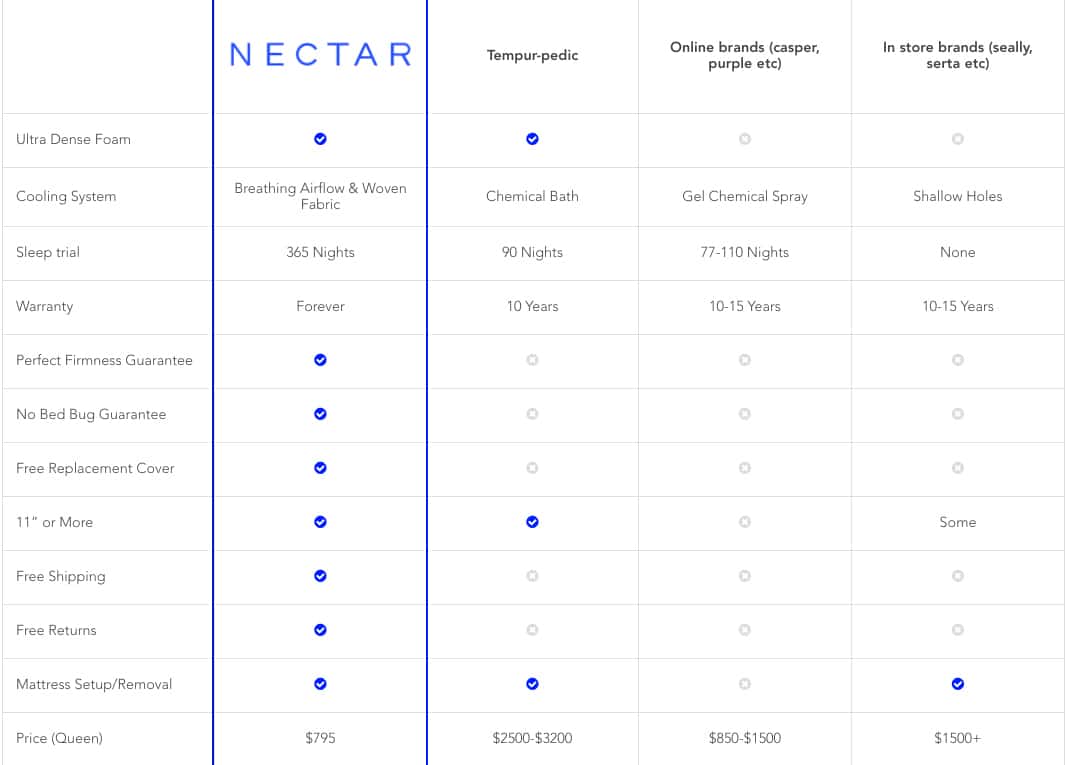 I have found no other mattress company that offers comparable value or producer confidence.
CHECK PRICE
As if the deal wasn't sweet enough, Nectar is offering a $100 discount through their website.
The link above will take you to the shop page where you can easily compare sizing and pricing.
Here's The Deal
It's important to note that the process of quilting is labor-intensive and expensive. Mattresses with more and denser layers are more expensive.
Quality medical grade materials, a lifetime warranty, materials that resist bed bugs, and paying customer service employees are all huge expenses that Nectar has chosen to shoulder in order to create a great product.
These decisions that they've stood behind with their wallets helped make the decision to spend 6 to 8 hours a day on their product a no-brainer.
Nectar is known across Europe and the world but has only began selling in the States recently. Now is the time to jump on their super aggressive pricing before they become established and begin charging established prices.
As always, congratulations on investing in your own health, and best of luck in your fight to get debedbugged!
More Resources